It's rather obvious that CUVs/SUVs (crossover utility vehicles/sports utility vehicles) are a dominating force in the American culture today. All you have to do is visit a local grocery store and look at the parking lot or down the street of a suburb and you'll see vehicles consist mostly of crossovers and trucks. Subaru has been one of the innovators of crossover utility vehicles but has retained the car-like appeal of such vehicles in the way they drive and are initially presented in their Sheetmetal. One vehicle from Subaru that has gained new attention is the Ascent, their surprising 3-row crossover that balances affordability and usability through a long list of available features.
For the 2021 model year, the Subaru Ascent remains mostly the same from its 2019 model year introduction only adding the steering-responsive LED headlights and a second and third-row seat-belt reminder as standard features. Otherwise, the Ascent brings a lot to the table for a three-row crossover and a new bundle of active safety features through Subaru's latest EyeSight suite of driver aids, which now includes adaptive cruise control and lane-keeping assist as part of the package.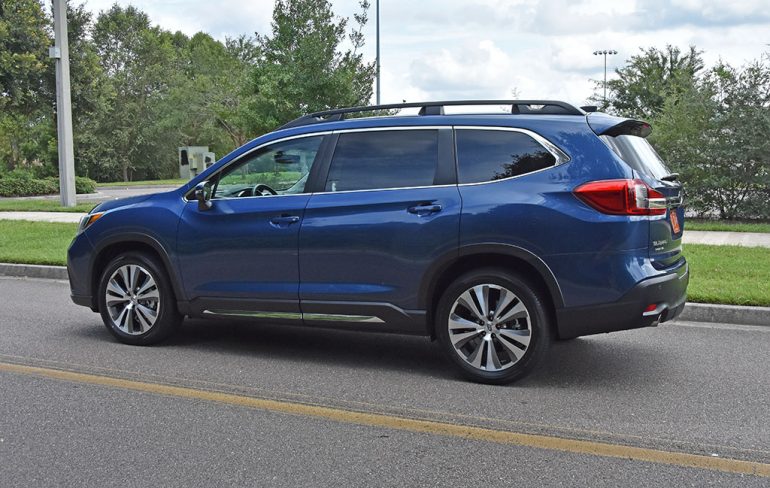 Powering the Subaru Ascent is left to one powertrain, a 2.4-liter turbocharged 4-cylinder boxer engine that gets mated to a CVT (Continuously Variable Transmission). The powertrain is decent for moving the Ascent along and its ability to hit 60 mph from a standstill in about 6.9 seconds. Here, the turbocharged engine is strong but is somewhat hindered by the CVT, which gives the drive an uneasy feeling with inconsistent power delivery. Basically, the power is lumpy due to the CVT where it attempts to often emulate a traditional automatic transmission that has gears with virtual gearing ratio drop-downs upon acceleration. The nearly endless ratio changes from the CVT force you to constantly modulate the throttle to keep a steady speed. Sometimes the lumpiness is frustrating, but you find ways to manage the power after you know what to expect. Overall, the Ascent rides good and plays on the idea of you piloting a much smaller vehicle than it is. Moreover, from the outside, the Ascent doesn't look as big as it is on the inside, which is a good thing to give passengers plentiful space.
Read More
—————-
By: Malcolm Hogan
Title: 2021 Subaru Ascent Limited Review & Test Drive
Sourced From: www.automotiveaddicts.com/74497/2021-subaru-ascent-limited-review-test-drive
Published Date: Thu, 09 Sep 2021 12:18:31 +0000
BEYOND THE STRIP: Discover the Cultural Gems of Las Vegas
>


Written by Barbara Toombs
Fremont Street in the heart of downtown Las Vegas.
Millions of visitors are understandably attracted to the glitz and glamour of Las Vegas' renowned Strip each year, where world-class resorts, casinos, shows and incredible dining options are the name of the game.
What many don't realize is that there's another fascinating side to the Entertainment Capital of the World, headlined by two cultural districts known simply as Downtown and Chinatown.
Downtown Las Vegas (also known as DTLV) is really where this unique desert city got its start. In 1931, construction began on what is now known as the Hoover Dam, attracting thousands of workers to a site just east of the city. To capitalize on this growing workforce, savvy businessmen began building casinos and showgirl venues along Las Vegas' only paved road at the time: Fremont Street.
Today, DTLV is comprised of three distinct districts. Many visitors to the city are already familiar with one of them: the Fremont Street Casino District, which contains museums, restaurants and bars, as well as the original Las Vegas casinos, including El Cortez, Golden Nugget and Golden Gate. Here you'll also find the renowned Fremont Street Experience, which debuted in 1995. This pedestrian-only thoroughfare is covered by a canopy of more than two million LED lights and a state-of-the-art sound system that comes to life every night for a spectacular sound and light show called "Viva Vision."
The Arts District
A popular attraction in this district is The Mob Museum (the National Museum of Organized Crime and Law Enforcement), which showcases intriguing tales and the age-old dichotomy of good guys versus bad guys. Explore at your own pace, go on a guided tour or uncover museum surprises as part of a group scavenger hunt. Want a literal "taste" of old-school Las Vegas? Plan to dine at Top of Binion's Steakhouse, perched on the 24th floor of Binion's Gambling Hall. The restaurant dates back to 1965 when it was known as Top of the Mint, the signature dining spot at The Mint hotel tower. The interior design (and menu – think steak, prime rib, lobster and even Baked Alaska) is a throwback to an earlier era when the mob ran much of Las Vegas, but the real draw is the spectacular view through dramatic floor-to-ceiling windows.
Built in 2002, the Fremont East Entertainment District (FEED) is a six-block area that stretches from Las Vegas Boulevard East to 8th Street and from Ogden Street South to Carson. FEED is pedestrian-friendly, offering diverse street life and many eateries, cafes, bars and lounges, as well as ample shopping opportunities and lively entertainment. A must-see attraction in this district is the Downtown Container Park – a dining, shopping and live music venue made of 45 colorful repurposed shipping containers, all fronted by a two-story, fire-breathing praying mantis who made its original debut at Burning Man. Nearby is the popular Bin 702 – one of many great dining choices in the area – featuring a great selection of beer and wine, as well as a tantalizing choice of charcuterie and cheese, sandwiches and small plates for sharing.
18b sign in The Arts District.
In recent years, The Arts District – or the 18b as it's also known (a reference to it occupying 18 blocks of Downtown Las Vegas, loosely outlined by Commerce Street, Colorado Ave, Fourth Street and Hoover Avenue) – has been growing in popularity. Its monthly "First Friday" block party and art walk features food trucks and live music, serving as a backdrop for artists showing their works off at a variety of open-air and indoor galleries. These include The Arts Factory, home to over 30 artists and art galleries, and ArtSquare, a hip establishment that houses design stores, designer's studios, wellness spots, and food and drink outlets. Behind The Arts Factory sits one of many great dining choices in The Arts District: Taverna Costera, serving up delicious Coastal Mediterranean fusion that draws inspiration from coastal Spanish, French, Italian and Greek cuisines and beyond.
Just a couple of miles east of the Strip, along Spring Mountain Road (roughly between Rainbow Boulevard and Interstate 15), lies the city's amazing Chinatown, which has grown in leaps and bounds over the past two decades. Here you'll find the largest collection of Asian businesses in Southern Nevada, including a multitude of authentic Asian restaurants, gift shops, a hair stylist, a reflexologist, home decor, an Asian supermarket and the only Chinese bookstore in Nevada.
At Chinatown's heart is the enormous and ornate Chinatown Plaza, featuring a colorful, dragon-adorned, Tang Dynasty-inspired gate and gleaming
—————-
By: Barrett-Jackson
Title: BEYOND THE STRIP: Discover the Cultural Gems of Las Vegas
Sourced From: www.barrett-jackson.com/Media/Home/Reader/beyond-the-strip-discover-the-cultural-gems-of-las-vegas-2023/
Published Date: Fri, 19 May 2023 18:07:14 +0000
2024 SCOTTSDALE AUCTION: 1967 Chevrolet Corvette Custom Coupe – No Reserve
>


This red 1967 Corvette custom coupe received a complete custom restoration at Springfield Motorsports in Peachland BC, Canada. The build consists of a completely new jig-mounted tube chassis with C4 corvette front upper and lower control arms riding on coilover shocks and power rack & pinion steering. The rear differential is a custom narrowed 9-inch Ford with aluminum Dale Gerry center section with Wilwood disc brakes on all 4 corners. Filling out the wheel wells are custom offset Fikse wheels.
K&S machine in Kelowna, British Columbia took the 454ci engine and machined it to 496ci it is equipped with Comp Thumper camshaft and 800cfm carburetor and it creates a true hot rod sound through the ceramic-coated exhaust. Lee Baxter upholstery created the one-off hand-stitched red leather interior with a rear storage area. It features Vintage Air, Digital gauges, power windows and a leather-wrapped vintage-style steering wheel.
—————-
By: Barrett-Jackson
Title: 2024 SCOTTSDALE AUCTION: 1967 Chevrolet Corvette Custom Coupe – No Reserve
Sourced From: www.barrett-jackson.com/Media/Home/Reader/2024-scottsdale-auction-1967-chevrolet-corvette-custom-coupe-no-reserve/
Published Date: Fri, 27 Oct 2023 15:52:01 +0000
From Hamamatsu to Lisbon: A Honda CBX 1000 restomod by Unik Edition

The Honda CBX 1000 was only in production for four years, but that was enough time for it to leave a lasting impression on the motorcycle industry. First released it in 1978 as a screaming six-cylinder naked superbike, it later faced stiff competition from its stablemate—the equally iconic CB900F. So the Japanese marque redesigned it as a sport tourer, halfway through its tenure.
The updated 'CBX-B' had a touring fairing, optional panniers, and Honda's new-at-the-time Pro-Link mono-shock setup. It was a hair less powerful than before, but that didn't stop it from becoming a legend in its own right. If you park a CBX and CBX-B next to each other, you could argue that the latter has more presence.
It's that mystique that prompted the owner of this 1982 Honda CBX 1000 Pro-Link to buy it. Enamored with the fusion of modern technology and ancient traditions found in Japanese cities like Tokyo and Kyoto, he was on the hunt for a classic motorcycle that embodied that philosophy. When he found the CBX, the sheer brutalism of its six-cylinder engine was impossible to ignore.
"In the eyes of this enthusiast, the engine wasn't just a mechanical marvel; it was the soul of the motorcycle, much like the heart in a human body," says Tiago Gonçalves, founder of the Portuguese custom shop, Unik Edition. "This revelation laid the foundation for a transformative project, one that would honor the motorcycle's origins while infusing it with a new identity."
Read More
—————-
By: Wesley Reyneke
Title: From Hamamatsu to Lisbon: A Honda CBX 1000 restomod by Unik Edition
Sourced From: www.bikeexif.com/honda-cbx-1000-restomod
Published Date: Sat, 28 Oct 2023 16:34:54 +0000