It's very common for singers to use their breakups and trauma as material when they hit the studio, but some artists have more material than others.
Up beside Taylor Swift in the ex-inspired-song-writing business is Ariana Grande, whose colourful dating history has inspired some bangers, including thank u, next, Better Off and No Tears Left to Cry.
In May 2021, fans went wild when it was revealed the singer had finally tied the knot with Dalton Gomez, but according to reports this week Grande is single again, with insiders telling TMZ the pair had split.
READ MORE: Ariana Grande 'secretly splits from husband'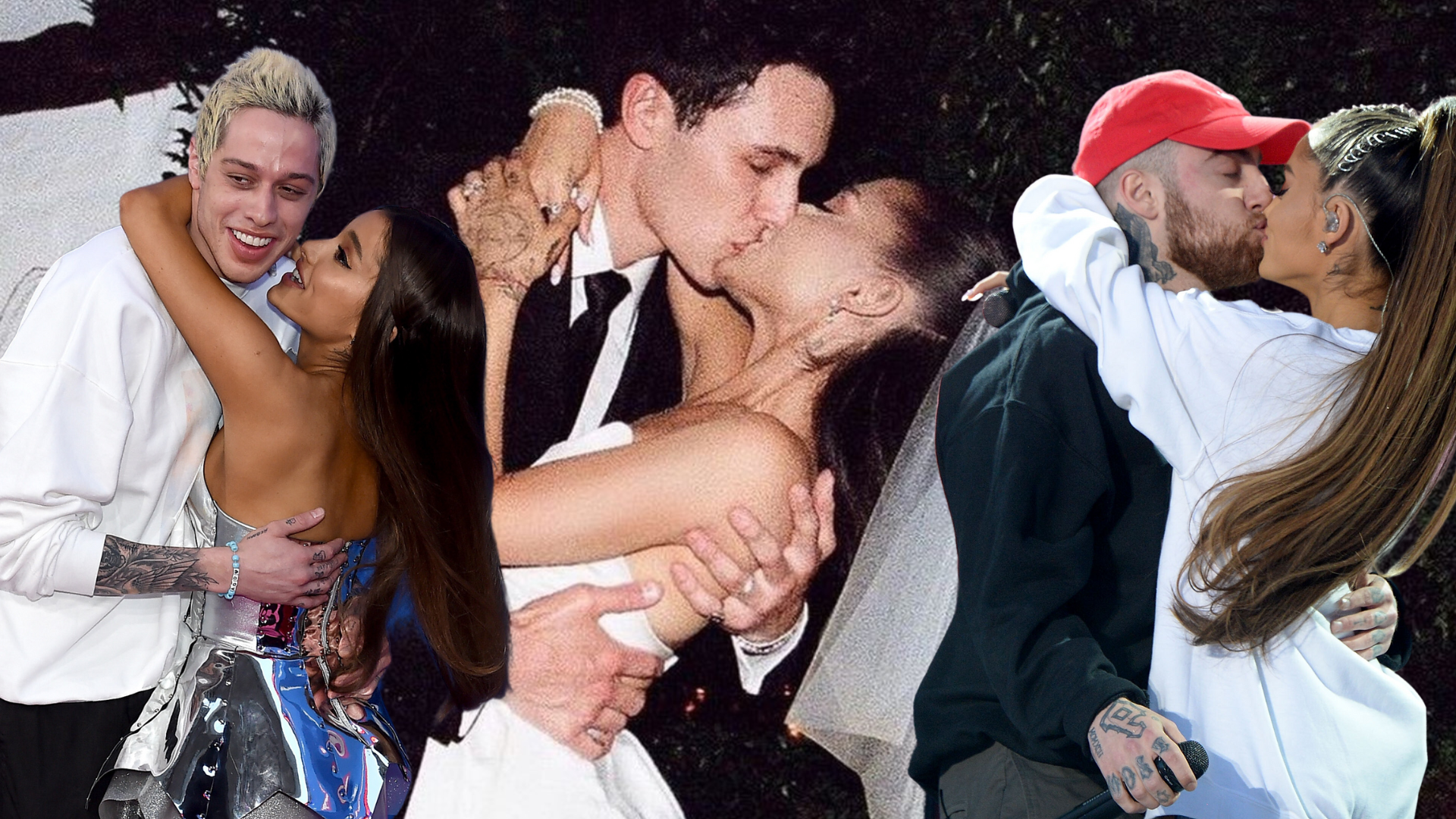 The media outlet also reported that according to a source close to the couple, Gomez felt overwhelmed by the superstar's fame.
The pair got together during COVID, but once restrictions lifted the real estate agent had to face Grande's hectic schedule, the paparazzi and various opportunities that would see her leave the country.
As fans sit in anticipation of some new hits inspired by Grande's first divorce, here's a look at the singer's interesting dating timeline.
Graham Phillips
Grande has been a star in the spotlight for years, with a portfolio that includes theatre roles, TV gigs and stadiums filled with fans keen to watch the singer-songwriter perform.
Kicking off her career with Nickelodeon at the age of 15 by starring in hit show Victorious, it wasn't long before the actress began dating fellow stars, starting with Graham Phillips.
Grande met the Good Wife alum when she was 15.
READ MORE: Hollywood superstars announce shock split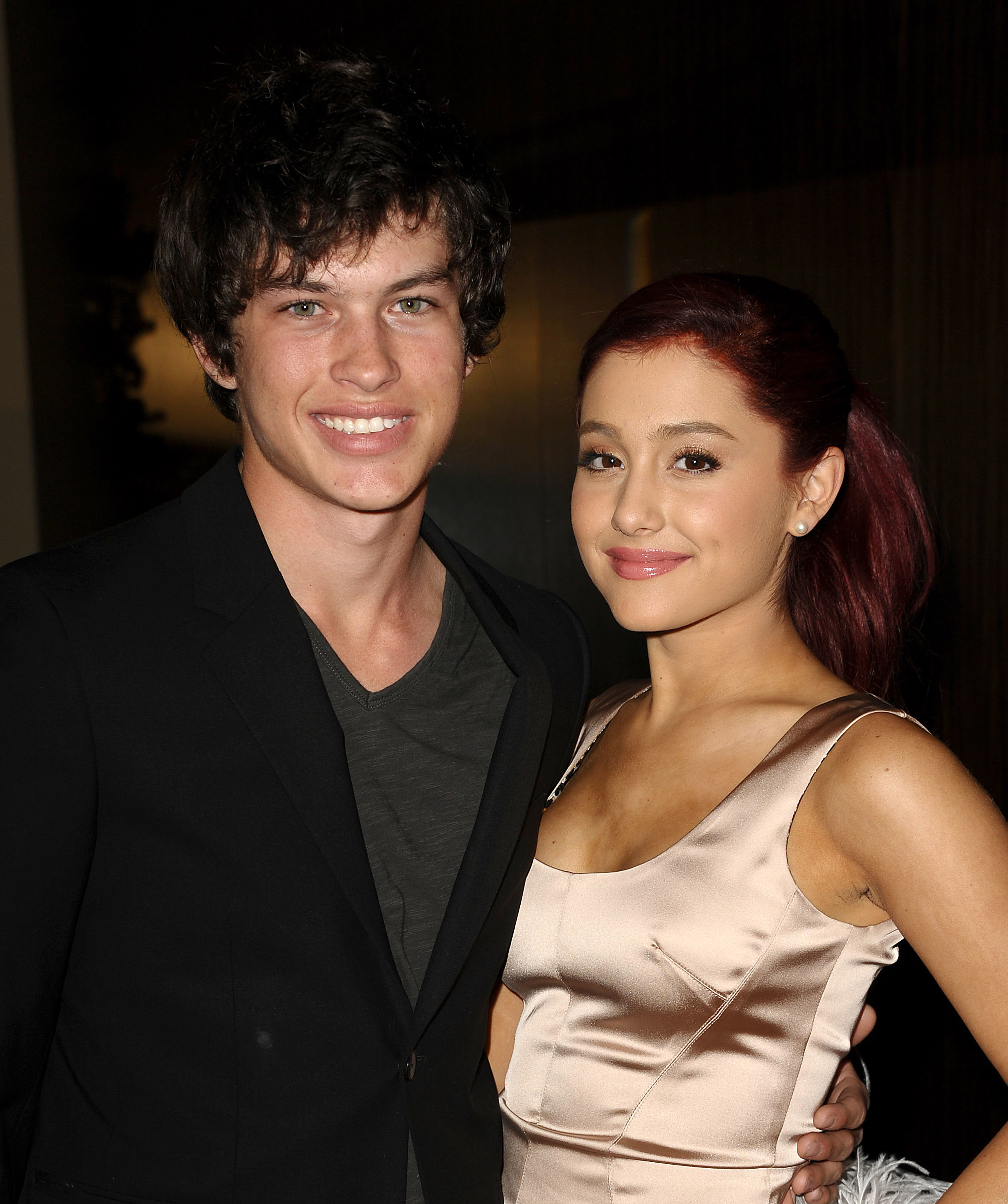 The duo were both starring on Broadway in 13: The Musical at the time and wrote a song called Stick Around, dated between 2008 to 2011.
Despite going their separate ways, the former flames reunited in July 2016 for a dinner with friends from 13.
Jai Brooks
Back in the golden ages when comedy group Janoskians were on their rise to fame, Grande dated Jai Brooks, one of the lead stars of the group.
The pair dated from August 2012 to October 2013, and their split wasn't particularly amicable.
At the time of their breakup, Brooks took to Twitter to accuse Grande of cheating on him with Nathan Sykes.
"Yes I was cheated on. Yes it does suck," he wrote in a lengthy rant. "Yes I was left for another man."
READ MORE: Expert reveals secret behind Pamela Anderson's iconic look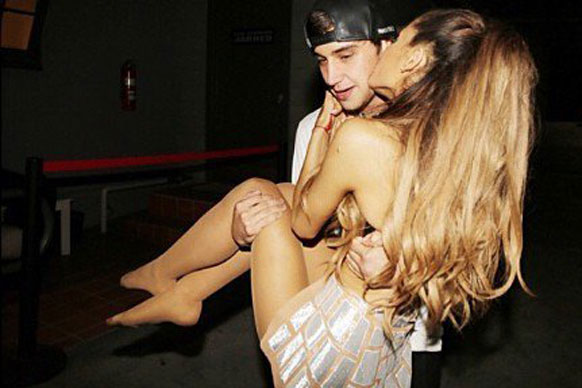 The 7 Rings singer, however, was not silent in response to the claims, and replied with a tweet of her own, accusing the comedian of threatening her with retaliation if she chose to not be with him.
"Woke up this morning in complete and utter shock …I guess I shouldn't be so surprised," she wrote.
"You said to me if I didn't come back to you, you'd make me look bad to the entire world. I'm no longer afraid of you or your lies anymore."
The highly-publicised feud saw the pair remain separated until May 2014, when it appeared they wanted to give their relationship a second chance.
Despite this attempt, however, Grande and Brooks split up for good in August.
Nathan Sykes
Though it was never confirmed whether Grande had been unfaithful while with Brooks, her next beau was none other than The Wanted singer Nathan Sykes.
READ MORE: Lindsay Lohan welcomes baby boy in Dubai, reveals name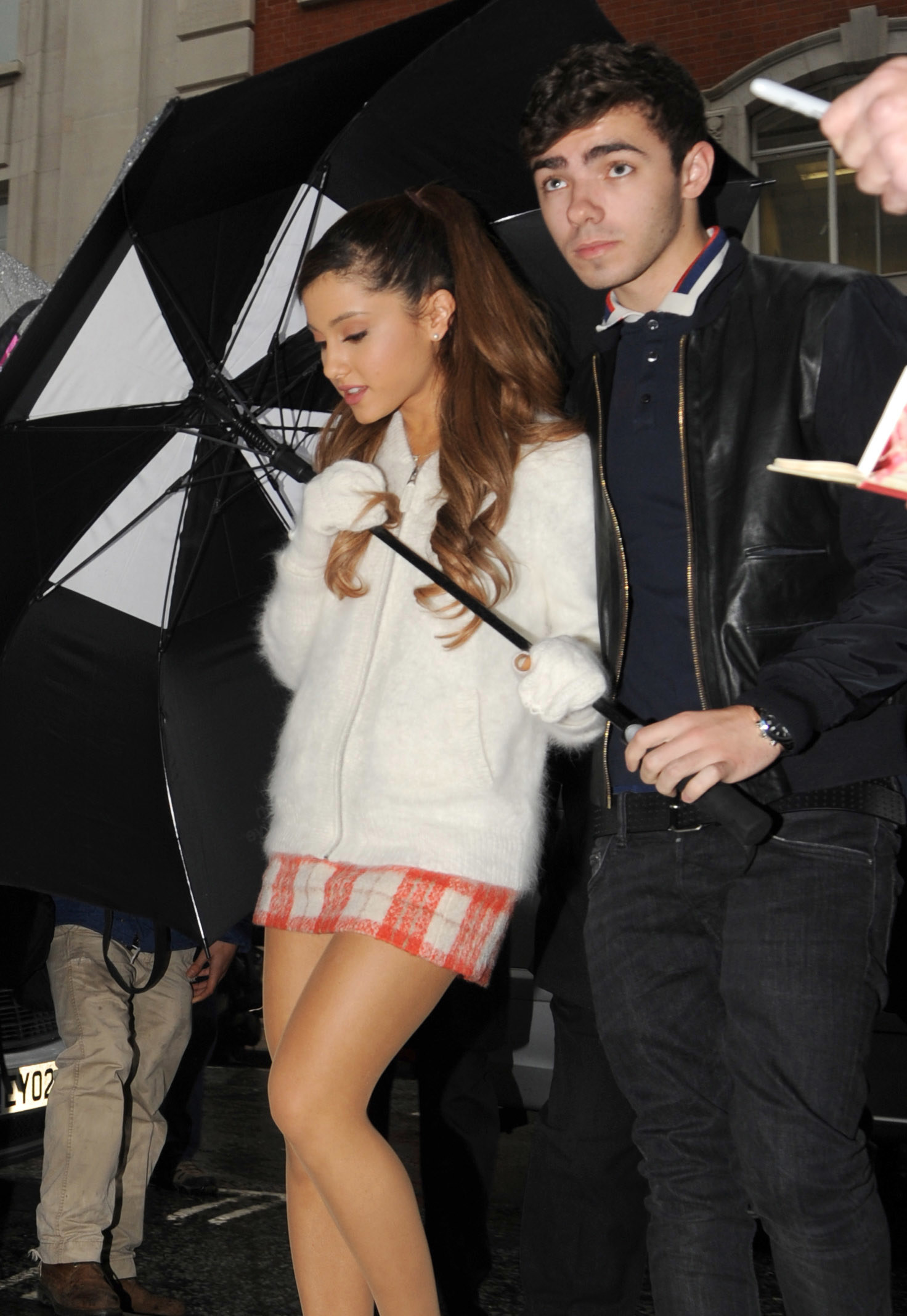 "I saw him in March on a red carpet, and we locked eyes with each other all night," she told Entertainment Wise of their initial meeting in 2013.
"I thought he was cute as hell. Nothing happened, obviously, and then the duet came about."
The couple kicked off a relationship in August 2013 following the release of Almost is Never Enough, but split up four months later.
After The Wanted split in 2014, Sykes embarked on a solo career, which included releasing a solo album with a song dedicated to his ex.
Big Sean
Grande thought she'd end up with Big Sean, but it wasn't a match.
The actress confirmed she was dating the rapper in October 2014, calling him "one of the most amazing men in the whole word."
READ MORE: Police ambush Kyle Sandilands outside his radio studio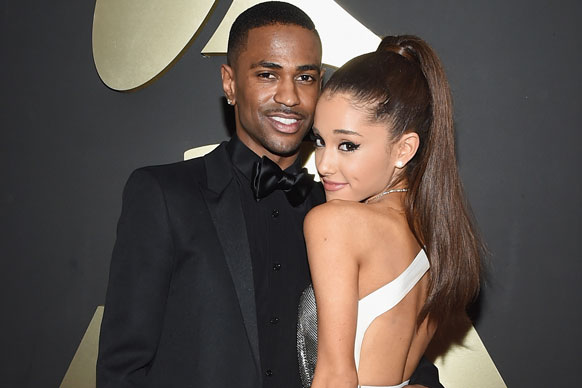 Late Glee star Naya Rivera, who was engaged to the rapper until April 2014, later alleged in her book Sorry Not Sorry that she found Grande at his home while she and Big Sean were still dating.
The romance broke down in April 2015, less than a year after the announcement.
Ricky Alvarez
The back-up dancer was first linked to Grande in 2015 following her split from Big Sean.
Alvarez was one of the names dropped in the singer's popular song Thank U, Next.
"Wrote some songs about Ricky, now I listen and laugh," Grande sang in reference to her ex.
READ MORE: How Kylie Jenner and Jordyn Woods' shock reunion unfolded
When the song was released, Alvarez posted it to his Instagram Story on November 5, 2018, zooming in on his face as the lyrics about him were sang.
Grande reposted his story shortly after.No Tears Left to Cry reposted his story shortly after.
"HAHAHAHAHHAHAHAH IM SORRY U GOT THE WORST LINE @RICKYROZAY," she wrote alongside praying hands and angel emojis.
"IT WAS MEANT V LOVINGLY."
Mac Miller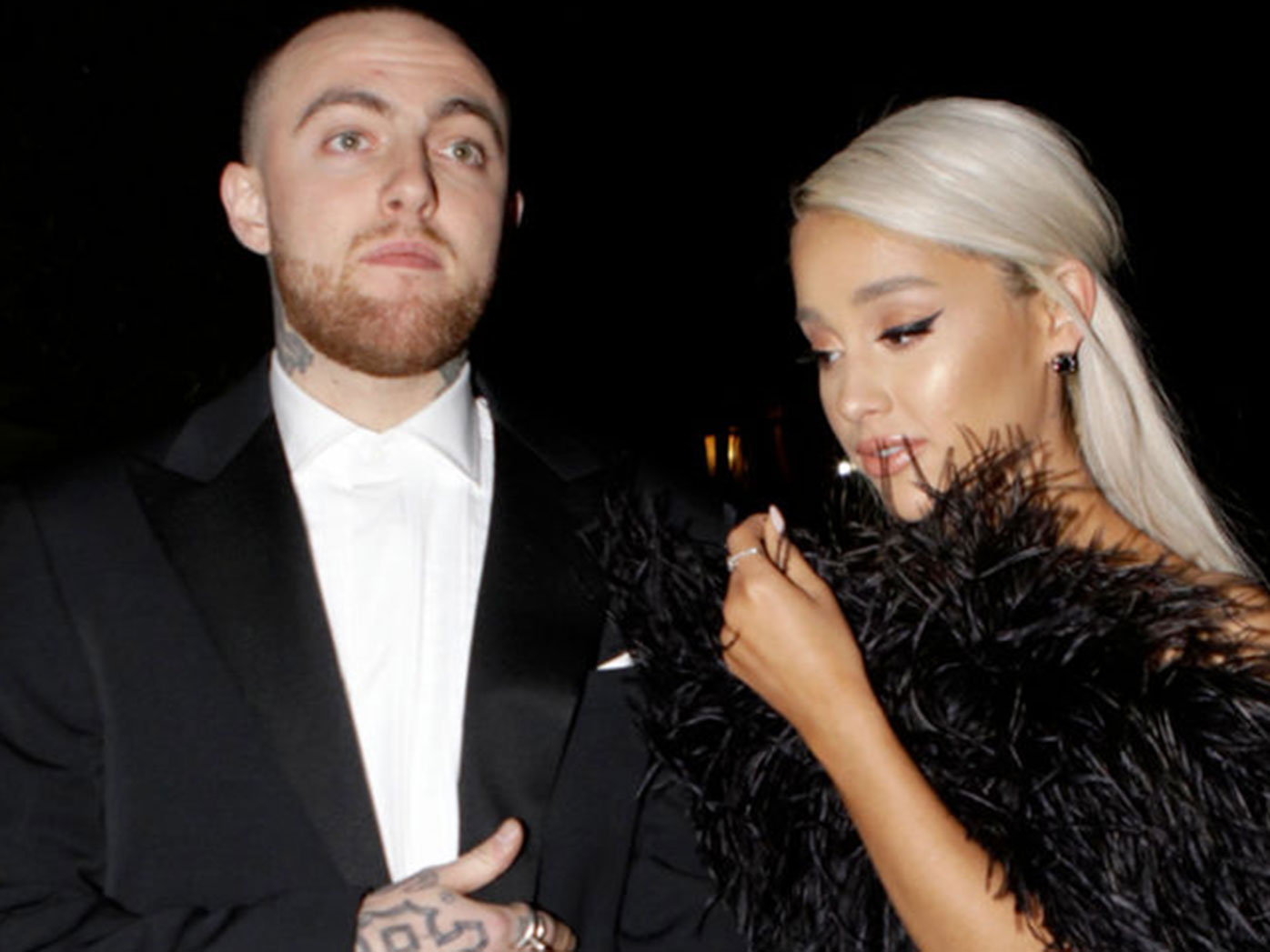 READ MORE: The best 'mid-tier' smartphones
Mac Miller and Grande were a whole era, their heartbreaking relationship capturing fans' hearts across the world.
The couple won the internet over when they released their collaboration The Way in 2016. The couple then dated for two years, confirming their split in May 2018.
Grande addressed the breakup on Instagram, posting a photo of the duo cuddling.
"I respect and adore him endlessly and am grateful to have him in my life in any form, at all times regardless of how our relationship changes or what the universe holds for each of us!" she captioned the snap.
Miller also spoke to the breakup, speaking candidly to Beats 1 host Zane Lowe in July 2018.
"I was in love with somebody. We were together for two years. We worked through good times, bad times, stress and everything else. And then it came to an end and we both moved on," he said. "And it's that simple."
READ MORE: A sore eye was the only warning before Cassidy's 'unbelievable' diagnosis
In September 2018, Miller was found dead in his home, his death ruled an accidental overdose due to a combination of alcohol and drugs
Grande wrote a touching tribute to her late ex on Instagram.
"I adored you from the day I met you when I was nineteen and I always will," she wrote.
"I can't believe you aren't here anymore.
"I really can't wrap my head around it. We talked about this. So many times. I'm so mad, I'm so sad I don't know what to do.
"You were my dearest friend. for so long. above anything else. I'm so sorry I couldn't fix or take your pain away. I really wanted to. The kindest, sweetest soul with demons he never deserved. I hope you're okay now. Rest."
Pete Davidson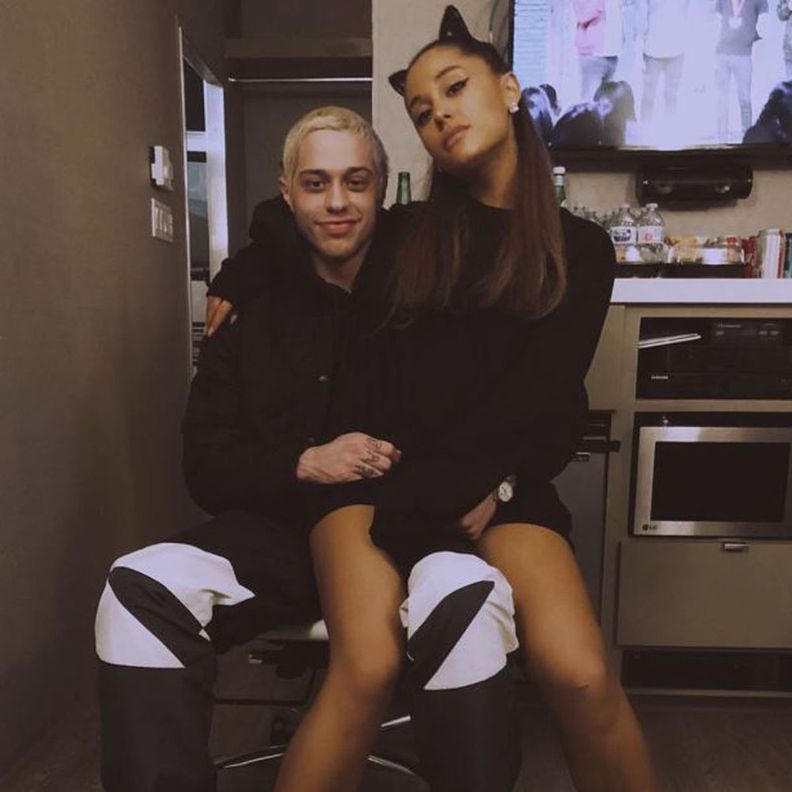 READ MORE: Scare during celebrations for Queen Camilla's birthday
It was Grande who kicked off Davidson's star-studded dating history.
The comedian went on to date Kim Kardashian and Emily Ratajkowski, among other stars, following his split with the Bang Bang singer.
In May 2018, the comedian took to Instagram to announce the pair were dating, sharing a photo of them posing in Harry Potter outfits.
"The chamber of secrets has been opened," the Saturday Night Live star cheekily captioned the post.
A month later, Grande, famous for moving quickly when dating, was engaged to Davidson, with discussions of marriage hitting the table.
They moved in together and adopted a pig, leaving fans in awe of their whirlwind romance.
READ MORE: Question looming over Harry and Meghan's royal invite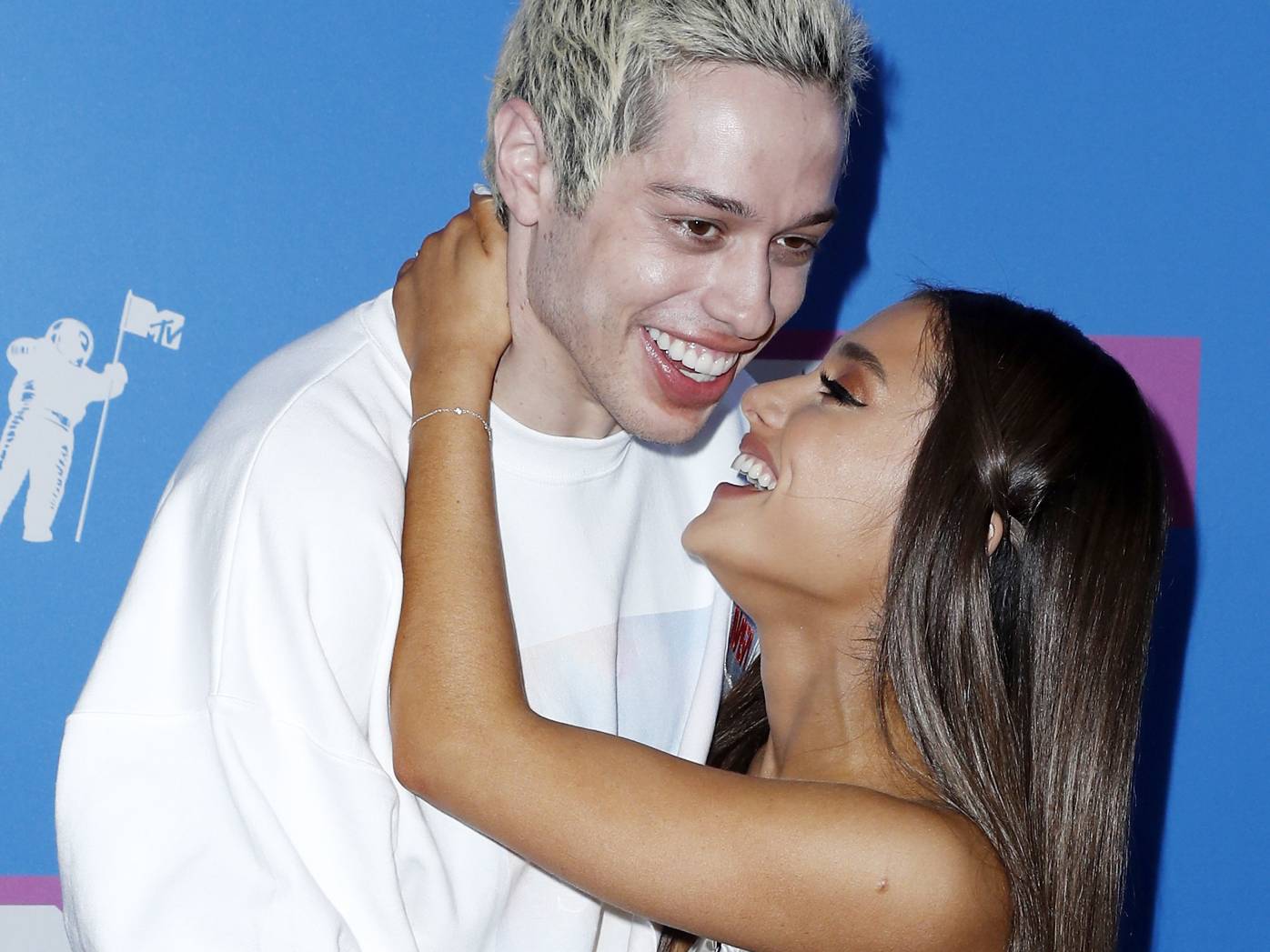 After spending the summer flaunting their romance, the pair shocked the world with their split in October 2018 .
Davidson spoke about it during a November segment of Saturday Night Live.
"I know some of you are curious about the breakup, but the truth is, it's nobody's business, and sometimes things just don't work out, and that's OK," he told viewers.
"She's a wonderful, strong person, and I genuinely wish her all the happiness in the world."
Mikey Foster
By the time Grande was linked with Foster, it was clear her dating pool was largely influenced by singer's she'd collaborate with.
In early August 2019, fans were left speculating over the pair's status after Grande and the Social House member made out in their collaborative Boyfriend music video.
The duo were spotted holding hands while hanging out in Chicago in the same month.
READ MORE: The big mistake you're making when curling your hair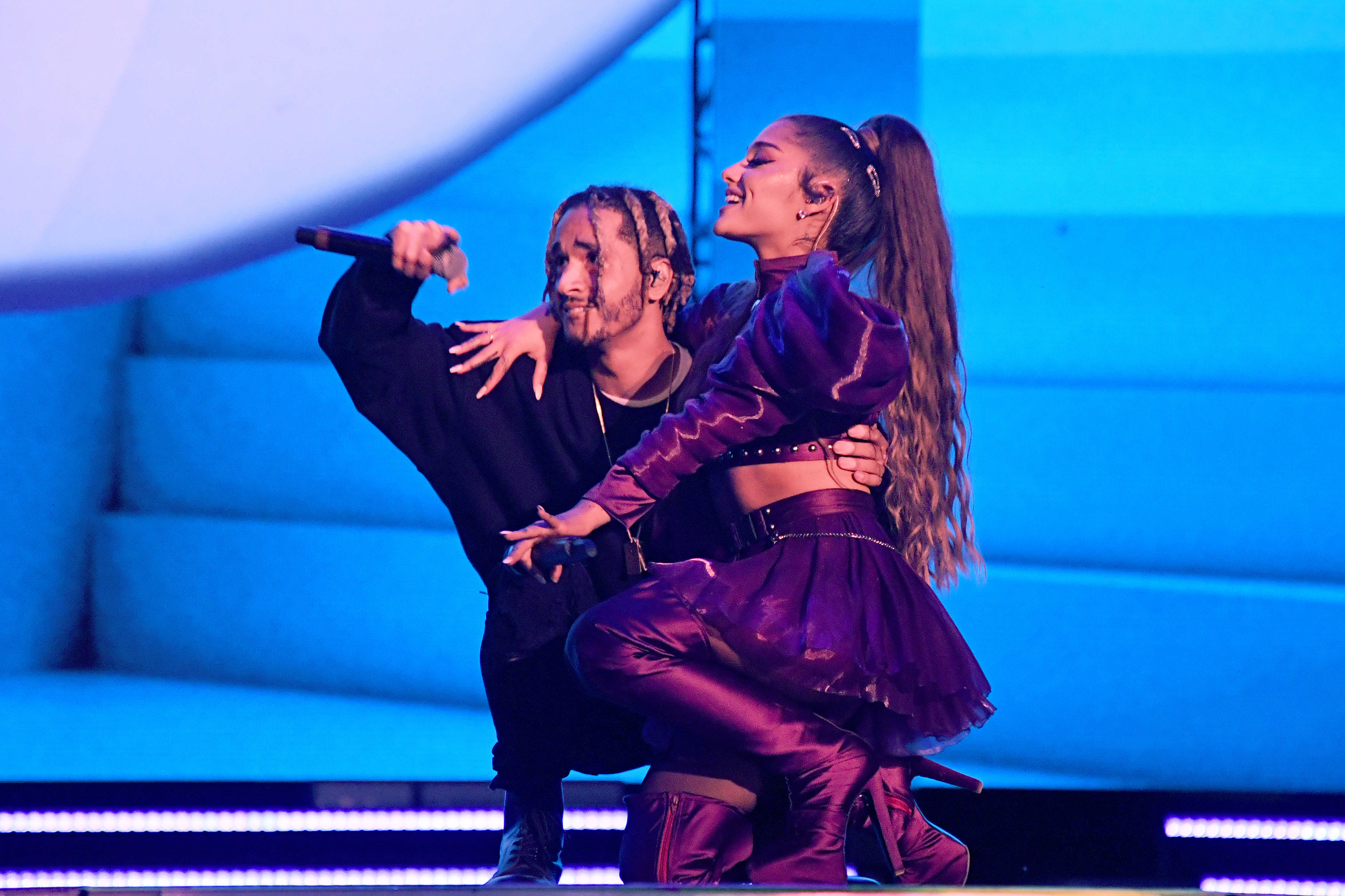 It was later confirmed that Foster, who opened for Grande during her Sweetener world tour, had been dating the pop star from as early as June 2019.
By June 2020, however, the pair had gone their separate ways.
Dalton Gomez
Most recently, the powerhouse singer was with realtor Dalton Gomez.
Grande and Gomez made their relationship public in February 2020 and got engaged 10 months later.
They wasted no time, tying the knot in May 2021 at an intimate ceremony held at Grande's home in Montecito, California.
READ MORE: Uproar as Sydney daycare bans iconic Aussie staple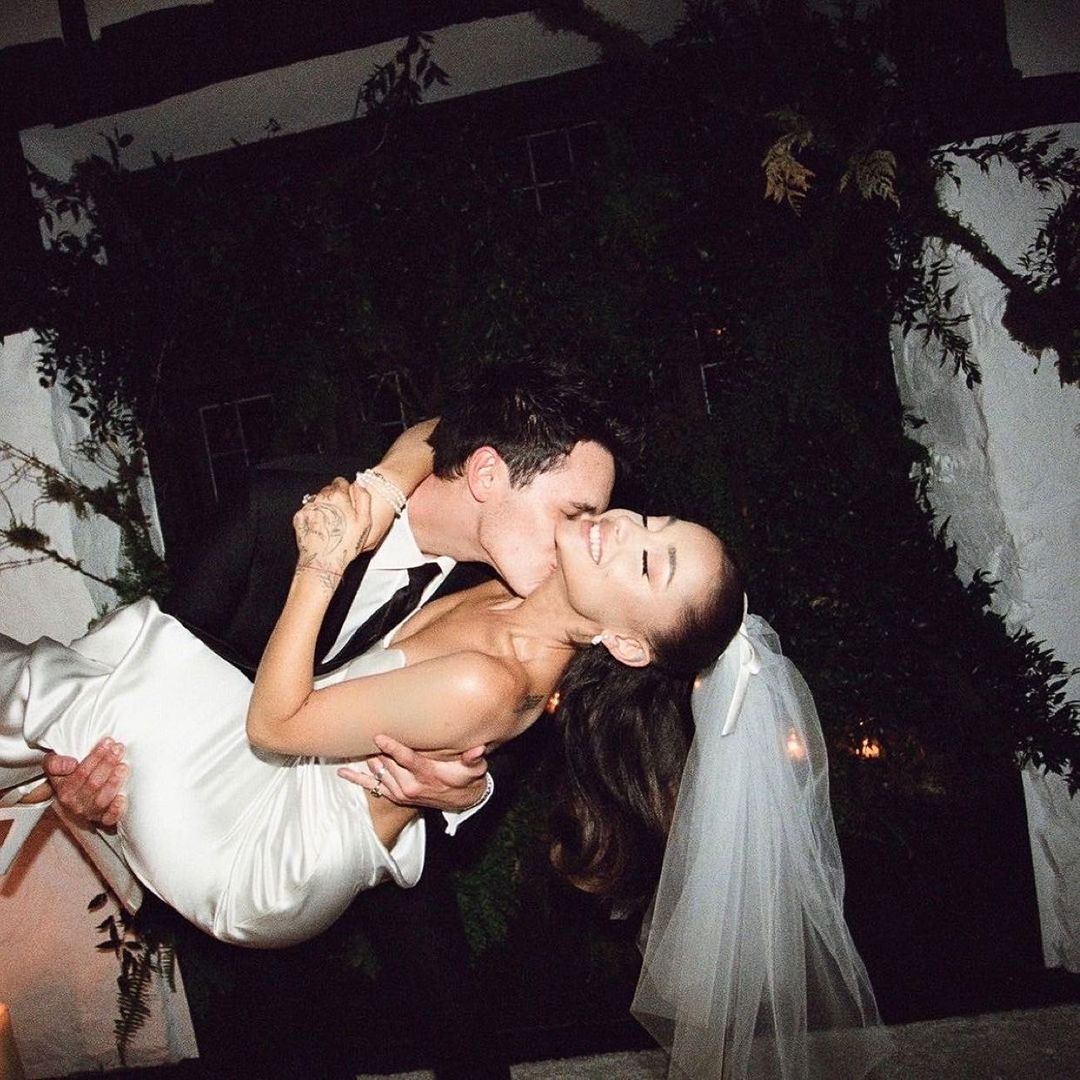 "The room was so happy and full of love," her rep said in a statement at the time.
"The couple and both families couldn't be happier."
This week, it's been reported Grande and Gomez secretly separated after two years of marriage.
The Breathin singer, 30, and her husband, 27, reportedly separated in January and "have been quietly and lovingly working on their friendship" since then, according to a source who spoke with People.
Rumours the couple were going through a rough patch had been swirling for months as Grande had been in London filming the adaptation of the musical Wicked.
READ MORE: Odd sign that can explain why babies wake at night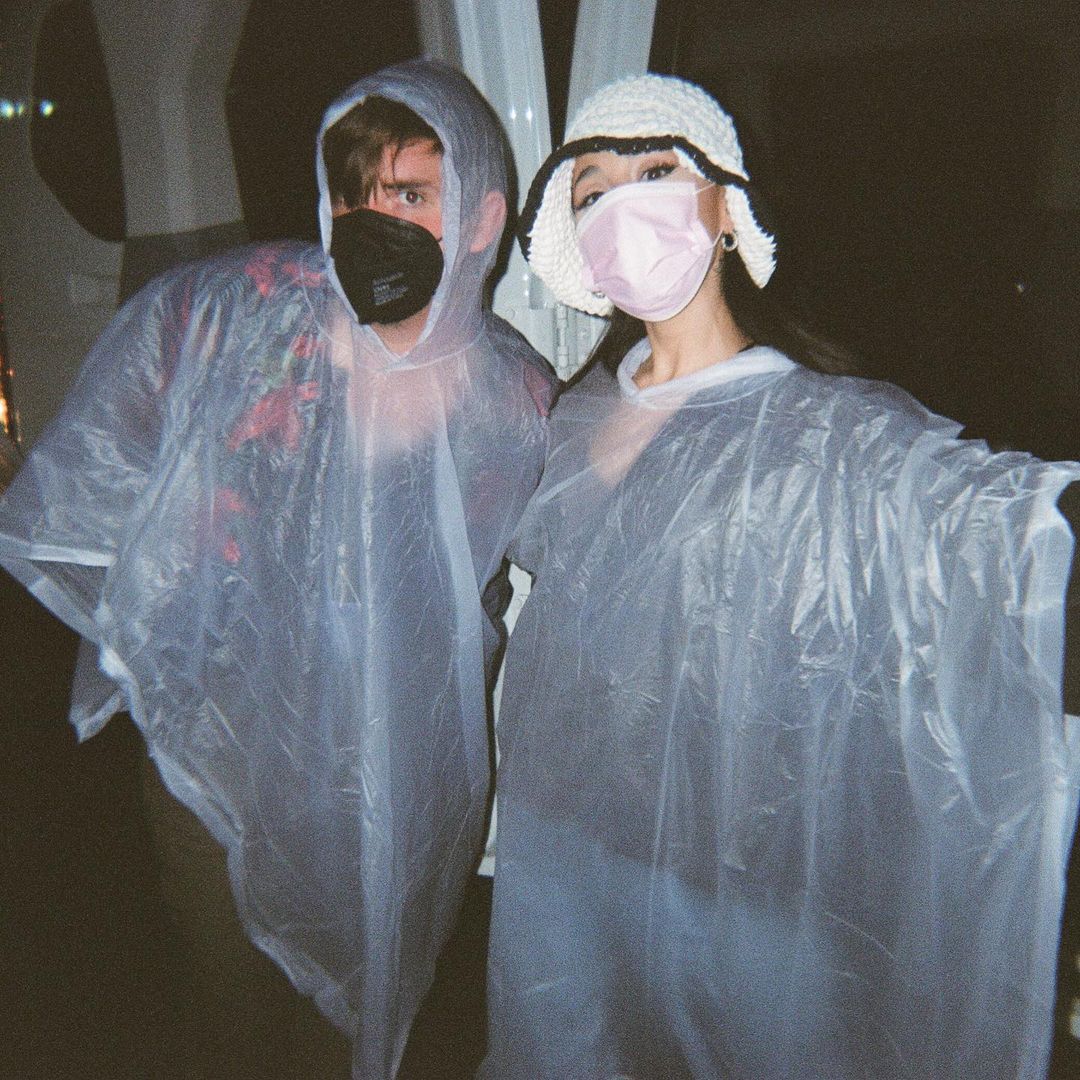 Similarly, earlier this week the singer was snapped at Wimbledon not wearing her wedding ring.
"Ariana and Dalton have been having some issues for months now," another insider told Us Weekly.
"They were having issues before she left for Wicked filming [in London] that they couldn't resolve, and the distance did not help. They haven't been speaking and are separated, and a divorce is likely."
For a daily dose of 9Honey, subscribe to our newsletter here
————————————
Title: A look back at Ariana Grande's dating history
Sourced From: celebrity.nine.com.au/latest/ariana-grande-dating-history-relationship-timeline-everything-to-know-explainer/2a70ea2d-da7b-4e24-bd30-c5213f5c57aa
Published Date: Tue, 18 Jul 2023 07:07:00 GMT
Read More
Did you miss our previous article…
https://mansbrand.com/neil-patrick-harriss-opening-82nd-oscars-number/
Why the U.S. Worlds Team is Perfect and Exactly What We Wanted
The U.S. trials for both the world championships and Pan American Games teams were held over the past couple of days, with an all-around competition held on Tuesday, followed by a more relaxed situation where the athletes could pick two events. A couple of hours after the second day of competition concluded, the selection committee had two full teams ready to go, with the worlds team pretty strategically perfect, at least based on my very specific qualifications.
My impression of the first night was that many athletes looked exhausted and not quite up to the task, especially given how late in the day the competition was, and how long things dragged on, with each rotation taking around 45 minutes, double what these athletes are used to at elite meets.
The fatigue affected some of the best, including Simone Biles, who had some uncharacteristically weak form at various points throughout the night, which caused a fall on her van Leeuwen and some smaller mistakes on beam and floor. In her final event, Biles over rotated her Yurchenko double pike on vault, which ended up looking like more of a timer as she threw the skill to her back, but she nonetheless won the competition with a 55.700, down several points from what she showed she was capable of at nationals, but still enough to finish in first place and automatically qualify to the worlds team.
Coming closest was Shilese Jones, who had a very strong meet going up until bars. Actually, I'd Include bars as part of her strong meet, as the routine was excellent, and the mistake that ended up costing her a full point in deductions – a brush of her feet on the mat after her Pak salto – didn't affect her rhythm at all to the point where it wasn't noticeable to anyone watching. The view of her feet was cut off for the viewer watching on the stream, but while you'd still notice a flaw in the gymnast's movements in most cases like these, Jones seamlessly continued into the rest of her routine and finished well. When her score came up as 13.5, it was shocking, but on the second day she came back sans foot drama, connected the Pak to van Leeuwen, increased her difficulty score to a 6.5 – third highest in the world – and scored a 14.75 total, once again proving what a threat she is for a bars medal.
Skye Blakely came into this trial as one of my three locks for the team along with Biles and Jones, and everything she did here to finish third all-around confirmed this opinion. Her floor still isn't really usable, but she offers so much on bars and beam, both of which have been so consistent this season, and her vault is yet another solid Yurchenko double full, which the team might not need, though could use in a pinch if needed. She did have a fall on a bars release on day two, but with everything else she's done there this year, this mistake changed absolutely nothing for me.
Rounding out the top five were Joscelyn Roberson and Leanne Wong, though they would have been my next team picks regardless of where they had fallen in the all-around rankings. While they weren't locks for me in the sense that there were a few other solid options and I wasn't sure if the selection committee would match my brainwaves, they were the two I wanted most to round out the team, filling the roles of a strong multi-event specialist as well as a well-balanced utility player who might not be a top-scoring athlete on any event, but who is absolutely vital to the team thanks to her ability to step in anywhere and score nearly as well.
In the latter role, Wong was the clear winner for me. She came into this season for the first time at the U.S. Classic in August, finishing second all-around, and then surprised to win all-around bronze at nationals with even-keeled and solid performances on every apparatus across both days of competition. Wong, who stuck with her Florida coaches this year instead of going back to GAGE, has been at a level we've never quite seen from her – maybe not gymnastically, exactly, as we've seen her look strong before and with higher difficulty in some areas, but in terms of her confidence and the joy she's bringing to every performance.
I've always been a fan of built-in alternates for teams, and while everyone is calculating numbers and putting together spreadsheets showing the top-scoring teams, I'm keeping scoring potential in mind, but also always making room for someone who adds value in a different way. It's not super often that teams need to replace higher scores with a more consistent low score, but two very recent examples include Biles being forced to withdraw from the team final in Tokyo and Blakely's bars being considered too much of a risk at last year's worlds, where Wong – who only competed on vault in qualifications – was able to come in and put up a steady score for the team. With only five athletes on a team and three scores needed for each event in the final, not having a trusted backup is a scary prospect.
Between classics, nationals, and trials, Wong hit 18 out of 18 routines. She also only won a single event medal, with her silver on vault at the U.S. Classic. So there's a massive pro, but also a massive con, but is it really a con? Does everyone on every team really need to be an individual medal contender, or is there room for those who bring a different skillset to the mix, especially when the big scores are more or less covered by other athletes and the alternative would be another specialist with high-scoring potential but an inconsistent history? Not to mention that the top all-around athletes shouldn't be required to compete all four events in the team final, and Wong is the best option to provide relief for Biles on bars and Jones on beam or floor, for example.
If Wong proved herself ready for a spot all summer, Roberson's done it all season, going back to her fantastic performances on vault, beam, and floor at the Winter Cup in February to her multiple 14+ scores on floor in international competition – her 14.15 at the DTB Pokal Team Challenge, 14.1 and 14.067 at Pan Ams, and 14.066 at the Cairo World Cup are the top four international scores out of over a thousand international floor scores seen in the entirety of 2023 so far – to a domestic summer season that saw her win all-around bronze at the U.S. Classic before becoming the vault champion at nationals. In my eyes, she didn't need to do much more at trials to show her readiness, but she did it anyway, finishing first on vault and second on floor.
While I was convinced, however, my concern was that the selection committee wouldn't be, especially when the experienced Jordan Chiles made a strong case for herself on vault and bars despite looking a bit shaky elsewhere. Experience helps in situations like a world championships meet, and Chiles was a standout last fall, putting up four excellent scores to help the team win gold in the final before going on to win medals on vault and floor. Then there were a couple of other gymnasts with standout events, like Zoe Miller on bars and Kaliya Lincoln on vault, beam, and floor, both of whom put absolutely everything into Tuesday's all-around competition with Lincoln's score a career-best, as well as Jade Carey on vault, where the reigning world champion excelled, scoring a 14.8 for her Cheng on day two.
Roberson and Wong were my picks to round out the top all-arounders with both a specialist and the opposite of that, but I saw the value in selecting others as well, and felt like this team could have gone several different ways. But it seems the committee and I were on the same page for once, with Roberson and Wong joining the expected Biles, Jones, and Blakely trifecta, while Kayla DiCello – who kind of quietly slipped into seventh all-around here despite a fall on bars – was named the alternate.
DiCello was also picked to compete at the Pan Am Games, along with Chiles, Lincoln, Miller, and first-year senior Tiana Sumanasekera, who won this year's Pan Am Championships all-around title back in May. Carey was also offered a Pan Ams spot, but turned it down due to a personal conflict and will instead compete at the Swiss Cup, while Alicia Zhou, Eveylynn Lowe, and Nola Matthews earned non-traveling alternate spots for Pan Ams, and Katelyn Jong previously earned an individual spot for Pan Ams by winning the Junior Pan Am Games title in 2021, though she was injured while training vault on Tuesday, so it's unclear whether she'll be able to compete or not.
I understand that Carey or Miller could have added more to the team's scoring potential than some of those who were selected, and that there are very valid arguments for other combinations of athletes, but I love the strategy the selection committee ultimately went with, even if it was by coincidence if they ultimately just went with the all-around rank order from Tuesday's competition. Either way, what stands out most about this team is that it wasn't just the right team based on one night, but it was also the right team based on the months of tests that preceded the trial competition. This group of athletes is exactly who I would have selected after nationals, and the potential they have for success in Antwerp is nothing short of tremendous.
Article by Lauren Hopkins
———————–
By: Lauren
Title: Why the U.S. Worlds Team is Perfect and Exactly What We Wanted
Sourced From: thegymter.net/2023/09/22/why-the-u-s-worlds-team-is-perfect-and-exactly-what-we-wanted/
Published Date: Fri, 22 Sep 2023 04:57:49 +0000
Read More
Did you miss our previous article…
https://mansbrand.com/kathryn-bernardo-puts-healthcare-workers-at-the-forefront-in-seoul-2/
Kathryn Bernardo Puts Healthcare Workers at the Forefront in Seoul
Kathryn bagged the award for her role as medical nurse Ali in the series 2 Good 2 Be True, and dedicated her win to the real healthcare workers
Over the years, Asia's Superstar Kathryn Bernardo has played a number of iconic roles that fans will always remember. In 2010, she won the hearts of many as the young Gretchen Barretto in Magkaribal, and in 2019, with a number of successful projects under her belt, she showed a new side of her acting prowess as Joy in Hello, Love, Goodbye. Before we all say hello to Philo, the actress closes the chapter of Nurse Ali from 2 Good 2 Be True by receiving an award at Seoul International Drama Awards.
RELATED: 5 Times Kathryn Bernardo Proved She's a Fashion Chameleon
Making meaningful success
Yesterday, the 27-year-old artist honored her well-beloved character in the series. In her speech, she emphasized the value of health workers, as well as awareness on Alzheimer's Disease.
The actress said, "It's always been more than just [sharing a] love story to our audience, but also spreading awareness about Alzheimer's disease, and educating people about those who struggle with it, and how we can offer them the best support they need. This project made me appreciate our nurses and our healthcare workers so it was really more than just another TV show for me."
During its air, 2 Good 2 Be True simultaneously premiered on Netflix and ABS-CBN's other online and television platforms. In the show, Ali, played by Bernardo, took care of Ronaldo Valdez's portrayal of Lolo Sir. In the series, he was experiencing the effects of Alzheimer's disease.
Looking back on the role
The 130-episode run of the show was a success, with the audience applauding the team for the heavy research on medical procedures exhibited in the series. In one of the scenes, Kathryn conducted the F.A.S.T. method to confirm the stroke of Valdez's role. Besides the factual portrayal of the procedure, viewers praised the actress's expressive restraint playing Ali. According to some reviews, this was a factual portrayal of the health workers' reality in their attachment to their patients.
2 Good 2 Be True also starred the actress' on and off screen partner, Daniel Padilla. The actor played Eloy, Lolo Sir's estranged grandson and Ali's love interest. Besides their established chemistry over the years, the love team's relationship with Ronaldo Valdez's character won the hearts of fans. In a tribute to the veteran actor, Bernardo referred to him as "the lolo I never had."
Apart from her role as a persistent nurse, Ali was also well-beloved for being a determined dreamer and a hardworking family member. To some KathNiels, the comedic side of Alison Fajardo was also a throwback to Chichay. The latter was from the series Got 2 Believe.
On September 27, the actress will deliver a darker, more mature character as Philo in her newest film, A Very Good Girl.
Congratulations to Kathryn Bernardo for her well-deserved recognition at the Seoul International Drama Awards!
Featured Image: STAR CINEMA (via Instagram)
The post Kathryn Bernardo Puts Healthcare Workers at the Forefront in Seoul appeared first on MEGA.
———————————–
By: Chlarine Gianan
Title: Kathryn Bernardo Puts Healthcare Workers at the Forefront in Seoul
Sourced From: mega-onemega.com/kathryn-bernardo-puts-healthcare-workers-at-the-forefront-in-seoul/?utm_source=rss&utm_medium=rss&utm_campaign=kathryn-bernardo-puts-healthcare-workers-at-the-forefront-in-seoul
Published Date: Fri, 22 Sep 2023 10:17:15 +0000
Read More
For Studios' Bottom Lines, Awards Season May Be Stronger Than the Strikes

The success of interim agreements — and the money left on the table not being able to give Oscar fare a proper campaign — could be enough to convince AMPTP members to finalize negotiations with the WGA and SAG.
———————–
Title: For Studios' Bottom Lines, Awards Season May Be Stronger Than the Strikes
Sourced From: www.indiewire.com/awards/industry/will-awards-season-end-strikes-1234907380/
Published Date: Thu, 21 Sep 2023 19:00:00 +0000
Read More
Did you miss our previous article…
https://mansbrand.com/pr1-mathiasen-seeking-out-bronze-driver-for-2024-program/