Madonna has dated a number of celebrities, particularly in the early years of her career. The pop star was linked to Tupac, Warren Beatty, Jean-Michel Basquiat, and Dennis Rodman, among others.
But no one made as much of a lasting impression on the star more than the two most high-profile romances of her life: Sean Penn and Guy Ritchie.
Let's take a look back at these two defining relationships for the Queen of Pop.
Read more: Madonna's life and career through the years
Sean Penn: A rocky relationship
Madonna met actor Sean Penn in 1985 when she was 26 years old, while filming the music video for Material Girl. The pair hit it off instantly, and soon they were hanging out every day.
Things started out slow: they'd both just gotten out of relationships and wanted to stick to just being friends with benefits. The plan didn't quite work, however, and they married just six months after meeting, on the pop star's 27th birthday.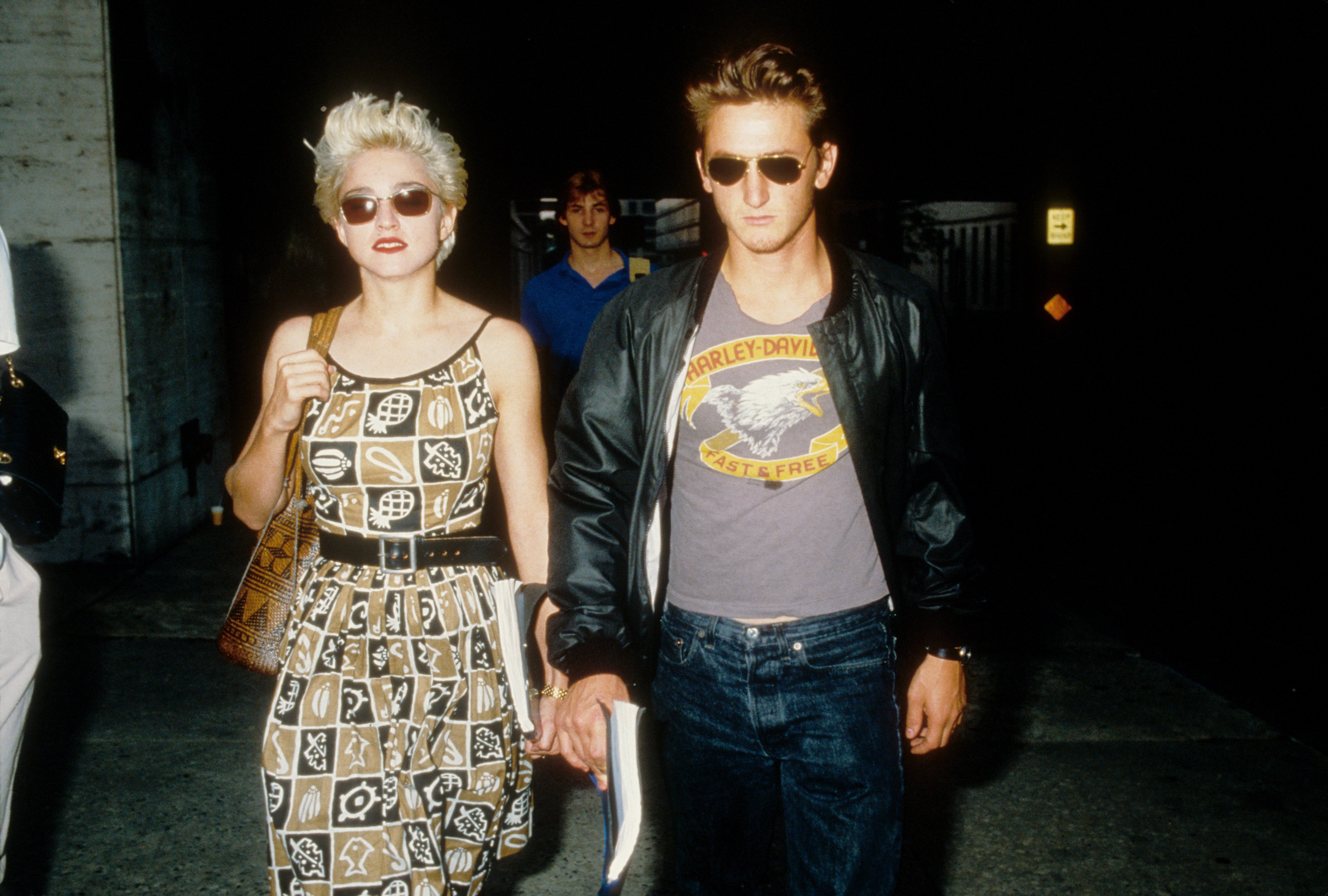 "We have so much in common that he's almost like my brother," she told People the month before their wedding. "His temperament is also similar to mine. That doesn't always make for ideal relationships, but I don't know what will happen."
They lived their lives in the spotlight, constantly facing the scrutiny of media and fans. In 1986, they both starred in the film Shanghai Surprise. Later that year, Madonna released an album True Blue, dedicated to Penn.
Though they seemed like the picture of love and happiness, reports swirled that behind closed doors, there was trouble in paradise. Penn was allegedly very jealous, accusing Madonna of cheating on numerous occasions. Accusations of infidelity, domestic violence, and constant arguing between the two plagued the headlines in the late 1980s.
Read more: Madonna revealed to be in intensive care with bacterial infection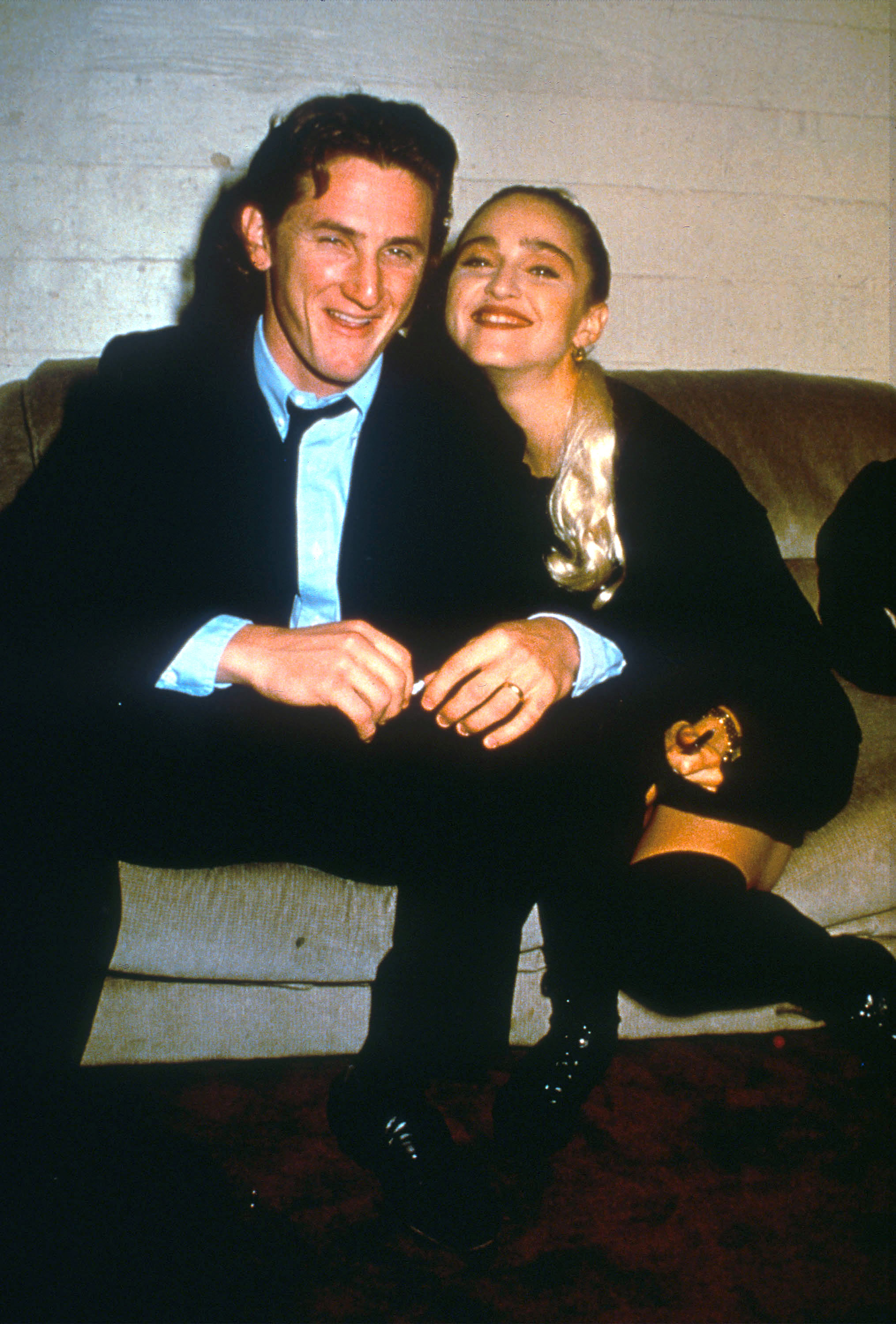 In April 1986, Penn was charged after attacking songwriter David Wolinski in a nightclub, because he thought he saw him kiss his wife.
"The marriage had been undergoing stress all the time, but this was the first major stress, the first really traumatic episode for [Madonna]," a source told People at the time. "Wolinski was someone she knew, and it really shook her up."
Despite extensive reports of Penn's jealousy and anger, Madonna backed up her husband.
"I have my insecure moments," Madonna admitted at one point during the relationship, "and that puts a lot of strain on people. You take things out on the person you love, and that causes fights, alienation, grief, shrink sessions and a lot of ca-ca."
READ MORE: The Madonna music video that was so scandalous it was condemned by the Vatican church
In December 1987, Madonna filed for divorce, but withdrew the papers just two weeks later. She filed them again a year later, in January 1989.
The couple remained friends, however.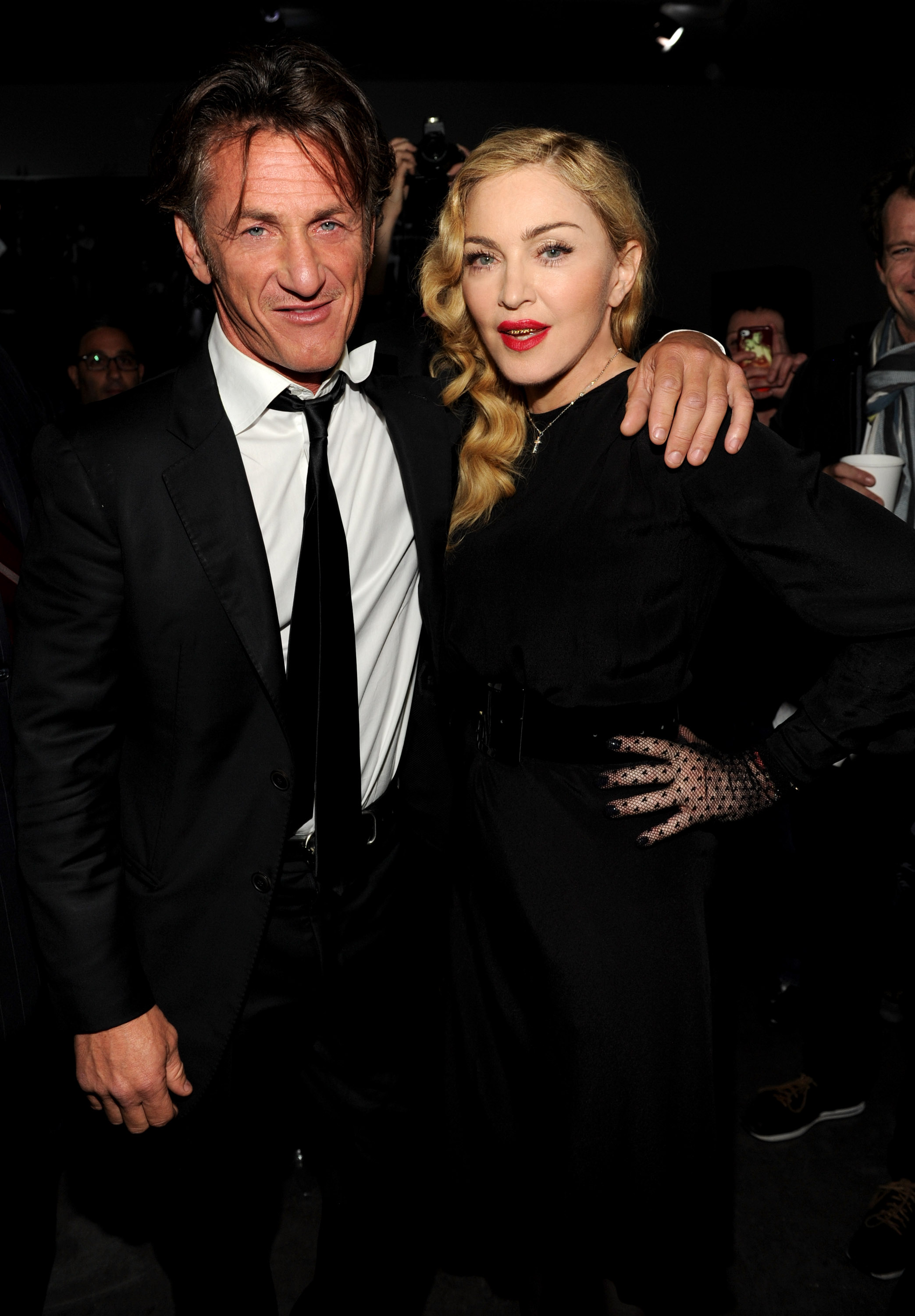 In 1991, in her record-breaking documentary In Bed With Madonna, the star named Penn as the "love of her life". He's been spotted attending her concerts over the years, and in 2017, he told Stephen Colbert that he still loves his ex-wife "very much".
During a gala at Art Basel in 2016, Madonna said she was "still in love" with Penn, even offering to remarry him if he bid $150,000 in a charity auction.
Though were many rumours following the divorce that Penn was violent toward Madonna, but the singer quashed those allegations.
"While we certainly had more than one heated argument during our marriage, Sean has never struck me, 'tied me up,' or physically assaulted me, and any report to the contrary is completely outrageous, malicious, reckless, and false," Madonna said in 2015.
Guy Ritchie
Madonna met Guy Ritchie, an English film director, in 1999 at a party hosted by their mutual friend Sting. At the time, Madonna had a two-year-old daughter, Lourdes, who she shared with her ex-boyfriend Carlos Leon.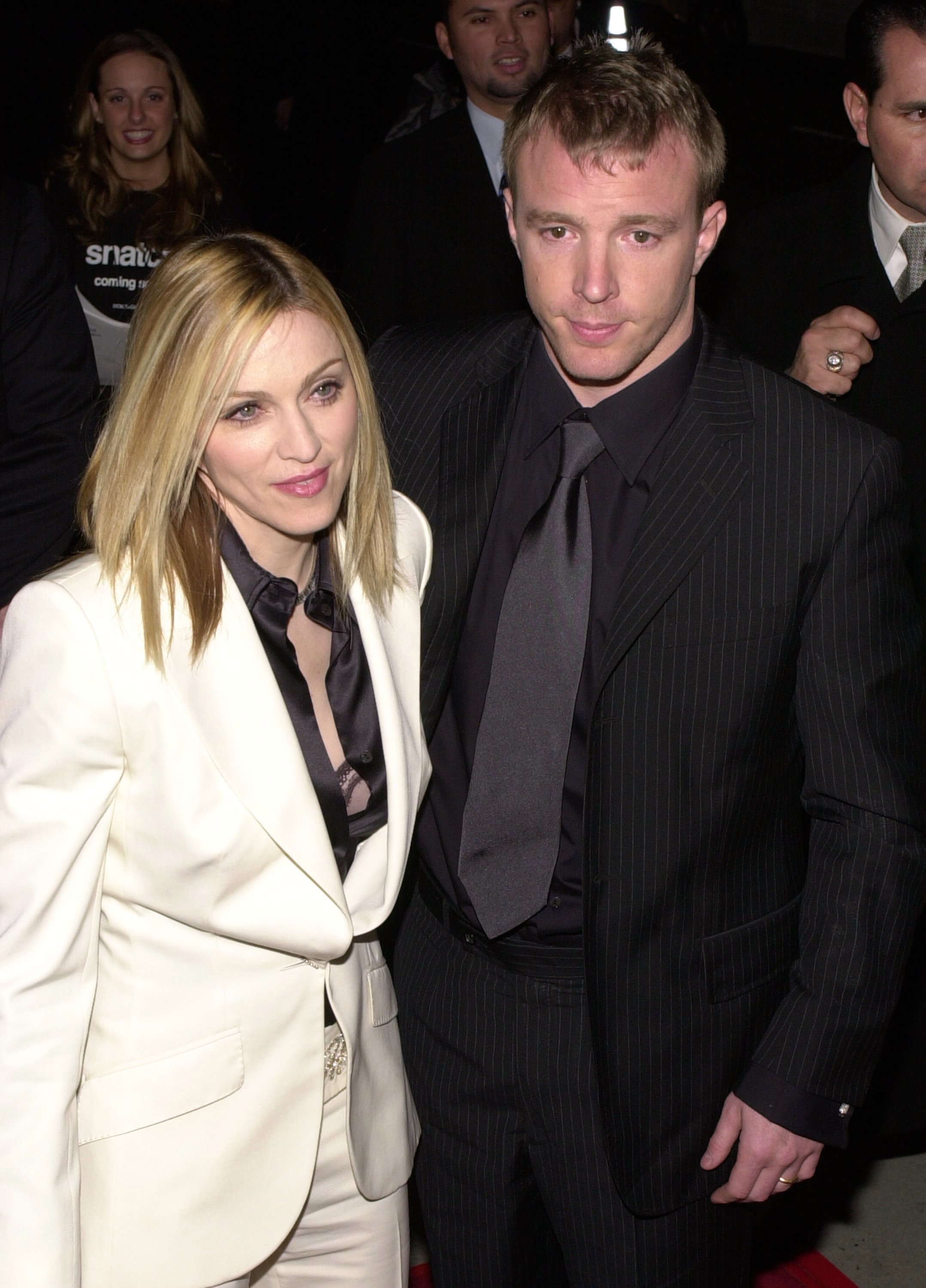 It was attraction at first sight for the pop star. "I had a whole premonition of my life fast-forward," she told People. "My head didn't just turn, my head spun round on my body. I was taken by his confidence. He was sort of cocky but in a self-aware way… He's a risk taker and he's got a hungry mind."
The media labelled him her toy-boy, as he was, at age 29, a decade younger than her.
READ MORE: The awkward reality behind Madonna and Britney Spears' on-stage VMAs kiss
But Ritchie had made a name on his own. "Guy works almost as hard as Madonna does," her friend and actor Rupert Everett said of the couple. "He's definitely not a boy toy."
It took a while for the relationship to get off the ground, as they were each so hyper-focused on their own careers and unwilling to compromise. He was also seeing TV presenter Tania Strecker at the time, while also hanging out with Madonna on the side.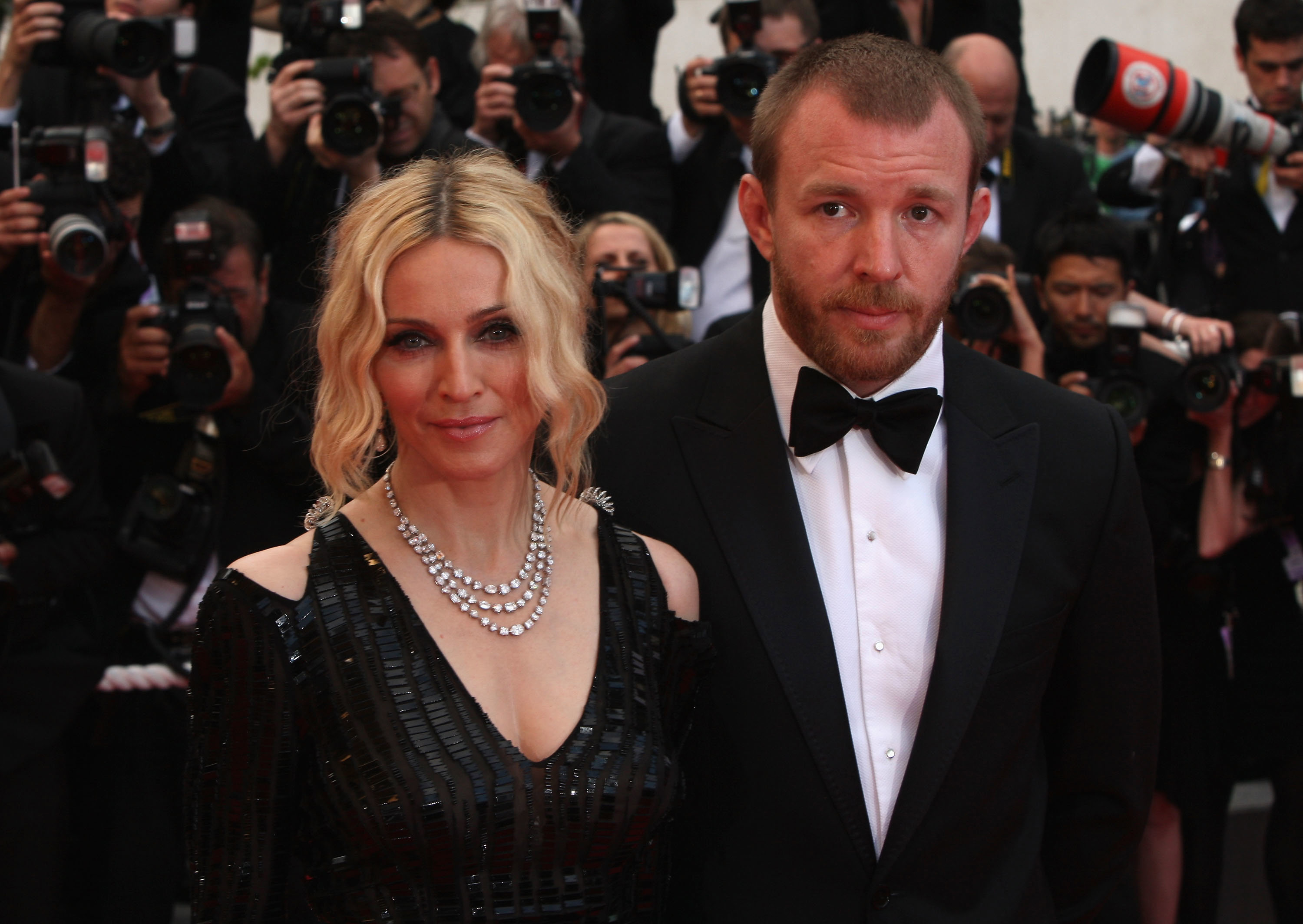 But by the end of 1999, the singer relented, agreeing to move to London with her beau. Their son Rocco was born in August 2000, after a complicated pregnancy and birth.
Ritchie proposed to his girlfriend shortly after Rocco's birth, and they got married in a super-secret Christmastime ceremony at a castle in Scotland.
"We wanted to find a place that was really hard to get to, because when people have to work hard to get somewhere, you know they really want to be there," Madonna said of the location. Gwyneth Paltrow and Donatella Versace were among the guests. 
The couple adopted a son, David, from Malawi in 2006, but just a few months later, reports surfaced that the couple's relationship was on the rocks. There were rumours that Madonna had conducted an emotional affair with baseball player (and future J.Lo fiancé) Alex Rodriguez.
Insiders told reporters that the couple had simply been drifting apart for a while. "It wasn't just one thing," a source told People. "It was unravelling throughout the last year. They were living separate lives and coming together every now and then for the cameras."
"She was more about being a celebrity and he was more low-key. He wanted to live in London and live a normal life but that's impossible when you're married to Madonna."
At first, the couple's split was amicable. In 2011, Ritchie told Details magazine: "The experience was ultimately very positive. "I love the kids that came out of it, and I could see no other route to take."
Read more: Madonna hits back at ageist criticism after Grammy Awards appearance
But in 2015 the couple entered into a bitter custody battle for their son Rocco. At first, the 15-year-old was travelling with his mum on the Rebel Hearts tour, before choosing instead to live full-time with his dad in the UK.
A judge ordered Rocco to return to Madonna's home in NYC, but he refused. Eventually, the couple settled the dispute.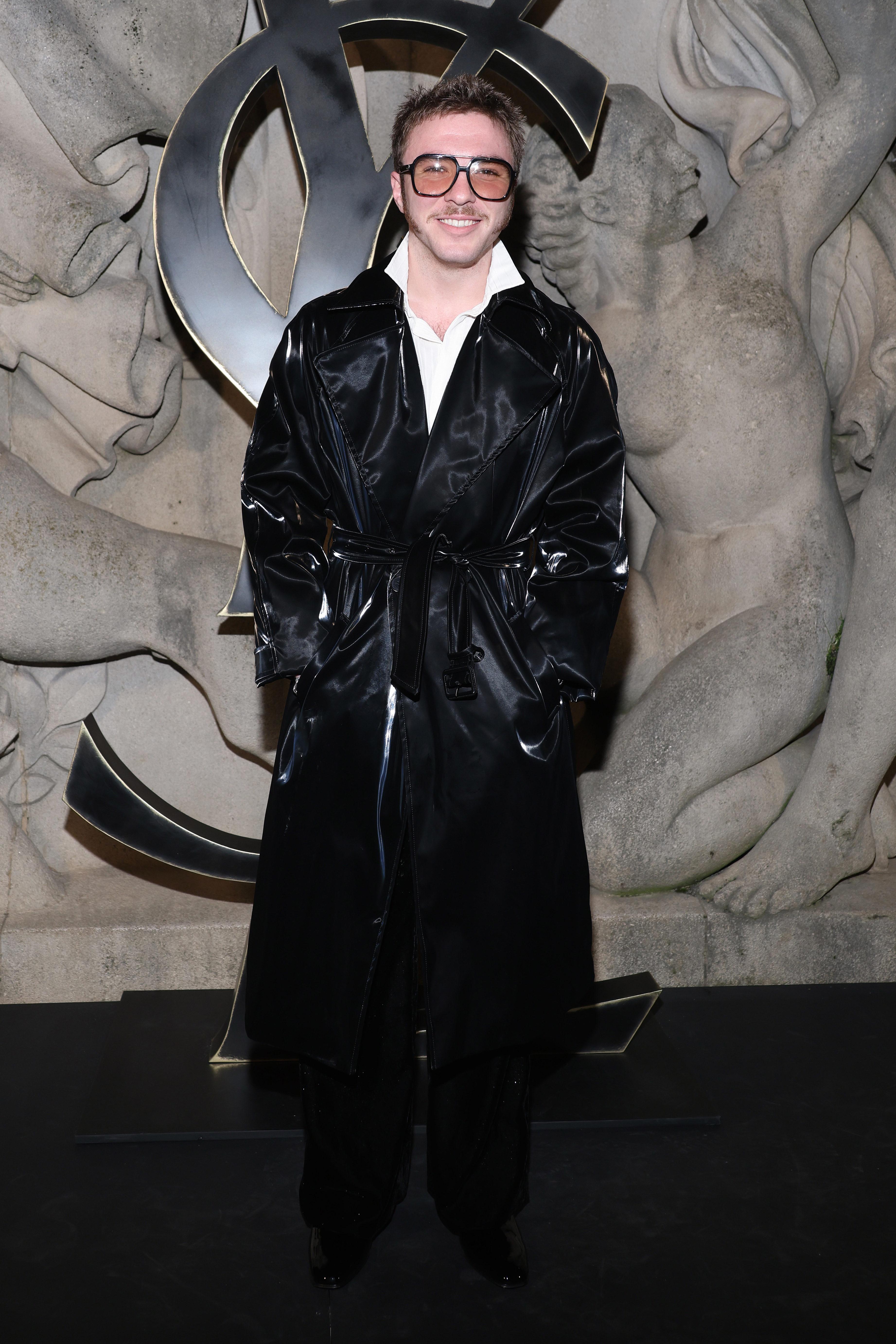 The same year, Madonna spoke a candidly about her ex-husband. "I did sometimes find myself in a state of conflict," she told the Sun. "There were times when I wanted to express myself as an artist in ways that I don't think my ex-husband was comfortable with."
She added, "There were times I felt incarcerated. I wasn't really allowed to be myself."
In 2022, during a Q&A on YouTube, Madonna was asked if she'd ever made any decisions that she now feels wasn't the best idea, the star kept it simple: "Getting married," she said. "Both times."
Guy Ritchie is now married to model Jacqui Ainsley; the couple have three kids.
————————————
Title: A look back at Madonna's most high-profile relationships
Sourced From: celebrity.nine.com.au/latest/madonna-dating-history-relationships-two-great-loves-sean-penn-guy-ritchie-explainer/1a409af7-1a6c-4e61-9f0a-6d4a425fc3c5
Published Date: Thu, 29 Jun 2023 06:06:00 GMT
Read More
Did you miss our previous article…
https://mansbrand.com/daniel-johns-silverchair-bandmates-to-release-tell-all-memoir-without-the-singers-involvement/
'Gone With the Wind' Star Hattie McDaniel's Missing Oscar to Be Replaced
Missing for decades, the first-ever Oscar won by a Black actor, Gone With the Wind's Hattie McDaniel, will be replaced. The Academy of Motion Picture Arts and Sciences will donate the replica award to Howard University. Deadline reports that the award will be donated to the Chadwick A. Boseman College of Fine Arts at the University. McDaniel won the original award in the Best Supporting Actress category for her performance as Mammy in 1939's Gone with the Wind.
———————–
By: Rob London
Title: 'Gone With the Wind' Star Hattie McDaniel's Missing Oscar to Be Replaced
Sourced From: collider.com/gone-with-the-wind-hattie-mcdaniel-missing-oscar-replacement/
Published Date: Tue, 26 Sep 2023 20:25:43 GMT
Read More
Did you miss our previous article…
https://mansbrand.com/nfl-mvp-odds-tua-tagovailoa-is-now-the-outright-leader-over-patrick-mahomes/
NFL MVP Odds: Tua Tagovailoa Is Now The Outright Leader Over Patrick Mahomes
NFL MVP Odds: Tua Tagovailoa Is Now The Outright Leader Over Patrick Mahomes – originally posted on Sportslens.com
For the second time in three weeks, the Miami Dolphins put on a historic offensive showing on Sunday. They scored the 3rd most points in NFL history against the Broncos, even forfeiting a chance at breaking the record of 73. It was a well-rounded effort that thrived in both the rushing and passing attacks, and it has quarterback Tua Tagovailoa all by himself when it comes to the favorite to win the NFL's MVP award.
Tua Tagovailoa Is Now The Overall Favorite For NFL MVP
Tua is on pace for:

47 TD's
5,600 passing yards

MVP. #FinsUp pic.twitter.com/Of98mwvs3M

— 𝙁𝙞𝙣𝙨 (@FinsPhanatics) September 25, 2023
The award was Patrick Mahomes' to lose. The Chiefs quarterback is the reigning MVP of the NFL, and he entered the season with the shortest odds to repeat (+600). He was the outright favorite, but trailing close behind were guys like Josh Allen and Joe Burrow. Mahomes and the Chiefs got out to a rough start in Week 1, as did the other MVP candidates.
But not Tagovailoa. His 466 yard, 3 touchdown performance vaulted him to the top of the leader board, where he took a share of the lead with Mahomes at +650 going into Week 2. Tua's performance against the Patriots in the second game was solid enough to keep him near the top, but the top of the leaderboard was cluttered heading into Week 3.
The clutter is gone. Tagovailoa led the Dolphins to their historic 70 point day, completing 89% of his passes en route to 309 yards and 4 touchdown passes. He achieved those numbers in just three quarters of play, and the oddsmakers at the sports books have taken notice.
Big Test For Tagovailoa And Miami In Week 4
Tua Tagovailoa ranks this season

NFL rank
Wins 3 t-1st
Pass Rating 121.9 1st
TD/att. 7.9% 1st
Yards/att. 10.1 1st
Yards/comp. 14.2 1st

he's doing it again, you guys pic.twitter.com/9RscVnwqDu

— NFL on CBS (@NFLonCBS) September 25, 2023
As of Monday morning, Tagovailoa was listed as the heavy favorite to win the NFL MVP award, coming in at +400, the shortest of any MVP odds so far this season. Mahomes was listed at +700 at the time of writing, though that number is subject to heavy change. The public will believe that Mahomes will eventually win the MVP award until it is firmly taken out of his grasp, and the more that they bet on him with longer odds, the more his number will come down.
Will it last? Tagovailoa and the Dolphins will face their biggest test of the young season this coming Sunday, as they travel to Buffalo to face the division rival Bills. They have had one of the top-2 defenses in the league through the first three games, and are familiar with Tua and the Dolphins, having played against them three times last year.
The Bills are currently 2.5 point favorites for Sunday's game.
---
NFL Betting Guides You May Like
Best NFL Betting Sites Sites 2023 – Discover Top-rated Football Sportsbooks Ranked & Reviewed.
Live Betting NFL Guide – Compare The Best NFL Live Betting Sites for 2023.
Best NFL Betting Apps 2023 – List of Top Football Betting Apps in US.
Best Offshore Betting Sites Review – Compare Best Offshore Sports Betting Sites.
Best Online Gambling Sites 2023 – Best Gambling Sites in USA Ranked & Reviewed.
---
From Sportslens.com – NFL, NBA, NHL, MLB News, Rumors & Betting Picks
———————–
By: Anthony R. Cardenas
Title: NFL MVP Odds: Tua Tagovailoa Is Now The Outright Leader Over Patrick Mahomes
Sourced From: sportslens.com/news/nfl-mvp-odds-tua-tagovailoa-is-now-the-outright-leader-over-patrick-mahomes/
Published Date: Mon, 25 Sep 2023 18:26:02 +0000
Read More
'SNL' Eyes an October Return Date Following End of the WGA Strike
There's some light at the end of the tunnel for the historic dual strike as the WGA and AMPTP reached a tentative agreement to end the writers' strike this past Sunday. That means certain variety shows like Saturday Night Live have a clearer path to returning. It didn't take long for SNL's return to become public either as it's being reported that the award-winning sketch comedy show plans on an October premiere date for Season 49.
———————–
By: Shane Romanchick
Title: 'SNL' Eyes an October Return Date Following End of the WGA Strike
Sourced From: collider.com/snl-return-window-writers-strike/
Published Date: Mon, 25 Sep 2023 20:43:17 GMT
Read More