Bellabeat is a wearable technology company that designs and produces smart jewelry targeted mainly at female consumers. The company's product offerings include smart products such as necklaces, watches, and even a water bottle. Bellabeat is best known for its Leaf series products – the original Leaf, Leaf Urban, and Leaf Chakra. Like other smart jewelry companies, such as invisaWear and Totwoo, Bellabeat aims to bring the looks of jewelry to wearable tech. In addition to pursuing a more feminine design in an industry dominated by sporty and masculine wearable, the brand also takes on a holistic approach in helping its users to stay healthy. In addition to being a fitness tracker, the device analyzes your activities and make holistic recommendations to help you stay fit and manage your stress level.
In this article, we'll take a quick look at the founding of the brand and the range of products Bellabeat offers to the consumers.
This article is part of our smart jewelry brand series.
Founding of Bellabeat
Bellabeat was founded in 2013 by Slovenian artist Urška Sršen and Croatian mathematician Sandro Mur. The founders first met when Urška was working as a windsurfing instructor in Croatia. The duo shared the same passion for sports and travel. They went on to collaborate on various projects. In their collaborations, Urška handled the design and Sandro took care of coding. Later the pair went on to found Babywatch – a maternal monitor technology before pivoting to Bellabeat.
Bellabeat Founders
Urška Sršen was born in Ljubljana, Slovenia, in 1989. She studied Sculpting in the Finnish Academy of Fine Arts in Helsinki. When she was in the academy, she discovered her favorite material to work with – wood. In Steve Job's famous commencement speech, he said that you can only connect the dots backward. This is certainly true in Urška's case, as wood would later become a core theme of Bellabeat Leaf's design. After meeting Sandro Mur as a windsurfing instructor, the two started to collaborate on various projects.
Sandro Mur is a serial entrepreneur. He was a mathematician from Croatia. Prior to co-founding Babywatch and Bellabeat, Sandro founded INU – a healthcare startup that provides real-time patient monitoring technology. When the Babywatch project started to gather steam, INU provided part of initial startup capital for the project to grow.
Read also: Bucardo Brand Review
Babywatch (2012-2013)
In 2012, Sandro and Urška founded Babywatch Inc. Babywatch was a maternity tech that allowed you to listen to an unborn baby's heartbeat and visualize it in the app. The records are a little fuzzy during this period of time. But in 2013, the team made quite a few breakthroughs. First, they won a local competition — the SHIFT conference — in May 2013 which came with a $10, 000 prize from Splitsa Banka. Then in September 2013, they launched their Babywatch product for expecting moms in Europe. A month after the launch in late October 2013, the team won the Pioneers Festival Challenge – an entrepreneurship event in Vienna, Austria. The challenge provided a further 35,000 Euro to the team's capital. The team's momentum continued as they got accepted into Y Combinator – a startup accelerator based in Mountain View, California. The program ran from Jan to March 2014. During this time, Babywatch changed its name to Bellabeat. My speculation is that there could have been some copyright or trademark issues with the name Babywatch in the US. In February 2014, Babywatch launched in the US market as Bellabeat.
Bellabeat
As the Bellabeat portable ultrasound (Doppler) system launched in the US in early 2014, the founders were hatching a plan. The plan was to diversify their products and perhaps pivot their company if an opportunity presents itself. In October 2014, Bellabeat announced several new products: Shell – a wireless upgrade to their portable ultrasound system, a smart scale with no display, and Leaf – a piece of smart jewelry. After rounds of funding and development efforts, the team released the famous Leaf in May 2015 under the Bellabeat brand.
The Leaf was massively popular. The company went with the flow and repositioned itself as a smart jewelry company. In startup-speak, Bellabeat had pivoted to smart jewelry from its original maternal tech focus. Since then Bellabeat has released several new wearable devices such as Leaf Urban and Leaf Chakra and a smartwatch.
You may also be interested in: Smart Pocket Watch: All You Need to Know
Bellabeat Smart Jewelry
Now let's take a look at what smart products Bellabeat has to offer.
Bellabeat Leaf
Leaf is Bellabeat's flagship product line. It consists of a series of smart jewelry. Leaf wearable share an interesting design theme. Namely, a leaf-shape metal that curves and wraps around a smart core that is designed to look like wood or stone. A Bellabeat Leaf can be worn as a necklace, bracelet, or even a brooch.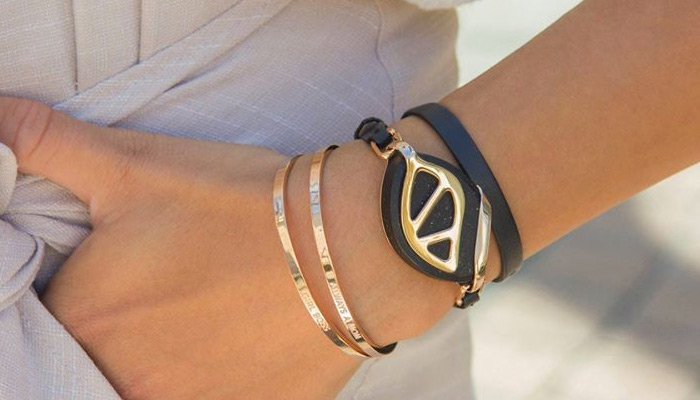 The product line's first device was Leaf Nature (sometimes referred to as just Leaf) which the company released in 2015. Currently, there are three variants in the Leaf line: Leaf Urban, Leaf Chakra, and Leaf Crystal. In terms of tech features, they are identical and you can refer to the list found at the bottom of this section for the feature set. Their differences lie in their designs and the materials. The OG Leaf Nature used actual wood and the metal leaf looks closer to a real leaf. The subsequent Leaf products switched to wood composite. The metal leaf also turned slightly more abstract. In the case of Leaf Chakra, only the silhouette of a leaf remains.
Leaf Urban vs Leaf Chakra. Leaf Urban's core housing is designed to look like wood. Leaf Chakra's housing is designed to look like stone. Leaf Urban has a metal leaf on it. Leaf Chakra got rid of most of the metal leaf and replace it with Rose Quartz and Onyx crystals. However, the silhouette of a leaf can still be observed. The crystals are said to carry some spiritual benefits.
Leaf Crystal is a luxurious offering from Bellabeat. It was created with Swarovski crystals and costs a lot more. Admittedly the design does make it look more exquisite.
Bellabeat Leaf Feature List
Activity tracking
Steps tracking
Record distance traveled
Sleep pattern tracking
Stress management and tips
Guided meditation
Menstrual cycle tracking
Wireless sync
No charging
No display
Smart alarm
Bellabeat Time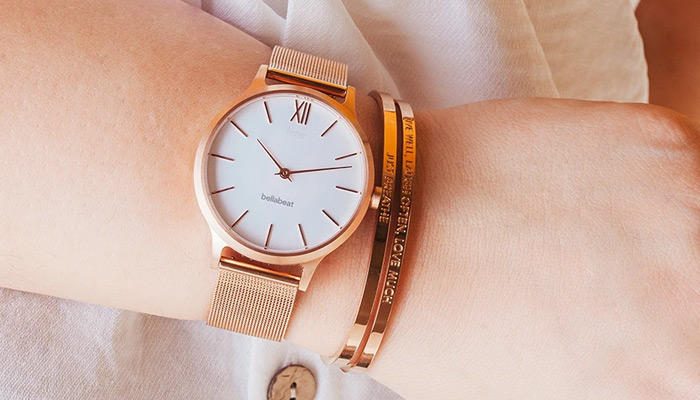 Bellabeat Time is a collection of smartwatches. To be exact, these are hybrid smartwatches — the kind that doesn't have any screen on them. Think of it as a Bellabeat Leaf that looks like a wristwatch. The features are almost identical except that it also tells time. Bellabeat Time tracks steps, calories, distance traveled, sleep patterns, and menstrual cycle. Like the Leaf, these watches also take a holistic approach to motivating you to live a healthier, stress-free life.
Minimalist, discreet, elegant – these are some of the words that come to my mind when I look at Bellabeat Time. These watches are made of hypoallergenic stainless steel and are available in rose gold and silver. Its mesh strap is designed to match the color of the bezel. There is no customization option for the strap but you can buy a different strap from Bellabeat accessories store and swap it yourself. The watch dial is white no matter which options you go for. Overall the design is OK but unfortunately a little boring. By the way, check out this article if you're thinking of wearing a watch to a job interview.
Bellabeat Spring
Bellabeat Spring is a smart water bottle that helps you to stay optimally hydrated. It does that by tracking the amount of water you drink. Based on your lifestyle, the companion app will send out a notification whenever you're becoming dehydrated. The water bottle operates on battery and can operator for around 6 months before needing new batteries. It has memory built-in and can store up to 14 days. To sync with your phone, simply shake the bottle. The Spring a is BPA-free water bottle — that means you can drink without worrying about ingesting toxins from the bottle. The exterior offers superior grip and comfort due to its design and material used. Last but not least, the bottle is dishwasher safe.
Product Discussions
Is Bellabeat Leaf Waterproof?
Bellabeat Leaf (the first version) is safe against water splashes but it is not water-resistant. So no, it is waterproof. Do not wear it to swimming or any other activities that will get it submerged in water.
The succeeding Bellabeat Leaf Urban and Leaf Chakra are water-resistant and have a rating of IPX6. That means you can wear it in the shower and it is safe against rain and other wet environments. But you still shouldn't wear it to swimming, the device will get damaged if it gets in the water.
Brand & Company Discussions
Is Bellabeat an American company?
According to Bellabeat's Wikipedia page, the company's headquarter is in San Francisco. It also has offices around the world such as in London, Hong Kong, and Zagreb. The company appears to run most of its operations in Zagreb, Croatia. So with that taken into consideration, it's reasonable to call it a Croatian-American company.
Bellabeat Videos
Meta Data
This article was originally published on Urban Men Outfits — a website dedicated to men's fashion tips, grooming ideas, gadgets, and other fun topics.
Article Structure
Founding of Bellabeat

Bellabeat Founders
Babywatch (2012-2013)
Bellabeat

Bellabeat Smart Jewelry

Bellabeat Leaf
Bellabeat Time
Bellabeat Spring

Product Discussions
Brand & Company Discussions
Bellabeat Videos
The post Bellabeat Smart Jewelry: Brand Review, Founders, Product Offerings appeared first on Urban Men Outfits.
——————–
By: Hank C
Title: Bellabeat Smart Jewelry: Brand Review, Founders, Product Offerings
Sourced From: urbanmenoutfits.com/bellabeat-smart-jewelry-brand-review-founders-product-offerings/
Published Date: Wed, 01 Jul 2020 01:30:15 +0000
Did you miss our previous article…
https://www.mansbrand.com/cristiano-ronaldo-hits-yet-another-grooming-milestone-with-brave-new-do/
There's a lot to envy about Harvey Specter.
The outrageous confidence, the power, the prestige…
The sharp comebacks… and the ultra-sharp suits.
Harvey dresses like he does everything else – strategically.
"People respond to how we're dressed…
So like it or not, this is what you have to do."
Everyone's appearance sends a message – and everything about his says loud and clear:
"I'm not about caring, I'm about winning."
Of course, he does care – he cares about Mike, he cares about Donna, and he cares about his personal code of ethics. But that's not the message he chooses to send. There's nothing soft about his look.
"If they think you care, they'll walk all over you."
Read on to find out how to get the sharp and powerful Harvey Specter look.
Okay, let's break this down. What are the main elements of Harvey Specter's style strategy? Number 1, of course, has to be…
1. The Suit
Harvey is virtually ALWAYS seen in an expensive suit. Gabriel Macht, who plays him, says: 'He's a man of style… we really wanted him to be this man's man. A real masculine, strong, Steve McQueen-type of guy who could pull off a three piece suit and make it a modern thing, wide lapels and all.'
How does Harvey pull off his suits? Using two things you can learn right here at RMRS – confidence and the style pyramid of fit, fabric, and function. The fit of his suits is always on point, which takes extra effort for men with a tall body type (Gabriel Macht is 6'0.5?/183cm.) The fabrics are top quality – early season suits were mostly dark high twisted worsted wool, but recently he's wearing silk-wool blends that add an unusual shine.
And as for function (appropriateness for the situation)? As a workaholic hotshot lawyer, Harvey lives for high-powered formal situations where a suit is required. He doesn't suit up when it's outright inappropriate… which means we see him in something else a good 2% of the time.
Harvey has a medium contrast complexion and dresses well for it, most often pairing gray, charcoal, and occasionally navy or black suits with white shirts. Gray and white form a sleek, classic combination that shows he means serious business.
Where a man with just one or two suits might stick to solid colors and maybe a pinstripe, Harvey has a wardrobe of different suit patterns including sharkskin, Prince of Wales checks and stripes – he prefers the bolder rope stripes to pinstripes (pinstripes are just one thread wide, rope stripes are several.)
He wears a slim fit with high armholes and strong structured shoulders – highlighting his athletic physique. Wide peak lapels give him a powerful broad-shouldered 'v' shape – the key to wearing them like he does is to get the gorge of the lapel not too high and not too low. If it peaks out over your shoulders, it is too much, and if it is too low it looks too old school.
Peak lapels are more formal – he sets himself apart by wearing them (except sometimes when he's in a three-piece suit, which is more formal anyway). Because they're more common on a tuxedo, on a business suit they suggest authority and/or arrogance.
Taking a deeper dive into suit jacket details, the big flap pockets on his jackets are a little unusual with peak lapels; jetted pockets are more normal.
You might expect to see a three-button suit on him because he's a 'buttoned up' character and it would suit his tall athletic build. However, Harvey knows TWO buttons are the best choice for a single-breasted suit with peak lapels. It's a classic elegant look that's been around since the 1920s – two buttons leave room for longer lapels and accentuate them more.
His jacket cuffs, on the other hand, are as formal and buttoned-up as they get, with four buttons on each. The more buttons on the cuffs, the more formal the jacket, with single buttons denoting a sports jacket.
Pants are slim but not tight, with an ironed crease down the front, no pleats, no break and usually no cuffs. This suits his strict character – very neat and no fuss.
2. The Shirts
Harvey mostly wears plain white dress shirts – again, the most formal color. He also favors pale blue, and occasionally a gingham or stripe. The tall semi-spread collars accentuate his 'v' shape.
His shirts are very well fitted and always let a sliver of cuff show outside his jacket. He usually prefers simple classic button cuffs, but occasionally goes for the fancier French cuffs and cufflinks.
3. The Accessories
"Get your skinny tie out of my face and get to work."
Harvey's ties are always silk – navy grenadine is a favorite. Dark purple and black are other favorite colors. His look is VERY monochrome – it's part of the character.
His ties vary between 3 and 3.5 inches wide, a classic width. He doesn't wear anything too young and trendy. His wider ties and lapels contrast with Mike's skinny ones and make him look more powerful.
He favors the full Windsor tie knot – a powerful, formal, 'serious business' knot that marks him out as a guy who knows how to dress and looks great with his wide lapels and semi-spread collars.
He's rarely seen without a dimple in his ties, showing he knows how to dress and pays attention to the details. The one time his tie dimple is off center, Donna notices something is wrong!
With a tux he wears a diamond-pointed bow tie instead of the normal shape. That's quirkier than you'd expect from him, but it's like the peak lapels – sharp and pointed – which suits his aggressive and incisive mind.
He always wears a pocket square in a square Presidential fold, usually white or gray. A white pocket square in a square fold is as formal as they come and suits his businesslike, no-nonsense image. You won't see him with a flower in his lapel – this is a hard and sharp look, nothing soft or romantic on this determinedly unemotional guy. To finish the look, he chooses simple and bold metal cufflinks.
Earlier in the series, Harvey was seen wearing a bold statement chronograph watch with a leather strap – a status symbol meant to mark him out as a successful man. The watch has since disappeared because of the technical constraints of filming for TV. Gabriel Macht says:
'As great as the show is, it really doesn't lend itself to detail. Other than some necklaces you might see Jessica wear, you don't see any jewelry.'
#4. The Shoes
Because of the nature of TV, you don't often see Harvey's shoes, and they're not a big focus of his costume. He's been seen in black cap-toed derbies, and black or brown oxford brogues – all classic smart dress shoes, although brown full brogues are a bit more casual than you'd expect from him.
5. Casual Clothing
Aside from the suit, he's been seen in a classic black button-down shirt; well-fitting jeans; a white or heathered grey henley; beige chinos; and a navy v-neck and coat over a white shirt. (Not a casual shirt, by the way, just a dress shirt like he'd wear to the office – showing his wardrobe, like his life, is mostly work.)
6. The Hair
In 2011 Gabriel Macht said of Harvey's original slicked-back do, "It's supposed to be the modern version of the old-style man's haircut, sort of like Gregory Peck or Cary Grant."
But as more sides of the character have emerged his hair has evolved- now it's more vertical, but still strict and structured, featuring a tight side-part (on the left side) with a subtle pompadour in the front.
To get this look, you need the sides cut short (not buzzed) and some length on top.
Run a strong hold gel (or pomade for less shine) through towel dried hair then blow dry on a low heat while combing the front upwards. The longer you blow-dry the front, the more volume you'll get.
Then apply more gel and use your comb to cut the side-part and sculpt the front hair up and back. Fix with a little hairspray.
If you prefer his earlier slicked-back style, you want a similar cut with squared-off sideburns and a square neckline and shaved part. Again, apply some gel to your hair before blow-drying, then comb it back with pomade and set with hairspray.
I don't recommend that every man dresses exactly like Harvey Specter. It's a very stark monochromatic look, and for guys with more fun and warmth in their personalities, it might not suit you. You can emulate his confidence without exactly copying his look.
What I DO recommend is that you copy Harvey Specter in dressing strategically. Think about what YOUR message is, and make sure every stitch on your body and every hair on your head communicates it. 
'Get it through your head – first impressions last.'
The post Harvey Specter Style appeared first on Real Men Real Style.
——————–
By: Antonio Centeno
Title: Harvey Specter Style
Sourced From: www.realmenrealstyle.com/harvey-specter/
Published Date: Mon, 04 Dec 2023 18:04:09 +0000
ONE Cologne Men Should Buy? Jeremy Fragrance Recommendations
If you're a stylish man…
Could you own a single
Dress shirt?
Pair of shoes?
Necktie?
I wouldn't.
Why?
There's no clothing item that's good for ALL situations (color, pattern & formality come into play).
However…
It's different for colognes – or fragrances.
How many colognes does a man really need?
The answer? One.
One cologne can rule them all…just ask Jeremy Fragrance.
Here's what he has to say about buying the perfect men's fragrance.
Why Use A Men's Fragrance?

Style isn't just about clothing. True style encompasses everything about yourself that you show others: your confidence, your communication skills, and your smell.
Your scent is an invisible component of your personal style. It can influence how people – from strangers in the subway to colleagues at work – perceive you.
That's where fragrances come in. Fragrance is the generic term for grooming sprays that improve one's own scent. The majority of fragrances are perfumes.
Certain perfumes have a lighter, more masculine smell and are better suited for men. They're commonly known as colognes (especially in North America). In the end though…they're all types of fragrances.
But what's shocking is the fact that 80% of males don't regularly use a men's fragrance. If you're one of them, chances are your reason might be:
You're not familiar with the basics and terminology of fragrances
You don't know which product to buy (or where to start)
You're afraid of doing it wrong or smelling bad
Fragrances are "unmanly" or only for women
Those reasons share a common ground – ignorance. So there's only one solution to this kind of problem, and that's getting information. You want good solid info on fragrances as well as how to choose the right fragrance for you. Great knowledge means great power.
Now I know this will take time. You can read up, watch a few videos, learn the opinions of experts. But you won't immediately feel like making your own choice. You may not want to pay lots of money for a risky product…or products.
Maybe you'd rather play it safe and find a "universal" men's fragrance. Why not? We all have busy lives. We spend enough energy deciding which suit, tie or dress shoes to wear every morning. Is it okay to stick with just one fragrance?
Actually – yes! Take the advice of my friend Jeremy who runs the Jeremy Fragrance YouTube channel. Jeremy is a scent connoisseur with the ultimate passion for fragrances. He's the first guy who'd tell you that men can use fragrance to come off stronger and more confident wherever they go, whoever they're with.
Below are Jeremy's nominations for the one fragrance you'll need…
Jeremy Fragrance: Category #1 – All-Around Fragrance
Remember what fragrances are at their core…a group of chemicals.
You spray them at a distance of 3-6 inches from the skin. You let the fragrance strike the warm parts of your body (neck, shoulders, chest, forearms, inner elbows, etc.) so as to mix with your body chemistry.
But if a product isn't versatile enough – you can't count on it alone. It needs to survive in both extreme heat and cold…or else the aromatic chemicals may evaporate or lose their strength over time.
So when it comes to an all-around fragrance, you need a jack of all trades. It can pass as a date fragrance or fragrance for formal occasions. But it's not top-notch in any particular area. That being said…it probably won't matter as long as you smell awesome!
Jeremy Fragrance's Recommendation: Sauvage Cologne for Men (Christian Dior)
This cologne has distinct notes of Calabrian bergamot and pepper. The scent isn't too imposing and gives off the vibe of breezy, open fields. Johnny Depp has appeared in ads for this fragrance.
Jeremy Fragrance: Category #2 – Best Fragrance For Work
Most of us are pretty career-driven. We go to work each day with big goals and aspirations at the back of our minds. I'll be CEO someday. I'll be making six figures. I'll be successful in this field.
That's a good mindset. But doing the same menial tasks, not being challenged, earning points from the higher-ups…it can feel un-stimulating for now. It can cause you to lose focus. Or lose sight of the prize.
So what can you do to stay alert and excited while spending hours at the office? You'd be surprised. Certain fragrances can actually heighten your alertness during tasks that require a lot of concentration.
Those scents can also reduce levels of fatigue or anxiety. They let time pass more quickly for you as you're no longer thinking about the time. You just do what's required of you productively…thanks to an external stimulus.
Jeremy Fragrance's Recommendation: Prada L'Homme for Men (Prada)
This is the fragrance to wear to the office during daytime hours. It's a combination of iris and amber (classic Prada ingredients) which is similar to the smell of fresh fabric softeners. You can say it's more "professional" since it's not citrusy-sharp but an airy, powdery, and elegant scent.
Jeremy Fragrance: Category #3 – Best Fragrance For Dating
A man sees but a woman smells. That's right. Studies in Europe prove that a man's scent is the #1 factor for the ladies in a potential partner.
It does make sense. Women are known to have more complex senses of smell (whereas men tend to only categorize smells as either "good" or "bad").
That can explain why women enjoy getting flowers for gifts. Or why they might have a variety of perfumes in their homes. In fact, a scent can do wonders for a woman's mood when you interact with her.
One experiment reveals that women would more likely give their number to a guy they met in a pleasant-smelling area – compared to a not-so-pleasant area. So imagine how much more impact a man's body smell has! You'll want to take advantage.
Jeremy Fragrance's Recommendations:
Versace Eros Cologne for Men (Versace)
This cologne is tailor-made for seduction and grabbing attention. It invigorates the ladies' senses with a fusion of mint oil, Italian lemon, green apple, and geranium flowers. Put it on to give yourself maximum confidence when you approach women at bars or public places.
Spicebomb Extreme Cologne for Men (Viktor & Rolf)
You can call it a "big fat mass of sweetness" because that's what it is – consisting of vanilla, lavender, tobacco, and caraway. It's not as aggressive as the Versace Eros, but it draws women to you in more intimate settings. Picture yourself cuddling your partner by the fireplace inside a snow-covered wooden house. The Spicebomb will add to that romance.
Click Below To Watch The Video – Only ONE Cologne You Need?
Read next: The 30 Popular Men's Fragrance Brands
The post ONE Cologne Men Should Buy? Jeremy Fragrance Recommendations appeared first on Real Men Real Style.
——————–
By: Antonio Centeno
Title: ONE Cologne Men Should Buy? Jeremy Fragrance Recommendations
Sourced From: www.realmenrealstyle.com/jeremy-fragrance-best-cologne/
Published Date: Mon, 04 Dec 2023 14:34:19 +0000
The 30 Most Popular Men's Fragrance Brands
The world of men's fragrance is full of amazing brands producing scents that can boost your confidence, uplift your sophistication, and garner attention.
But with so many brands making men's fragrances these days, how can you be sure you're getting one that's right for you? The simple answer – you have to try them out.
Where should you start though? Discovering new scents, a great place to look is at the most popular ones. Lucky for you, I've taken that guesswork out of it.
Here are 30 of the most popular men's fragrance brands in no particular order.
1. Chanel
History: Founded in 1910 by Coco Chanel, the French luxury brand Chanel has seamlessly transitioned from high-class fashion to elegant scents.
Chanel's fragrances, often bearing the brand's hallmark sophistication, include the timeless Chanel No. 5 and the modern classic Bleu de Chanel.
Why it's popular: Chanel's popularity stems from its timeless elegance and commitment to creating iconic scents both for women and men setting the standard for sophistication and innovation.
2. Dior
History: Christian Dior, a name synonymous with elegance, introduced his first fragrance, Miss Dior, in 1947.
Dior's fragrances consistently embody a perfect blend of classic and modern, with Fahrenheit and Sauvage leading the pack.
Why it's popular: Dior has achieved widespread acclaim by seamlessly blending classic and modern elements in its fragrances, crafting scents like Sauvage that capture the essence of contemporary luxury with a touch of French allure.
3. Giorgio Armani
History: Founded by Giorgio Armani in 1975, the Italian fashion house is renowned for its understated luxury.
Armani's fragrances reflect the brand's commitment to timeless style.
Why it's popular: Giorgio Armani's popularity lies in its ability to infuse Italian luxury into its men's fragrance collection, exemplified by the fresh and modern appeal of Acqua di Gio and the timeless sophistication of Armani Code.
4. Tom Ford
History: Tom Ford's bold and lavish brand, established in 2005, has redefined modern luxury.
Ford's fragrances feature iconic scents that are known for their boldness and sensuality.
Why it's popular: Tom Ford's fragrances are celebrated for their bold character, making a mark in the industry by offering unique and luxurious scents such as Black Orchid and Oud Wood that redefine modern fragrance.
5. Creed
History: With a legacy dating back to 1760, Creed is a family-run fragrance house known for its commitment to tradition and craftsmanship.
Aventus and Green Irish Tweed are among the most celebrated scents in their men's fragrance collection.
Why it's popular: Creed's popularity is anchored in its rich heritage and dedication to craftsmanship, with fragrances that showcase a perfect blend of tradition and innovation in the world of luxury scents.
6. Yves Saint Laurent (YSL)
History: Founded in 1961, YSL has been a trailblazer in the fashion and fragrance industry.
The iconic YSL fragrances, including La Nuit de L'Homme and Y, exude sophistication and modernity.
Why it's popular: YSL's popularity stems from its ability to infuse its fragrances with a perfect balance of sophistication and modernity.
7. Hugo Boss
History: The German luxury fashion house Hugo Boss, established in 1924, is renowned for its sleek designs.
Hugo Boss fragrances, such as Boss Bottled and The Scent, are known for their contemporary appeal.
Why it's popular: Hugo Boss is renowned for its contemporary and refined fragrances, with creations that reflect the brand's commitment to modern masculinity and distinctive elegance.
8. Versace
History: Founded by Gianni Versace in 1978, Versace is synonymous with bold luxury.
Versace fragrances, such as Eros and Dylan Blue, embody the brand's extravagant and glamorous appeal.
Why it's popular: Versace's popularity lies in its bold and glamorous approach to fragrance that garners attention through its opulence.
9. Ralph Lauren
History: Ralph Lauren, an icon in American fashion, founded his eponymous brand in 1967.
Polo Ralph Lauren fragrances, such as Polo Green and Polo Blue, capture the essence of classic American style.
Why it's popular: Ralph Lauren's popularity is grounded in its embodiment of classic American style, with fragrances that reflect the brand's commitment to timeless elegance and a sporty spirit.
10. Bvlgari
History: Founded in Rome in 1884, Bvlgari is renowned for its exquisite jewelry and luxury goods.
Bvlgari fragrances consistently showcase a harmonious blend of Italian elegance.
Why it's popular: Bvlgari's popularity is rooted in its Italian luxury and refinement, with fragrances such as Bvlgari Man in Black and the iconic Colonia capturing the essence of the brand's timeless and sophisticated style.
11. Gucci
History: Founded in Florence in 1921, Gucci has become a symbol of Italian luxury and style.
Gucci fragrances embody the brand's contemporary glamour.
Why it's popular: Gucci's popularity is fueled by its ability to pair luxury with contemporary trends, crafting iconic fragrances such as Guilty and Gucci by Gucci that resonate with a diverse audience seeking bold and modern scents.
12. Prada
History: Established in Milan in 1913, Prada is synonymous with high-end fashion and innovation.
Prada fragrances showcase a blend of modernity and sophistication.
Why it's popular: Prada has earned popularity through its innovative and elegant fragrances, with scents such as Luna Rossa and Prada Candy showcasing a perfect blend of modern sophistication and timeless allure.
13. Calvin Klein
History: Founded in 1968, Calvin Klein has been a pioneer in minimalist fashion and fragrances.
CK fragrances are known for their fresh and contemporary appeal.
Why it's popular: Calvin Klein's popularity is rooted in its minimalistic and fresh approach to fragrance with classics such as CK One and Eternity, which embody the brand's commitment to modern, unisex appeal.
14. Burberry
History: Established in 1856, Burberry is a British luxury brand known for its distinctive plaid pattern.
Burberry fragrances capture the brand's timeless elegance.
Why it's popular: Burberry's enduring popularity comes from its British elegance, with fragrances such as Burberry Brit and Mr. Burberry capturing a blend of tradition and contemporary style that appeal to a global audience.
15. Issey Miyake
History: Founded in 1970, Issey Miyake is a Japanese fashion brand known for its innovative designs.
Issey Miyake fragrances showcase a harmonious blend of Eastern and Western influences.
Why it's popular: Issey Miyake's popularity is derived from its ability to create fragrances that reflect the harmony of Eastern and Western influences, with scents such as L'Eau d'Issey becoming iconic for their fresh and modern appeal.
16. Yves Rocher
History: Founded in 1959 by Yves Rocher, this French brand has become a global leader in botanical beauty.
Yves Rocher fragrances embody a commitment to natural ingredients.
Why it's popular: Yves Rocher's popularity lies in its commitment to natural and botanical ingredients, with fragrances such as Comme une Evidence and Nature Homme resonating with consumers seeking authentic and eco-conscious scents.
17. Hermès
History: Established in 1837, Hermès is a French luxury brand known for its timeless elegance.
Hermès fragrances mirror the brand's commitment to craftsmanship.
Why it's popular: Hermès is popular for its timeless elegance and craftsmanship, with fragrances such as Terre d'Hermès capturing the brand's dedication to quality and the art of perfumery, creating scents that stand the test of time.
18. John Varvatos
History: Launched in 2000, John Varvatos is an American brand celebrated for its rock 'n' roll aesthetic.
Their fragrances continuously embody the brand's edgy sophistication.
Why it's popular: John Varvatos has gained popularity by infusing a rock 'n' roll edge into luxury fragrances, with scents such as John Varvatos and Artisan embodying an edgy sophistication that resonates with modern masculinity.
19. Dolce & Gabbana
History: Founded in 1985 by Domenico Dolce and Stefano Gabbana, this Italian brand is synonymous with opulence.
Dolce & Gabbana fragrances continue to capture the essence of Mediterranean luxury.
Why it's popular: Dolce & Gabbana's popularity is built on a foundation of opulence with fragrances such as Light Blue and The One capturing a sense of sensuality and timelessness that defines the brand.
20. Acqua di Parma
History: Established in 1916 in Parma, Italy, Acqua di Parma is celebrated for its refined fragrances.
Fragrances from Acqua di Parma continue to exemplify the brand's commitment to timeless Italian elegance.
Why it's popular: Acqua di Parma's popularity comes from its embodiment of Italian refinement, with fragrances such as Colonia and Blu Mediterraneo offering a harmonious blend of timeless elegance and a Mediterranean spirit.
21. Jo Malone
History: Established in London in 1994, Jo Malone is renowned for its simple yet elegant fragrances.
Known for its mix-and-match approach, popular fragrances from Jo Malone continue to embody the brand's sophisticated approach to men's fragrances.
What it's popular: Jo Malone is popular for its minimalist yet sophisticated approach to fragrance. With scents such as Lime Basil & Mandarin and English Pear & Freesia, the brand offers a unique concept of fragrance layering, allowing individuals to create their own personalized scent experiences.
22. Montblanc
History: Founded in 1906, Montblanc is synonymous with luxury writing instruments.
Their fragrances embody the brand's commitment to craftsmanship and sophistication.
Why it's popular: Montblanc's popularity is rooted in its heritage of craftsmanship, mirrored in fragrances such as Legend and Explorer. The brand seamlessly combines classic sophistication with a modern twist, which appeals to those seeking refined and adventurous scents.
23. Maison Margiela
History: Maison Margiela, founded by Martin Margiela in 1988, is known for its avant-garde designs.
Fragrances from Maison Margiela continue to evoke unique and nostalgic olfactory experiences.
Why it's popular: Maison Margiela has gained popularity through its avant-garde fragrances that evoke unique and nostalgic experiences. With scents such as Replica Jazz Club and By the Fireplace, the brand captures the essence of unconventional and thought-provoking olfactory journeys.
24. Amouage
History: Founded in Oman in 1983, Amouage is a luxury fragrance house that draws inspiration from its Arabian heritage.
Amouage continues to exemplify the brand's commitment to opulence within its men's fragrances.
Why it's popular: Amouage is renowned for its luxurious and opulent fragrances inspired by Arabian heritage. With scents such as Interlude Man and Jubilation XXV, the brand combines rich oriental ingredients, exquisite craftsmanship, and a touch of modernity, creating perfumes that exude regal sophistication.
25. Tiffany & Co.
History: Established in 1837, Tiffany & Co. is an iconic American luxury brand known for its exquisite jewelry.
Tiffany & Co. fragrances embody the brand's elegance in scent the same as they do in their luxury jewelry.
Why it's popular: Tiffany & Co.'s popularity is rooted in its timeless elegance, as seen in fragrances such as Tiffany for Men and Good Girl. The brand's commitment to sophistication and luxury, mirrored in its iconic jewelry, translates seamlessly into its men's fragrance offerings.
26. Byredo
History: Founded in Stockholm in 2006 by Ben Gorham, Byredo is known for its minimalist design and high-quality ingredients.
Fragrances from Byredo continue to showcase the brand's modern and sophisticated approach to making scents.
Why it's popular: Byredo has gained popularity for its contemporary and artistic approach to its men's fragrance collection. With scents such as Gypsy Water and Mojave Ghost, the brand offers unique olfactory experiences, combining simplicity with a sense of luxury and creativity.
27. Ermenegildo Zegna
History: Founded in 1910 in Italy, Ermenegildo Zegna is renowned for its high-quality fabrics.
The brand's fragrances reflect a blend of Italian style and craftsmanship.
Why it's popular: Ermenegildo Zegna's popularity lies in its Italian style and commitment to quality. Fragrances such as Z Zegna and Essenze Collection showcase the brand's ability to capture the essence of modern masculinity through sophisticated and versatile scents.
28. Molton Brown
History: Established in London in 1971, Molton Brown is known for its luxurious bath and body products.
Molton Brown's fragrances continue to showcase the brand's commitment to exquisite scents.
Why it's popular: Molton Brown is popular for its luxurious bath and body products and brings those same scents into its men's fragrance collection with classics such as Black Peppercorn and Tobacco Absolute reflecting the brand's dedication to crafting unique and indulgent scents that elevate everyday rituals.
29. Penhaligon's
History: Established in London in 1870, Penhaligon's is a British perfumery with a rich heritage.
Penhaligon's continues to exemplify the brand's commitment to timeless and eccentric scents.
Why it's popular: Penhaligon's popularity is rooted in its rich British heritage and eccentricity. With fragrances such as Blenheim Bouquet and Halfeti, the brand offers a collection of timeless and unconventional scents that appeal to those seeking individuality and sophistication.
30. Carolina Herrera
History: Founded in 1980, Carolina Herrera is a Venezuelan-American fashion house known for its elegant and feminine designs.
The brand's fragrances embody sophistication and modernity.
Why it's popular: Carolina Herrera's popularity is attributed to its ability to infuse elegance and modernity into fragrances. With scents such as CH Men and Good Girl, the brand captures attention with bold and sophisticated compositions that reflect the brand's iconic fashion aesthetic.
Hopefully, these 30 popular men's fragrance brands are a great starting point for you to begin your journey into smelling great.
For more detailed information on what goes into a men's fragrance, check out this article I wrote about the Introduction To Fragrance.
The post The 30 Most Popular Men's Fragrance Brands appeared first on Real Men Real Style.
——————–
By: Antonio Centeno
Title: The 30 Most Popular Men's Fragrance Brands
Sourced From: www.realmenrealstyle.com/popular-mens-fragrance-brands/
Published Date: Sat, 02 Dec 2023 15:13:34 +0000