We could make plenty of jokes about how Buick is on life support in America and how they could use a literal jolt in the form of some new exciting electric vehicles to gain some newfound recognition. Surprisingly, Buick is stunning the world with a preview of the Buick Wildcat EV (electric vehicle) Concept, a vehicle that is certainly turning heads and wondering what Buick is really up to for plans to become fully electric by 2030.
The Buick Wildcat EV is a stunning coupe concept, and we don't know if we should keep our hopes up for something like this to ever hit production or chalk it up as another letdown just like the Buick Avista concept that could have been an earth mover if it were brought to production. Either way, Buick is showing out and flexing the muscles at the design tables of General Motors once again.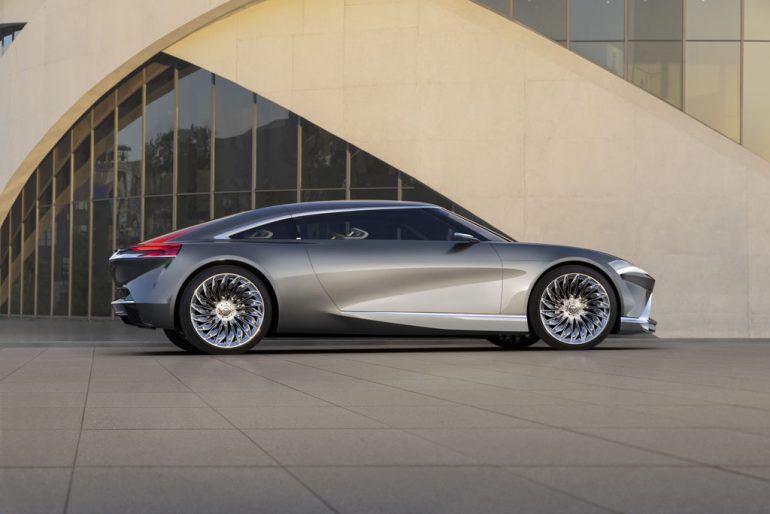 With Buick slated to have their first EV ready and on sale in 2024, the Wildcat EV Concept we see here could very well be a direct inspiration for a new EV coupe from Buick and legitimately set the brand in a new direction winning over Americans of all walks of life, and certainly the "cool kids."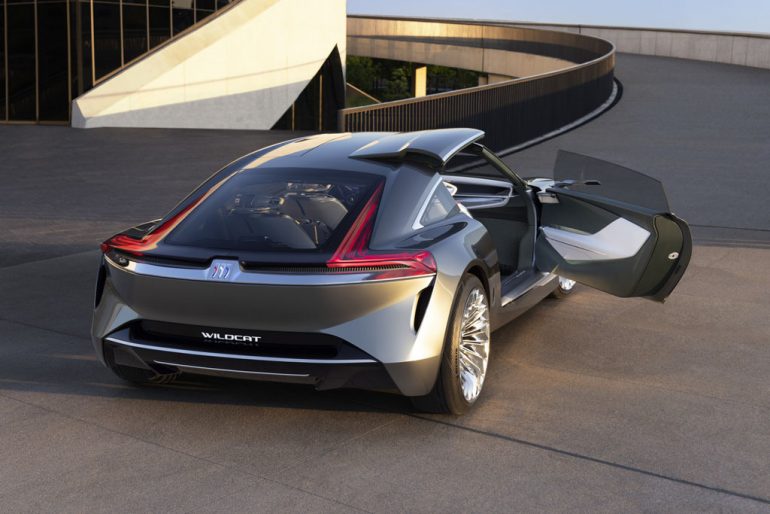 From the looks of the Buick Wildcat EV Concept, we could very well see much of the design making it to production. Of course, it will all come at a premium price because designs like this aren't easy if you don't dumb it down. There's a lot to digest in what we see in this 2+2 coupe concept from the semi-swing doors that have a lifting roof to the 18-spoke "turbine" wheels and the hatchback glass. Buick knows how to stun with a concept vehicle – only this time it not only stuns with its looks, it stuns with its
—————-
By: Malcolm Hogan
Title: Buick Wildcat EV Concept Gives Glimpse of Jolting the Brand
Sourced From: www.automotiveaddicts.com/78419/buick-wildcat-ev-concept-gives-glimpse-of-jolting-the-brand
Published Date: Wed, 01 Jun 2022 19:21:04 +0000
Did you miss our previous article…
https://www.mansbrand.com/new-car-preview-2023-lexus-rx/
Here comes trouble: A Triumph TR6 with a Matchless frame
Kids are impressionable, especially when motorcycles are involved. That magical combination of sound, smell and danger has a way of imprinting itself on young minds. But Kyle Harvey didn't just dream of bikes as a child—he practically grew up with them.
Kyle's trade is tool and die making, but his passion is building bikes. His father, Garth Harvey, got Kyle and his brother into bikes at a young age; as soon as they could start their old man's vintage motorcycles, they were riding them. Living in Edenvale in South Africa's Gauteng province, the boys also had direct access to the local Classic Motorcycle Club.
The folks at the CMC made quite an impression on young Kyle—and taught him everything he knows about vintage bikes. After helping numerous friends work on their bikes, he went on to open his own shop, named simply 'The Workshop.' Kyle has been building and restoring classic motorcycles for over a decade now.
This cheeky bobber is his latest build, and it's immensely fascinating. The engine's from a Triumph TR6 Trophy, the frame is from a Matchless, and the quirky handmade details on it are endless.
—————-
By: Ben Pilatti
Title: Here comes trouble: A Triumph TR6 with a Matchless frame
Sourced From: www.bikeexif.com/custom-triumph-tr6-matchless-frame
Published Date: Wed, 21 Dec 2022 17:01:12 +0000
Did you miss our previous article…
https://mansbrand.com/country-cub-a-diy-honda-ct125-kit-from-k-speed/
The V12 engine holds a special place in the heart of many automotive and motorsports fans. For some, it's the sound of Formula 1 through the years, especially during the 1990s. For others, it's engines like the 6.1 L BMW S70/2 from the McLaren F1 or the 3.9L Lamborghini V12 that powered all their cars from the Miura through to the Diablo. No matter where it lies in your heart, it is the "proper" configuration for many: 6 cylinders per bank, put into a V, and firing in an odd sequence to give it that special roar under power.
Yet, as concerns over fuel efficiency, qualms about environmental impact, and high-powered turbocharged V8 or V6 engines are the norm now, the V12 is slowly, but surely, being put to rest. In fact, the only place that V12s are still hanging on by the last threads of their engine mounting bolts are in supercars, hypercars, and a few ultra-luxury cars. Even then, many exotic brands have announced that their next cars will either be V10s or turbo V8s and V6s.
Since it appears that the swan song of the V12 is reaching a crescendo, we thought it only appropriate to celebrate the few remaining cars out there that carry them. It may be the last time we see some of these brands, many of which are known for their V12s.
The Amazing Last V12 Production Versions from the Big Brands
Ferrari 812 Superfast
Ferrari 812 Superfast. Image via Supercars.
The writing is on the wall for the prancing horse, as the new Ferrari 296 GTB is showing the direction that Maranello is headed. Yet, unless you were invited to snag one of the limited-edition Monza SP1 or SP2 cars, there is still one car you can buy from the legendary marque that has all 12 cylinders fully intact.

The 6.5L F140 GA V12. Image Via: Wikimedia Commons.
The 6.5L F140 GA 65-degree V12 in the front of the 812 is the last road-going version of the V12 that debuted in the Ferrari Enzo. Producing a monstrous 789 HP and 530 lbs-ft of torque, it is no slouch either, as when the 812 Superfast debuted, it was the most powerful naturally aspirated production car engine ever made.
It has the typical low-rev Ferrari roar that rises into a howl as the car revs up to nearly 9,000 RPM, and will catapult the 3,845 (1,744 kg) car to 60 MPH in 2.9 seconds. As far as a curtain call is concerned, that's a great way to bow out and focus on hybrids and turbocharged engines.
Mercedes-Maybach S680 4MATIC

cedes-Maybach S680 4MATIC. Image via Supercars.
Mercedes-Benz used to be at the very top of the V12 pecking order when it came to luxury performance cars. Such classics as the S 65 AMG from the mid-2000s and the 500 TE AMG W123 Touring from the very end of the 1970s came with big V12s that sound astounding, but the biggest and baddest of the Mercedes V12s left on in a production car is the M279 E60 LA that hauled the S65 AMGs of 2014.
Read More
—————-
By: Simon Bertram
Title: The Swan Song of the V12
Sourced From: sportscardigest.com/v12-swan-song/
Published Date: Thu, 28 Jul 2022 10:49:26 +0000
Did you miss our previous article…
https://www.mansbrand.com/road-tested-gear-from-shoei-akin-moto-and-revit/
Road Tested: Gear from Shoei, Akin Moto and Rev'It!
In our continuing quest to source motorcycle gear that combines safety and style, we bring you our thoughts on Shoei's new ECE 22.06-approved NXR2 helmet. Plus a stealthy riding parka from Akin Moto, and the perfect pair of urban riding gloves from Rev'It!.
Shoei NXR2 helmet It's no secret that I'm a huge fan of Shoei's helmets. Every Shoei I've owned has fit and felt right from the first wear, with no major deviations in their sizing or shape from model to model. So when I was looking for a do-it-all street helmet to replace my well-used Shoei RYD, the new NXR2 was a no-brainer… and it hasn't disappointed.
I loved the RYD for its combination of neutral styling, comfort and ventilation. The NXR2 basically feels like a premium version of the RYD; it has the same clean aesthetic, but ramps up the performance. And it's one of the few helmets that meet with Europe's new, and more stringent, ECE 22.06 standard.
Read More
—————-
By: Wesley Reyneke
Title: Road Tested: Gear from Shoei, Akin Moto and Rev'It!
Sourced From: www.bikeexif.com/shoei-akin-moto-revit-review-44
Published Date: Sat, 30 Jul 2022 17:01:31 +0000
Did you miss our previous article…
https://www.mansbrand.com/sebastian-vettel-announces-retirement/