The term "Traditional" rock climbing (or as many often refer to as "Trad"), wasn't really used until the '80s when there needed to be distinction between trad and sport climbing (e.g. bolting of rock routes). Up until then, everything was what we call now call "Trad" climbing.
Trad, which is the practice of placing "gear" in rock features, cracks or other nooks for protection, and then removing the pieces after the climb is finished, is often seen as a more pure way to climb.
Although sport climbing has grown worldwide and has allowed climbers to attempt climbs that were previously inaccessible, there are still more areas that can be climbed traditionally—and knowing how to climb trad always give climbers more options.
The Best New Climbing Gear for 2020
Read article>
We spoke with a two of the world's top climbers and guides at the Arc'teryx Climbing Academy to get tips on trad.
Arc'teryx athlete and International Federation of Mountain Guides Associations (IFMGA) guide Mark Smiley started his climbing career in the gym at a young age, but now spends much of his time using his trad skills when he guides, especially for bigger objectives. Arc'teryx athlete and professional climber Vikki Weldon is a multiple Canadian Youth National Champion who started as a sport climber. By the time she was 15, she was already climbing 5.13s, but she only started to climb trad when she moved to Squamish. She had to start over, though, now she can lead grade 5.13 on trad.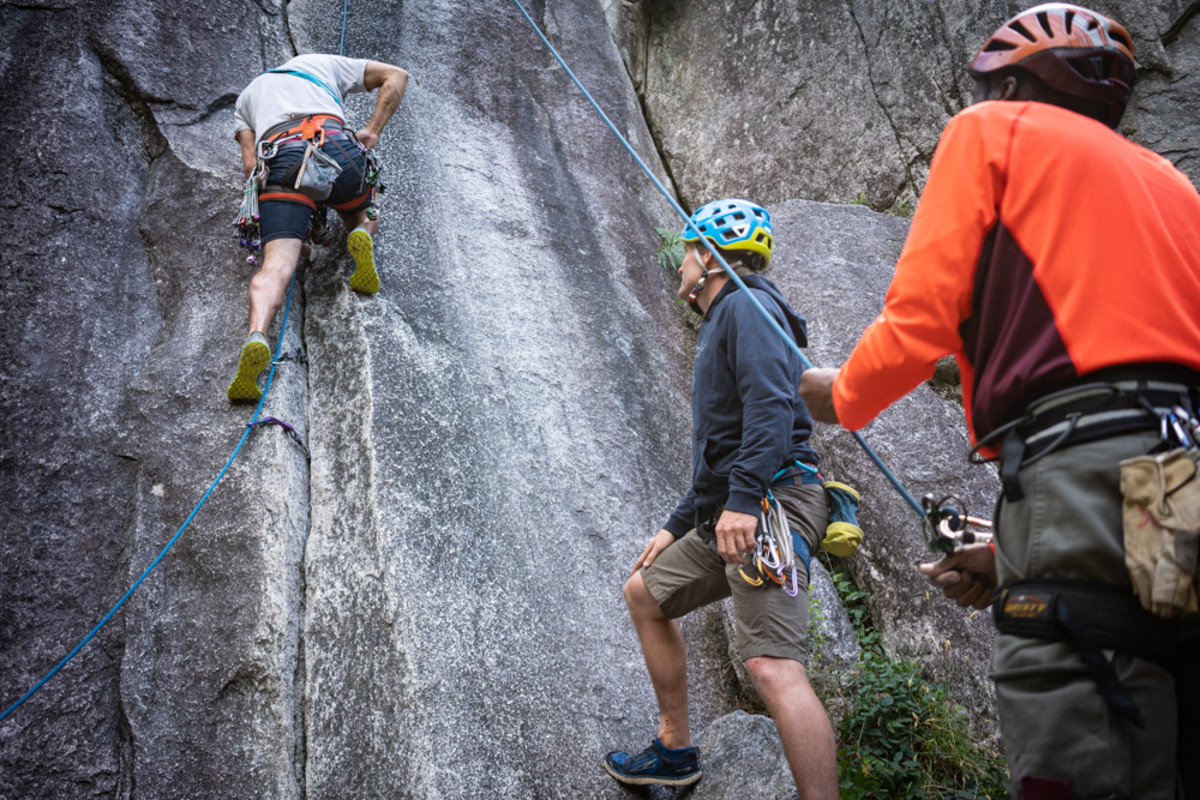 Mark Smiley coaching students on how to test their placements. Photo: Courtesy of Mark Smiley
Why is it important for climbers to know trad and why is crack climbing an important skill?
VW: Traditional climbing can take you to some incredible places, up in the alpine, up new routes. I don't think that it is necessary for all climbers to become trad climbers, but if you're keen on adventure and getting up high, being able to place gear and climb cracks is essential.
A Beginner's Guide to Deep-Water Soloing
Read article>
MS: Crack climbing technique is another tool to get you to cool places. The first time you look at El Capitan, and you think, "I need to climb that!" Well, there aren't any sport routes up it. Crack climbing opens the doors to so many cool adventures and remote places. So, when you are ready to leave the dog barking, speaker bumping,
This Revolutionary Helmet Was Designed Specifically For Modern E-Bikes
Sony Unveils New PlayStation Streaming Handheld Dubbed 'Project Q'
The Leica Q3 Camera Introduces an Improved Autofocus System