Fall means colder temperatures that your summer clothes just aren't cut out for.
So, how can you stay warm without turning to the bulky winter clothing that makes you look like the Michelin Man?
In today's article, I've done the hard work for you and I've put together the 12 autumn essentials that you can use to create multiple, great-looking men's fall outfits.
Rubber Soled Boots
High-Quality Leather Jacket
Long Sleeve Henley
Men's Shawl Collared Cardigan
Grey Flannel Trousers
Quilted Jacket
Herringbone Tweed Sports Jacket
Pullover Hoodies
Flannel Button-Down Shirt
Denim Jacket
Lightweight Down Jacket
Chambray Shirt
Men's Fall Essentials: Rubber Soled Boots
Guys, I know I have been telling you for years to get shoes with a leather sole. For Fall, I suggest rubber-soled boots, and that is why it is on my list.
Why? Traction.
Rubber soles give you the ability to traverse the slush and heavy snow that can come in the Fall and winter. The rules for getting a quality rubber-soled boot are the same as shoes with a leather sole.
Look for a welt construction of some sort. A Goodyear Welt is a perfect construction to look for. Studded Rubber soles will give you extra traction as well.
Another option is a Blake Stitch. The Blake Stitch is not recommended over the Goodyear Welt because it offers less water protection.
As far as style goes, you can go for any kind you want. You've got Chukkas, Chelseas, Wing-Tips, and so many more. You can also get them in a multitude of colors and finishes on the leather and suede.
I would say go suede as it will stand out more than leather and show you put in just a little more effort than the normal man.
Men's Fall Essentials: High-Quality Leather Jacket
I mean, you knew this was going to be on the list, right?
Come on – it doesn't get more badass than a great leather jacket. So how do you get the best leather jacket?
Well, the most crucial part is that you have the attitude to pull it off first. A leather jacket has a timeless "tough-guy appeal," making a perfect fit for my men's Fall fashion guide.
We associate leather jackets with ruggedness. This is because of the protection it can give us. This is also why bikers will wear a leather jacket in case of an accident.
On top of the attitude, a leather jacket is extremely durable and only gets better with age. As you wear your leather jacket more and more, it will form to your body and become more flexible.
The leather will start to distress as well. Many people look to buy a vintage leather jacket or a pre-distressed leather jacket to achieve this look.
How do you choose a leather jacket?
Which style should you opt for and what details should you be looking out for?
One of the most common leather jackets is the motorcycle jacket.
Sometimes named 'moto' for short, this is a tighter-fitting jacket. This jacket is best for someone with a slimmer build as it is so form-fitting.
Another great option is a bomber jacket in leather. This is a favorite of many and is the most flexible style when it comes to body types.
A classic bomber-style jacket will include a soft, turn-down collar with a cloth or fleece lining.
The bottom of the jacket will also have a ribbed bottom with ribbed wrists.
You can go with soft leather or suede. Suede is more casual and but is also less durable. It all depends on your preference. Suede is perfect for fall, but the soft leather can work in Fall and Winter.
Make sure to invest in a high-quality leather jacket as well.
With leather jackets, you pay for what you get, and spending a little extra now will lead to you having a much higher quality jacket that will last for a long time.
Men's Fall Essentials: Henley Shirt
The Henley is a versatile shirt for the fall that has been around since the 19th century.
The Henley shirt was first seen in England as undershirts for men. These were the most comfortable shirt at the time.
The name Henley comes from the British town Henley: the Royal Regatta's home. The Royal Regatta was one of the largest rowing races in England at the time. The rowers enjoyed the ventilation of the Henley, and it quickly became the standard rowing uniform.
The Henley shirt's popularity peaked during the Industrial Revolution as the shirt was easily mass-produced for everyone to wear.
As you can see, a Henley is characterized by a round neckline and placket of about 3 to 5 inches. In a lot of ways, the Henley is a polo shirt with no collar.
You can get a henley in short-sleeves or long-sleeves and can be in a multitude of different colors and materials.
The most significant advantage of the Henley is that the v-cut in the front can send a signal of masculine sexuality – of course, you need to have other things in check (a decent build being the big one) to pull off this look.
Men's Fall Essentials: Shawl Collared Cardigan
Now, I know what you're thinking — "I'll look like a grandpa if I wear one of those." You won't. Cardigans are a classic and should be a core item in your wardrobe.
The cardigan was named after James Brudenell. A British Army Major General and the 7th Earl of Cardigan, Brudenell led the Charge of the Light Brigade at the Battle of Balaclava during the Crimean War.
During the Crimean War, British officers wore a knitted wool waistcoat as part of their uniform. These were only a knitted sleeveless vest, but later sleeves were added.
Are cardigans still in style?
This garment hit its peak popularity in the 1930s and experienced comebacks in the 50s, 70s, 90s, and right now.
The comeback is primarily due to James Bond rocking a cardigan in Casino Royale and Quantum of Solace. This sent ripples through the style world, and men have been embracing this sweater ever since.
The best option is to go for a thicker or chunkier cardigan with a shawl lapel and buttons. If you go with a smaller option, you run the risk of looking feminine. Also, go for a dark color: black, charcoal gray, or navy blue.
This sweater can work as a jacket or a layering piece in the winter under a heavier coat.
Men's Fall Essentials: Gray Flannel Trousers
A pair of gray flannel trousers can become a go-to pair of pants for men's fall outfits.
To start, it's essential to understand precisely what flannel is. Flannel is a soft woven fabric that has its roots in 17th century Wales in England. It was initially made from carded wool or worsted yarn, but today is made from wool, cotton, or synthetic fibers.
Flannel trousers became part of one of the most iconic menswear outfits during the mid 20th century. The combination of light-colored flannel trousers worn with a contrasting sports jacket was the most popular menswear outfit for 30 years.
Grey is the best color to choose for flannel trousers as it is a neutral color that can match anything other than gray itself.
Gray flannel trousers can replace jeans in a casual outfit or a more formal outfit with a contrasting sports jacket.
Men's Fall Essentials: Quilted Jacket
A quilted jacket is a great sport option for a light coat in general and also another part of my men's fall outfits guide.
Created in the 1960s, the quilted jacket was invented for shooting. The creator, Steve Guylas, made a quilted vest that kept the rifleman's chest warm but still allowed mobility of their arms.
The jacket became a mainstream item once the royal family was seen wearing it. The Queen would often sport a brown corduroy collar jacket when she was riding, and the rest of the royal family followed suit.
The quilted jacket is a great option to wear when you are going to be outside a lot, and there is the possibility of rain. These jackets are typically weatherproofed and can keep you warm during the coldest Fall nights.
There are many different styles and colors of quilted jackets, and any will work. A classic style would be one without a collar and in an earth tone. Earth tones would include black, gray, olive green, navy blue — basically your neutral tones.
Perfect for a campfire or outdoor activity, the quilted jacket is an essential piece of men's clothing for Fall.
Men's Fall Essentials: Tweed Sports Jacket
There is no better choice for a fantastic sports coat in men's fall outfits than a tweed sports jacket.
Tweed is a woolen fabric. Woolen yarns are made from carded wool, which is thick and full of un-straightened fibers.
It is warm and flexible but not as smooth or uniform as worsted yarns, where the wool is combed so that all the fibers lie in one direction.
Where is tweed originally from?
It takes its name from the River Tweed, which flows through traditional cloth-producing country in Scotland. The fabric we call tweed today was initially known in Scotland as 'tweel', a local spelling of 'twill' (the pattern it was commonly woven in), but a London buyer in the 1830s misread an agent's handwriting and assumed the cloth was 'tweed', named after the river.
The Scottish tweed jacket became very common in upper-class leisurewear in the 1920s. It hit the height of its popularity in the 1960s as a hallmark of academic students and the 'mod' counterculture movement.
Tweed is woven in a twill weave. Twill has diagonal ribs crossing the fabric, like the pattern on your blue jeans. While tweed yarns could technically be used in a plain weave (without the diagonal ribs), it is uncommon.
Many tweed garments have a different pattern in the weave, either herringbone or houndstooth. These give the characteristically stern look associated with tweed.
Steve McQueen wore a brown herringbone tweed sports jacket in the movie Bullitt. McQueen's outfit has often been called the 'greatest outfit in film history'.
Under the sports jacket, he wore a french navy blue rollback sweater and charcoal gray flannel trousers.
This is a great look to emulate in the Fall. A brown herringbone sports jacket fits very nicely in the Fall aesthetic and can help you stand out.
Men's Fall Essentials: Pullover Hoodies
Shifting gears to more casual attire, the pullover hoodie is the next part of my men's Fall fashion guide.
The first hoodies were created in the 1930s in the United States for workers in New York warehouses. The workers had been complaining about the freezing temperatures in the warehouses.
Champion produced the first modern hoodies. It wasn't until the 1970s that hoodies first took off in popularity. This was due in part to the development of the Hip-Hop culture in New York City and designers embracing this new clothing.
Rocky Balboa was one of the first pop culture icons to wear a hoodie, increasing popularity tenfold.
How can a guy look good in a hoodie?
Every man who knows how to look put-together in casual clothes has a clean hoodie in their closet. To pull off a hoodie in men's fall outfits you have to nail the fit. If the hoodie is too loose, you will look unkempt and out of place. You want to have a fitted look but not so tight that you can't breathe. A slim fit is the best option.
Hoodies give off a very relaxed feeling to others. Another advantage of the hoodie is that your significant other will want to borrow it often.
It's been proven by Dr. Yvonne Fulbright that the exchange of wearable possessions is a sign of affection and has been a part of courting and dating rituals for a long time.
A hoodie is perfect for keeping you warm on the cooler nights of Fall without making you hot or sweat.
You can even layer a hoodie under a leather jacket, which will give off a very "bad boy" vibe. This is a go-to outfit for many men and is a perfect outfit for fall.
Men's Fall Essentials: Flannel Button-Down Shirt
As stated before, flannel is a perfect material for any men's fall outfit. The flannel button-down shirt is another part of my men's Fall fashion guide.
First of all, it is vital to never double up on flannel. So this shirt will NOT work with a pair of flannel trousers. However, with any other pant type, it will work great!
The first flannel shirts were worn by farmers in 17th century Wales. They were used to protect them from the elements. This garment became a staple for blue-collar workers.
It is essential to understand that a flannel shirt does not have to be plaid. A flannel shirt can be in a solid color or a plaid pattern.
For the Fall, I would suggest a darker color flannel shirt and with long sleeves. Style this with a pair of jeans or chinos and roll up your sleeves, and you will have a fantastic outfit to wear during all of the Fall and Winter.
Men's Fall Essentials: Denim Jackets
The jean trucker jacket or denim jacket is another staple of menswear for the Fall and is one of the most iconic jackets to have ever been created.
Levi Strauss initially created this jacket in 1880 and was intended for use by cowboys, miners, and railroad workers. It's been a staple of men's fall outfits ever since.
Denim jackets are built for extreme wear and tear. There is not a more iconic or more innately American jacket than the denim jacket. The denim jacket's appeal is due to the longevity of the jacket and the style of the jacket.
When can you wear jean jackets?
The jean jacket can be worn during fall, winter, and spring. The denim jacket has become a layering piece for the winter by many.
A jean jacket can also take a lot of punishment and wear and tear. Much like a leather jacket, the longer you wear a denim jacket, the more it will break in and become a custom fit just for you.
Styling a denim jacket isn't as hard as you may think it is; it just takes a little bit of skill.
The most significant rule, not just of men's fall outfits but men's style in general, is to not break is matching your jeans to a denim jacket. You can wear jeans with a denim jacket, but the wash of the jacket and jeans must be very different so that there is a clear contrast between them.
You can also wear a denim jacket with chinos. A dark-washed denim jacket with tan chinos is a style many men utilize because of the contrast between the two garments.
Men's Fall Essentials: Lightweight Down Jacket
Also referred to as the puffer jacket, the down jacket is essential for men in both Fall and Winter.
George Finch designed the first down jacket in 1922. They were initially named the 'eiderdown coat' and were designed for a 1922 Everest expedition.
Due to being bright green, Finch's jacket was mocked by other members of the expedition. The jacket proved to be very useful in the mountain environment however, and others wanted their own.
Decades later, the puffer jacket became a staple of athleisure and rap culture at the time. Today, the down jacket is a staple of Fall and Winter wear for all men.
Avoid looking like the Michelin Man – get a slim fit Down Jacket with a matte finish.
As stated before, stay away from shiny versions and bright colors, and large prints. Use dark colors as this jacket will be more slimming on you rather than making you look larger than you are.
This jacket is perfect for the latter half of fall and all winter and an excellent staple to add to your wardrobe, especially if you live where winters are very harsh.
Men's Fall Essentials: Chambray Shirt
Another shirt essential for men's fall outfits is the chambray shirt.
Chambray's history begins in the 1500s with roots in cambric fabric. Cambric fabric was a lightweight weave fabric that was made with linen. The cloth was made in Cambrai, in northern France.
Chambray stemmed from cambric as an English spelling of the word, and the term became widely known and used in the 1800s. By 1901, the fabric had spread to the United States.
The United States Navy wore chambray shirts and denim trousers through all of World War II. This spread to the working class in the United States after the war.
Chambray structure is fascinating – It has a signature pattern that gives a weathered appearance. This comes from the combination of colored fabric and white fabric in a 1×1 plain weave.
The Chambray shirt is a rugged shirt that is mostly casual. You could dress it up under a navy blazer or tucked into a pair of light trousers if you wanted.
Men's Fall Outfits Guide – Summary
Gents, there you have it – my guide to men's fall outfits and the 12 essentials all men should have in their wardrobes.
All of these are versatile and will never go out of style. Now you know the essentials of men's fall fashion, why not discover 10 more items of practical men's clothing that are also stylish but most guys don't own!
Click below to watch the video – 3 Easy Fall Style Upgrades To Transform Your Look
FAQs: Fall Wardrobe Essentials For Men
Are there any color trends for men this fall?
Definitely! This fall, look out for rich, earthy tones like olive green, mustard yellow, burgundy, and shades of brown. These colors work great for sweaters, jackets, and even pants.
How can I layer clothes for fall without looking bulky?
Great question! Layering is an art. Start with a thin base layer, like a cotton tee, add a flannel or button-up shirt, and top it off with a light jacket or sweater. Keep the layers thin and complementary.
Are there any color trends for men this fall?
This fall, look out for rich, earthy tones like olive green, mustard yellow, burgundy, and shades of brown. These colors work great for sweaters, jackets, and even pants.
Can I still wear my summer clothes in fall?
For sure! Just layer them up. Throw a sweater over that summer tee, or wear a long-sleeve shirt under a short-sleeve button-up. And don't forget, summer pants can easily transition to fall with the right shoes and tops.
What type of footwear is in for men this fall?
Ankle boots and Chelsea boots are big hits this season. They're not only stylish but also practical for cooler weather. Sneakers in darker colors are also a good choice for a casual look.
How can I accessorize my fall outfits?
Accessories can make or break an outfit! Think beanies, scarves, and leather belts. A cool watch or some minimalist jewelry can also add a nice touch to your fall look.
What's a good casual fall outfit for men?
You can't go wrong with a classic: a crewneck sweater, slim-fit jeans, and Chelsea boots. Throw on a light scarf if it's chilly, and you're good to go.
What should I wear to a fall wedding?
Fall weddings call for a bit of warmth and style. A nice blazer, a crisp shirt, tailored pants, and maybe a bold tie or pocket square. Earth tones work great, and don't forget to polish those dress shoes!
How do I choose the right jacket for fall?
Think about versatility and warmth. A good denim jacket or a lightweight bomber are perfect for those not-so-cold days. For chillier weather, a lined parka or a wool coat is a great choice.
What types of sweaters are trendy for men this fall?
Crewnecks and V-necks are always in style. Look for cable knits or ribbed patterns for extra texture. Cardigans are also making a comeback for a more relaxed, vintage vibe.
Can I wear shorts in fall?
Sure, on warmer fall days, you can rock shorts! Pair them with a long-sleeve top and sneakers for a casual look. Just switch to pants when it gets too chilly.
What are some professional outfit ideas for fall?
For a professional look, go with a tailored suit in a seasonal color like dark green or grey. Layer with a smart wool coat, and don't forget a nice pair of leather shoes.
Are there any must-have accessories for men this fall?
A sturdy leather bag, a sleek watch, and a couple of scarves in different colors and textures can really elevate your fall wardrobe. A good hat can also add a nice touch.
What's a good rainy day outfit for fall?
On rainy days, a waterproof jacket is key. Pair it with water-resistant pants and boots. A stylish umbrella can also be a great accessory.
How do I mix patterns and textures for fall?
Mixing patterns is fun! Combine a striped shirt with a checkered blazer, or pair a smooth leather jacket with a ribbed knit sweater. Just keep the color scheme cohesive.
What's a good date night outfit for fall?
For a date night, try a nice button-up shirt, dark jeans, and a leather jacket. Add a pair of stylish boots, and you're set for a romantic evening.
How can I make my fall outfits more sustainable?
Look for brands that use sustainable materials and ethical manufacturing processes. Also, investing in high-quality, timeless pieces that you can wear for years is a great way to be eco-friendly.
This article is sponsored by John Henric – created by two best friends who share the same vision to spread and highlight the best men's accessories.
Unlike traditional fashion companies that purchase their clothes from suppliers, John Henric collaborates with small and often family-owned European manufacturers. That's why they can very fast create new collections in small quantities that make the designs unique and fast.
The competition can't compete with their quality and price point. They also now offer jeans on their site!
Click here and enter code "ANT30" at checkout for 30% off your total order! (Offers can not be combined.)
The post Fall Outfits For Men: 12 Top Wardrobe Essentials Every Man Needs appeared first on Real Men Real Style.
——————–
By: Antonio Centeno
Title: Fall Outfits For Men: 12 Top Wardrobe Essentials Every Man Needs
Sourced From: www.realmenrealstyle.com/mens-fall-fashion-guide/
Published Date: Mon, 13 Nov 2023 13:54:22 +0000
Best Men's Fragrance Gift Sets For Christmas 2023
If you're stuck for a gift to buy a loved one, you can't go wrong with a fragrance gift set. Whether you play it safe with their signature scent or opt for something a bit more left field, a cologne or eau de toilette/parfum gift set is a winner every time.
Naturally, there are thousands out there to choose from, and the bundles vary. Some sets come with a 100ml bottle and a smaller travel option, whereas others feature a full grooming kit, complete with deodorant, soap and shower gel as well as a bottle of perfume.
For fragrance lovers, sets are often more exciting than a single bottle. They allow you to try out a smaller-sized cologne at a discount, while 'fragrance wardrobe' sets come with multiple different smells in small, travel-friendly sizes. These offer an insight into a brand's full fragrance roster, enabling the recipient to pick and choose before committing to a more expensive full-size bottle.
So, whether you're scrambling for a last-minute gift, or simply want to treat yourself to something new, these are the best (smelling) fragrance gift sets for men this year.
Laboratory Perfumes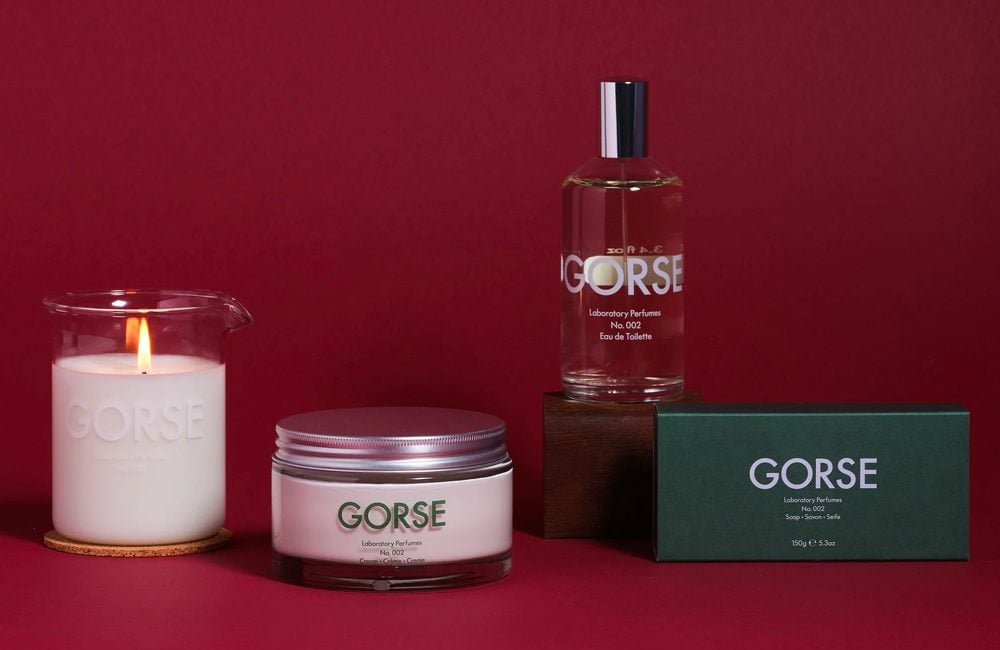 Designed to evoke the coconut-infused scent of the gorse flower found in Provence, this Laboratory set is perfect for those after a light, summery fragrance.
It comes with a 100ml eau de toilette, a candle, skin cream and a bar of soap, all blended with the spicy citrus hit of the brand's best-selling scent.
Buy now at Laboratory Perfumes
Aqua di Parma
Colonia is Aqua di Parma's classic scent and one that every man will love. Easy to wear every day, it's fresh and fruity, with Sicilian citrus combining with lavender and woody vetiver and patchouli.
Presented in a winter-themed box, this set comes with an eau de cologne as well as a matching shower gel and deodorant spray.
Buy now at Cult Beauty
Jo Malone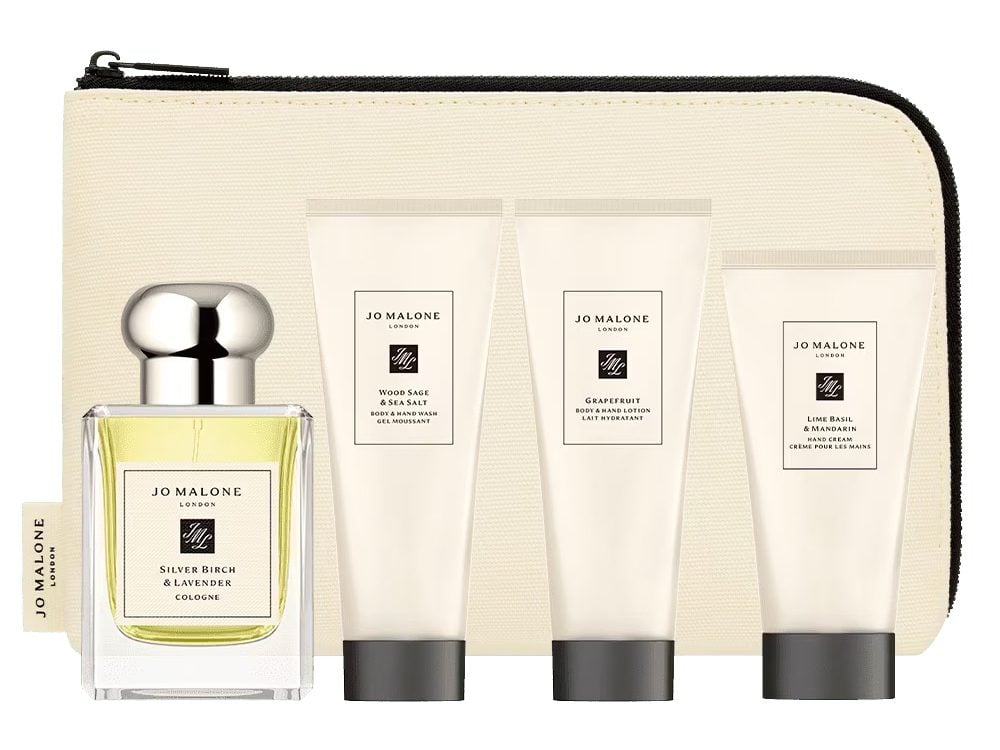 Jo Malone might be better known for its women's range, but the men's edit is just as good. Coming in a handy travel bag, this set is made up of the brand's Silver Birch & Lavender cologne, as well as an exfoliating shower gel, a woody hand wash and a grapefruit body and hand lotion.
Buy now at Jo Malone
Ralph Lauren
Any seasoned traveller will appreciate this Ralph Lauren twin set, which comes with both a large 100ml bottle as well as a wash bag-friendly 40ml of Polo Blue.
A clean, classic scent with notes of melon, basil and musk, Polo Blue is an easy daily wearer that works year-round.
Buy now at Ralph Lauren
Penhaligon's
First established in London in 1870, Penhaligon's is one of the UK's oldest perfumers and even holds a Royal Warrant by appointment to King Charles, back when he was The Prince of Wales.
Offering a range of scents, this set gives a great idea of what the house is all about, with 5ml bottles of Blenheim Bouquet, Endymion Concentré, Halfeti, Juniper Sling and Quercus.
Buy now at Penhaligon's
Tom Ford
Tom Ford's Ombré Leather fragrance is one of the brand's best-loved and most evocative scents.
Deep and dark with notes of black leather, patchouli, vetiver and jasmine, this set features Ombré Leather in both a 100ml eau de parfum and an all-over body spray, making it perfect for lovers of this Tom Ford classic.
Buy now at Tom Ford
Maison Francis Kurkdjian
For indecisive noses, or those who want an expansive introduction into the world of Maison Francis Kurkdjian, the Fragrance Wardrobe Discovery Collection is an excellent choice.
It boasts a total of eight different fragrances, ranging from the sweet vanilla and amber of Grand Soir to the dark, woody notes of Baccarat Rouge 540.
Buy now at John Lewis
Chanel
With Timothee Chalamet as its new ambassador, Bleu de Chanel is making something of a comeback. The French house's signature male fragrance, it's a refreshing, aromatic scent with sandalwood and cedar, alongside a series of subtle citrus notes.
This set features a 50ml eau de parfum, as well as an after-shave lotion and lip balm.
Buy now at John Lewis
Barbour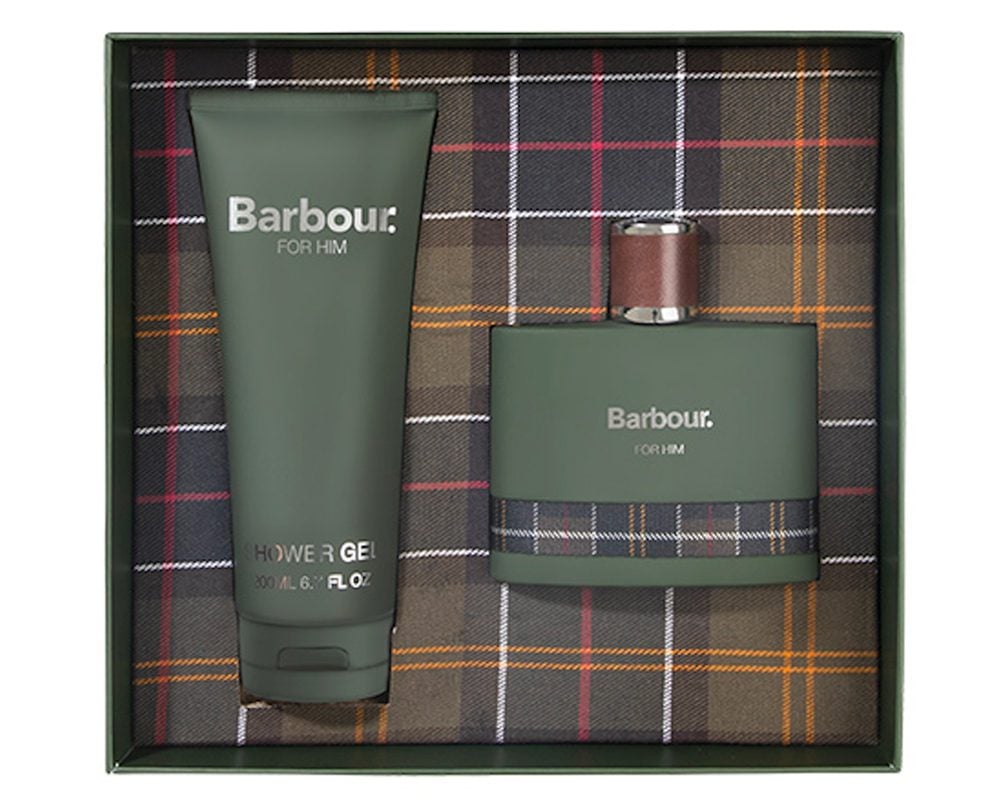 Barbour's outerwear is one of the UK's greatest style exports, but the British company's grooming range has long been a winner, too.
This gift set comes with the brand's signature scent in both eau de parfum and shower gel form. It's warm and woody, with notes of cedar, vetiver and amber, and a subtle citrus finish.
Buy now at The Fragrance Shop
Montblanc
Montblanc doesn't apply its signature star emblem to anything that isn't of the highest quality, whether it's pens, watches or, indeed, its ever-popular fragrances.
The brand's Explorer scent combines bergamot with vetiver and patchouli and can be found in this set featuring a bottle of eau de parfum and an all-over shower gel.
Buy now at John Lewis
Dior
Dior's Sauvage is one of the more instantly recognisable fragrances out there, thanks in part to its bold advertising but also its fresh, powerful scent. Made up of a combination of ambroxan, musky wood and bergamot, it takes on a slightly sweet, fruity yet peppery smell as the day goes on.
It's available here in an eau de parfum as well as a 10ml travel spray, which can be filled up using the larger 100ml bottle.
Buy now at Dior
Geo. F. Trumper
For fans of deep, musky notes of sandalwood, this Geo. F. Trumper set will be well received. It makes use of the historic Mayfair and St James perfumer's aptly-named Sandalwood scent, and comes with a cologne, shower gel, shampoo, shaving cream and deodorant, ensuring recipients get the full, head-to-toe experience.
Buy now at Fortnum & Mason
The post Best Men's Fragrance Gift Sets For Christmas 2023 appeared first on Ape to Gentleman.
——————–
By: Charlie Thomas
Title: Best Men's Fragrance Gift Sets For Christmas 2023
Sourced From: www.apetogentleman.com/best-mens-fragrance-gift-sets/?utm_source=rss&utm_medium=rss&utm_campaign=best-mens-fragrance-gift-sets
Published Date: Mon, 11 Dec 2023 09:16:42 +0000
Did you miss our previous article…
https://mansbrand.com/the-complete-guide-to-growing-a-beard-at-every-age/
The Complete Guide to Growing a Beard at Every Age
Beards are not just a trend; they're a journey. A journey that evolves with you as you age. The process of growing a beard is a fascinating blend of genetics, hormonal changes, lifestyle and personal grooming habits. Each age brings its own set of challenges and opportunities. In this comprehensive beard growing guide, we'll explain what to expect and explore how to grow and maintain a healthy beard at any age, backed by scientific insights and grooming expertise.

Before we dive into age specifics, it is important to understand the fundamental drivers of beard growth. Some of these we can control, others we cannot.
Genetics and Beard Growth
Genetics determine the number of hair follicles a person has, including those for beard hair. The density and distribution of hair follicles are largely determined by genetic factors inherited from your parents. These factors influence not only the number of follicles but also their responsiveness to hormones like testosterone, which affects beard growth and density. Thus, the ability to grow a thick or full beard is significantly influenced by one's genetic makeup.
Hormones and Beard Growth
Testosterone, along with its derivative dihydrotestosterone (DHT), plays a pivotal role in beard growth. These hormones are responsible for kickstarting the beard growth process during puberty and maintaining it throughout life. Testosterone stimulates the hair follicles, transforming the soft, fine vellus hair into the coarser, darker terminal hair that forms the beard.

DHT, in particular, is critical for initiating and maintaining facial hair growth. However, the sensitivity of hair follicles to these hormones varies among individuals, explaining why some men grow thicker beards than others. It's a complex interplay between genetics, hormone levels, and the body's response to these hormones that ultimately determines the characteristics of your beard. This is why some guys with "low" testosterone can still grow amazingly thick and full beards and some men with "high" testosterone struggle.
Diet, Exercise, and Their Impact on Beard Growth
A balanced diet rich in vitamins (like Biotin, Vitamins A, C, E), minerals (such as Zinc and Iron), and protein plays a crucial role in promoting healthy hair growth, including your beard. Foods like eggs, nuts, leafy greens, lean meats, and dairy products are excellent for supporting hair health.

Regular exercise boosts overall health and improves blood circulation, which can positively affect hair growth by delivering more nutrients and oxygen to the hair follicles. Additionally, weight training can increase your testosterone levels which positively impact beard growth.

Conversely, certain factors can negatively impact beard growth. Poor nutrition, stress, lack of sleep, and smoking can all inhibit beard growth. A high stress lifestyle can particularly take a toll, as stress hormones like cortisol can adversely affect testosterone levels and, consequently, beard growth. Regular exercise, a balanced diet, and a healthy lifestyle are key to promoting not just a healthy beard, but overall well-being.

Now that we have the fundamentals, let's dive into the age specifics!
Beard Growth in Teens and Early 20s
It seems like there is always one guy in high school with a full beard that would make any man envious. Just like that one 7' tall guy at school, this is not the norm! So if you are in high school and struggling to grow your face fur, there is not need to worry. Your beard is just getting started. This ramp up stage typically lasts until your early 20s.

During these years, genetics play a pivotal role in determining how your beard will develop. You might notice patchy areas or uneven growth, which is entirely normal. The key during this phase is patience.

Your body is still adjusting to the changes brought on by puberty, including fluctuating hormone levels. To support your beard's development, focus on a healthy lifestyle. A diet rich in proteins, vitamins, and minerals can boost hair growth. And while a healthy lifestyle promotes better hair growth, it won't override genetic factors.

Proper skin care is crucial. Gentle cleansing and moisturizing can provide a healthy foundation for hair growth. Avoid over-trimming or using harsh products that could damage your developing beard.

At this stage you likely won't need a beard oil but should definitely be using a beard friendly moisturizer like HYDRATE that supports healthy skin and beard growth without clogging your pores…you've got enough acne to worry about.

It is also important to use a pH balanced cleanser like CLEANSE that properly cleans your face without over-drying which can lead to a vicious cycle of excess oil production and breakouts.
Beard Growth in Mid-20s to 30s
Your mid-20s to 30s are often considered the golden years for beard growth. As a matter of fact, most men don't hit peak beard growth until their early to mid thirties. This is when testosterone, the hormone primarily responsible for facial hair growth, peaks. You'll likely notice your beard becoming fuller and more robust.

This is the perfect time to experiment with different beard styles and find what suits you best.

Establish a beard care routine that includes regular washing, exfoliating, and and moisturizing to keep your beard and the underlying skin in top condition. We've created a skincare line specifically designed for men with facial hair that takes all the guess work out of your grooming routine. You can learn more about our beard care products here.

Grooming tools like a good quality trimmer, a boar bristle brush, and scissors are essential for maintaining the shape and health of your beard.
Beard Growth in the 40s and 50s
As you enter your 40s and 50s, you might start noticing some changes. Your beard may grow slower, and gray hairs may begin to appear. This is due to a natural decrease in testosterone levels and the aging process affecting your hair follicles.

Adjust your beard care routine to these new changes. If you experience thinning, consider using gentle supplements designed to support hair health.

Embracing the gray can add a distinguished look to your beard. If it is not your vibe, there are beard dyes available. And while there are no pills or supplements proven to reverse the graying process, there have been several scientific breakthroughs that will hopefully lead to products that actually reverse graying.

If you're not already using a beard oil in addition to your moisturizer, now is the time to add it in. This is because your body will start producing less sebum (oil) which leads to dry, coarser facial hair.

Beard Growth in the 60s and Beyond


In your 60s and beyond, the rate of beard growth might slow down further, and the texture can change, becoming coarser or wirier. This is partly due to decreased sebum production, leading to drier hair, and changes in the hair follicles themselves.

At this stage, comfort and health should be your priority. Opt for softer grooming tools to accommodate more sensitive skin. Keeping your beard and skin hydrated is more important than ever. If you prefer to keep the grays at bay, choose gentle, natural coloring products that are kind to your skin and hair.

Growing a beard is a personal and evolving journey unique to every man. From the first signs of facial hair in your teens to the distinguished look of a mature beard, each phase of growth brings its own challenges and rewards. Embrace each stage, care for your beard with patience and dedication, and enjoy the transformation. Remember, your beard is a reflection of your life's journey – wear it proudly!
HOME
——————–
By: Nicholas Karnaze
Title: The Complete Guide to Growing a Beard at Every Age
Sourced From: www.stubbleandstache.com/blogs/blog/the-complete-guide-to-growing-a-beard-at-every-age
Published Date: Fri, 08 Dec 2023 22:09:27 +0000
Did you miss our previous article…
https://mansbrand.com/horizontal-vs-vertical-stripes-fact-and-fiction-about-striped-clothing/
Horizontal vs. Vertical Stripes | Fact and Fiction About Striped Clothing
Q: I've heard in the past that horizontal stripes make someone look wider and vertical stripes make them look taller and thinner. But I keep seeing studies going back and forth whether this is true. Who do I believe?
A: Three decades or so of research on this question have yielded inconsistent results. A more recent study seems to show that this is because the answer is actually more complicated than we all would like.
BACKGROUND:
There's a famous optical illusion called the Helmholtz Illusion, discovered by a man named Helmholtz in 1867.
Which of these squares looks thinner and taller than the other? Most people would say

the left square looks thinner and taller.
But that seems to go against the conventional wisdom that horizontal stripes make a person look fatter/wider. Wouldn't it be the other way around?
A number of studies have tested this effect and have found conflicting results. Why would fashion work differently than this famous optical illusion?

Three Japanese researchers noticed some interesting patterns in the previous research. They all presented pictures of models wearing either horizontal or vertical stripes. However, they weren't using the same models: some were fat and some were thin. Additionally, they were all shaded differently. And finally, they were presented in various orders.

These researchers decided

there were multiple factors at play here

and published a study testing their hypotheses in the journal

i-Perception

in 2013

.

The researchers did a number of studies testing the possibility that three factors were influencing all the previous research on this subject that has been conducted:
Whether the model is slim or fat.
Whether previous judgments of other people influence later judgments of different people.
Whether judgments are so varied between people that the whole thing isn't very useful.
EXPERIMENT:
31 undergraduate students (63% female) were recruited for the study.

The students were placed in a chair and

put their chin in a chin rest that ensured that their eyes were a certain distance from a computer screen

.

A number of computer images were flashed in the screens depicting people wearing clothing with

either horizontal or vertical lines

.

The size of the images was digitally altered to be

either slim or wide

.

Two figures were shown

side-by-side

for 1.8 seconds. One had horizontal stripes and the other had vertical stripes. Then, participants were to judge which of the images were fatter and press a key indicating their response.

This method was done 20 times with slim figures and 20 times with fat figures, or with the fat figures first and then the slim figures.
RESULTS:
So what do you think – is conventional wisdom true for fashion, or is the Helmholtz Illusion the main driving factor?
The conventional wisdom was not found to be true. Horizontal stripes don't make people look fatter and vertical stripes don't make people look slimmer and taller.

BUT sometimes the stripes didn't really make a difference at all.
Which factors influenced whether the Helmholtz Illusion held true for the figures?
YES.

Slender models look even thinner with horizontal stripes (supporting the Helmholtz Illusion and going against conventional wisdom).

But this effect was not as strong for the wide models – for wide models, the type of stripe BY ITSELF actually didn't have as much of an influence at all.

Order of Presentation:
YES.

Here's an interesting result. When SLENDER models were shown first to people, and then wide models, the Helmholtz Illusion was strongest of all (Horizontal stripes make people seem taller and slenderer) for both groups. This applied to both fat and slender images. Again, conventional wisdom does not seem to hold.

When the wide models were shown first, the type of stripe did NOT seem to matter for anyone.

Variance Between Observers:
YES.

Significantly, the researchers found that, even though there were noticeable results when they compared averages, there was a wide variety of results across all participants.
DISCUSSION:
So how do we interpret the results of this experiment? Here are some important conclusions that can be inferred from the results:
In no case was the conventional wisdom found to be true. Horizontal stripes did not, on the whole, make someone look wider. Vertical stripes, on the whole, did not make a person look taller and slimmer.
In fact, where there was an effect, it supported the opposite conclusion.
Horizontal stripes made slender people look taller and slenderer.
On the fatter models, the kinds of stripes made much less difference.
People's judgments seemed to be more influenced by what models they had previously judged.
For some reason (that the authors did not fully understand) when participants judged a large group of slender people first, the Helmholtz Illusion got very strong.
What does this mean for laypeople?
It means that when we view a person, we are mentally comparing them to people we have already seen.
Here's the (very strange but scientifically supported) bottom line:
If a fat person is going to an event full of thin people, horizontal stripes may actually make them look slimmer and taller.
Why? The researchers weren't sure.
Finally, there was another big take-away:
There was so much variation between participants in the study that the researchers concluded that stripes may not really, on the whole, make that huge of a difference.
This would explain why all the previous studies since the '80s were inconsistent.
This makes it seem like, unless you want to make a calculated, complex decision based on the results in this study, you might make your fashion selections based on other factors instead of whether the stripes are horizontal or vertical.
Whenever science doesn't seem to go one way or the other, I say trust your own personal judgment.
REFERENCE
Ashida, H., Kuraguchi, K., & Miyoshi, K. (2013). Helmholtz illusion makes you look fit only when you are already fit, but not for everyone. I-Perception, 4, 347-351. Link: https://ipe.sagepub.com/content/4/5/347.short
The post Horizontal vs. Vertical Stripes | Fact and Fiction About Striped Clothing appeared first on Real Men Real Style.
——————–
By: Antonio Centeno
Title: Horizontal vs. Vertical Stripes | Fact and Fiction About Striped Clothing
Sourced From: www.realmenrealstyle.com/horizontal-vs-vertical-stripes/
Published Date: Thu, 07 Dec 2023 15:29:48 +0000