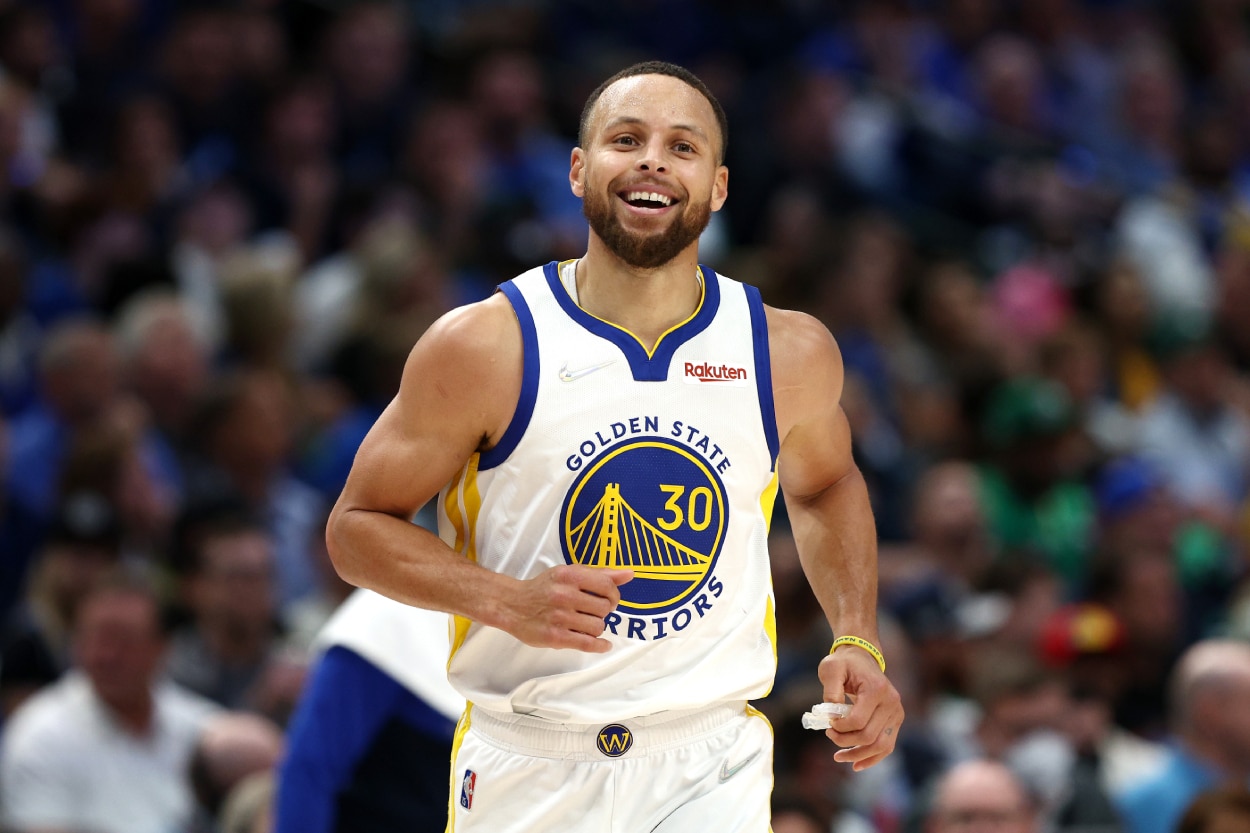 Stephen Curry has been the face of the Golden State Warriors dynasty. He has helped lead the Dubs to six NBA Finals appearances and three championships, solidifying his status as one of the greatest players ever in the process.
So, has Curry ever won NBA Finals MVP? Here's a look at the Warriors' three title runs and who won Finals MVP during each of those years.
Stephen Curry has never won NBA Finals MVP
Believe it or not, despite winning back-to-back league MVP awards in 2015 and 2016, Stephen Curry has never won Finals MVP.
Andre Iguodala received the award during Golden State's first championship run in 2015, and he was the most controversial of the team's winners. Iguodala won it primarily because of his defense on LeBron James. The Warriors beat James and the Cleveland Cavaliers in six games, but LeBron averaged 35.8 points, 13.3 rebounds, and 8.8 assists.
Kevin Durant received it during the Warriors' two other championships. Golden State beat the Cavs 4-1 in 2017 and 4-0 in 2018.
Here's a look at the average numbers Iguodala and Durant posted each year, and how they compared to Curry's.
2015 NBA Finals
| | |
| --- | --- |
| Andre Iguodala (Finals MVP) | 16.3 points, 5.8 rebounds, and 4.0 assists |
| Stephen Curry | 26.0 points, 5.2 rebounds, and 6.3 assists |
2017 NBA Finals
| | |
| --- | --- |
| Kevin Durant (Finals MVP) | 35.2 points, 8.2 rebounds, and 5.4 assists |
| Stephen Curry | 26.8 points, 8.0 rebounds, and 9.4 assists |
2018 NBA Finals
| | |
| --- | --- |
| Kevin Durant (Finals MVP) | 28.8 points, 10.8 rebounds, and 7.5 assists |
| Stephen Curry | 27.5 points, 6.0 rebounds, and 6.8 assists |
Curry certainly had a case in 2015, and he had great stats in 2017 and 2018. But Kevin Durant clearly deserved the award in the latter two series.
Stephen Curry has still recorded great Finals numbers
Just because he hasn't won a Finals MVP doesn't mean Stephen Curry has been trash during the Warriors' title runs.
As highlighted above, he has recorded excellent numbers during the championship round.
That has even been the case in losses. According to StatMuse, prior to the 2022 NBA Finals, Curry has recorded 26.5 points, 6.2 assists, and 5.7 boards per contest in 28 total Finals games.
His best performance came during a Game 3 loss to the Toronto Raptors in 2019, when he dropped 47 points, eight rebounds, and seven assists. He also made 6-of-14 three-point attempts.
Stephen Curry may not have a Finals MVP just yet, but he has had some legendary performances during the Warriors' dynasty run. He is an all-time great player.
Stats courtesy of Basketball Reference
RELATED: Stephen Curry Admits He Was a Little Insecure When He First Started Playing With Kevin Durant: 'You're Gonna Look Like Some Idiots'
The post Golden State Warriors: Has Stephen Curry Ever Won NBA Finals MVP? appeared first on Sportscasting | Pure Sports.
———————–
By: David Wysong
Title: Golden State Warriors: Has Stephen Curry Ever Won NBA Finals MVP?
Sourced From: www.sportscasting.com/golden-state-warriors-has-stephen-curry-won-nba-finals-mvp/
Published Date: Tue, 31 May 2022 15:21:31 +0000
Read More
Did you miss our previous article…
https://www.mansbrand.com/jamie-lee-curtis-officiates-daughter-rubys-wedding-to-partner-kynthia-in-cosplay-themed-backyard-ceremony/
How Bill Pullman Became Alex Murdaugh Under the Gun of a Streamlined Schedule, Limited Budget, & Looming Actor's Strike

Awards Daily talks to Bill Pullman about becoming Alex Murdaugh in Lifetime's Murdaugh Murders: The Movie and how he balanced all the lies against his character's most honest moment. Even though his character committed one of the most notorious crimes in recent memory, Bill Pullman isn't what you would call a true crime fan. "I was […]
———————–
By: Megan McLachlan
Title: How Bill Pullman Became Alex Murdaugh Under the Gun of a Streamlined Schedule, Limited Budget, & Looming Actor's Strike
Sourced From: www.awardsdaily.com/2023/11/29/how-bill-pullman-became-alex-murdaugh-under-the-gun-of-a-streamlined-schedule-limited-budget-looming-actors-strike/
Published Date: Wed, 29 Nov 2023 15:04:48 +0000
Read More
Nicolas Cage to Receive Lifetime Achievement Honor at 2023 SFFILM Awards

Greta Gerwig, Roger Ross Williams, and "American Fiction" director Cord Jefferson are also being recognized for their contributions to cinema during the annual awards ceremony.
———————–
By: Samantha Bergeson
Title: Nicolas Cage to Receive Lifetime Achievement Honor at 2023 SFFILM Awards
Sourced From: www.indiewire.com/awards/awards/nicolas-cage-lifetime-achievement-honor-2023-sffilm-awards-1234930185/
Published Date: Wed, 29 Nov 2023 12:00:00 +0000
Read More
From the Gotham Awards to the Golden Globes: 5 times Robert De Niro let out his inner raging bull
Robert De Niro has always been a man of few words, infamously hard to interview given his disinterest in saying much of anything at all.
In the last few years, however, the Oscar-winning legendary actor has made his feelings and opinions known on a number of topics, some as contentious as the Trump administration and the link between vaccines and certain conditions.
His Gotham Awards speech and all the other times he's called out Donald Trump
De Niro is not a fan of Donald Trump. He's denounced the controversial former U.S. president multiple times in the past. Most recently, the actor called out Trump for being untruthful and spreading misinformation during his speech at the 2023 Gotham Awards.
Although this last instance made headlines due to De Niro accusing the Gotham Institute and Apple of cutting his speech, it was far from the first time he's expressed his political views. At the Tonys in 2018, the first thing De Niro said when he got up on stage was "F*** Trump." Before that, he'd called the Reality TV star and politician "totally nuts," "a punk," "a pig," "a dog," and "a con."
The list goes on with De Niro repeatedly accusing Trump of being a "wannabe gangster," only without a code of honor, and comparing him to Hitler and Mussolini. In October 2023, he sent a statement to a Stop Trump Summit in New York where he called Trump an "evil" man with "no sense of right or wrong" and "no regard for anyone but himself."
When he made his feelings about Fox News clear as rain
De Niro's interview with CNN in 2019 has become famous by now. He continued to criticize Donald Trump by questioning his sanity, but when reporter Brian Stelter asked him about the backlash he could face from outlets like Fox News, the Irishman actor did not mince his words. "F*** 'em, f*** 'em," he dismissed, following it up with an apology after someone behind the camera was unable to hold back a shocked "Wow."
Later, when discussing his CNN outburst with the Daily Beast, De Niro doubled down. "And I think about [Rupert] Murdoch, and what he did to this country. He's an immigrant who became a citizen, and look what he contributed. Look what this guy did. It's disgraceful—beyond disgraceful, beyond cynical. Fox News, it's all about money and power. At what cost? And you're not even an American. You're someone who wanted to be an American, and this is what you gave us?"
His Golden Globes Cecil B DeMille Award acceptance speech
De Niro has played many a comedic role, but his jokes didn't exactly land well at the 2011 Golden Globes where he was honored with the Cecil B DeMille Award for his illustrious career. The event had a reputation for being the raunchier answer to the Oscars at the time, much thanks to its trusted candid host Ricky Gervais.
You could say De Niro was simply following the atmosphere of the night, but making jokes about how all the waiters had been "deported" before the awards and how Homeland Security was busy performing body scans on Megan Fox went too far. Even the audience of celebrities quickly turned their roaring laughter into baffled and slightly disgusted "Ohs."
De Niro's suspicions of vaccines and Big Pharma
It would be unfair to group Robert De Niro in with all the out-of-touch "anti-vaxxer" conspiracy theorists that have taken over the internet in the last few years, but the actor has expressed some controversial views on the vaccination of children, particularly the administration of vaccines containing mercury.
Following the contested addition and consequential removal of the documentary Vaxxed to the line-up of the Tribeca Film Festival, which De Niro co-founded, the actor publicly clarified his perspective on the possible link between the MMR vaccine and autism. "As a parent of a child who has autism, I'm concerned," De Niro said on TODAY, adding that he "[wants] to know the truth" and promote a dialogue that questions the established science. "I'm not anti-vaccine. I want safe vaccines," he further explained.
However, as much as De Niro is not an "anti-vaxxer" he does question the CDC and Big Pharma's transparency. "There's a lot of information about things that are happening with the CDC, the pharmaceutical companies, there are a lot of things that aren't said," the actor stated. He has even gone on to offer $100,000 to journalists and investigators willing to look into the issue.
The revelations made in De Niro's assistant's workplace abuse and gender discrimination lawsuit
In Nov. 2023, a jury declared that Robert De Niro's company Canal Productions must pay $1.2 million to the actor's former personal assistant as reparations for subjecting her to toxic workplace conditions. Graham Chase Robinson accused De Niro, who was not personally found liable for the abuse in the end, of bullying her and of making inappropriate requests, among other things.
According to various sources, the actor shouted "Shame on you, Chase Robinson!" in the courtroom after denying he had ever been abusive or made any comments with lewd intentions. The most damning evidence, however, is a voicemail that Sky News made public where De Niro, in between many repetitions of the word "f***" and all its variations, called his former assistant a "spoiled f***ing brat."
———————–
By: Francisca Tinoco
Title: From the Gotham Awards to the Golden Globes: 5 times Robert De Niro let out his inner raging bull
Sourced From: wegotthiscovered.com/celebrities/from-the-gotham-awards-to-the-golden-globes-5-times-robert-de-niro-let-out-his-inner-raging-bull/
Published Date: Tue, 28 Nov 2023 18:57:52 +0000
Read More