Reading Time: 8 minutes
Just 20 miles south of the hubbub that's San Francisco, Half Moon Bay is like a whole other world. This charming little city is the epitome of a West Coast seaside town. It's your gateway to the Pacific and life here revolves around the water. It's no surprise, then, that fishing in Half Moon Bay is more than just a popular pastime.
And that's why we're here today – to tell you all why casting a line out of this beautiful vista is a must. From the beach, jetties, out in the bay itself, or further afield, Half Moon Bay has it all. And after a long day testing your strength against some stellar opponents in the water, you can have your catch cooked for you in one of the town's famous seafood restaurants.
Sound like heaven? You bet it is. Now let's get down to business. In this guide, we'll let you in on the stars of the show here, where to find them, and how to go about catching them. We'll even cover regulations and a few other tidbits you may find interesting. After you're done reading, we're sure you'll be reaching for your rod and reel. So here goes… 
What can I catch in Half Moon Bay?
Half Moon Bay is home to some of the nation's most-loved fish. Tough-fighting, abundant, and delicious, there's not much more you could want, right? Well, these fish have it all. There are two stars of the show, in particular, so let's meet them and their supporting cast.
Salmon
Wherever Salmon live, they're pretty much guaranteed to top every angler's wish list. Half Moon Bay is no different. You may be surprised to hear that Salmon are so prevalent here, as they're usually associated with brackish waters and around rivermouths, as well as lakes. Well, the shallow waters of the Half Moon Bay and out into the Pacific are, somehow, the perfect habitat for the Chinook variety of this species.
Also known as "King" Salmon, these are true royal creatures. Known for their fighting prowess, they're the most sought-after of all the Salmon family – and we're sure there's no need to mention their excellent taste. Get ready to test your strength against beauties reaching 15 pounds in weight, with two open seasons. Come between April and the end of May, or late June through October, and take advantage of this incredible fishery!
Rockfish
From March through the end of the year, anglers all across the San Francisco region go mad for Rockfish, and the shallow waters of the bay here are perfect for targeting these delicious creatures. Rockfish is not actually a species per se, but a collection of bottom-dwelling fish that offer plenty in the way of fun and meat.
Unsurprisingly, you'll find these creatures feeding along the bottom of the sea. But the good news is that they stay close to shore. That means a half-day trip will be enough to catch your limit of 10, along with the possibility of landing some from shore or a pier! They promise a real hands-on angling experience, suitable for anglers of all ages, and skill levels. Bring the kids and get 'em hooked with these family favorites!
Crabs
If you thought a fillet of fish was enough to whet your appetite, wait until you see what you can serve up as an appetizer! Crabs love the rocky terrain around Half Moon Bay and, when the season hits, families and restaurateurs alike head out in search of these tasty crustaceans.
The season lasts from November or December through June, so there's plenty of time to get your fill of these creatures. Of course, we recommend coming when the weather is a bit warmer and you can combine it with going after Rockfish and Salmon. After all, what's a two-course meal without the main dish?!
And More!
Well, we said there were two stars of the show, and Crabs are certainly a welcome addition to Salmon and Rockfish. But the fun doesn't end there! Another delicious creature that calls these waters home is the Halibut. Smaller than their more northern "Pacific" counterparts, the California Halibut is more like a Flounder, living on the bottom and providing plenty of decent meat.
Similarly, Lingcod swims in the same waters as all the above superstars. You've almost got the entire list of the most popular table fare in Half Moon Bay! And there's more! Head a short ride north from downtown and Striped Bass are available. Another feisty fish with plenty to offer anglers of all levels, they're the icing on the cake that is Half Moon Bay fishing.
How to Go Fishing in Half Moon Bay
So you know what you want to catch, but how to go about it? Much like with the fish, two techniques reign supreme for those "in the know" in this delightful corner of the Golden State. If you've already been out on the water plenty of times, we're sure you know what to expect, but beginners – read on!
Trolling
If you're heading out with a boat or charter captain, the opportunities are endless. Not only can you catch every species we mentioned above, but you can also have more lines than one in the water at the same time. How? By trolling!
Trolling means dragging multiple lines behind the boat, with your lures mimicking bait fish that live on top of the water. It's an effective technique to entice topwater feeders – from Salmon to Tuna. You'll want to try different speeds and lures or bait depending on the species you target, but it always helps your odds of hooking what you want.
Sit back and let the lines do the work, before you leap into action as you hear the reels screech. Head to the back of the boat with your rod in hand and get ready to do battle.
Bottom Fishing or Jigging
Looking for a more hands-on fishing method from the get-go? The shallow waters of Half Moon Bay are ideal for trying to bring in some fish manually. Whether you anchored up, drift fish, or cast from shore, bottom fishing and jigging are effective ways to influence your luck.
Bottom fishing is ideal for targeting bottom feeders – duh! You'll drop your bait to the sea bed, dragging it along to mimic the prey of whatever species you're targeting. This means it's great for Rockfish, Halibut, and Lingcod. Just be careful of your hook getting caught or line getting snagged on the rocky bottoms!
As for jigging, it's just as hands-on. But this time you'll be pulling the bait up and down in a jigging motion. This also mimics bait, in this case dead or injured bait as it floats up the water column. Your target fish will think it an easy dinner and pounce when ready, so it's just as effective.
Kayak Fishing
While we said that the above techniques are the most popular in Half Moon Bay, as in most calm waters across the world, there's a new method gaining popularity here, too. Kayak fishing in Half Moon Bay gives you the chance for a serious workout, while going after the same fish as you would from a conventional boat or from shore.
Not only that, but kayaks can actually get you to spots that other vessels simply can't. Options in Half Moon Bay include easy strolls within the jetties all the way up to a tricky battle against the elements out in the Pacific. Whichever you choose, you're in for a fun day out and plenty of rewards, as you try trolling, bottom fishing, or jigging. Catches of up to 30 pounds have even been reported!
Half Moon Bay Fishing Spots
No matter if you're fishing with a charter, renting a kayak, or looking for the perfect shore fishing destination, Half Moon Bay has plenty of fishing spots to choose from. It was tough to narrow it down, but here's our pick of the best:
Pillar Point Harbor. Booked with a charter? Chances are you'll be heading out of this marina. Full of fishing vessels of all shapes and sizes, it's the departure point in town. You'll even find local fishermen on the dock selling their catch at a reasonable price, too!
North Jetty. Up for a DIY experience? The North Jetty protecting the harbor from the Pacific's crashing waves is not for the faint of heart. Go after Crabs nearer shore, while the further out you go, the better the chance of Rockfish, Lingcod, and more. But beware, the surface is pretty uneven and the winds and waves can make for a treacherous adventure.
South Jetty. Much like the North Jetty, the South Jetty helps protect the harbor, but it's not quite as tricky to explore. Expect the same fish in the same spots, but it's your line and not yourself you should be concerned about here. The rocky bottoms can cause damage to your gear, so make sure to bring spare tackle, especially!
Moss Beach. Just north of town, this is the last place you can fish before hitting the Fitzgerald Marine Reserve where fishing is banned. It's a great spot to set up camp and cast a line before or after spotting the wonderful marine life preserved just minutes away.
Half Moon Beach Fishing Regulations
We mentioned the open seasons for the fish above, but these are always subject to change. Check with the California DFW before heading out to make sure you only go after what's legal. This also applies to bag and size limits, too. Keep in mind that Half Moon Bay is in the San Francisco area, so all regulations valid for there count here, too.
Other than that, you should also purchase a California fishing license – unless fishing from the jetties that is. However, even if you don't need a license, the above regulations still apply. Check out our handy guide to getting your permit, and you're good to go!
Anything else?
Before we let you go, we just wanted to let you in the other pastime that makes Half Moon Bay famous. Surfing! Mavericks Beach just north of the harbor and jetties boasts some of the biggest breaks on the West Coast. Enthusiasts from all over come to take on these great waves, and there are even some tournaments held here, too. There are no signs to get to the best spots, but ask any local and they'll point you in the right direction.
It's not only pros who get to enjoy these waters either, though. Beginner and intermediate surfers are encouraged to try the smaller waves nearer the jetties. We suggest combining a surfing trip with casting a line. That way, you'll get to see exactly what this town is all about!
Half Moon Bay: Small City, Big Everything Else
That just about covers it. By now, you should know that Half Moon Bay is a year-round destination, offering exciting angling action and much more. Test your skills during the day and indulge in the fruits of your labor by night. What could be better? All that's left for you to do is come and try it all out for yourself!
And now over to you. Have you ever been fishing in Half Moon Bay? How was it? We'd love to hear all about your experiences in the comments below!
The post Fishing in Half Moon Bay: A Complete Guide appeared first on FishingBooker Blog.
By: Rhys
Title: Fishing in Half Moon Bay: A Complete Guide
Sourced From: fishingbooker.com/blog/fishing-in-half-moon-bay/
Published Date: Fri, 10 Jun 2022 09:37:00 +0000
Fort Lauderdale Party Boat Fishing Guide
Reading Time: 9 minutes
Home to over 100 marinas and the largest yacht fleet in the world, Fort Lauderdale is all about living it up on the water. There are numerous ways to experience the "Venice of America." For anglers, party boat fishing in Fort Lauderdale is a sure-fire way to meet people, have fun, and reel in some prized catch.
Why hop on a party boat? Well, it's an affordable way to fish these waters for those going solo or in a small group. This part of Florida offers some of the finest angling on the East Coast. On a shared charter, you'll get to experience it in all its glory without stretching your budget.
So if you'd like to learn more about how all this works and what you can expect while party boat fishing in Fort Lauderdale, stick with us. We'll cover the species you can catch, when to go, and how to prepare for your trip. When you're ready, read on!
What to Expect When Fishing on a Party Boat
Party boats are designed to take big groups of people, whether on a fishing trip, a booze cruise, or any other kind of water activity. These boats are way bigger than your typical center console, averaging over 50 feet in length. Because of this, they're generally capable of taking anywhere from 20 to 50 anglers fishing.
Fishing trips on this type of boat are normally shared. This means you'll be booking a spot on the boat and sharing the adventure with other fellow anglers. If your group is large enough, you'll usually have the option to book out the whole vessel. However, this only pays off if you're planning a corporate outing or a similarly large event.
Aboard party boats, you can expect to find plenty of shade and seating. Most of the time, these vessels will feature plenty of amenities, including toilets, enclosed lounges, and even a bar where you can buy drinks and snacks. Also, you'll usually either be provided with the fishing gear, or you'll get the option to rent it on board.
Four and six hour fishing trips are the most popular options when it comes to party boat fishing in Fort Lauderdale. These will give you enough time to reel in some fish and have fun before moving on with your day. However, you'll also see some charters offering longer shared trips, which will give you more time to chase after offshore trophies.
What fish are biting in Fort Lauderdale?
Compared to most other places, party boat fishing trips in Fort Lauderdale are kind of unique. Why? Because you can encounter pelagic fish within a few miles offshore when it's their season. This means you don't necessarily have to hop on a long trip to get a taste of what it's like to fight some serious game. Of course, there's no shortage of food fish either. Have a look at what you could hook into while fishing these waters…
Snapper
Whether you're hopping on a party boat as a beginner or a seasoned angler, fishing for Snapper never gets old. There are several species of these fish lurking around Fort Lauderdale's reefs and wrecks. Among others, these include Vermillion, Mutton, Yellowtail, and the famed Red Snapper.
While Red is certainly the most prized type of Snapper, the truth is that all of them taste great.
So no matter which one you hook into, you can consider it a treat. You'll usually find Snapper fairly close to shore, although bigger specimens start showing up once you move a few miles offshore.
Grouper
With taste to rival our previous entry and a fighting disposition that's sure to get your adrenaline pumping, it's easy to see why anglers love Grouper so much. Like Snapper, there are multiple Grouper species you'll get to target while party boat fishing in Fort Lauderdale. Most often, these will be Red, Black, and Gag Grouper.
Occasionally, you might even hook into a Goliath Grouper. These underwater giants will offer you a battle for the ages, however, you'll most likely have to catch and release. No matter the species, Grouper like to hang out around underwater structure. Since all you need to do is drop the bait down to the bottom, even novice anglers can fish for them.
Mahi Mahi
This part of the East Coast is one of the few places out there where you can hook into pelagics on half day trips. Mahi Mahi is one such fish that you'll sometimes get to target while fishing aboard a Fort Lauderdale party boat. Granted, you won't see them every trip. But they often come within a couple of miles of shore during summertime, so you're likely to get your chance then.
Besides their unique looks, Mahi Mahi are also among the fastest-growing fish in the ocean. This means hooking into big ones – or "Gaffers", as they're known – isn't all that uncommon. You'll usually find Mahi Mahi around floating grass or debris which attract them. Another telltale sign captains often keep an eye out for is birds congregating above water.
The best part about fishing for Mahi Mahi is that, even though they can get big, they're still very beginner-friendly. The fight they put up is exciting but they'll generally get tired before you do. Also, let's not forget to mention that these fish make for excellent table fare no matter how you cook them.
Sailfish
Although you definitely can't consider Sailfish to be a common catch on party boats in Fort Lauderdale, it's certainly possible to reel one in! The reason why they make the list is because you can often encounter them within two or three miles of shore. This means there's no need to travel far, you just have to get on the water when they're passing through and get through.
Compared to the other fish we've mentioned so far, Sailfish are a whole different ball game in terms of difficulty. They're one of, if not the, fastest fish in the ocean, clocking speeds exceeding 65 mph. Sailfish also have the acrobatics to match their quickness, and will often jump out of the water during the fight and put on a brilliant show.
Since Sailfish are such tremendous fighters, they're a species more suitable for seasoned anglers to target. If you want to sharpen your skills before trying to catch one, we recommend going for smaller pelagic fish first.
And Many Others!
We've named two bottom fish and two pelagics so far but there are many other fish you'll see while party boat fishing in Fort Lauderdale. Along the different reefs and wrecks, you'll see species such as Amberjack, Barracuda, and Triggerfish, among others. If you see schools of Rays or Whale Sharks, you could also check if there are some Cobia following them.
As far as pelagics go, Blackfin Tuna and King Mackerel often swim a couple of miles offshore. This puts them in range of most party boats, giving you a chance to occasionally hook into some. So it's all about what's biting at the time of your trip.
When to Go Party Boat Fishing in Fort Lauderdale
This part of Florida's east coast is a year-round fishery. As long as the weather is good, you'll always be able to get out on the water and catch something. So if you're wondering when you should take that fishing trip, the most correct answer would probably be as soon as you can.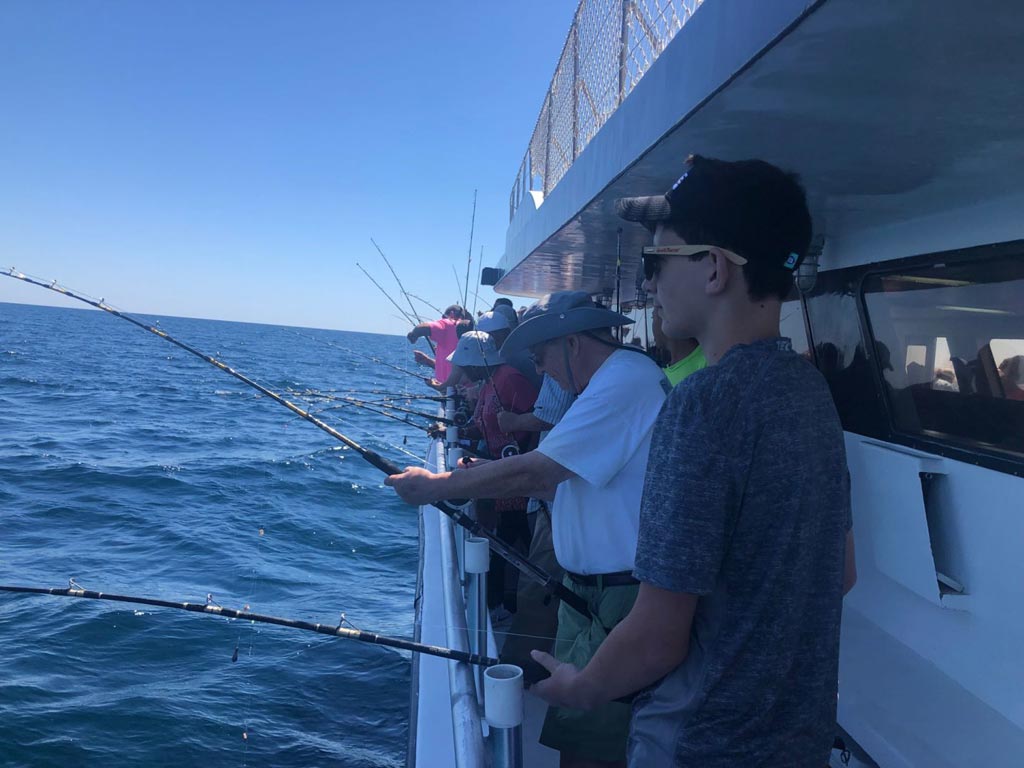 With this in mind, most species are subject to regulations, so your targets will vary over the course of a season. The Grouper season, for example, is closed between January and the end of April. However, winter and early spring are great if you're aiming to catch a Sailfish.
The peak season starts around May and lasts until the end of August. This is when you'll have the chance to reel in all kinds of bottom fish, as well as the likes of King Mackerel, Mahi Mahi, Tuna, and more. Summer is also when the Red Snapper season opens, making it the best time to visit if you're eager to put these fish in the cooler.
Of course, there'll still be plenty of deep-dwelling fish to reel in even after summer passes. You'll also see Mahi Mahi bite during fall. Finally, as the waters cool down and December rolls in, it'll be Sailfish season once again.
Types of Party Boat Trips in Fort Lauderdale
We've already mentioned that half day fishing charters are what most anglers go for when booking a trip aboard a party boat. These usually last for four hours, making them suitable for all kinds of anglers, beginner to pro. On half day trips, you'll often see families with kids, people learning how to fish, as well as tourists who want to get in on the local action on the boat with you.
Although half day trips may seem like the most basic option, there are various reefs, wrecks, and other spots close to Fort Lauderdale you can explore within four hours. Depending on what's biting you might be bottom or drift fishing for Grouper, Snapper, Triggerfish, and Grunt. Or, you could do some trolling for Spanish and King Mackerel, Mahi Mahi, and even the rare Tuna.
If you opt for a longer, 3/4 day trip, you'll just have more time to put fish in the cooler. Since you'll be spending up to six hours on the water, you'll have a better chance to see larger pelagics such as Wahoo and Sailfish. If not, you'll still get to target all the fish we mentioned in the previous paragraph.
Large party boats usually don't offer shared full day trips. They can be tough to fill and not everyone can handle being on the water for eight or more hours. However, there are some captains in Fort Lauderdale that offer such adventures aboard their yachts or center consoles. These shared trips are usually limited to small groups and will give you the opportunity to go offshore and target big game species such as Marlin, Swordfish, Sailfish, Wahoo, and more.
How to Prepare for a Party Boat Fishing Trip
Before you're ready to set out on your very own Fort Lauderdale party boat fishing trip, there are some things you should bring along. But since the boats already feature plenty of amenities, the list is pretty short. Take a look…
Sun protection. Even though there'll be shade on the boat, protecting yourself from the Florida sun should be one of your main priorities. Lotion sunscreen is preferable on boats compared to spray so make sure to apply some before the trip and bring the bottle along.
Comfortable clothing. Another great way to shield yourself from the sun is to wear a breathable, long-sleeved shirt. Pair that with some shorts, rubber-soled shoes, a hat, and a pair of polarized sunglasses, and you'll be set. It's also a good idea to bring an extra shirt, just in case things get messy and you need it.
Snacks and drinks. Keeping your energy up and staying hydrated is extremely important when you're fishing. So make sure to bring water or sports drinks and pack a few snacks to tie you over. Sometimes the boat might sell these, saving you the trouble of remembering to pack them.
Motion sickness medication. Since you won't be going very far offshore, seasickness is not a huge issue on Fort Lauderdale party boats. However, if you're not sure you can handle the open waters, it's still wise to take it. Remember, party boats normally won't turn around if someone gets seasick while you're on the water.
A small cooler and some cash. Once you're done reeling in all that fish, you'll need a cooler to transport it home. Also, there'll be a deckhand, or several, on board helping you throughout the trip. For their efforts, it's customary to leave a cash tip.
Party Boat Fishing in Fort Lauderdale: An Adventure That Fits the Budget
If you're looking to get a taste of what it's like to fish in Fort Lauderdale without breaking the bank, party boats are your ticket to reeling in all kinds of fish. Sharks, reef dwellers, or pelagics – whatever you choose to hunt, it's all within the realm of possibility out here. The potential these waters hold is almost unmatched, and the only missing ingredient for an adventure is you.
Have you ever fished aboard a party boat in Fort Lauderdale? Which fish species would you like to catch? Hit the comments below and let us know!
The post Party Boat Fishing in Fort Lauderdale: A Handy Guide appeared first on FishingBooker Blog.
By: Marko
Title: Party Boat Fishing in Fort Lauderdale: A Handy Guide
Sourced From: fishingbooker.com/blog/fort-lauderdale-party-boat-fishing/
Published Date: Fri, 29 Jul 2022 12:01:00 +0000
Did you miss our previous article…
https://www.mansbrand.com/8-top-spots-floridas-fall-snook-opener/
8 Top Spots Florida's Fall Snook Opener
Reading Time: 9 minutes
Fishing for Snook is a way of life in Florida. This species is one of the all-time favorites of inshore anglers, and it only makes sense, considering what they have to offer. Snook are outstanding fighters and they're delicious, which is a winning combo in any game fish. These qualities mean that they get targeted a lot. But to leverage that, there are two yearly closures to ensure their population stays strong. While closures are necessary, Snook season openers are a reason to rejoice – and now, one is upon us.
The Snook season will reopen on September 1, and it's a big deal for Floridians. Up until then, these tropical beauties are strictly catch and release. But, after the season opens, anglers are allowed to keep one per day! This means you get to keep your trophy catch and turn it into a tasty dinner. No wonder the Snook opener is practically considered a public holiday.
So where do you go to catch yourself a nice Snook? Keep reading and we'll share some of the most productive Snook fisheries to explore.
Best Fishing Spots for This Fall's Snook Opener
We'll start our tour on the Space Coast. Port Canaveral is a known fishing hub, and Snook is one of the leading catches, here. The main reasons for this are the sheer variety of places where you can target them, as well as the size the fish reach in these waters. The proximity of the prolific Sebastian Inlet doesn't hurt either.
As September rolls around, you'll see Snook chasers all over Port Canaveral and further south, around the inlet. The reason is that the fish come closer to the shore, so they're even more accessible. You can go after them right from the beach, which is one of the main upsides that draws anglers in. There's also a lot of Snook in and around the Indian River, so not only have you got a chance of landing a big one, but you can also take your pick of fishing grounds.
Port Canaveral is easy on the eyes. Whether you come for the stunning beaches or you'd like to explore NASA's hometown, you're in the right place. Hang out with manatees in their sanctuary, then spend the afternoon surfing. If you're a bird lover, don't miss the Pelican Island National Wildlife Refuge. Mix in warm late summer days, lounging on the beach, soaking in the sunset, and you've got yourself a vacation.
Vero Beach
In our exploration of the best spots for the fall Snook opener in Florida, we move further down the east coast to Vero Beach. If you're looking for a place where you can be laid back and add some good fishing into the mix, this is it. There are many fish to catch here, but Snook is a summer and fall favorite.
What makes Vero Beach one of the best Snook fishing spots this time of year? For starters, early fall is the best time to go after Snook in these parts. As bait fish comes closer to land, the big fish religiously follow their food, which is exactly what you want. Then you've got the Chamber Canal, which boasts excellent action, especially for trophy fish lovers. Of course, the Indian River lagoon is always at your disposal. You can also explore the many jetties that serve as Snook congregation spots and even go kayak fishing around the mangroves.
The appeal of Vero Beach lies in the fact that your stay here can be as active as you'd like. You can get some sunshine on one of the beaches and combine it with Snook beach fishing. After that, you can visit local museums or head to the nearby chocolate factory with your family. Outdoor enthusiasts will love the Archie Carr National Wildlife Refuge, while Jaycee Park is the perfect place for a picnic at the end of another relaxing day in Vero Beach.
Jupiter
We're not talking about going to another planet to find good fishing. Jupiter is a beautiful beachfront town on the Treasure Coast that offers a lot of strong Snook action. Come in time for the Snook opener and you'll see firsthand just how much of a fighter these tackle-busters can be.
Jupiter Inlet is the main reason Snook love to hang around the town. The place where the Loxahatchee River meets the ocean is a fishing epicenter. Big Snook come here to feed and spawn, and they stick around all through the summer and the fall. There's even a "Jupiter rig" specially made for Snook fishing, that's how good the action is. Night fishing is particularly strong because Snook are ambush predators. They get more reckless under the cover of darkness and they'll attack your setup with wild abandon.
When you've had your share of fun on the water, Jupiter has a variety of activities for you to try. This is a great family vacation spot for people who love animals and nature. In the Loggerhead Marinelife Center, you can check out the aquarium and hang out with sea turtles. Beaches are always at your disposal, and thrill seekers can even go swimming with Sharks. Whatever your taste for adventure is, chances are, Jupiter can accommodate.
Dania Beach
As we travel further south, we can't sidestep Dania Beach – aka Broward County's First City. Dania Beach is one of the hidden gems on our list of best spots for the fall Snook opener, and the fishing potential here is off the charts.
If you prefer to fish from land and don't want to hassle with boats, Dania Beach will meet your angling needs. The local fishing pier is 900 feet long, jutting into the ocean, and ideally situated for memorable fishing moments. Here, feisty Snook venture into shallow waters looking for food. This makes them easier to spot and target from the pier, especially in the fall months. You might be surrounded by fellow anglers, but don't worry, on Dania Beach Pier, there's plenty of Snook for everyone.
While this sunny locale can often fall under the radar, Dania Beach is well worth your attention. Its beaches are clean, accessible, and simply beautiful – so much so that they've been awarded for it. You can easily spend a day in the Secret Woods Nature Center, walking trails and drinking in nature in all its splendor. Antique lovers will get lost in the Antique and Arts District, and you can round up the day with a beer tasting in a nearby brewing company.
The Everglades
There's no talking about the Florida Snook opener without mentioning the Everglades. Now, we know that Everglades is huge and it would take years to explore it all, but don't let that overwhelm you. You can access the park's rich waters from different sides (Naples, the Keys, Islamorada, Everglades City…) and you better believe it will be worth the trip.
The Everglades is probably the best spot in the Sunshine State to look for monster Snook (also called Leviathan Snook). Since this is a tropical species, the park's ecosystem and water temperature are the perfect home for Snook year-round. Some of the best fishing grounds to check out in the fall are Whitewater Bay and Ten Thousand Islands. These wetlands and mangrove-stacked shorelines are teeming with Snook of all sizes. You can go fishing with a guide or set out on your own with a kayak, it's up to you.
If you're craving some peace and quiet that can only be found in nature, the Everglades is the destination for you. No matter how much time you have, there's something for you to discover and admire. You can spend days hiking trails like Gator Hook Trail or bike through the Shark Valley. Stargazers should venture into the Big Cypress National Preserve from where you can see the most beautiful night skies.
Sanibel
We're now officially moving to Florida's Gulf Coast, and Sanibel is our first stop. Located on its namesake island, Sanibel offers great access to a variety of Snook fishing grounds. This is the main reason it's on our list of the best spots for the fall Snook opener. The fish you get here might not be the biggest on record, but that's ok. What Sanibel Snook sometimes lack in size, they make up for in numbers.
Sanibel has over 20 miles of gorgeous coast rimmed with mangroves and grassy flats – the perfect Snook habitat. This is where young fish come to eat and grow, and where fishing flourishes pretty much year-round. With the coming of the fall, the inshore waters become clearer, and you can chase Snook around mangroves, flats, and passes. Backcountry fishing is the name of the game as temperatures drop, and the game is good.
From what you've read, you can probably guess that Sanibel is almost like an oasis. This is a small island away from the everyday bustle, where you can take a beat and enjoy yourself. There's no need to rush. Take things at your own pace – Sanibel is good like that. Walk around the Botanical Gardens, hike the Bailey Tract, or make the most of your afternoon sun-gazing and collecting shells on Blind Pass Beach.
Gasparilla Island
For a lot of people, Gasparilla Island might be synonymous with the Boca Grande and incredible Tarpon fishing. While that's absolutely true, Snook have earned their place on the must-catch list of local and visiting fishermen. This barrier island is surrounded by fantastic fishing waters and the Snook here aren't shy. They'll fight you stubbornly for every inch of your line!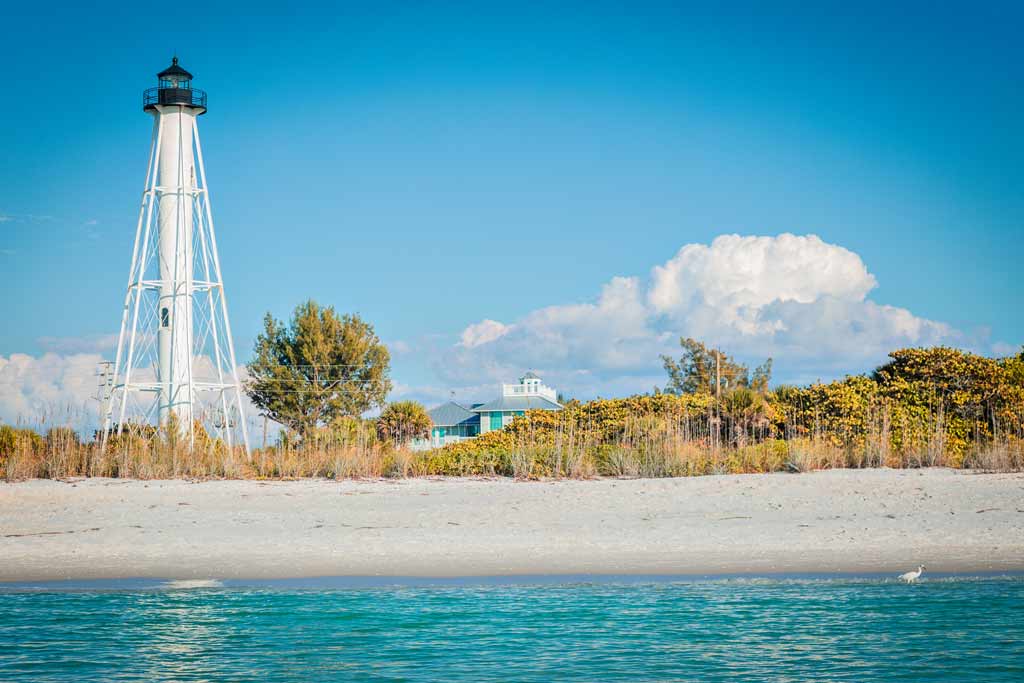 So where do you go to find Snook? Well, you can't really go wrong. Gasparilla Sound is a good starting point because a lot of mid-sized and big fish congregate around the channels. Gasparilla Pass is just as good – a lot of Snook come through here in the fall on their way back to the shallow waters. And the Boca Grande Pass is just as productive. Finally, surf fishing for Snook is a treat. The bite is almost constant around underwater structures and when there's a lot of bait fish in the surf.
As for things you can do around Gasparilla Island, well, the sky's the limit. You can spend your days on the beach and check out the many shops in Boca Grande. For a more active vacation, try your hand at water sports like kayaking and paddle boarding. You can also visit the Cayo Costa State Park, which is small, secluded, and as close to paradise as you can imagine.
Venice
When a city is located next to a "Snook Alley," you don't need to think hard about what you should target. Venice is the final stop on our list, but that doesn't make it any less important. On the contrary, the waters of Venice Inlet are among the favorite playgrounds for Snook and anglers alike.
There's no better place to go after Venice Snook than the famous Snook Alley. Huge numbers of these fight-ready fish live along this section of the Intracoastal Waterway. The action is on every day of the year, and night fishing is some of the best you'll find in Florida. Having a Snook do their acrobatics while you try to land them in the dark is a special kind of adventure. Fly fishing can also give excellent results if you're into trying something new.
When you're not battling Snook, Venice will provide you with everything you need for an enjoyable vacation. Lose yourself in the beauty and architecture of the city's downtown or stroll down the fishing pier against a fabulous sunset. Take some time and go to the lovely Caspersen Beach or dedicate a day to hiking in the Oscar Scherer State Park. If you're up for exploring nearby cities, Tampa and Sarasota are just a stone's throw away.
Florida Snook Opener – Exciting Times Ahead!
The Snook opener is upon us and, while there are many many great destinations to target them in the Sunshine State, these eight are the best of the best. All that's left to do is pick your favorite spot, get your gear at the ready, and hit the water for battle. Happy Snooking!
What do you think about our choice of spots? Did we miss something? Do you have a favorite that's maybe not on the list? Let us know in the comments below.
The post 8 Top Spots for Florida's Fall Snook Opener appeared first on FishingBooker Blog.
By: Andriana
Title: 8 Top Spots for Florida's Fall Snook Opener
Sourced From: fishingbooker.com/blog/fall-snook-opener-florida/
Published Date: Thu, 28 Jul 2022 13:35:00 +0000
Did you miss our previous article…
https://www.mansbrand.com/how-to-store-your-boat-a-complete-guide/
How to store your boat: A complete guide
Reading Time: 7 minutes
We'd all love to be out on the water 365 days a year. But unless you live somewhere tropical, that's not possible. Most captains around the world are forced to take a break during the off-season, and part of that includes storing your boat. Other charter operators have to store their boats between trips, too. In fact, this can be one of the most important aspects of making sure your business runs smoothly.
That's why we decided to help you out. We're here today to let you know all about the best ways to store your boat. Whether for a few months or just a few days, we've got you covered. We'll take you through storage options, tips for maintaining your boat, and much more. So without further ado, let's get started!
Where to Store Your Boat
Choosing how and where to store your boat is the first thing you need to decide on. Some smaller boats may be suitable for storing on a trailer, and even bigger ones if you have the space. But a lot of the time, you don't want to lose time lugging your vessel to and from storage. Some captains keep their boat in the water, some in private storage, and some pay to have it taken care of. We'll go through the pros and cons of these options below.
In the Water
We'll start with the easiest option – keeping your boat in the water. This is often the preferred option for larger vessels, and for those captains who have a marina spot secured year-round. But it's also convenient no matter what size boat you have. Why? Well, you won't lose any time hauling your boat to and from the dock or storage facility. In fact, you can even use your boat to hang out even if you're not going out fishing!
Despite this, there are obvious downsides to storing your boat in the water – especially if you live in an area that's prone to extreme weather conditions. Exposure to rain, wind, and even UV lighting is harmful to your boat, meaning more maintenance when you get back up to full speed. Don't forget, you'll also have to clean up any algae, barnacles, and even bird droppings if you leave it out in the water.
Also, if you're planning on leaving your boat untouched for a while, you'll want to make sure the marina is secure, Even then, safety measures won't be as tight as in storage facilities. But more on that later.
On a Slip Lift
Thankfully, to protect against some of the wildlife that can cling to your boat, slip lifts can be very convenient. These get your boat out of the water but are still in the marina in a convenient location to get back out when the time allows. Indeed, some marinas even have their own slip lifts for you to use. This means you can just rent them out and take advantage right away.
On the flip side, you'll have to factor in the cost, no matter if you're using your own or a marina's slip lift. Be warned, they don't come cheap. Installing one yourself can also take some work! You should also be aware that, in areas with high winds, slip lifts may not be the best solution for storing your boat. Read on to find out some more suitable options.
Outdoors (Off the Water)
As we mentioned earlier, many captains like to store their boats at home. Sure, if you have a large driveway, there's nothing stopping you. But that's not the only option, There are also open-air self-storage facilities, similar to parking lots for boats. Both options are solid, with you being able to keep an eye on the boat yourself at home, while someone else will do it in storage. You can also usually be able to get it back on the water when you please.
If you settle on either of these options, we suggest you take considerable effort to cover your boat. This protects against the weather conditions, as we've mentioned above, but also can help protect against burglars or wild animals such as rodents and raccoons that can make themselves at home in parking lots. Still, leaving your boat out in the open air will always carry some risk. And you'll still spend some time and effort moving the boat to and from the water.
Indoors
The way to protect against all the issues mentioned above is to keep your boat indoors when you're not fishing. Of course, if you have a garage big enough, there's no reason you can't keep it in there. Although we're sure you might need to do some work to persuade the rest of the family! Otherwise, there are covered boat storages that can protect your boat from the elements and wildlife, too. But these come with a hefty price tag.
There are self-storage facilities and dry-stacked options all across the country, and both offer the same protection as a garage. While we don't need to repeat that they aren't the easiest to reach from the water, safety comes with a price. And there are other considerations, too.
Dry-stacked storage, for example, sometimes limits the number of times you can visit your boat or take it out of storage. It can also get busy if you're putting it in and taking it out when everyone else has the same idea. That means you may have to wait to retrieve your boat. As for self-storage facilities, these are the most expensive of all the options above. And spaces are at a premium. If you find one, great, but they may not always be available.
Tips for Storing Your Boat
Now you have an idea of where you're going to store your boat, let's get down to some of the finer details that will help keep your boat safe when you're not fishing. We'll start with some universal tips for pretty much every time you take your boat out of the water. If you're interested in a comprehensive guide to boat maintenance, check out this article.
Rinse your boat. This is especially important for saltwater vessels. Wash it down with freshwater and a light dash of soap. It can be just as important on freshwater boats to get rid of algae, barnacles, or any dirt, too. 
Inspect the vessel. The last thing you want when you get back out on the water is to find a dangerous fault with the boat. You should see to any small cracks right away. Check for damage on the body of the boat, along with ropes, decks, hooks, and wires to make sure nothing is leaking or damaged. And don't forget the engine!
Flush the engine. Speaking of your motor, you'll want to make sure it's clean when putting the boat away. Flushing it with a chemical solution to get rid of any sludge or gunk is a must. Drain the chemicals back out before replacing the oil, and siphon out any gas if you're likely to be out of action for a while. 
Cover the boat. We've mentioned uncovered storage solutions, but there's no need for your boat to be completely naked. Even a light cover to protect against UV rays and bird droppings is vital, no matter how long you'll have the boat out of the water.
In addition to all of the above, there's more to consider when storing your boat for a longer period. This is especially true during winter or any time of year when the weather conditions can get rough.
Dry your boat. After giving your boat a wash, you'll also want to thoroughly dry it. This protects against dampness, in case your storage isn't dry enough. (We do suggest picking a dry spot, much as for fishing gear). This is also important to protect against ice damage too if you're living in colder climates.
Use antifreeze through your water systems. If your boat is likely to be exposed to colder conditions, run some antifreeze through your water systems. This will protect them from freezing and further damaging your boat.
Charge and test your battery regularly. This is vital if you're likely to be out of the water for a considerable period of time. Take it out of the motor and charge it early on. Then, we suggest testing it at least once a month to make sure everything is still in order.
One other thing is a must if you're keeping your boat on a trailer, and that's to make sure your tires are fully pumped. The last thing you want is to have to try and get some air into those tires when the boat is already on top!
Storing Your Boat: Because She's Worth It!
This concludes our guide on how best to store your boat. Of course, there's a whole load of other factors to take into account, depending on your local conditions. And, as we've said plenty of times above, how long you want to keep the boat inactive. But with these general tips, you're already on the right track to keeping your boat healthy. That means a better fishing performance for more time. She really is worth the effort!
And now over to you. What are your best tips on how to store your boat? Anything you'd like to share? We'd love to hear from you in the comments below!
The post How to Store Your Boat: A Complete Guide appeared first on FishingBooker Blog.
By: Rhys
Title: How to Store Your Boat: A Complete Guide
Sourced From: fishingbooker.com/blog/how-to-store-your-boat/
Published Date: Tue, 26 Jul 2022 11:15:00 +0000
Did you miss our previous article…
https://www.mansbrand.com/california-fishing-season-all-you-have-to-know/