Leaving the house used to be a simpler activity. The quick mantra of "keys, wallet, phone" covered the essentials, but now we need to add masks and hand gel to the mental load to make it safely through the day.
Over the last few months we've learned there are a few down sides to maintaining meticulously clean mitts; notably dry skin and irritation caused by harsh sanitisers and repetitive washing. With price gouging on limited stock, abrasive formulas that smell and feel akin to floor cleaner, ugly packaging and a lack of decent options, it's fair to say that living with this constant hand cleansing has been mildly stressful and kind of uncomfortable.
The situation presents a gap in the market for a more pleasurable ritual. Thankfully, a handful of brands read our palms, releasing a selection of sanitisers, cleansers and comforting salves that protect the skin, smell great and can be delivered straight to your door. It's hand care, but not as we've known it.
Hand Sanitisers
Cash points, hand rails, lift buttons, door handles, toilet flushes and mobile phones are just some of the high traffic spots that present a prime location for some germ hopping. The world currently feels like a mad obstacle course but with these virus-killing hand sprays you can just spritz and go.
Calming Scent: Anatomē Support + Protection Hand Cleanser Spray
This compact spray from anatomē is easy to carry around for on-the-go protection. Botanical ingredients including thyme, tea tree, Sicilian lemon and rosemary provide natural antiseptic and antimicrobial properties against common pathogens. Contains 60% alcohol as recommended by the WHO.
Russian eucalyptus, neroli peppermint give it a calming, holistic scent, which is helpful if you're anxious about going out. Spray on hands after contact or after washing for an antibacterial boost.
Buy now at anatomē
Pocket Sized: AMLY Botanicals Purifying Hand Mist
Protect your bubble with this pocket-size anti-viral spritz. It contains 62% alcohol and aloe vera to help hydrate the skin as well as calming chamomile.
Rosemary, lemon, eucalyptus and thyme provide naturally-powered germ protection.
Buy now at Amly Botanicals
Refillable: KINN Hand Sanitiser with Tea Tree Essential Oil
With a lower price and a higher alcohol content at 70%, KINN offer affordable hand protection that smells fresh and feels good on the skin. A little goes a long way and a 100ml refill is also available to help stretch supplies further.
Buy now at Kinn Living
Fragrance Free: Previse Instant Hand Sanitizer
For anyone who is sensitive to essential oils this unscented hand spray has the highest alcohol content at 75% and hydrogen peroxide for extra bug busting power.
Buy now at Wolf & Badger
Best Value: La Roche-Posay Hydroalcoholic Purifying Hand Gel
French dermatologists La Roche-Posay has put its skincare expertise into a 65% ethanol-based hand sanitiser. It's also unscented and comes in a tube, so you won't lose the lid and it's less likely to leak.
Buy now at FeelUnique
Hand Cleansers & Creams
Gentle cleansers and soothing hand creams are essential to maintain healthy skin.
The Designer Duo: Gloved Instant-Absorb Hand Lotion & Active Hydrate Hand Wash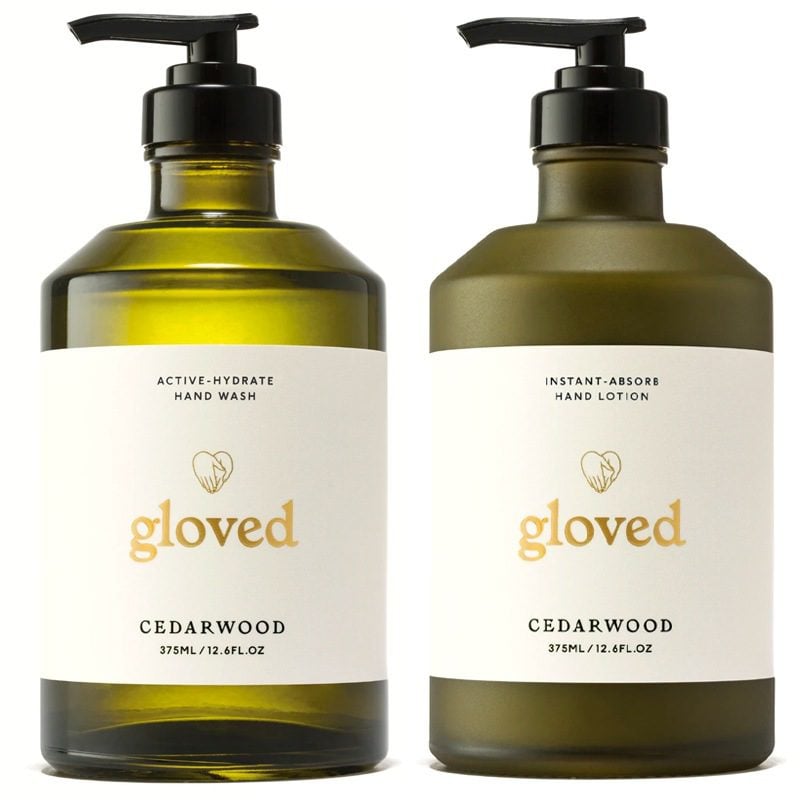 Perfume creator Tom Daxon has turned his talented hand to a timely new venture. He teamed up with his mother, Dale Daxon Bowers, to create Gloved. Dale knows a thing or two about creating successful bath and body lines, having worked as creative director at Molton Brown for over 30 years.
The gentle hand care line includes a lotion and hand wash, which is pH balanced. Both products are dermatologically tested, 100% vegan and contain hyaluronic acid – the same ingredient found in premium face creams. The formulas combat dryness and actively smoothes and softens skin without any greasiness or heaviness. Of course, this is from Tom Daxon, purveyor of fine fragrance, so it smells – and feels – vastly superior to your average hand cream.
The scent is underpinned with Virginian cedarwood oil, which has natural antioxidant, anti-inflammatory and anti-microbial benefits and delivers a longer lasting aroma that will successfully neutralise strong cooking odours.
Both formulas contain a high percentage of natural ingredients and come in glass bottles with aluminium caps. For each reusable plastic pump sold, Gloved donate £1 to anti-plastic campaigners, Surfer's Against Sewage.
Buy now at Gloved
The Good Cause: Nursem Caring Hand Cream & Caring Hand Wash
Clapping in the street is one way to show your appreciation for the NHS, buying a Nursem hand care product is another: they donate a month's supply to a nurse or midwife for every product sold.
Antonia, a paediatric nurse and one of the brand founders, suffered brutal contact dermatitis from the constant hand washing needed to protect her patients from infections – a common problem for healthcare professionals, never more so now.
The hand cream contains allantoin, which promotes skin healing, and Manuka honey, which combats infections, and it has an appealing scent of petitgrain, bergamot and grapefruit essential oils. It feels rich and comforting and absorbs quickly.
The Hand Wash is soap-free and has the same fragrance. Very good for sensitive skin, keen gardeners, washer uppers and general hard-working hands.
Buy now at Nursem
Tried & Trusted: Horace Superfatted Soap Bar Trio
At home, a good old fashioned bar of soap remains one of the most effective ways to nix any dangers that may be lurking on your skin. Like most coronaviruses, Sars-CoV-2 is a nanoparticle with a lipid outer bilayer. Soap dissolves this fatty membrane which renders the virus inactive and loosens its grip on the surface of the skin more effectively than just water.
Don't take that as a signal to start eating the stuff, even if it smells as good as Horace's new soaps do. These are made in Provence, the soap capital of France. Bulk buying seems like a sensible option these days and you'll get to sample each of the inviting scents: Italian Bergamot & Peppermint, Orange Blossom & Petitgrain and Peppermint & Tea Tree. Olive and coconut oils bring the extra fats that make these natural soaps extra kind and moisturising on the skin. And with just a paper wrapper, they are very light on packaging.
Buy now at Horace
The post Helping Hands: The Best Hand Sanitizers, Creams And Cleansers appeared first on Ape to Gentleman.
——————–
By: Jessica Punter
Title: Helping Hands: The Best Hand Sanitizers, Creams And Cleansers
Sourced From: www.apetogentleman.com/best-hand-sanitizers-creams/?utm_source=rss&utm_medium=rss&utm_campaign=best-hand-sanitizers-creams
Published Date: Tue, 04 Aug 2020 08:00:12 +0000
Did you miss our previous article…
https://www.mansbrand.com/miles-fishers-morning-routine/
How to wear your watch correctly
As much as you won't like hearing this, you're probably wearing your watch wrong.
It's not your fault; you may have never been taught how to wear a watch properly. After all, there is more than one way to wear a watch.
But how do you know which way is the right way?
Don't worry, gents; as always, I've got you covered. I'm here with the best way to wear your favorite timepiece properly and look as stylish as ever.
In today's article, I'll be covering:
Origins Of The Wrist Watch
What Wrist Do You Wear A Watch On?
Should You Wear Your Watch Facing Inward Or Outward?
The Stylish Way To Wear A Watch
#1 Origins Of The Wrist Watch
When it comes to wearing a watch correctly, it's important to note why the wristwatch came about in the first place.
Dating back to the 1800s, the first watches modified to be worn on the wrist were primarily worn by women as accessories. One of the earliest was created by Patek Philippe as a fashion accessory.
At the start of the 20th century, watchmakers became intrigued about using a wrist-worn timepiece for men in the military. They believed it would help them tell time quickly while on the battlefield.
Watchmakers started modifying pocket watches to fit on a bracelet worn on the wrist. Men would not wear the first iteration of the modern wristwatch until well into the 20th century.
Then developed as a 'trench watch' for military use, the earliest wrist watches offered something the pocket watch didn't have – convenience.
After the wristwatch became less of a fashion accessory and more of a functional tool, watchmakers would spend the next century modifying them into the modern wristwatches we enjoy today.
#2 What Wrist Do You Wear A Watch On?
The age-old question: what wrist to wear a watch on? The answer – it depends.
The reason it depends is that since the creation of the wristwatch, men have mostly worn their watch on their non-dominant wrist. And since most people are right-handed, you would wear your watch on your left wrist.
But this isn't always the correct answer. You may want to wear your watch on the right wrist if you are left-handed. But you may also want to wear it on your dominant hand.
So how do you know for sure?
The most significant benefit of wearing your watch on your non-dominant hand is that you can quickly put the watch on and navigate the dial more efficiently than with your non-dominant hand.
Wearing your watch on your non-dominant hand is less likely to damage the watch as you tend to do more with your dominant hand. If you were to wear it on your dominant hand, you're more likely to scratch or ding the watch than on your non-dominant hand.
So the rule of thumb here is to wear your watch on your non-dominant hand for the best way to navigate and protect your watch.
#3 Should You Wear Your Watch Facing Inward Or Outward?
The next question is, why would a man wear his watch facing inward on his wrist instead of outward?
This trend is seen primarily in individuals who need to check their watch frequently and in the most efficient way possible. Among the many reasons you should wear a watch, one of the most common is to support you in your profession.
You will see men in the military do this, as it's easier and prevents sun glare better than when it's on the outside of the wrist. It also offers faster convenience to other tools on the watch in addition to the time.
Another reason you may want to wear your watch facing inward is that it can help protect your watch from scratches and dings. Again, this is just a preference.
But you're a stylish guy looking for the best way to wear his watch. What should you do?
The answer here is to wear it facing outward, as that is the most common way to wear a wristwatch. It shows off your timepiece that you love while also still being functional.
Unless you're in a profession where you need to check your watch quickly while managing other tasks, the best way is to have your watch facing outward. After all, you probably didn't spend money on that beautiful timepiece to hide its character.
#4 The Stylish Way To Wear A Watch
Now it's time to find out exactly how to wear a watch in the most stylish way a guy can.
Assuming you've selected the right size watch for your wrist, the first thing you want to do is figure out if you'll be wearing your watch on your right or left wrist.
As mentioned above, traditionally, the watch is worn on your non-dominant wrist. So if you're right-handed, this means wearing your watch on your left wrist. For left-handed guys, this means your right wrist.
After you figure that out, it's quite easy. The first thing you want to do is locate your wrist bone.
You want to wear your watch face up just above your wrist bone. If done correctly, your watch should slightly peek out from under the cuffs of your shirt when wearing long sleeves.
Next, you want to tighten the strap so it's loose enough to be comfortable. You don't want it so loose it can spin freely around your wrist. You also don't want it too tight, or it will feel uncomfortable, especially when you bend your wrist.
After doing this correctly, you'll be wearing a watch in the most stylish way possible.
There you have it, gents.
Now you no longer have to worry about wearing your watch incorrectly.
There is more than one way to wear a watch, so find what's most comfortable for you personally, and rock your favorite timepiece accordingly.
If you want to take your watch knowledge to the next level, check out this article I wrote about the difference between quartz and mechanical watches.
The post How To Wear A Watch The Right Way appeared first on Real Men Real Style.
——————–
By: Antonio
Title: How To Wear A Watch The Right Way
Sourced From: www.realmenrealstyle.com/wear-watch-right-way/
Published Date: Sat, 30 Jul 2022 10:19:42 +0000
Did you miss our previous article…
https://www.mansbrand.com/fall-capsule-wardrobe-preparation-buy-now-and-get/
Fall Capsule Wardrobe Preparation (Buy Now and Get $$$)
We've all been there – fall comes around, and you open your closet only to find you have nothing but polos and shorts.
So what's a stylish guy to do? Pay a premium to build an entire fall wardrobe last minute? Sure, if you're loaded. But not every guy is that lucky!
Don't worry; as ever, I've got you covered. In today's article, I'll show you how to get the best bang for your buck when building your fall capsule wardrobe.
We'll be covering:
What Are The Advantages Of A Capsule Wardrobe?
How Do You Build A Fall Capsule Wardrobe?
Where Can You Find Deals On Fall Clothing?
What Are The Best Fall Capsule Wardrobe Essentials?
#1 What Are The Advantages Of A Capsule Wardrobe?
One of the most common headaches guys run into in their closet is having too many clothing options to choose from but not enough of the right options.
While more options aren't bad, they can be overwhelming, especially when you rarely wear most items. This is where building a capsule wardrobe comes into play.
A capsule wardrobe is a limited selection of clothing items that complement each other. This means you can buy a smaller selection of items and create a larger number of outfits.
This is crucial to understand because most guys don't have an unlimited budget for buying clothes. A capsule wardrobe allows you to purchase and use items frequently with little redundancy.
But where do you start in building your fall capsule wardrobe?
#2 How Do You Build A Fall Capsule Wardrobe?
After you have put together the perfect capsule wardrobe, you can start to add a few fall-specific items. This is done by adding a few staple pieces that complement what you already have.
For most, fall offers mild temperatures mixed with slightly warmer temperatures.
This means that layering will be of the utmost importance because you may leave the house needing a jacket, but it might be warm enough by midday to sport only the t-shirt underneath.
Start with the basics when building your fall capsule wardrobe and add pieces accordingly.
Keep It Simple
Fall is primetime for layering, so you only need a few outer layers and should focus more on the innermost layers.
You want to make sure that interchangeability is at the top of your list when it comes to your wardrobe. Everything should complement each other for ease of use.
With that said, having a few staples and adding additional items as you change seasons is essential.
For this reason, ensure you have the following items in your fall capsule wardrobe:
A dark three-piece suit
A light-colored tweed blazer
A leather bomber or biker jacket
An overcoat (dark or light)
A formal button-up shirt (white)
2 casual button-up shirts (flannel or chambray, you choose)
2 sweaters (1 shawl, 1 crew neck)
2 t-shirts (1 white, 1 black,)
2 pairs of Jeans (1 dark, 1 light)
2 pairs of slacks/chinos (1 dark, 1 light)
2 belts (1 black, 1 brown)
1 pair of black dress shoes
1 pair of brown oxfords (leather or suede, you decide)
1 pair of sneakers (plain white or brown)
1 pair of military boots (black or brown)
When it comes to accessories like watches, scarves, or gloves, you can use what you have as most men won't need all of them, so I won't count them in.
#3 Where Can You Find Deals On Fall Clothing?
As it is the middle of summer, fall will be approaching quickly.
Now is a great time to snag up some of last year's sale items at department stores as they usually have sales on previous season items. By now, most men aren't thinking about what to wear in the fall.
While you still might be able to find good deals on last year's fall items, it's usually the most optimal time to purchase these items after the season has ended. This is when retailers try hard to clear space and make room for the next season's clothing.
When they do this, it is a great time to get excellent deals on items that have just gone out of season.
Another great option to buy men's clothing is online at your favorite retailers, as they will often have sales and discounts on items they have in their online inventory but are not yet in prime season.
The most expensive items in your fall capsule wardrobe are the ones you want to focus on, as you can often save a significant amount of money out of season for them.
These big ticket items include:
Your dark three-piece suit and blazer
Overcoats and jackets
Dress shoes and sneakers
Boots
These items will be some of the most expensive items and can be found discounted out of season. Put these at the forefront of your fall capsule wardrobe search.
#4 What Are The Best Fall Capsule Wardrobe Essentials?
You want to adhere to a few staples when building your fall capsule wardrobe.
Since fall weather can vary, layering will be essential. These few items are crucial as mainstays that can be layered with other items within your wardrobe.
For example, if you experience a rather chilly day in fall and need to wear a suit, an overcoat is essential as that outermost layer because you can simply remove it when you no longer need it.
When it comes to the concept of layering within your fall capsule wardrobe, you want to make sure you nail these following items.
Overcoats
Having a good overcoat to complement your fall capsule wardrobe is crucial.
The overcoat acts as the outermost layer and will be removed whenever you go indoors. This makes for a great option as you can wear it with anything as it offers excellent versatility.
When searching for the perfect overcoat, it's essential to know your size as they usually come in sizes of suit jackets, not regular sizing. After you've nailed the size, focus on color.
Dark-colored overcoats tend to be the most versatile. However, a light camel color can work as well. Stay away from patterns with overcoats as the goal is to be as versatile as possible.
Leather Jackets
A good leather jacket goes a long way. You can choose a leather biker jacket or a leather bomber; it's your call.
Biker jackets can be slightly harder to pull off as most of the time, they will have a larger and more aggressive collar, but they still look great.
A leather bomber jacket is an excellent option because it looks great on all body types and often has more options than biker jackets.
For color, opt for black or dark brown, as that gives you the most versatility with other items in your fall capsule wardrobe.
Sweaters
Sweaters are to fall, what t-shirts are for summer. This means they are a critical piece as they are season specific and offer great versatility when it comes to layering.
So how do you find the perfect sweater?
You want options, so have a couple of different collar choices to give yourself the most bang for your buck.
Having a shawl neck sweater and a crew neck sweater ensures you have all your bases covered.
Make sure you choose neutral tones such as greys, creams, and tans for color. This ensures maximum versatility with other items within your wardrobe and gives you the most options.
That's it, gents.
To learn more about how versatile this concept of capsule wardrobes can be, check out how I turned 16 pieces of clothing into 256 outfits.
The post Preparing Your Fall Capsule Wardrobe (Buy Now And Save $$$) appeared first on Real Men Real Style.
——————–
By: Antonio
Title: Preparing Your Fall Capsule Wardrobe (Buy Now And Save $$$)
Sourced From: www.realmenrealstyle.com/fall-capsule-wardrobe/
Published Date: Thu, 28 Jul 2022 23:59:00 +0000
We all know of Zara and I'm pretty sure the majority of us own at least one piece from them, but I'm not here to talk about their reasonably priced clothing, I'm here for their fragrance.
Not quite a hidden gem but I don't feel that they vast range and high quality fragrance that they create is given enough air time, I'm about to change that. The fragrance game is massive at the moment, everyone from the big fashion houses all the way to footballers have a scent on the market and they all carry a hefty price tag, with some of the bigger hitters asking in excess of
£100 for 50ml.
Zara clearly understand the need for a great fragrance but also appreciate not everything has to be overly expensive. I've been lucky enough to sample my fair share over the years and wanted to share with you what I feel are some of their strongest.
Tobacco Collective 100ml – £16.99
This is one of my absolute favourites, it works perfectly as an everyday scent. The initial smell is strong and masculine but with undertones of vanilla bourbon help to soften it slightly.
For Him 100ml – £22.99
My current daily spray, its warm, modern and intense. It just so happens to be the perfect blend of three of my favourite scents, bergamot, cardamom and sandalwood. It's strong yet light, never over powering and leaves a wonderful trail.
Florence 100ml – £16.24
Summer calls for a fresh fragrance and I cannot recommend this highly enough, its light, fresh and citrus scent is perfectly for those warmer days. Notes of black pepper, strawberry and guaiac wood allow this scent to sit gently on the skin with offending the noses of those around you.
Written by Tom Loughran
The post The Best Of Zara Fragrances first appeared on Mens Fashion Magazine.
——————–
By: MFM
Title: The Best Of Zara Fragrances
Sourced From: www.mensfashionmagazine.com/the-best-of-zara-fragrances
Published Date: Fri, 22 Jul 2022 09:57:00 +0000
Did you miss our previous article…
https://www.mansbrand.com/how-to-teach-a-child-to-shave-a-guide-to-men/