Leaving the house used to be a simpler activity. The quick mantra of "keys, wallet, phone" covered the essentials, but now we need to add masks and hand gel to the mental load to make it safely through the day.
Over the last few months we've learned there are a few down sides to maintaining meticulously clean mitts; notably dry skin and irritation caused by harsh sanitisers and repetitive washing. With price gouging on limited stock, abrasive formulas that smell and feel akin to floor cleaner, ugly packaging and a lack of decent options, it's fair to say that living with this constant hand cleansing has been mildly stressful and kind of uncomfortable.
The situation presents a gap in the market for a more pleasurable ritual. Thankfully, a handful of brands read our palms, releasing a selection of sanitisers, cleansers and comforting salves that protect the skin, smell great and can be delivered straight to your door. It's hand care, but not as we've known it.
Hand Sanitisers
Cash points, hand rails, lift buttons, door handles, toilet flushes and mobile phones are just some of the high traffic spots that present a prime location for some germ hopping. The world currently feels like a mad obstacle course but with these virus-killing hand sprays you can just spritz and go.
Calming Scent: Anatomē Support + Protection Hand Cleanser Spray
This compact spray from anatomē is easy to carry around for on-the-go protection. Botanical ingredients including thyme, tea tree, Sicilian lemon and rosemary provide natural antiseptic and antimicrobial properties against common pathogens. Contains 60% alcohol as recommended by the WHO.
Russian eucalyptus, neroli peppermint give it a calming, holistic scent, which is helpful if you're anxious about going out. Spray on hands after contact or after washing for an antibacterial boost.
Buy now at anatomē
Pocket Sized: AMLY Botanicals Purifying Hand Mist
Protect your bubble with this pocket-size anti-viral spritz. It contains 62% alcohol and aloe vera to help hydrate the skin as well as calming chamomile.
Rosemary, lemon, eucalyptus and thyme provide naturally-powered germ protection.
Buy now at Amly Botanicals
Refillable: KINN Hand Sanitiser with Tea Tree Essential Oil
With a lower price and a higher alcohol content at 70%, KINN offer affordable hand protection that smells fresh and feels good on the skin. A little goes a long way and a 100ml refill is also available to help stretch supplies further.
Buy now at Kinn Living
Fragrance Free: Previse Instant Hand Sanitizer
For anyone who is sensitive to essential oils this unscented hand spray has the highest alcohol content at 75% and hydrogen peroxide for extra bug busting power.
Buy now at Wolf & Badger
Best Value: La Roche-Posay Hydroalcoholic Purifying Hand Gel
French dermatologists La Roche-Posay has put its skincare expertise into a 65% ethanol-based hand sanitiser. It's also unscented and comes in a tube, so you won't lose the lid and it's less likely to leak.
Buy now at FeelUnique
Hand Cleansers & Creams
Gentle cleansers and soothing hand creams are essential to maintain healthy skin.
The Designer Duo: Gloved Instant-Absorb Hand Lotion & Active Hydrate Hand Wash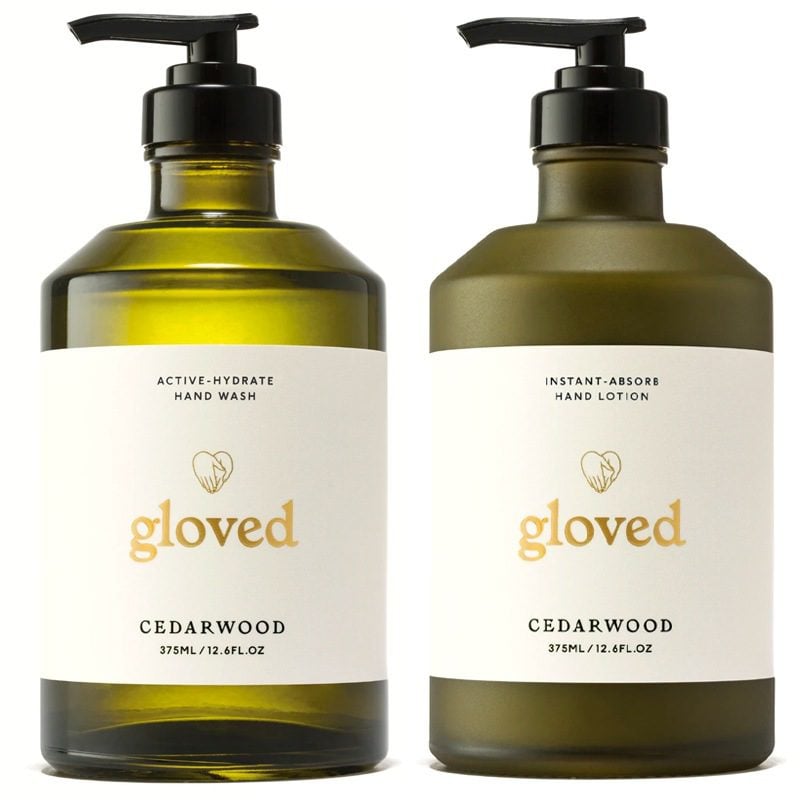 Perfume creator Tom Daxon has turned his talented hand to a timely new venture. He teamed up with his mother, Dale Daxon Bowers, to create Gloved. Dale knows a thing or two about creating successful bath and body lines, having worked as creative director at Molton Brown for over 30 years.
The gentle hand care line includes a lotion and hand wash, which is pH balanced. Both products are dermatologically tested, 100% vegan and contain hyaluronic acid – the same ingredient found in premium face creams. The formulas combat dryness and actively smoothes and softens skin without any greasiness or heaviness. Of course, this is from Tom Daxon, purveyor of fine fragrance, so it smells – and feels – vastly superior to your average hand cream.
The scent is underpinned with Virginian cedarwood oil, which has natural antioxidant, anti-inflammatory and anti-microbial benefits and delivers a longer lasting aroma that will successfully neutralise strong cooking odours.
Both formulas contain a high percentage of natural ingredients and come in glass bottles with aluminium caps. For each reusable plastic pump sold, Gloved donate £1 to anti-plastic campaigners, Surfer's Against Sewage.
Buy now at Gloved
The Good Cause: Nursem Caring Hand Cream & Caring Hand Wash
Clapping in the street is one way to show your appreciation for the NHS, buying a Nursem hand care product is another: they donate a month's supply to a nurse or midwife for every product sold.
Antonia, a paediatric nurse and one of the brand founders, suffered brutal contact dermatitis from the constant hand washing needed to protect her patients from infections – a common problem for healthcare professionals, never more so now.
The hand cream contains allantoin, which promotes skin healing, and Manuka honey, which combats infections, and it has an appealing scent of petitgrain, bergamot and grapefruit essential oils. It feels rich and comforting and absorbs quickly.
The Hand Wash is soap-free and has the same fragrance. Very good for sensitive skin, keen gardeners, washer uppers and general hard-working hands.
Buy now at Nursem
Tried & Trusted: Horace Superfatted Soap Bar Trio
At home, a good old fashioned bar of soap remains one of the most effective ways to nix any dangers that may be lurking on your skin. Like most coronaviruses, Sars-CoV-2 is a nanoparticle with a lipid outer bilayer. Soap dissolves this fatty membrane which renders the virus inactive and loosens its grip on the surface of the skin more effectively than just water.
Don't take that as a signal to start eating the stuff, even if it smells as good as Horace's new soaps do. These are made in Provence, the soap capital of France. Bulk buying seems like a sensible option these days and you'll get to sample each of the inviting scents: Italian Bergamot & Peppermint, Orange Blossom & Petitgrain and Peppermint & Tea Tree. Olive and coconut oils bring the extra fats that make these natural soaps extra kind and moisturising on the skin. And with just a paper wrapper, they are very light on packaging.
Buy now at Horace
The post Helping Hands: The Best Hand Sanitizers, Creams And Cleansers appeared first on Ape to Gentleman.
——————–
By: Jessica Punter
Title: Helping Hands: The Best Hand Sanitizers, Creams And Cleansers
Sourced From: www.apetogentleman.com/best-hand-sanitizers-creams/?utm_source=rss&utm_medium=rss&utm_campaign=best-hand-sanitizers-creams
Published Date: Tue, 04 Aug 2020 08:00:12 +0000
Did you miss our previous article…
https://www.mansbrand.com/miles-fishers-morning-routine/
Men's Clothing For Hard To Shop Body Types
So you're looking to upgrade your style.
You've already got your power suit.
It's right for your body and fits perfectly.
You're ready to nail those dinner parties and boardroom appearances.
But wait…what about the rest of your life?
A big part of putting your best foot forward with style is finding clothes that fit and flatter. And you may have received advice about the best types of sport coats and dress shirts for your body.
But when it comes to the everyday staple pieces, there's a lot more variety and way fewer hard-and-fast rules. How do you decide what will become your go-to pieces for years to come–and what will work, but never really WORK?
It helps to have a style formula that you can apply even to easygoing dress codes. Today, I'm going to walk you through three key pieces for each of five different body types. With these at the base, you can build a range of outfits that truly let you look your best in informal settings.
#1. Flattering Clothes for Thin Men
Body Type: This is a build with the shoulders and waist close to the same size.
Goals: Your goals are to create an illusion of shape by widening the appearance of the shoulders and concentrating on styles that taper your straight-up-and-down frame.
Your Key Pieces:
An all-purpose shirt with h

orizontal stripes or a horizontally-oriented pattern near the shoulders. It should be in a

fabric that's heavy enough to provide structure but thin enough to layer under jackets or sweaters.
As for the fit, you don't want anything too wide that will billow out at the sides and back. Your height and sleek torso are worth showing off. Look for tall sizes or shirts with a little extra length so you can get a smaller size that fits your shoulders.
A versatile, layering-friendly sweater or button-down that adds some bulk to your frame and gives you more control over your silhouette. Try to have pieces in your wardrobe that can be layered even in warmer weather.
Fitted styles are your best friend when trying to create a classic V-shaped silhouette. You can utilize darted jackets with structured shoulders to build this look for dressier settings, and hoodies with tapered waists for casual wear.
Slim fit trousers in a light color give you some definition while adding bulk.
Look for a fit that touches your calves but doesn't hug your entire leg. If you have a tall, thin build, long legs are probably one of your best features–and if you're thin and short, a slim fit will make your legs look longer.
Light colors are best for casual wear–a dark color can be too slimming and give you spindly bird legs. A tan or khaki pair will create a more balanced appearance.
#2. Flattering Clothes for Fuller-Bodied Men
Type: Full-bodied men have a shape where the center of the torso is broader than the hips.
Goals: You're generally looking for slimming and framing pieces that look like they belong on you.
Your Key Pieces:
A quality "sack jacket" cut layering piece with wide lapels.

Sack jackets are a style classic that looks great on bigger men.

Although the traditional sack jacket is formal, you can find casual jackets that imitate its shape. It's a great way to own your size and make the most of your best features.
Wide lapels add proportion and "match" your frame, making a wider torso an integrated part of your look instead of an obstacle. Look for solid colors for similar reasons–patterns won't hide your shape, they'll just draw attention to it. You don't want all eyes to be on a feature it looks like you're trying to hide.
Classic fit trousers that sit at your natural waist are another essential. If your pants fit well and sit at your natural waist, they'll minimize any extra weight carried in that area that might look awkward or disproportionate with an incorrect fit.
A classic fit flatters your legs and balances your frame. Look for pleats to give you space to move comfortably while also providing vertical emphasis.
Suspenders. If you're a bigger guy, you might have heard before that it's best to wear suspenders with your formal looks. They're also great with jeans and a button-down, though.
Suspenders will let you avoid belts that emphasize width and divide up your silhouette. They emphasize your height and direct the eye toward your face. And they're a great way to add a pop of color to an otherwise standard outfit.
#3. Flattering Clothes for Muscular Men
Type: Those who possess this body shape are often athletes or guys who work out who have a built up chest and shoulder area.
Goals: This physique is one many guys understandably want to flaunt, but it can cause a few issues with fit as manufacturers often cater to a more average build.
Your Key Pieces:
A regular fitted V-neck shirt

(not ultra-low) balances the proportions of your shoulders. It should be fitted–not shrink-wrapped–to

show off your physique tastefully.
Look for blocks of color or stripes below the waist. When dressing for casual occasions, you'll want balance and a more a classic vibe. Drawing the eye to your trim midsection helps accomplish that.
Shorts or pants with a subtle horizontal pattern will b

alance out a built torso visually. They also help a

void your legs appearing disproportionate in casual looks, which are more likely to emphasize your shoulders.
If you have muscular legs, shop for pants that fit your seat and thighs comfortably (you should be able to pinch the fabric). The waist and length of a pair of pants are some of the easiest things to tailor.
Unstructured jackets.

Your shoulders are built already, so look for jackets that are soft and unpadded in that area.

You may need to have them tailored to look right for your waist or fit the length of your arms, but fit your shoulders first.
#4. Flattering Clothes for Men With Wider Hips
Type: It's common for men's bodies to be wider near the base of the torso, especially as you get older
Goals: You want items that provide shape and balance
Your Key Pieces:
A go-to shirt with a bit of shoulder structure–nothing fitted to tightly to your shoulders and arms, though. Your main objective is to balance out your waist and draw the eye to your face.
Look for something that's darker around the waist than on the shoulders. Bright colors don't work as well for you, but neutrals and subtle jewel tones will look great.
Corduroy or flannel pants.

These heavier fabrics add some bulk below the waist to make your midsection appear balanced.
Look for something that sits at your natural waist with a medium drop (length between the waist and the crotch seam) and a classic fit with no tapering.
Scarves are the perfect

accessory for those who are rocking the dad bod. It draws the eye to your relatively well-built shoulders and to your face while further balancing the width of your waist.
Look for 'framing' colors–matched to your hair in terms of lightness or darkness, and contrasting in base colors with your skin tone.
#5. Flattering Clothes for Men With Average Frames
Type: Shoulders slightly wider than waist–this is the shape most men's clothes are designed for
Goals: You're lucky–most clothes will work for you without a lot of trouble. You want to emphasize your natural features and stand out a bit
Key Pieces:
Jackets that follow your natural proportions.

You don't need a lot of shoulder structure, but if you're wearing something that adds bulk to the waist, a little padding helps.
For these pieces, vertical patterns like pinstripes are very flattering, and if you're short they can help utilize your shape to give you some height
Slim and classic fit shirts.

Again, you've lucked out here in that designers generally have you in mind, but there are some things you want to avoid–n

amely, anything that's too billowy around the waist.
Really seek out brands whose shirts suit your height or else come in a range of lengths for each overall size. Otherwise, get to know your tailor.
A bold accessory or two.

An average body is a great thing to have in the menswear world…but let's face it, you're not dressing to be average.

Accessories like scarves, ties, and hats are a great place to go distinctive and stand out from the crowd.
One way to do this is with classic details in eye-catching colors–bright argyle socks with dark jeans and a pair of boat shoes, a classy watch with a red or emerald green band. Just use sparingly, and always choose quality over attention-grabbing.
The universal rules of dressing for your body type basically boil down to:
Make sure it fits.
Pay attention to proportion–the balance between the shapes of your clothing and the shapes of your body.
Draw peoples' attention where you want it to go–to your best features and your face.
With a little shopping around and practice, you can develop your eye for what fits your features best–no matter what kind of occasion you're dressing for.
Click here to watch the Video – Hard To Shop Body Types
The post Men's Clothing For Hard To Shop Body Types appeared first on Real Men Real Style.
——————–
By: Antonio Centeno
Title: Men's Clothing For Hard To Shop Body Types
Sourced From: www.realmenrealstyle.com/hard-shop-body-types/
Published Date: Thu, 28 Sep 2023 16:26:59 +0000
Styling Streetwear Sneakers with Classic Outfits: Tips and Tricks
Somebody once said 'Do not judge an outfit yet, until it is worn with shoes', while that can be a valid although funny point, it serves as a perfect conjunction into our article today – 'streetwear sneakers'!
Sneakers as a staple accessory of fashion are an undeniable elevator to any look. From Adidas to Reebok to Vans and to many more out there, these accessories to fashion have proven to be the perfect footwear for casual and even business casual events.
In modern times, influenced by the younger generation, we've seen that classic pieces can actually be paired with streetwear sneakers and still come off as super stylish. When looking to elevate looks, attention needs to be paid to the little details, in this regard, sneakers being paired with a classic piece, are that little detail, which you should definitely try out.
Now, the whole concept of styling streetwear sneakers with classic outfits shows the uniqueness and versatility of whoever pulls this off, and we shall be covering that in today's article.
Styling Streetwear Sneakers #1: Finding the Right Sneakers
First off, pairing the right sneakers for a look (streetwear or classic) boils down to three major points;
Colour: The colour of a sneaker is the first thing people notice before these other points. Even when you're being described, you're going to hear 'Oh, he was putting on a black and white sneakers'. This goes to show that attention needs to be given to the colour of sneakers being worn in a fit. My advice is to go for the simple, neutral colours, as they say, the flair is in the simplicity. Do not try to do too much when choosing the right colour of sneakers, go with a white and black Converse if you can. If you want to add a bit of colour, choose from a variety of neutral/earthy tones to balance out the look.
Design: Next is design, after noticing the colours of statement sneakers, the next thing people notice is what design you are wearing, so what you're hearing is 'Oh he was putting on black and white Adidas sneakers' right? Now, when looking to get the best design for your sneakers, your major focus shouldn't be on the popularity or brand influence of those sneakers. While that is a valid point, a more valid point to take note of is the quality, which leads us to our next point.
Quality: The quality of sneakers matters, whether they are Converse or all-stars. Being able to maintain and sustain a footwear piece is a testament to proper maintenance and good quality. So when shopping for streetwear sneakers, you might want to pick out quality ones.
While we don't share relatable opinions on what brand of sneakers are of good quality and with respect to your choice and preference, here are a few brands that make it up to the list when looking to shop for quality items. These brands have made their way to the top by giving customers a good run for their money.
Classic Outfit Essentials
Below is a list of classic outfit essentials that go perfectly well with a pair of streetwear sneakers
When exploring streetwear sneakers and classic elements one has to take into consideration the fittings and proportion of the clothing. A well-fitted clothing equals a balanced and stylish look. Most of the time, a whopping 70 per cent of your worst looks are due to the irregular fit and shape of your body.
So when looking to mix streetwear and classic fabrics together, you really should stick to well-fitted fabrications just to stay safe.
Here are some styling tips and tricks to take note of when pairing streetwear with classics.
Styling Streetwear Sneakers #2: Balancing Act
Another key element to take note of in styling these alternative staples together is balance. When exploring two opposite but related pieces in fashion, one has to find the right balance so as not to look too overdressed. Briefly, let's look at the several types of balance in styling:
Symmetrical; This occurs when an outfit is evenly balanced on both sides. Usually, both halves of the outfit share similar patterns, colours and texture
Asymmetrical: This is when an outfit is balanced but not in a mirrored way. This features a unique and different style approach to create interest and dynamism
Radial balance: This basically means a balance that originates from a central point. It's less common in everyday styling but can be seen in designs like mandala-inspired patterns or a circular skirt.
Proportional balance: This occurs when proportions and sizes are being put into play when styling. For example, a loose fitted clothing shouldn't be paired with another loose-fitting one, the latter should be fitted instead
Proportion
Pay attention to the proportion of your statement sneakers in relation to your outfit. If your classic outfit has a streamlined silhouette, chunky sneakers might add an interesting contrast. Conversely, if your outfit is more relaxed, sleek and minimalistic sneakers can work well.
Styling Streetwear Sneakers #3: Mixing and Matching
For an elevated and stylish outlook, pairing sneakers with various classic clothing items is one to try out. Just by pairing sneakers with a classic outfit, you have already shown versatility and style, you know what would show off more style? mixing and matching your clothing items to compliment the sneakers.
Wear a t-shirt as an inner layer to your suit: Now for those of us who love a good collared shirt every now and then, this is a bit of a stray away. You can decide to elevate your classic look by pairing a round neck tshirt alongside your blazers, this fit perfectly complements your sneakers
Colours: Again, colours. When mixing and matching outfits to compliment your sneakers, it is important to take note of the colour combination involved. A monochromatic outlook will give a boldened silhouette to the whole look, whereas a splash of colour would offer the needed brightness to attract eyes to yourself. Either way, make sure the colours are relatable and are in no way different from your sneakers
Styling Streetwear Sneakers #4: Accessorizing
Accessories are overall enhancers to a look, so mixing and matching them for your sneakers totally elevates your game. Here are some accessory staples you should opt for when mixing and matching clothes with your sneakers.
Headgear: you can never go wrong with a statement headpiece when pairing a sneaker with your outfit. A white baseball cap would automatically go with a white all-stars sneakers when paired together.
Bags: There are quite a variety of bags that men can strap on stepping out on a formal fit. For streetwear style, especially when paired with a sneaker, maybe go for a casual bag to match the vibe of your footwear. A nice slingback or backstrap would be highly recommended.
Statement pieces: Watches, eye-wear, hand and neck pieces, these little details are the elevators to your look, do not leave them unattended to
Styling Streetwear Sneakers #4: Outerwear as a Bridge
The role that outerwear plays in mainstream fashion can sometimes be underemphasized. First off, let's get this clear, outerwear is those pieces that are layered over inner ensembles to create a structure and depth, or really just to look stylish. Examples of outerwear are jackets, suits, long coats and so much more.
In achieving a balanced look when pairing sneakers with classic outfits, one has to incorporate outerwear into styling such looks. So when styling your sneakers with that t-shirt or collared shirt, maybe throw over some denim jackets or overcoats.
Here are some ways outerwear can compliment your outfit.
Texture and Material: The texture and material of your outerwear can provide contrast and depth to your outfit. For example, a leather jacket can add edge and contrast to a soft, flowy dress.
Style Statement: Wearing outerwear automatically elevates your look and makes it a statement. There's a clear difference between someone who wears a tshirt to someone who wears a jacket over that tshirt.
Shape and Silhouette: Wearing outerwear can change the overall silhouette of your outfit. It also gives shape and structure to the fit. Wearing a long coat over a turtleneck or tshirt gives off a bold silhouette and is therefore perfect to pair with any sneaker of choice
Overall, styling sneakers with a classic look can be fun and trendy, you just need to find the perfect balance as this article has stated. Note that any fit paired with sneakers automatically transcends the look into either a business casual or casual look. This goes to say that sneakers shouldn't be an option for formal and corporate occasions
The post Styling Streetwear Sneakers with Classic Outfits: Tips and Tricks appeared first on Real Men Real Style.
——————–
By: Antonio Centeno
Title: Styling Streetwear Sneakers with Classic Outfits: Tips and Tricks
Sourced From: www.realmenrealstyle.com/streetwear-sneakers/
Published Date: Thu, 28 Sep 2023 15:53:02 +0000
6 Classic Accessories Modern Men Should Have
Have you ever wondered why some people stand out from the crowd while others blend in?
They seem to have the X-Factor.
Perhaps you've never realized what it is until now.
All of the men and women that look more confident have one thing in common – details. The small accessories elevate their style to a different level.
In today's article, you're going to discover some classic men's accessories that will make you stand out in the crowd and help you be the best-dressed man in the room.
Classic Accessory #1 – Sunglasses
Sunglasses have been around for centuries, so it's no surprise they're considered a classic men's accessory.
Sunglasses date to prehistoric times. Of course, they didn't look like today's sunglasses, but they served the same purpose as today – to protect the wearer's eyes from the sun.
As time passed, technology advanced. And with that came different models, so you can keep your eyes safe and look more attractive in sunglasses if you choose the right ones.
You've got lots of options – Aviators, Wayfarers, Clubmasters, to name a few.
But did you know that you need to buy the right sunglasses for your face shape? Use the chart below to find out the right sunglasses for you!
Classic Accessory #2 – Wristwatch
In the world of technology, the wristwatch often gets overlooked.
After all, the only thing watches do is tell you the time, right?
Instead, you can use your phone to check the time, answer the email you just got, scroll through social media, and waste 30 minutes of your day.
See the difference? Phones are becoming more and more addictive, which is why watches are coming back with a vengeance. They serve the functional purpose of telling you the time, and that's about it.
And if done right, they can make you look 10x times better. You will look like a grown-up, which automatically means you got your shit together. And to tell you the truth, so far, I haven't met a single woman who didn't want a man that had his shit together.
Just like with sunglasses, there's a wide variety of watches you can pick for your collection. Divers, dress watches, chronographs – You name it. If you want to discover different watch styles, you can check out the 5 Watch Styles Every Man Should Know.
Classic Accessory #3 – Neck Gaiter
I know what you're probably thinking. What the hell, right? How can a neck gaiter be a timeless accessory?
Well, how about the fact that professional athletes across the world, in all sorts of different climates, have used neck gaiters for decades to protect their face and neck from either cold or hot weather.
Football players, soccer players, joggers, and many more have utilized this accessory for its functionality.
But, especially during the crazy times we live in, it's essential to stay safe.
That's why neck gaiters also serve as a face mask.
A 2020 study by the National Institute of Occupational Safety and Health (a part of the US Centers for Disease Control and Prevention) showed that neck gaiters and regular face masks could significantly reduce the expulsion of respiratory aerosol particles during coughing, preventing you from catching any virus.
The study showed that a single-layered gaiter 47% and a double-layered gaiter blocked 60% of virus particles during testing.
And even though we won't have to wear face masks forever, neck gaiters will be a part of classic men's accessories because of their athletic and medical purpose.
Classic Accessory #4 – Jewelry
Put merely; jewelry is a decorative piece that you put on your hands or around your neck to look good.
Rings, bracelets, cufflinks, and necklaces are among the most popular for men, even though many "real men" say that jewelry is feminine.
You, on the other hand, know that women give you compliments if you're rocking a bracelet or a pair of cufflinks properly.
And let's not forget about the fact that rings have been a status symbol for centuries. Kings wore rings, royalty wore rings, and Popes wore rings.
The issue is that many men don't know how to wear jewelry and make a ton of mistakes. If you want to avoid those mistakes, make sure you check out 7 Jewelry Mistakes Men Make.
Classic Accessory #5 – Pocket Square
A suit jacket is not complete without a pocket square. Ask any man who has even the slightest knowledge on this topic, and they will all say the same thing – it's on every list of classic men's accessories.
Indeed, pocket squares have proven time and time again that they're genuinely a timeless classic accessory.
There's a wide variety of pocket squares you can pick. Solid colors, small patterns, or big and loud patterns. Don't forget to have fun with your pocket squares and make them the attention-grabbing piece in your outfit.
If you want to be a pocket square master who receives compliments daily on his picks, make sure to check out How to Start Wearing a Pocket Square for more information and inspiration!
Classic Accessory #6 – Men's Hats
Headwear will never go out of style. I know it seems like men don't wear classic hats nowadays. That's true, unfortunately. They wear baseball hats more often, but they're still putting something on their heads.
Why? Hot sun, cold wind, lousy hair, maybe a little less hair. Men have all kinds of functional reasons for wearing hats. Like scarves, hats have a job to do, which is why they'll always be with us.
Want to stand out? Break today's mold and try some classic headwear. Don't worry, you can still find a useful way to wear it. Hot outside? Want some protection from the sun? Try a straw fedora!
When it's cold (which is often…I live in Wisconsin), I wear a black wool flat cap. It's far more stylish than a baseball cap, and warmer too. You can always find a way to wear hats stylishly.
If you want to learn more about classic hat styles, click here to discover 9 Classic Hat Styles For The Modern Man.
Summary
There you have it, gentlemen, a list of perfect classic men's accessories for the spring of 2021. Some of these you probably knew, some of these may come as a bit of a surprise.
Make sure to have fun with your accessories, rock them with confidence, and you will automatically look 10x more attractive.
Need more tips on great men's accessories? Then let's not forget about bags! Click here to discover why a backpack could be your next best wardrobe purchase.
Click Below To Watch The Video – 8 Modern Men's Accessories That Will NEVER Go Out Of Style!
The post 6 Classic Accessories Modern Men Should Have appeared first on Real Men Real Style.
——————–
By: Antonio Centeno
Title: 6 Classic Accessories Modern Men Should Have
Sourced From: www.realmenrealstyle.com/timeless-classic-accessories/
Published Date: Thu, 28 Sep 2023 12:17:56 +0000
Did you miss our previous article…
https://mansbrand.com/10-things-women-notice-first-in-a-man-2/