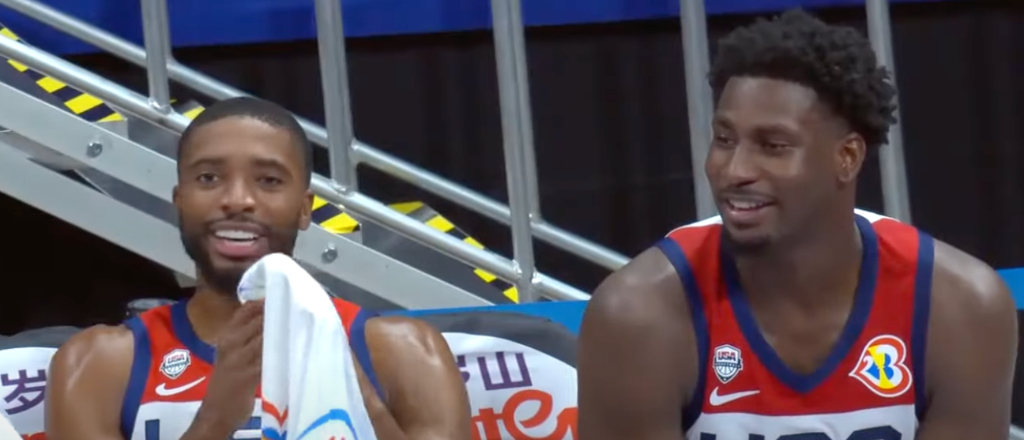 The FIBA Basketball World Cup is seven games away from determining a winner. With teams 9-32 all sorted out and four squads from that group (Australia, France, Japan, South Sudan) having already punched their tickets to the Olympics in 2024, eight teams will take the floor over the next few days in the final round of the tournament.
Only two teams will enter the final round with an unblemished record, and perhaps surprisingly, neither of them are Canada or the United States. Instead, Germany was able to get through the first two rounds without a loss — which included an impressive, 100-71 drubbing of Luka Doncic and Slovenia without the services of Franz Wagner — while Lithuania was also about to go undefeated, most notably by knocking off the United States in the final game of Group J.
For the U.S., losing to Lithuania has the potential to be a blessing in disguise. If they won, they would have found themselves going up against a difficult Serbia team in the quarters before a showdown with either Canada or Slovenia in the semis. Instead, that's Lithuania's potential path to the finals, while the Americans will have to play Italy in the quarters and, should they advance, Germany or Latvia in the semis.
While this is arguably the preferable route of the two that the Americans could take, it's by no means an easy path — the Italians are the second-best rebounding team left in the tournament behind only Lithuania, and the inability to grab rebounds has been the United States' achilles heel during the tournament. Germany has been excellent all tournament long and Latvia have knocked off powerhouses like France, Spain, and Brazil on their road to the quarters.
Here's the schedule, tip times, and television info for both halves of the bracket as we enter the quarterfinals.
Sept. 5: Italy vs. United States, 8:30 a.m. ET, ESPN2
Sept. 6: Germany vs. Latvia, 4:45 a.m. ET, ESPN+
Sept. 5: Lithuania vs. Serbia, 4:45 a.m. ET, ESPN+
Sept. 6: Canada vs. Slovenia, 8:30 a.m. ET, ESPN+
The teams that lose these games will play on Sept. 7 and 9 to determine who will finish fifth, sixth, seventh, and eighth in the tournament. The winners, meanwhile, will move on to the semifinals on Sept. 8, with all four teams playing on Sept. 10 to determine the three medalists and the fourth-placed squad. All games from this point in the tournament on will take place at the Mall of Asia Arena in Pasay.
———————–
By: Bill DiFilippo
Title: Here's What The Quarterfinal Round Looks Like At The 2023 FIBA Basketball World Cup
Sourced From: uproxx.com/dimemag/quarterfinal-round-2023-fiba-basketball-world-cup-schedule-tv-info/
Published Date: Mon, 04 Sep 2023 19:21:07 +0000
Read More
Did you miss our previous article…
https://mansbrand.com/mark-ruffalo-endorses-watching-a-highly-specific-subgenre-entirely-of-his-own-making/
2024 Oscar Predictions — Killers of the Flower Moon Becomes the Best Picture Frontrunner

Predicting the Oscars is not about finding the best — it is about finding the consensus. If you can predict the consensus, you can predict the Oscars. This is especially true now in the era of the preferential ballot, which implements a ranked choice method to count Best Picture. That excludes things like vote splitting […]
———————–
By: Sasha Stone
Title: 2024 Oscar Predictions — Killers of the Flower Moon Becomes the Best Picture Frontrunner
Sourced From: www.awardsdaily.com/2023/12/08/2024-oscar-predictions-killers-of-the-flower-moon-becomes-the-best-picture-frontrunner/
Published Date: Fri, 08 Dec 2023 21:50:50 +0000
Read More
Did you miss our previous article…
https://mansbrand.com/television-publicity-executives-committee-tpec-announces-the-2nd-annual-tpec-awards/
Television Publicity Executives Committee (TPEC) Announces the 2nd Annual TPEC Awards

The Television Publicity Executive Committee (TPEC) announced today that the Second Annual TPEC AWARDS, a television publicity campaign competition, will open on December 11. The announcement was made by Dustin Smith, Founder, SMITHHOUSE and Wendy Zocks, Founder, Wendy Zocks PR, Co-Chairs of TPEC, the professional organization for Entertainment Public Relations executives, founded in 1992, has […]
———————–
By: Clarence Moye
Title: Television Publicity Executives Committee (TPEC) Announces the 2nd Annual TPEC Awards
Sourced From: www.awardsdaily.com/2023/12/08/television-publicity-executives-committee-tpec-announces-the-2nd-annual-tpec-awards/
Published Date: Fri, 08 Dec 2023 21:01:20 +0000
Read More
Did you miss our previous article…
https://mansbrand.com/archie-creative-team-on-exploring-cary-grant-as-father-son-husband-and-actor/
'Archie' Creative Team On Exploring Cary Grant As Father, Son, Husband, and Actor

BritBox's Archie is a deeply personal project for executive producers Dyan Cannon and Jennifer Grant. Cannon, 3-time Academy Award nominee, met and married famed actor Cary Grant in the mid-1960s. Theirs was a tumultuous relationship plagued by their age differences, career trajectories, and Grant's personal demons likely stemming from his troubled childhood. They had one daughter […]
———————–
By: Clarence Moye
Title: 'Archie' Creative Team On Exploring Cary Grant As Father, Son, Husband, and Actor
Sourced From: www.awardsdaily.com/2023/12/07/archie-creative-team-on-exploring-cary-grant-as-father-son-husband-and-actor/
Published Date: Fri, 08 Dec 2023 02:07:18 +0000
Read More
Did you miss our previous article…
https://mansbrand.com/twisted-metal-renewed-for-season-2/