Men's dress sneakers bridge the gap between casual and formal dress shoes – perfect for occasions when you want to look stylish and casual, and wearing dress shoes would make you look a bit "too formal."
In this article, we'll show you how to wear dress sneakers the right way – because there's a fine line between looking stylish and casual, and looking like you've just crawled out of bed.
In this article we'll cover:
When Did Sneakers Get Their Start?
Is There Such A Thing As Dress Sneakers?
Are Dress Sneakers Business Casual?
Can you wear dress sneakers with a suit?
How To Wear Dress Sneakers At Work
6 Sneakers For Men To Wear Instead of Dress Shoes
Before we get into the detail, let's take a trip back in time…
When Did Men's Dress Sneakers Get Their Start?
The sneaker dates back to the late 18th century, when a crude, rubber-soled shoe became popular.
Then, around a century later (1892), a US-based rubber company created Keds – a rubber sneaker with canvas tops.
These became the grandfather of the modern-day sneaker – which gets its name from making people's footsteps so quiet that they could literally sneak up on someone.
By 1917, sneakers were being mass-produced, and in the 1980s and 90s, technology for comfortable and sporty footwear developed to make you feel as if you were walking on clouds.
More than 23 billion sneakers were produced in 2020, and in the past decade, sneaker technology has paved the way for luxury sneaker brands.
Couple that with changing fashion and businesses relaxing dress codes has led to more self-expression in the workplace.
What Are Men's Dress Sneakers?
The men's dress sneaker is a formal shoe hybrid with the comfort of sneakers – increasing the options you have in your wardrobe. With that said, your dress sneakers will also help you stand out with different types, styles, and colors to choose from.
A dress sneaker stands out from the shoe because the sole tends to be uniform, with no distinct heel – making it more comfortable and removing pressure from your feet.
Likewise, a dress sneaker stands out from a normal sneaker because of the distinct style and materials used to create it.
Are Men's Dress Sneakers Business Casual?
The easing of men's dress codes at work has paved the way for a more relaxed but still formal clothing style. However, just because you're opting for comfort doesn't mean that you sacrifice the style and dress code you've set up for yourself.
Keep the tones more neutral; blacks, grays, whites, blues, and browns are more adaptable to any outfit choice you make – giving you a timeless and classic look.
Remember, if you're not going to a wedding or formal event, you can use men's dress sneakers in white to tone down your off-duty look. By sticking to monochrome colors and complementing them with the right clothing, your sneakers will add an edgy vibe to your ensemble.
The material your dress sneakers is made from is an important detail you don't want to overlook. Canvas dress sneakers do exist, but they may not be as durable as, say, dress shoes made of suede and leather.
Suede and Leather dress sneakers not only tend to last longer, but they also have uniform color – with zero distracting logos.
Just like dress shoes, your dress sneakers will require some maintenance, such as keeping the suede clean and polishing the leather.
Can you wear men's dress sneakers with a suit?
The short answer is yes, yes you can definitely wear sneakers with a suit!
But you need to have the right sneakers paired with the right suit. Otherwise, it will look odd and be a distraction from your style.
The color of your dress sneakers will need to complement the color of the suit you're wearing. If your suit is light or pastel, then you can get away with wearing non-neutral color sneakers.
The general rule of thumb for pairing your suits with dress sneakers is that the darker the suit, the darker your dress sneakers should be.
So, for example, if you have a black or charcoal gray-colored suit, you should stick to black-colored sneakers. This is because they are more balancing than lighter color sneakers and aren't quite so jarring.
If you wear navy or medium gray suits, you can wear black, burgundy, or brown dress sneakers. Again, this is about balance and ensuring that your sneakers don't distract from the overall look.
If you're wearing light-colored suits, such as light gray or stone, you've got two options. Stand out with a contrasting color or wear lighter-colored dress sneakers for a more subtle look.
The cut of your suit also determines the style of your sneakers. For example, wearing a slim-cut suit tailored to cut off the pant leg just above the sneakers' tongue will sharpen your image and make your dress sneakers appear more executive.
If you wear suits that are more casual-looking or toned down with a t-shirt for weekends and evenings, then chances are your shoes would generally be loafers or monk boots. Similarly, wear your sneakers without socks being visible.
How To Wear Men's Dress Sneakers At Work
As mentioned above, dress codes in offices are changing, but that isn't an excuse not to put the best version of yourself forward. Instead, this is an opportunity to expand your style and grow your wardrobe to include even more versatility.
It also depends on what you do for a living; an attorney may not get the same freedom with their wardrobe as a software engineer. The point is that if your workplace does provide space to explore your style – then you should definitely experiment.
If you want a more casual look at work, wearing jeans, a tee-shirt, and a jacket, then put on a pair of white dress shoes will help make you stand out. On the other hand, if you want a more balanced and sophisticated look, warm brown or dark tan is the way to go.
If you're wearing chinos, stick with earthy tones of dress sneakers to help accessorize more subtly. Just make sure that the cut of the chinos stands above the tongue of the dress sneaker to streamline the look.
Dress sneakers come in all shapes and sizes, so make sure you choose the right ones that fit your style and set the bar for professionalism high. Aim for high-quality, low-top sneakers that complete your outfit.
6 Sneakers For Men To Wear Instead of Dress Shoes
There are different styles and different ways to wear dress sneakers, so which are the best dress sneakers for men?
Keep reading to find out how men should dress with sneakers.
#1 Blue Suede Dress Sneakers
Blue is often considered an uncomfortable color for shoes. However, blue suede shoes make a great impression. Pair them with neutral color clothing, like a light gray, and you have an instant winning combination.
Dress sneakers designed with suede offer durability, comfort, and sophisticated subtlety making your footwear choice seem considered. Blue looks great with suits and chinos of any color – as long as they aren't black.
#2 Brown Dress Sneaker With Gum Sole
You'll want to wear warm and natural colors with vibrant brown dress sneakers. They will also pair nicely with white, gray, and blue suits to bring a sense of balance to your outfit.
Gum is a natural rubber that is harvested from the Hevea brasiliensis tree. It's a natural alternative to polyurethane soles that most modern sneakers have, and the neutral tan color compliments pretty much every other color. The gum is durable, easy to clean, and lasts for a very long time.
If you go with a monochrome suit (where your shirt and tie match the suit), add a brown leather belt, brown watchband, and other small accents to your outfit. Brown is a versatile and earthy color that will give any outfit balance.
#3 Dress Sneakers In Black With Black Outsole
Just like a classic black Oxford, this dress sneaker will pair with almost anything. Its monochrome design is simple and elegant enough for you to wear at work and on a night out.
The outsole is the bottom of the shoe and provides traction, flexibility and gives the luxury dress sneaker that feeling of comfort.
Black dress sneakers made from leather are durable and low maintenance (requiring polishing every once in a while) and elevates your outfit, whether that's a suit, business casual, chinos, or denim.
#4 High Top Dress Sneakers In Black or Gray
High tops are dress sneakers that come up above your ankle. Pairing them with cropped pants and a suit to give your outfit a more formal look.
Stunning black or gray high tops can perfect your casual ensemble by giving you a cool (but not pretentious) look. For a timeless style, pair them with well-fitting jeans or chinos and a white tee-shirt.
#5 High Top Dress Sneakers In Warm Natural Tones
Continuing with the high tops, these eye-catching warm-colored dress sneakers can be paired with most outfit choices, giving you the perfect opportunity to show off your taste and style.
Wearing these high tops on evenings and weekends will push your casual wardrobe to just the right side of business casual. Complete this with Chinos, a navy blue shirt, and a neutral jacket; you can wear these for a brunch date with your friends.
#6 Dress Sneakers In White
Brilliant white sneakers are adaptable and instantly boost your wardrobe. You can pair these with more casual and light summer suits, jeans, shorts, chinos, and more.
White dress sneakers are popular because of how well they bridge the gap between casual and formal. Just make sure that your clothes are appropriately tailored to give you that impeccable look.
They stand out and are easier to maintain than most people think. White leather and rubber can be polished (just like any black leather shoe). Even more impressive is the way white sneakers can take you from the office to the bars seamlessly. Making them truly versatile with any outfit.
Dress sneakers are a fantastic alternative to dress shoes because they offer range, versatility and depth to your ensemble.
There are certain situations, such as formal events, black-tie affairs, and even your workplace that can mean you shouldn't wear them. And on that note, what about the shoes you need to stop wearing?
Click below to watch the video – 6 Shoes To Stop Wearing Immediately:
The post How To Wear Men's Dress Sneakers The RIGHT Way appeared first on Real Men Real Style.
——————–
By: Antonio Centeno
Title: How To Wear Men's Dress Sneakers The RIGHT Way
Sourced From: www.realmenrealstyle.com/how-wear-mens-dress-sneakers/
Published Date: Mon, 24 Apr 2023 14:14:09 +0000
How A Man Should Dress In His 60s | Casual Looks
Good things come to those who wait.
You've waited; now let the good things roll.
Let's be clear up front: the clothes you're buying when you turn 60 aren't going to define your style for the rest of your life. That could be thirty-plus years – imagine writing an article for a man of 30 and expecting him to follow that plan until retirement!
So we're going into this with the understanding that "sixty-plus" is a big age range. Your style will grow and evolve during that time the same as it has every other month, year, and decade of your life.
But sixty is a good benchmark for the time when a man can start really shifting from the fashion of middle age to the fashion of the elder gentleman.
This is not a bad thing. Some of fashion's greatest icons have been silverbacks. They just got better as they aged. Both money and taste tend to accumulate over time, and the results make for a whole different school of fashion from the younger generations'.
Casual Style in Your 60s: Needs and Wants
If you're fortunate enough to have retired by your 60s, your whole wardrobe is effectively "casual" clothes – you're just dressing for yourself, now, with no professional needs to meet.
Resist the temptation to slide promptly downward until you hit the "sweatpants and hoodie" stage of things. That's not doing anyone any favors.
A man of any age should take just as much care with his casual clothes as he did with his work wardrobe, if not more. What you wear when you're on your own time says the most about you as a person – it's your own taste, opinions, and attitude, on display before you ever open your mouth.
Men in their 60s and older have the ability to make a statement with the weight of years behind it. Use that to your advantage, and dress to meet the needs and wants of an elder gentleman:
Fit is King
Every man needs a great fit. By your sixties you should not only know the importance of a good tailor, you should have one – or several – of your own, experienced men with your measurements on hand and a good understanding of your preferences.
Obviously, not everyone's fortunate enough to have a good relationship with a good tailor, but do your best to cultivate them in your general geographic area. And if you find someone that does a good job, keep him in business!
A lot of the best tailors are also gentlemen of advancing age, and you never know when they're going to decide it's time to hang up the shears…
Fundamentally, the function of a tailored fit is to make your body look good. Keeping your adjustments up to date can be important if your body is changing in weight or proportion, which isn't unusual in older men. Stay on top of your sizes – if something's starting to pinch or to sag, get it in to the tailor.
It's good advice for any man. But it can matter a lot for older men. There's some deep cultural conditioning that thinks of an old man in an ill-fitting suit as "sad," "poor," "lonely," and lots of other negative things that probably aren't true. It's just the impression that's out there.
Stay on top of your tailoring needs, and dodge it.
Gravitas
Younger men project authority with aggressive cuts and bold color contrasts. At your age, that's a losing game. Impress people with the weight of your years rather than the force of your personality – dress like the elder statesman, not the young gun.
That means, for the most part, somber colors and conservative cuts. Top-notch fabrics also go a long way here; an older man in a thick, rich wool coat can intimidate the hell out of a younger man in a cheaper, thinner jacket.
Cultivate a little aloofness. Not a lot – just a little. Dress to remind people that you've been around and seen a few things. Your fabrics should be luxurious, your colors varied but restrained, and your style full of classic elements.
It's also not a bad idea to indulge in a few of the accents of the "elder statesman." Wear a good felt hat in a classic style like a porkpie or homburg. Carry an elegant cane, even if you don't strictly need it. Always have a neatly-folded pocket square in your outer breast pocket, and a clean handkerchief in an inner pocket – and know to use the latter for utilitarian needs like wiping your eyes and nose, not the former.
In short, carry yourself like a gentleman of some stature.
Capability
Our culture is not always generous to its elders.
Be aware that, as your hair silvers (or vanishes), and especially once your body starts moving more stiffly, people are going to start treating you a little more dismissively or condescendingly.
It's obnoxious, but it's something that realists should plan for. Just as the younger man needs to dress a little sharper and a little more aggressively in his business attire if he wants to be taken seriously at a firm filled with middle-aged men, the older man in his retirement needs to still dress like someone with places to go and people to see.
Maintaining high dress standards keeps off both the obnoxiously sympathetic ("help you across the street" types) and the dismissive (negligent waiters, counter staff, and so on).
That doesn't mean business dress, though there's no harm (and sometimes quite a bit of fun) in slipping on your most imposing dark suit and a necktie for a walk around town or some afternoon errands. It does, however, mean making sure that everything you wear is well put-together, with a style that's deliberate and adds up to a clearly-structured "outfit" rather than just some random clothes thrown together.
The better your fit and the finer the garments themselves, of course, the more authority it'll lend you (thus our points #1 and #2 here). Put it together with some deliberate care and you'll avoid much of the hassle of dealing with people half your age – who can, let's face it, be jerks sometimes.
Casual Looks for Your 60s and Older
So what looks good on an older gentleman?
Comfortable, well-fitted clothes, same as on any other man. Classic styles are going to work better than fashion-forward runway experiments, of course – they look "timeless," which is a really great word to have associated with you as you get older.
But the formality can range from a full suit on down to jeans and a T-shirt (just make it really well-fitted jeans and a T-shirt, and maybe only if you're still in pretty good shape).
You should have a pretty extensive wardrobe to work with, if you've been good about adding quality pieces in your 40s and 50s. Get things to your tailor for adjustment as often as you need, and keep on adding new pieces, with an eye toward quality purchases — don't be afraid to spend on the best stuff, when you find it.
"They'll fight over it when you're dead," the slogan of the Saddleback Leather Company, is a great quality to look for in your clothing purchases at this age. With that in mind, here's a few looks that should keep your friends and offspring good and jealous:
The Casual, Double-Breasted Jacket
A combination of phrases you won't see often before you turn sixty: "casual" and "double-breasted."
Most men think of the double-breasted jacket as stodgier and more formal than its single-breasted cousin. They're partway right — but only partway.
An older gentleman has the inherent dignity it takes to wear a double-breasted jacket well. Buck the business-dress standard by getting it in a color or pattern that wouldn't work in a boardroom: forest green, chocolate brown; heather gray. Throw in some pinstripes if you feel like it. Jazz it up until no one can mistake it for anything but casual, purely-for-pleasure wear.
This works with both matched suits and blazers. Double-breasted blazers, you say disbelievingly? Yes. They exist, and they don't have to be restricted to navy blue with brass buttons. Try one on in a rich, dark color, or even a plaid.
You'll be the only one in the room wearing anything like it, and that's a good thing.
The Southern Gentleman
Borrow a bit of timeless elegance from America's tradition-soaked South for the hotter months: white trousers, striped seersucker jackets and suits, straw hats, and of course the red-soled white buck shoe.
There are hundreds of variations on the basic idea. Pick the one you like. It's the most respectable solution to heat and humidity: light-colored, lightweight cotton and linen. You'll still have your jacket on when everyone else is rolling up their shirtsleeves, and you'll feel just fine.
This look requires some investment in quality — you can't get away with anything but a 100% cotton shirt, for example, and it needs to be a light, breathable weave, too, preferably made from long-staple cottons like the Egyptian, Sea Island, or Pima varieties.
Play around with colorful accents in your light-colored ensemble to complete the look. A bright red pocket square puffing insouciantly up from a white or white-and-blue-stripe blazer grabs the attention – politely, of course. This is a Southern style.
Soft Tweed
The hallmark of Oxford professors and British country gentlemen for generations, tweed is fuzzy, wooly stuff. It often blends different colors of threads, making a subtle pattern in addition to the visible texture of the cloth.
Own a couple pieces in tweed. Jackets, trousers, matched suits, overcoats – it's a gentleman's three-season leisure fabric.
Older gentlemen look particularly good in relatively high-fronted jackets with plenty of pockets, usually flap pockets. Any sort of gray or earth tone works well. Check and plaid patterns are relatively common. There's really no limit to the styles you can find, so browse until you find one that you like.
Pair a tweedy outfit with relaxed leather shoes like brogues or monkstraps, or with a pair of dress boots for a subtle equestrian flavor. A tweed jacket can take a dress shirt and tie or a soft rollneck shirt — your call. You can even slip an unmatched vest underneath for a very country esquire feel.
3 Wardrobe Pieces Every Man Older than 60 Should Own
The Perfect Overcoat
A full or three-quarter length wool overcoat is the senior gentleman's best friend. It's well worth having one custom-made to get the perfect fit in the shoulders — with a straight coat, everything else follows from that, though some men like a bit of taper at the waist or flare at the hem.
You shouldn't restrict yourself to just one. A plain, dark gray or navy blue overcoat is a good starting place, but men in their sixties (and up) can get a lot of mileage out of a camelhair or olive overcoat as well.
The key is to get good, sober coats in rich wool. Stay away from baggy trenchcoats with lots of buckles and flaps, and from plastic-like synthetics. If you want a casual style, a duffel coat or a shorter coat like a blouson works well.
His Own Tuxedo
By his sixties, a man can reasonably expect to be attending at least a few black tie events here and there. There will be weddings, charity or corporate events, award ceremonies, and perhaps even the occasional New Year's Eve ball or the like.
At some point it becomes more cost-effective to have a proper tuxedo made to measure (or completely bespoke) rather than renting each time. You also end up with a much higher quality of garment, and an unmatched fit, which helps you shine in comparison to guests still stuck in rentals.
Stick to the basics here and have a classic black tie dinner suit made: tuxedo jacket with either peak or shawl lapels, plain-front trousers with the proper braiding, white formal shirt, and all the necessary accents (black bow tie, shirt studs and cufflinks, dress pumps or highly-polished black oxfords, and so on).
If you find yourself going on cruises or otherwise ending up at white tie, rather than black tie, events, invest in the necessary shirt, tie, and tailcoat, but those are much less common than black tie events.
It's one of those investments that only gets used a handful of times – but that earns its worth after just one or two uses.
A Few Good Waistcoats
Waistcoats are another of those looks that seems made for the dignity of an older man. Of course, one of their initial functions was covering the paunch of men who'd let themselves slip a bit, but you don't have to be expanding at the waistline to benefit from the nappy look.
The easiest way to acquire good waistcoats is to have three-piece suits made for yourself. In casual colors and patterns, that gets you not only a few "social" suits, it also gives you vests that can be worn with unmatched jackets or trousers for a more contrasting look.
It takes a bit of practice to get the hang of swapping vests – it's possible to make some unsightly combinations if you get too many patterns and colors going on — but once you get it down you'll have access to a look that most men never touch.
It is also possible to buy waistcoats that are not part of a suit, and in many cases these are flashier, with elaborate "wallpapering" patterns or high-sheen facings. Don't shy away from these if you like them, just wear them judiciously, and only with sober, rich jackets and trousers that can balance them out.
Looks for the Man Over 60 to Absolutely Avoid
You're old enough now that you don't need anyone telling you what you can and can't wear – but we're going to anyway, just for one or two of the most egregious looks that should never, ever appear on a man older than sixty. If you're thinking that you're the exception to one of these rules, you probably aren't. Or maybe you're just an unrecognized fashion genius. You decide.
     Logo T-shirts. If you're washing the car or something, fine. Otherwise, no logo T-shirts. No band names, no corporate brands, nothing. Leave the T-shirts to younger men in general, and if you have to wear one, keep it close-fitted, dark, and one solid color. One possible exception? If you have a super-rare, super awesome vintage shirt from at least thirty years ago – something from a The Who concert or whatever — and you want to make younger men jealous. Age has its perks.
     Novelty neckties. At this age your ties should be elegant, silk, and expensive. If it has Mickey Mouse or Star Wars on it, you're doing something wrong.
     Hawaiian and camouflage prints. Like the neckties, you're past the age where novelty prints really work for you. Will you still see old retired guys on the beach in tacky Hawaiian shirts? Absolutely. Should you be those guys? Probably not.
You'll also want to steer clear of all the usual badly-dressed suspects, especially athletic gear (including sneakers) and absolutely anything with an elasticized waist. Wear them at the gym and nowhere else.
A final concern that older men do sometimes run into: what about clothing necessitated by a medical condition? That is to say, if your hands aren't working too well anymore and you can't do up buttons, can you switch to velcro pants, and so on?
The simple answer is "yes." You do what you gotta do, right? Age and ill health hit us all differently, and at different times. We make the best of it. If you need chunky orthopedic shoes, or a cane, or an extra-long jacket to drape over a curved spine, you get those things and you wear them, and you don't take any crap from anyone about them either.
It may be worth building a relationship with a tailor. Work with them to keep any medically necessitated alterations discreet — there are some tailors doing fantastic work for people with partial paralysis, motor problems, and similar conditions, and a lot of their stuff is hard to tell from "normal" menswear until you get right up close and notice that there's no buttons or zippers. If you could benefit from that sort of tailoring, and you can find someone who specializes in it, it's a great way to stay looking sharp.
But if you can't, stock your wardrobe well anyway, and wear your nice clothes with whatever small nods to necessity you have to. That's life. You still look good. Don't sweat it.
Want more? Check out how you can avoid making the biggest style mistakes guys experience as they get older.
Discover How The Right Image Helps You Make More Money, Attract Women, & Command Respect
Learn the secrets of style in a structured environment leveraging my proven step-by-step master programs.
The post How A Man Should Dress In His 60s | Casual Looks appeared first on Real Men Real Style.
——————–
By: Antonio Centeno
Title: How A Man Should Dress In His 60s | Casual Looks
Sourced From: www.realmenrealstyle.com/man-over-60/
Published Date: Wed, 31 May 2023 14:09:48 +0000
Did you miss our previous article…
https://mansbrand.com/how-to-look-hot-as-a-guy-in-10-easy-steps/
How To Look Hot As A Guy In 10 Easy Steps
I bet you ask yourself one of these questions…
How do I approach her?
How can I look hotter than the other guy?
If you don't have the confidence, then it's a tough spot to be in.
But it's not a one-and-done deal. You can learn, you can evolve, you can transform.
In this article, I'm going to teach you how to look hot by leveraging the power of style.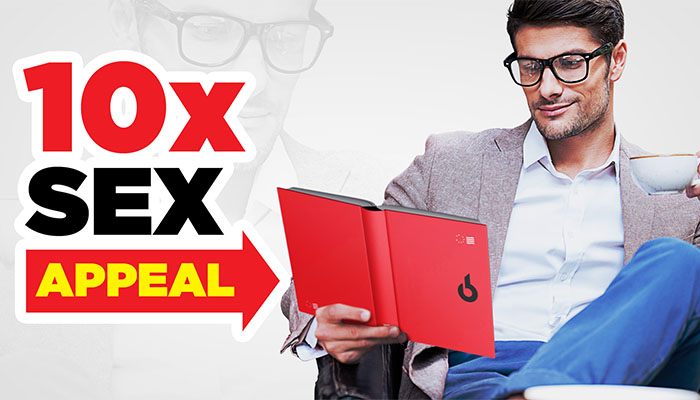 The best part? We're going to cover the smallest, smartest changes that make huge differences.
Read on, gents.
Contents
Dress in the right colors
The right fragrance
Wear more leather
Read in public
Wear more red
Ditch the sneakers for boots
Don't shave for a while
Embrace your chest hair
Use rimless glasses
The power of suspenders
1. Dress In The RIGHT Colors
You probably know that certain colors suit you better.
However, I'm willing to bet you play a guessing game to find it. There's a method to this. Look at your skin tone and hair color – how much contrast is there? Use this as a base.
Why? Doing this draws more attention to your face and brightens it. Let's break it down.
If you have dark hair and light skin, then bold colors should be your go-to; Navy, Maroon, and Teal are solid options. Make sure your layers contrast as well.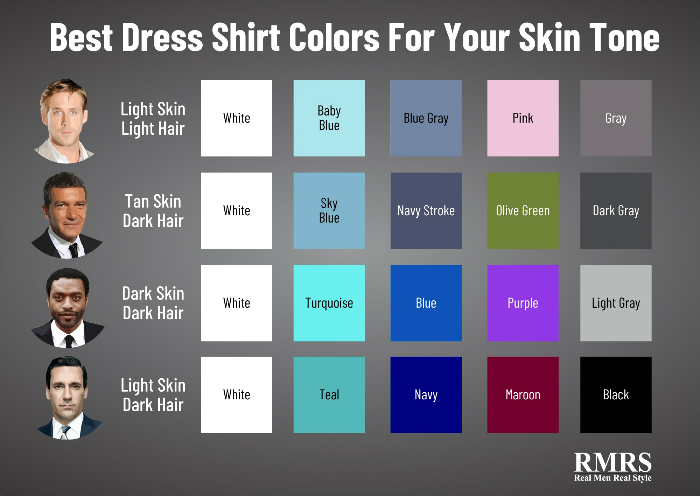 Tan men with dark hair are medium contrast. They should rely on muted colors and layers with fewer differences between them. Olive green, Navy Stroke, and Dark gray make great additions.
What about blonde gentlemen? Low contrast – stick with pastels and experiment with Baby Blue and Pink.
Black men are an exception to the rule. They should follow the same guidelines as high contrast gentlemen – meaning bold, alternating colors like Purple and Turquoise.
2. The RIGHT Fragrance
How to look hot may not have anything to do with looks, but with scent.
The right men's cologne can make a huge difference in your sex appeal.
Evidence for this comes from a 2011 book called Neurobiology of Sensation and Reward.
It analyzed two major surveys that discovered a man's scent to be extremely influential on a woman's choice. The study itself claimed that men can seduce women on the basis of smell alone – but it has to be the right one for the lady.
A second study conducted in Nara, Japan examined how different smells affect men and women. When ladies smelled scents typically associated with masculinity – scents like wood, musk, etc.
Their testosterone levels rose considerably, increasing the likelihood of sexual aggression.
Do not underestimate the power of a signature scent.
3. Wear More Leather
When it comes to how to look hot, you need the single most masculine material out there – leather.
Humans have been seeking leather for as long as we could hunt. Leather served to shelter us, protect us in battle, and enhance our style.
When we think of the bad boy, we picture him wearing a well-fitted leather jacket. When we ponder on the businessman, he is always carrying a sleek leather bag.
Leather is engrained in our psyche. Therefore, one of the easiest ways to look better is to introduce leather to your wardrobe – be it a stylish belt, jacket, or bag.
4. Read In Public
There's a whole Instagram page dedicated to hot men with books. Yeah, it's attractive.
We have hard data to draw upon as well. In 2007, eHarmony conducted a survey – men who list reading as a hobby receive 19% more messages than men who don't.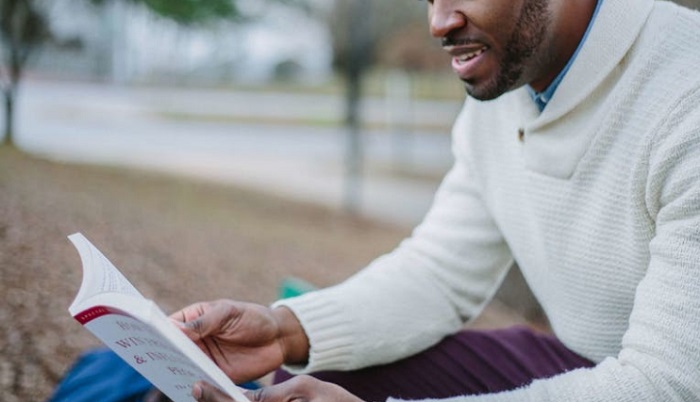 The RIGHT BOOK factors in as well. Sorry gents, but Harry Potter won't cut it.
Dark classics like The Girl with the Dragon Tattoo and 1984 received 21% and 36% additional messages respectively.
Pick up a timeless novel and read it where they can see you!
5. Wear More Red
It turns out that both men and women adore the color red – for different reasons.
A 2010 study out of the Journal of Experimental Psychology found this out quickly. Women tend to be more attracted to status than we are.
Across 7 experiments, women found guys in red clothing to convey higher status, thus being sexier.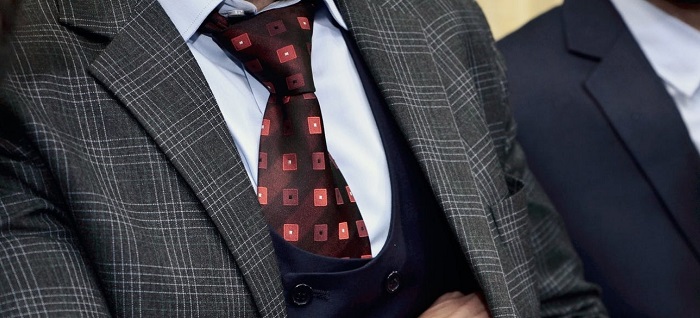 Does this mean throwing on a red suit? No. However, feel free to experiment with red accents in your wardrobe. Throw on a tie or a boutonniere. Use red dress socks. Accessories form a safe base to experiment with.
Wondering how to look hot? Embrace the crimson.
6. Ditch The Sneaker, Use Dress Boots
we're back at it with the leather. Boots have always conveyed authority. Thanks to modern men's style, you can upgrade ANY look with them.
Let's default to science once more. GQ Magazine did a survey back in 2007, asking women what they looked for in a man with style.
76% of women said they wanted to see boots on a first date. That's a considerable number.
The best part is the variety. There are sure to be some boots out there that resonate with you.
You just have to find them.
7. Don't Shave For A Few Days
…Or ever.
There have been numerous studies conducted that prove one thing: The easiest way to look hot is not to shave.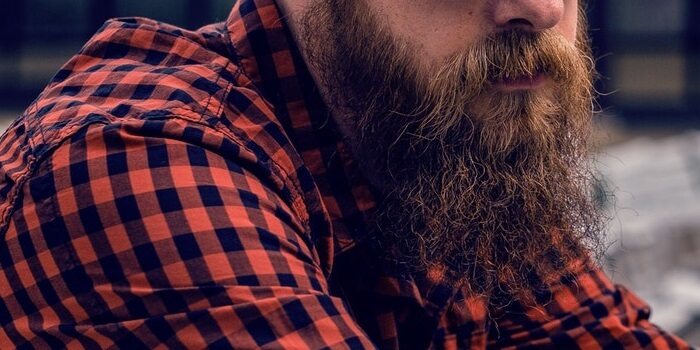 Women love groomed facial hair. Be careful with the style you go with, though. A 2016 study interviewed over 8,500 women – the consensus? Men with stubble are great for one-night stands, while full beards are suitable for long-term relationships.
Go with what you like, just bear this in mind!
8. Don't Shave Body Hair Either
Wondering how to look hot? You might want to put the trimmer down for a while.
A 2016 survey from The Archives of Sexual behavior surveyed women's preferences. It turns out that moderate amounts of body hair are universally loved.
Some chest hair is sexy, but no one likes an unkempt man.
There is a caveat: Men with TOO MUCH chest hair were deemed unattractive. What really drew the ladies was mild concentrations around the pectorals and sternum.
Trim it down, but don't shave it off.
9. Use Rimless Glasses
A lot of guys need glasses to see – that's a given. However, you can easily turn this into a stylish accessory.
There are tons of styles out there, but what's the safe option? Is there a particular style people find attractive?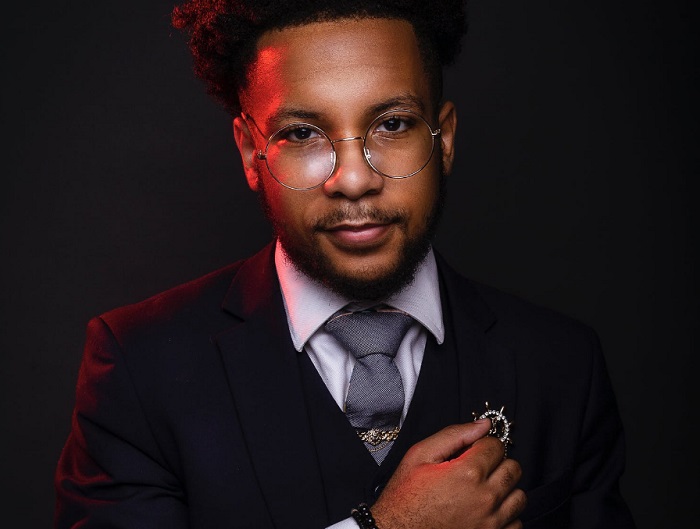 Simple, rimless glasses are the way to go. Not only do they blend seamlessly with most clothing, but you'll be perceived differently.
The Swiss Journal of Psychology found something cool: The traits most often associated with rimless glasses are trustworthiness. They also have no negative impact on attraction levels.
10. The Power of Suspenders
Suspenders yield loads of benefits.
They adjust posture by adding some pressure to your back and shoulders. They fix your circulation by negating the tightness of a belt.
Suspenders also add verticality to your overall look – meaning you look taller. Height, unfortunately, is something women look for in men.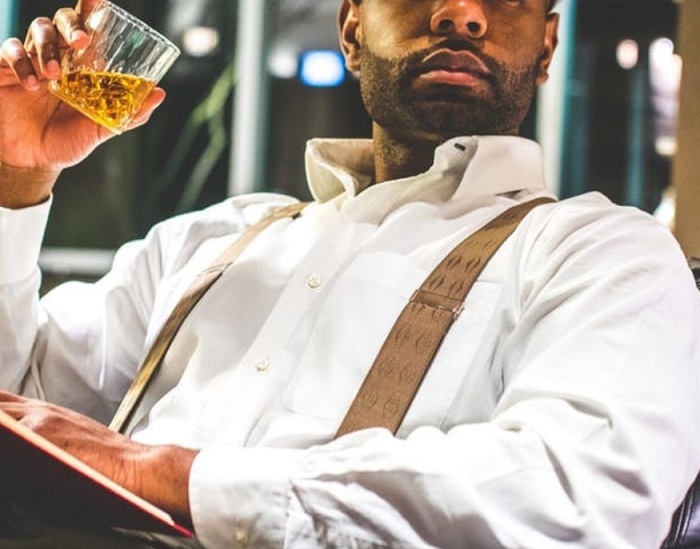 You can't control how tall you are, but you can control how tall you look. Suspenders – and any vertical pattern – adds to the illusion.
While you're at it, make sure to have your most eye-catching accessories on the upper body. Go for a monochromatic look – meaning all the colors on your outfit are mostly the same.
Summary – Clever Ways To Look Hot
Looking handsome isn't always about genes, it's about smarts.
Remember that your style is your weapon, your closet is your arsenal.
By adding the right touches in the right places, you can substantially improve your sex appeal.
Got it? Good, get out there gents.
FAQs
What does hot mean for a guy?
When someone says a guy "looks hot," it typically means they find him physically attractive or appealing. This can be based on his physical appearance, style, confidence, charisma, or even the way he carries himself. It's important to note that attractiveness can be quite subjective and vary significantly based on individual preferences and cultural norms.
For example, some people might find a fit, muscular physique "hot," while others might prefer a leaner, more slender body type. Similarly, some might be attracted to a clean-cut, well-groomed look, while others might find a rugged, more casual style more appealing.
What is the difference between hot, cute, and sexy guys?
The terms "hot," "cute," and "sexy" are often used to describe physical attractiveness, but they can convey different nuances. Keep in mind these definitions can vary depending on individual perspectives and cultural influences.
1. Hot Men: When someone is described as "hot," it typically refers to a physically attractive, often fit and masculine appearance. It may imply a certain level of intensity or passion. A "hot" man might be considered traditionally handsome, with strong features, and often exudes confidence.
2. Cute Men: The term "cute" usually suggests a softer, more youthful, or boyish attractiveness. It often refers to someone who has a charming or endearing quality, perhaps combined with physical attractiveness. It can also imply innocence or approachability. "Cute" might be used to describe a man with softer features, a friendly demeanor, or someone who is charming in a non-intimidating way.
3. Sexy Men: "Sexy" is often associated with a sensual or sexual appeal. This can involve physical attractiveness, but also factors like charisma, mystery, or a certain 'spark'. A "sexy" man might be someone who is confident, intriguing, and carries an air of allure or magnetism.
Click below to watch the video – 10 Clever Ways To INSTANTLY Look More Attractive (Handsome Man Hacks!)
The post How To Look Hot As A Guy In 10 Easy Steps appeared first on Real Men Real Style.
——————–
By: Antonio Centeno
Title: How To Look Hot As A Guy In 10 Easy Steps
Sourced From: www.realmenrealstyle.com/how-to-look-hot-men/
Published Date: Thu, 25 May 2023 17:11:01 +0000
Did you miss our previous article…
https://mansbrand.com/styles-of-ray-ban-sunglasses-a-mans-guide-to-the-best-frames-2/
Styles Of Ray Ban Sunglasses – A Man's Guide To The Best Frames
Everyone's heard of Ray Ban sunglasses. Unless you've been living under a rock, you'll know that they're one of the most popular and stylish brands of sunglasses in the world.
Maybe you want to buy a pair? Slow up there, buddy – with over 40 styles of Ray Ban sunglasses available, how do you know which pair is right for you?
You guessed it – that's what I'm covering in today's article. I'm breaking out the history and style feature of the top 9 Ray Ban sunglasses for men.
Aviator
Clubmaster
Original Wayfarer
Round
Hexagonal
Justin
Erika
Ferrari
Stories
#1 Aviator
Ray Ban Aviator sunglasses have a long and storied history.
They were originally designed in 1936 by Ray Ban for the United States Army Air Corps. The aviators were looking for sunglasses that would shield their eyes from the sun's glare while flying high in the sky.
Ray Ban's design was so successful that it quickly became the standard-issue sunglass for all aviators in the US. During the second world war, aviators were not the only ones wearing them.
Sailors, soldiers and were all sporting a pair of Ray Ban Aviators to keep their eyes shielded in the heat of battle. Incredibly, the design has remained relatively unchanged since its inception over 80 years ago.
The style soon caught on with the general public and has been a fashion staple ever since. Ray Ban Aviator sunglasses are typically worn by men, but can also be worn by women. They have quite a masculine silhouette due to their larger size and metal frame.
The lenses are usually dark green or grey, which helps to reduce glare. The Ray Ban Aviator is the perfect choice for nearly any face shape. Regardless of the size and shape of your head, you can easily pull off a pair of Aviators as long as you wear them with confidence!
And, let's be honest, every guy wants to look like Top Gun's Maverick!
#2 Clubmaster
Ray Ban Clubmaster sunglasses is one of the styles of Ray Ban sunglasses for men that were first introduced in the 1980s. Their design is based on a classic 'browline' shape that was popular in the 1950s.
After seeing Bruce Willis looking bad-ass in 'Moonlighting', Ray Ban immediately saw the potential of the browline design in popular culture, and thus the Clubmaster was born. Unlike other styles of Ray Ban sunglasses, the Clubmaster was designed to give men a more sophisticated look. The frames are made of metal and plastic, which gives them a very sleek appearance.
The lenses are usually dark green or grey, but can also be brown or amber. Ray Ban Clubmaster sunglasses are typically worn by men as they have a very masculine look.
They are the perfect choice for men with round or oval faces as they help to elongate the face and make it appear thinner.
Clubmaster sunglasses can be worn with nearly any outfit, but look best when paired with a suit or sports coat.
They can also be worn with jeans and a white t-shirt. In short, these sunglasses can match most formalities other than black/white tie events. They're great for a hot summer wedding!
#3 Original Wayfarer
Ray Ban Wayfarer sunglasses have been a men's style staple for decades. But how did they come to be? And what makes them so special?
The Ray Ban Original Wayfarer sunglasses were first designed in 1952. They were created as a slightly more stylish alternative to the teardrop-shaped aviator sunglasses that had become popular among pilots and Hollywood stars. The wayfarer design quickly caught on, and by the 1960s, they had become a must-have fashion accessory. Today, Ray Ban Wayfarers are still one of the most popular styles of sunglasses on the market.
Ray Ban Wayfarers can be worn with just about any outfit. Whether you're going for a casual look or dressing up for a night out, Wayfarers always make you look classy. They also suit just about any square-based face shape, which is why they've remained popular for so many years.
So next time you're looking at the different styles of Ray Ban sunglasses, don't forget about the Ray Ban Original Wayfarers. With their popular history and classic silhouette, they're a great option for most guys looking to maintain a timeless style.
#4 Round
Ray-Ban's round unisex sunglasses are known for their round crystal lenses and shape.
A curved brow bar, adjustable nose pads, and thin metal temples with plastic end tips rest comfortably behind the ears. The Ray-Ban Round sunglasses are perfect for those looking for trendy and fashionable eyewear. Though the Round Ray-Ban sunglasses aren't the style that Ray-Ban is most famous for, they certainly make an impact if worn correctly.
These Ray-Ban glasses for men will always be in style. They originated from the legendary musician counter-culture of the 1960s – a legendary century in which many of the music and style greats originated.
The Ray Ban Round sunglasses come in a variety of colors, so you can choose the perfect pair to match your personal style. Choose from classic colors like black, silver, and gold, or go for a more bold look with vibrant red or blue frames.
Whether you're looking for a new everyday pair of shades or a fun fashion statement, the Round Ray Bans are a great option to mix things up and stand out from the crowd.
NOTE: If you've got a round face shape, avoid this style! The round shape is best for those with squarer face shapes.
#5 Hexagonal
Looking for something a little different? Look no further than Ray Ban's Hexagonal glasses for men.
The hexagonal round metal glasses feature thin coined profiles and flat crystal lenses and are available in classic gold with extremely slender temples.
These glasses are kind of a halfway point between aviators and round Ray Bans. In my opinion, they take the best of both worlds – the uniqueness of the round glasses and the masculinity of the aviator style. For a lot of guys, round glasses just don't work and look a bit too feminine. For those guys, the Ray Ban Hexagonal design is literally the perfect compromise.
To mix it up even further, you can mix and match base colors and lens tints to create the perfect combination for your style.
Pro Tip: Check your face shape! This style features a very controversial shape and will only suit longer face shapes. If your face is round or square, then it might be better to opt for aviators and play it safe.
#6 Justin
The Ray Ban Justin is the perfect statement piece for the modern man.
With a slightly larger frame and a rectangular lens shape, it has a rubberized frame finish for an effortlessly cool look. Would this style of frame be suitable for more formal occasions? Probably not. However, the rubberized style certainly suits more casual attire such as jeans and a t-shirt.
The Justin comes in a range of traditional or more colorful frame and lens combinations, from classic black with gray lenses to bright or transparent frame colors with solid, gradient or mirror lenses.
You can also customize your own with a choice of colors, lenses, temples, and engraving.
Whether you're looking for a new addition to your everyday style or a pair of shades for your next vacation, the Justin is sure to turn heads.
When it comes to face shapes, most guys who can wear Wayfarers can wear this style of shade – it's very similar in its shape and frame style. Be mindful of your head size, however. If you've got a small head, this style could overwhelm your face.
#7 Erika
Ray Ban Erika frames are the perfect accessory for any man looking to add a touch of sophistication to his look. The Erika shape is quite similar to the Round Ray Ban frames, however, it has more of a bulkier frame that creates a more assertive look.
With their retro-inspired rubber front and metal temples, these glasses are both stylish and practical. And with a variety of colors to choose from, you're sure to find the perfect pair to complement your individual style.
I'm not usually a fan of tortoise-shell sunglasses. However, when it comes to the Erika frame, I think it looks really sleek and stylish. These are a stand-out pair of sunglasses, so if you're looking for something a bit understated that will blend in with the crowd, then they're simply not for you!
When it comes to wearing them with different outfits, I would avoid anything formal. The design of the Erika frames lends itself to more casual environments, so a suit isn't really going to work. Instead, try teaming them with some distressed jeans and a leather jacket for a cool, off-duty look.
#8 Ferrari
The Ferrari range isn't a single frame of glasses. However, I've included it on my list because the features of this range are just really really cool!
Ray Ban has cornered the market on stylish sunglasses, and their new Ferrari range is no exception.
Inspired by race car design, these glasses feature Scuderia Ferrari details and polarized lenses that (in the words of Ray Ban Sunglasses) turbocharge your vision.
What's more, the frames are made from aeronautical grade carbon fiber and race-proof rubbers, so you can rest assured that these glasses can handle whatever you throw at them.
And of course, no pair of Ray Ban Ferrari sunglasses would be complete without the signature red frame details and Scuderia Ferrari shield.
In short, this range is like having a Ferrari racecar on your face. What more could a red-blooded American man want? You'll have the choice of many different classic frames – from Clubmans to Aviators and Hexagonal frames. However, unlike the classic designs, the Ferrari range frames add a premium feel to an already premium sunglasses brand.
#9 Stories
Guys – welcome to the future.
Ray Ban stories are a new type of smart glasses that allows Ray Ban wearers to record and share what they see using tiny cameras on their sunglass frames.
Ray Ban has partnered with some of the biggest names in the tech world to make their vision a reality, including Facebook's META. They work well with the concepts of social media and give wearers a new dimension in which to share their life events from a first-person perspective.
The glasses are designed to be lightweight and comfortable to wear, with a built-in camera that can record up to 30 minutes of HD video. They also feature Ray Ban's patented e-Tint technology, which automatically adjusts the tint of the lenses in response to changes in light conditions.
It's like something from a sci-fi movie!
Don't get me wrong, there are definitely some issues with this idea. At the end of the day, they look like regular Ray Ban glasses… so doesn't that mean there are some security issues for those around you?
I think it's a great idea, but I'm not sure if I would trust myself (or anyone else for that matter) to wear them without secretly filming funny or embarrassing moments without people realizing it!
Want to learn more about the best accessories a man can wear? Check out my guide to the top summer accessories every guy should have in his closet this summer.
The post Styles Of Ray Ban Sunglasses – A Man's Guide To The Best Frames appeared first on Real Men Real Style.
——————–
By: Antonio Centeno
Title: Styles Of Ray Ban Sunglasses – A Man's Guide To The Best Frames
Sourced From: www.realmenrealstyle.com/styles-ray-ban-sunglasses/
Published Date: Wed, 24 May 2023 16:16:23 +0000