Jeremy Renner's neighbour reportedly saved his life after a snow accident in Nevada, as the Marvel star remains hospital in a 'critical but stable' condition.
Deadline reported the Hawkeye actor, 51, was airlifted to a local hospital in Reno, where he has a property, on Sunday.
Now new details are emerging, with TMZ reporting Renner was ploughing the road near his home to get his family out after a snowstorm on New Year's Eve.
A neighbour told the outlet the plough, a Snowcat, accidentally ran over one of the actor's legs leading to major blood loss.
READ MORE: Rock hall of famer dies at the age of 67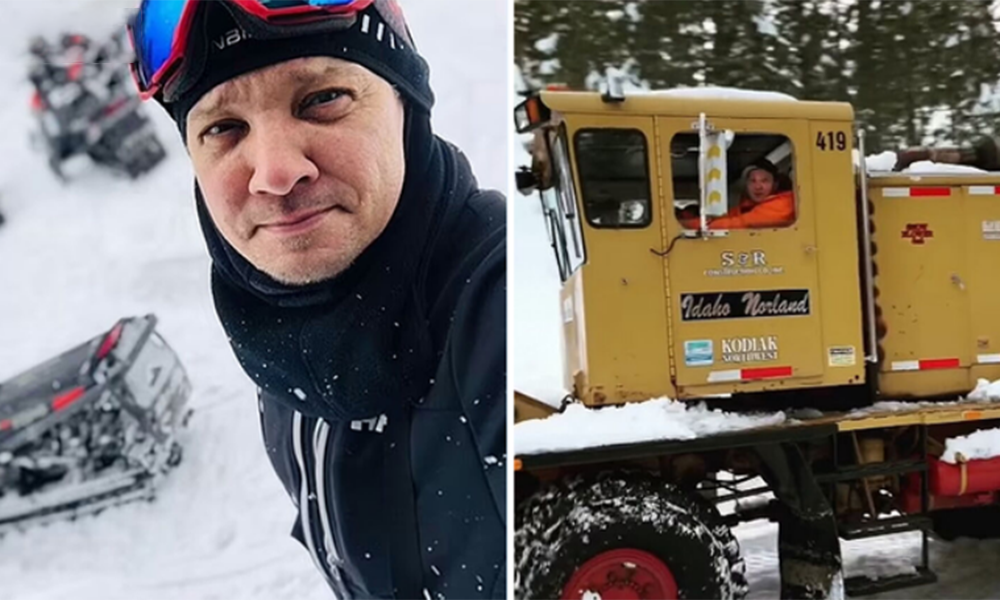 It was then another neighbour, reportedly a doctor, who put a tourniquet on Renner's legs to hold them in place until the arrival of paramedics.
A spokesperson for Renner confirmed the star was "in critical but stable condition" to the Hollywood Reporter.
"We can confirm Jeremy is in critical but stable condition with injuries suffered after experiencing a weather-related accident while ploughing snow earlier today," they said.
"His family is with him and he is receiving excellent care."
The northern US region in which Nevada sits was hit by a snowstorm on New Year's Eve, which saw 35,000 homes lose power. It has also resulted in the death of 60 people.
READ MORE: Singer Sara Bareilles announces engagement to US actor
After police arrived at the scene around 8pm on Sunday night, they impounded the Snowcat, which the actor has shown himself using on social media.
He shared photos and videos of the snowfall in Lake Tahoe, where his property lies.
"Lake Tahoe snowfall is no joke," the actor tweeted on December 13, revealing a fully submerged car among the snow.
https://twitter.com/JeremyRenner/status/1602420285201911825
Renner is best known as the star of the returning series The Mayor of Kingstown and Marvel's Hawkeye series. He also appears in the Avengers and Captain America films.
Renner, who has been nominated for two Academy Awards over his acting career, for his performances in The Hurt Locker and The Town, is a father to nine-year-old daughter Ava Renner.
He shares his daughter with his ex-wife, actress Sonni Pacheco. The pair were married from 2014 to 2015.
For a daily dose of 9Honey, subscribe to our newsletter here
————————————
Title: Jeremy Renner's neighbour saved his life after snow accident
Sourced From: celebrity.nine.com.au/latest/jeremy-renner-accident-snow-plough-neighbour-saved-life/7af1ec31-e78b-4bb0-81ac-b23555dcec07
Published Date: Mon, 02 Jan 2023 21:01:00 GMT
Read More
Did you miss our previous article…
https://mansbrand.com/2023-brings-a-diverse-set-of-oscar-contenders-will-the-final-nominees-reflect-that/
Festival Report Card: Lightning In A Bottle 2023
Lightning In A Bottle celebrated its 20th anniversary this Memorial Day with an extra wave of positivity in the air. Attendees were absolutely thriving in each moment and creating memories to last a lifetime.
Lightning In A Bottle is a festival produced by Do LaB, who's well known for their infamous stage at Coachella. 
This year, Do LaB brought a talented group of musicians, performers, teachers, and talent to Buena Vista Lake in Bakersfield, California. This curated festival provided an opportunity for people to reflect, learn, and grow, and have space to connect with others.
See EDM Maniac's Festival Report Card below:
Vibes: A+
Lightning In A Bottle is known for its transformational energy, and we certainly felt it last weekend. The crowd was flowing with positive vibes and filled with smiles, laughs, hugs, and high fives. Even when sets got crowded, there was no pushing or shoving, and people were constantly saying "excuse me" and making sure to be respectful when passing through. 
Depending on where you were and what activity you were doing, the vibes followed. If you were at the bass stage, the crowd was headbanging and encouraging others to get wild and let loose. If you were at the Woogie, you were moving and grooving with everyone and feeling free.
LSDREAM's LIGHTCODE was a standout experience of the weekend, with the crowd overflowing past the Thunder stage, but all still experiencing it together. You could see the calmness and tranquility that LSDREAM spread every person who was there.
The sea of people breathed and relaxed to the beat of the drum which created a strong sense of peace and unity that is hard to find anywhere else.
Production: B
The Woogie had multiple platforms for people to dance on, which gave a flowy, trippy vibe to the area, and the speakers at the Woogie were rocking all weekend long.
The Lightning stage was huge and had a large screen for visuals (ahem, Rezz) with lights and lasers, but it would've been even better with the addition of pyro or cryo. 
The Thunder stage this year brought the heat, with a huge panel LED screen on the front of the DJ booth, as well as a large LED screen for visuals in the back. Do LaB's infamous sheets of fabric provided some shade during the day, as well as a truly encapsulating feeling at night.
Music: B+
Lightning in a Bottle is known to have a diverse lineup of music with various stages for all the genres you could possibly imagine.
The Woogie did not disappoint. We were sad to see Tale of Us have to cancel at the last minute, but the addition of house music legend Lee Burridge kept the party going.
This year's Woogie lineup featured legends such as LP Giobbi, Purple Disco Machine, Stephan Bodzin, and more. Mary Droppinz brought the boogie to woogie, absolutely throwing down during her daytime set, and Diplo brought some immaculate vibes during the nighttime.
Thunder, the bass stage, had some insane sets throughout the weekend from Liquid Stranger, LSDREAM, TOKiMONSTA, The Glitch Mob, Deathpact, Moore Kismet, and Wreckno. Up-and-coming artist, Hamdi took the stage by storm on Friday playing his new hit single "Counting," which has gone viral on TikTok.
Lightning, the main stage, had a notable variety of bands, musicians, and DJs playing. Sofi Tukker brought all the energy with their live performance while Rezz hypnotized the crowd with bass.
Let's talk about the stacks. Although it's a smaller stage, the talent we saw was insane and constantly giving massive amounts of energy. Snuffy, Ooga, and JordnMoody absolutely blew the stage away with endless supplies of bass and good vibes. The stacks also impressed everyone when Zeke Beats showed up Sunday night as a special guest. 
Venue: B+
Buena Vista Lake is an interesting venue because some of the grounds are concrete. Do LaB did a phenomenal job of adding woodchips, fake grass, and other elements to make the grounds feel more comfortable. The dust at LIB is unavoidable, so we hope you were wearing your bandana. 
Getting around the grounds was a breeze. It never felt too crowded walking from stage to stage, and there were so many things to stop and see while walking. You could get lost in an art gallery, watch someone create live art, sit down at the sacred fire, get lost in the neon performers at Martian Circus, and so much more.
The roller rink also added a playful and fun environment for people to skate, dance, and groove to some tunes. The lake provided a place for attendees to cool off, and we saw many floaties, toys, and smiles in the water.
Another new addition to LIB provided this year was Wi-Fi, although unfortunately it came at a cost per day, and did not seem to work for many people.  One other thing many people noticed was the drinking water seemed to be slightly cloudy on the first few days, but by the last day seemed to have improved.
The one thing LIB never disappoints with are the activities, places to learn, and space to grow. There were tons of yoga and movement classes. LIB also offers a plethora of learning and culture offerings, talks and discussions with visionaries, experts, and thought leaders, and even culinary classes. 
Overall: B+
Overall, the production at LIB blew us away. There were multiple immersive structures you could walk through and explore, tons of art to see, a large yoga tent with a variety of classes, a sacred fire to sit by, art cars, and many other places and things to explore.
LIB has music everywhere, and for the 20th anniversary of LIB, they didn't hold back. Every day of the five-day festival was stacked with talent.
The Grand Artique hosted performances all weekend, as well as Beacon, Martian Circus, Junkyard, and Crossroads. The banana art car would also pop up in the middle of nowhere with the best beats. 
LIB truly fosters a place of love, learning, happiness, and peace as well as a place to let loose and dance the night away. 
Featured image credit Sydnee Wilson, second image credit DI Visuals, third image credit Jess Gallo for Atlas Media
The post Festival Report Card: Lightning In A Bottle 2023 appeared first on EDM Maniac.
—————————–
By: Melissa Mubaraki
Title: Festival Report Card: Lightning In A Bottle 2023
Sourced From: edmmaniac.com/festival-report-card-lightning-in-a-bottle-2023/
Published Date: Fri, 02 Jun 2023 22:52:26 +0000
Did you miss our previous article…
https://mansbrand.com/listen-flosstradamus-unleashes-powerful-trap-anthem-side2side-with-trxggx/
LISTEN: Flosstradamus Unleashes Powerful Trap Anthem "SIDE2SIDE" With TRXGGX
Flosstradamus, the legendary trap music pioneer, returns with a powerful statement in his latest single "SIDE2SIDE." Teaming up with TRXGGX, Flosstradamus aims to revitalize the trap genre and culture with an accessible anthem that sets dance floors ablaze. The collaboration merges nostalgic rave vibes with contemporary trap energy, guaranteeing a raging experience for festival-goers. With a revered career and a devoted fan base known as HDYNATION, Flosstradamus continues to leave an indelible mark on the music scene. Get ready to move SIDE2SIDE with this electrifying trap anthem!
'LISTEN: Flosstradamus Unleashes Powerful Trap Anthem "SIDE2SIDE" With TRXGGX
The post LISTEN: Flosstradamus Unleashes Powerful Trap Anthem "SIDE2SIDE" With TRXGGX appeared first on Run The Trap: The Best EDM, Hip Hop & Trap Music.
—————————–
By: Hunter Thompson
Title: LISTEN: Flosstradamus Unleashes Powerful Trap Anthem "SIDE2SIDE" With TRXGGX
Sourced From: runthetrap.com/2023/06/03/listen-flosstradamus-unleashes-powerful-trap-anthem-side2side-with-trxggx/
Published Date: Sat, 03 Jun 2023 21:28:30 +0000
Tom Holland's Green Obsession: AMI Paris & Prada

Tom Holland, the 27-year-old actor widely recognized for his role as Spider-Man in the Marvel Cinematic Universe, took time off …
——————-
By: The Fashionisto
Title: Tom Holland's Green Obsession: AMI Paris & Prada
Sourced From: www.thefashionisto.com/style/tom-holland-wears-green-2023/
Published Date: Sun, 04 Jun 2023 17:29:15 +0000