Jonathan Taylor: Indianapolis Colts' MVP Candidate Finds Himself in Rarified Air After Win Over New England Patriots
Jonathan Taylor has been incredible for the Indianapolis Colts this season. Not only is he one of the best running backs in the league, but he's arguably one of the best overall players in the league.
Having now scored a rushing touchdown in 11-straight contests, Taylor finds himself not just the toast of the NFL in 2021, but also in some rarified historical air.
Jonathan Taylor was elite for Indianapolis Colts against New England
Taylor is undoubtedly an MVP candidate and if you doubt that, watch the Colts' 27-17 win over the New England Patriots from Saturday.
The numbers alone speak for themselves. He rushed the football 29 times and came away with 170 dynamic yards and a touchdown. What the numbers don't tell you is just how impressive his touchdown run was, though, and how much it meant to Indianapolis in the waning moments of the game.
The Colts were up just 20-17 after New England scored a touchdown to pull within three with 2:21 to go. They got the ball back on their own 31-yard line. The Pats did have a timeout and two-minute warning at their disposal, but they burnt the timeout on Indy's first play setting the Colts up with a 2nd-and-8 from the 33. Bill Belichick, of course, played the timeout game perfectly and had an opportunity to force a third-down run and get the ball back down just three after the two-minute timeout, but he never got the chance.
Indianapolis handed Taylor the football, and he lowered his shoulder, "got skinny" through the gap, exploded into the defensive backfield, and took it to the house for a 67-yard touchdown run with 2:01 left to act as the dagger in New England's back.
According to Next Gen Stats, Taylor got up to 22.13 miles per hour on the run, the fastest speed a ball carrier has reached in 2021.
It took him 10-seconds to go 67 yards.
Taylor finds himself amongst historic company
Every Heisman or MVP season has a "moment," and that rush against New England very well could have been Taylor's. It also put him into some rarefied air amongst some of the very best to rush the football in NFL history.
His touchdown against the Patriots marked the 11th-straight game that has seen him notch a touchdown run, tying him with Emmitt Smith and Priest Holmes on a very exclusive list. Taylor is quickly approaching John Riggins, who scored a rushing touchdown in 12 consecutive games in 1983, and LaDainian Tomlinson, who accomplished the same feat in 2004.
That's impressive enough but consider the fact that Taylor has 17 touchdown runs in this 11 games stretch. That includes eight 100-plus yard performances, four multi-touchdown games, and a win over the Bills that saw him rush for 185 yards and four touchdowns while also snagging a touchdown through the air.
He's been incredible.
Can Taylor win the NFL's MVP award?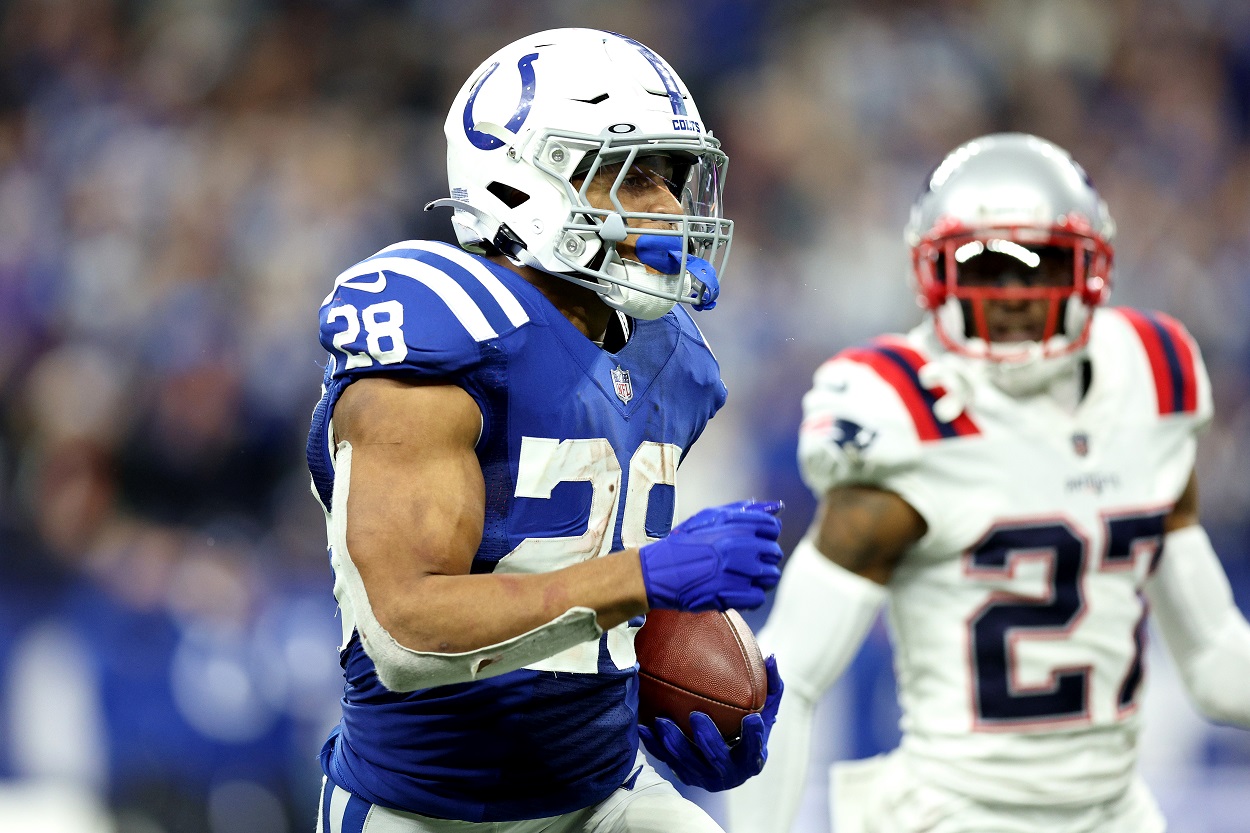 Taylor is, without a doubt, in the MVP conversation, but just how realistic would it be for him to win it?
Quarterbacks primarily win because even though it's supposed to go to the most valuable player in the league, it ends up largely being a stat-based award.
The last running back to actually win the MVP was Adrian Peterson in 2012. That season saw him rush 348 times for 2,097 yards and 12 rushing touchdowns. He averaged an incredible 131.1 rushing yards per game. Taylor hasn't yet reached AP levels of superstardom, but he's just as crucial to his team's success as Peterson was to the Vikings that season. Taylor has now rushed 270 times for 1,518 yards and 17 touchdowns. He's averaged 108.4 yards per game.
Taylor will have to contend with Tom Brady (4,134 yards, 36 touchdowns, 10 interceptions) and Aaron Rodgers (3,219 yards, 27 touchdowns, four interceptions, three rushing touchdowns) at the top of the MVP rankings. Still, he's without a doubt worthy enough to be mentioned among two players who have six MVP awards between them.
"What he's doing now in the NFL, there's absolutely no question that he's the MVP," Colts linebacker Darius Leonard said after the win over the Patriots.
Taylor may not win the MVP, but he's certainly deserving.
Stats courtesy of ESPN and Pro Football Reference. Contract information via Spotrac.
RELATED: Jonathan Taylor Went 3rd Person Ahead of His Monster Day: 'That's What Fuels Jonathan Taylor'
The post Jonathan Taylor: Indianapolis Colts' MVP Candidate Finds Himself in Rarified Air After Win Over New England Patriots appeared first on Sportscasting | Pure Sports.
———————–
By: Andrew Kulha
Title: Jonathan Taylor: Indianapolis Colts' MVP Candidate Finds Himself in Rarified Air After Win Over New England Patriots
Sourced From: www.sportscasting.com/jonathan-taylor-indianapolis-colts-mvp-candidate-finds-rarified-air-win-new-england-patriots/
Published Date: Sun, 19 Dec 2021 19:45:43 +0000
Read More
Did you miss our previous article…
https://www.mansbrand.com/the-nominees-for-the-2022-brit-awards-have-been-revealed/
The 2023 New York Film Critics Circle Awards Voting Has Begun (Updating Live)

Follow along as the prestigious awards body honors its picks for the best in cinema of 2023.
———————–
By: Christian Blauvelt
Title: The 2023 New York Film Critics Circle Awards Voting Has Begun (Updating Live)
Sourced From: www.indiewire.com/awards/results/2023-new-york-film-critics-circle-awards-nyfcc-winners-list-1234930653/
Published Date: Thu, 30 Nov 2023 15:05:00 +0000
Read More
UPDATING LIVE: 2023 New York Film Critics Circle Announcing Today

The first major critics group weighs in on the 2024 Oscar season starting today with the New York Film Critics Circle Awards. We will be updating throughout the day here at Awards Daily. They will announce their awards category by category via their Twitter feed. Here are this year's categories: Best Film Best Director Best […]
———————–
By: Clarence Moye
Title: UPDATING LIVE: 2023 New York Film Critics Circle Announcing Today
Sourced From: www.awardsdaily.com/2023/11/30/updating-live-2023-new-york-film-critics-circle-announcing-today/
Published Date: Thu, 30 Nov 2023 13:53:07 +0000
Read More
'American Fiction' Star Jeffrey Wright To Receive Career Achievement Award at Palm Springs International Film Awards

The Palm Springs International Film Awards has announced that Jeffrey Wright is the recipient of the Career Achievement Award, for his performance in Cord Jefferson's American Fiction. The Film Awards will take place on January 4, 2024, at the Palm Springs Convention Center, with the festival running through January 15, 2024. The event will be sponsored by Entertainment Tonight and […]
———————–
By: Clarence Moye
Title: 'American Fiction' Star Jeffrey Wright To Receive Career Achievement Award at Palm Springs International Film Awards
Sourced From: www.awardsdaily.com/2023/11/29/american-fiction-star-jeffrey-wright-to-receive-career-achievement-award-at-palm-springs-international-film-awards/
Published Date: Thu, 30 Nov 2023 02:03:21 +0000
Read More