When you're going to be taking a bladed instrument anywhere near your face, it's worth ensuring the tool is up to task. A bad razor invariably means a bad shave, which means a bad start to the day and perhaps even some unnecessary pre-work bloodshed.
This can all be easily mitigated by arming yourself with a good razor from the get-go. Granted, it's probably not the most exhilarating purchase you'll make all year, but in terms of return on investment, it will likely be one of the most worthwhile.
But 'razor' is a broad term these days. There are a lot of different types to choose from and a range of factors to take into account before handing over your money. How much should you be looking to spend? How many blades is too many blades? Just what exactly is a safety razor anyway?
In a bid to address these questions and more, we've compiled a handy guide to the best razors for men and everything you need to know before buying one.
Quick Jump: Traditional Safety Razors | Modern Safety Razors | Shaving Subscriptions | Disposable Razors
Straight Vs. Safety?
Nothing with a sharp blade attached to it is going to be 100% idiot-proof, but some razors are safer than others. That's why it's important to know the difference between old-school straight razors and safety razors.
If you've ever had a traditional wet shave at a barbershop then you'll know what a straight razor is. Also rather off-puttingly referred to as 'cut-throat' razors, these single-bladed shaving tools are essentially just glorified knives. In the right hands, they can produce the closest shave you've ever had, but when used without the necessary experience, well, you get the picture.
That's why you're much better off leaving the straight razors to the pros and opting instead for what is known as a safety razor. They come in two key forms: traditional, double-edged safety razors and modern, reusable safety razors. What unites them both is the fact that they have some sort of guard between the edge of the blade and the skin.
Modern safety razors usually use disposable cartridges with multiple angled blades and plastic and rubber to guard against cuts. Traditional safety razors tend to use disposable, double-edged all-metal blades. With both types, you hang onto the same handle and replace the blades when needed.
Do You Really Need That Many Blades?
Razor marketers are notorious for dreaming up endless gimmicks to keep shifting units. If it carries on at the current rate, we'll be looking at razors with 50+ blades on them, completely covered in gel cushioning strips by the year 2050.
So are any of these so-called advancements actually worth buying into? Very occasionally, but usually not.
Once you get past three blades, the difference in performance is minimal. Multiple blades do help to spread out the cutting surface, making for a smoother shave, but there's a limit to how many you really need.
As for other spurious razor tech like flexible blades, built-in precision trimmers and pivoting cutting heads, do they make for a better shave? Maybe fractionally. Do you really need them to get the job done well? Absolutely not.
Safety, Subscription or Disposable?
You buy a razor from the shop, use the razor, replace the razor's blades when they start to blunt. That's the traditional way of doing it anyway. But these days there's another option worth considering too.
Shaving subscription services have been gaining traction for a good few years now. The idea is that busy men can simply sign up, have a razor delivered and then receive replacement blades and shaving creams in the post as and when required, without having to lift a finger.
This convenience gives subscription services the edge over traditional DIY blade buying for those who often find themselves pushed for time. Plus, it often ends up cheaper than purchasing directly from the shop.
Aside from that, you may sometimes need to resort to disposable razors if you're travelling or away from home. Due to the plastic waste involved, you should do your best to avoid this happening but if it does, try to go for a recycled or eco-friendly option.
How Much Should You Spend?
Thankfully, razors don't tend to be hugely expensive. For a bog-standard modern safety razor, somewhere around £7 is what you can expect to pay. However, when you start looking at classic metal safety razors and design-led options this price shoots way up.
One of these traditional razors from a reputable brand can set you back anywhere between £20 and £300. At the upper end, you're really just paying for the name or the design. The important bit is the blade – and they're only about £1 a pop.
Subscription-wise, the going rate is around £10 a month on average. Although some of the more luxurious services can fetch considerably more.
The Best Traditional Safety Razors
King C. Gillette Double-Edge Safety Razor
Gillette is a name synonymous with quality razors. The company was born in Boston in 1901 and the brand's King C line harks back to that golden age with throwback designs and period packaging. This classic double-edged safety razor is inspired by the iconic design that propelled Gillette to success all those years ago, featuring an optimised handle and monogrammed safety cap.
Buy now at Amazon
Merkur 38C
German company Merkur is a favourite among professional barbers. Since 1906, the brand has been making some of the best safety razors on the market and the 38C is one of its top sellers. Users often remark on what a smooth shave it provides thanks to its straight safety bar. This makes it a great choice for first-time shavers and those new to the world of double-edged razors.
Buy now at Amazon
MÜHLE R89
Another German shaving specialist with a reputation for precision engineering, MÜHLE are highly regarded within the industry and their perennial best-seller, the R89, offers a superb shave and value for money. Perfectly weighted for comfort and featuring a handsome design, it remains a popular choice for beginners and experienced users alike.
Buy now at Amazon
Barbarossa Brothers Ottoman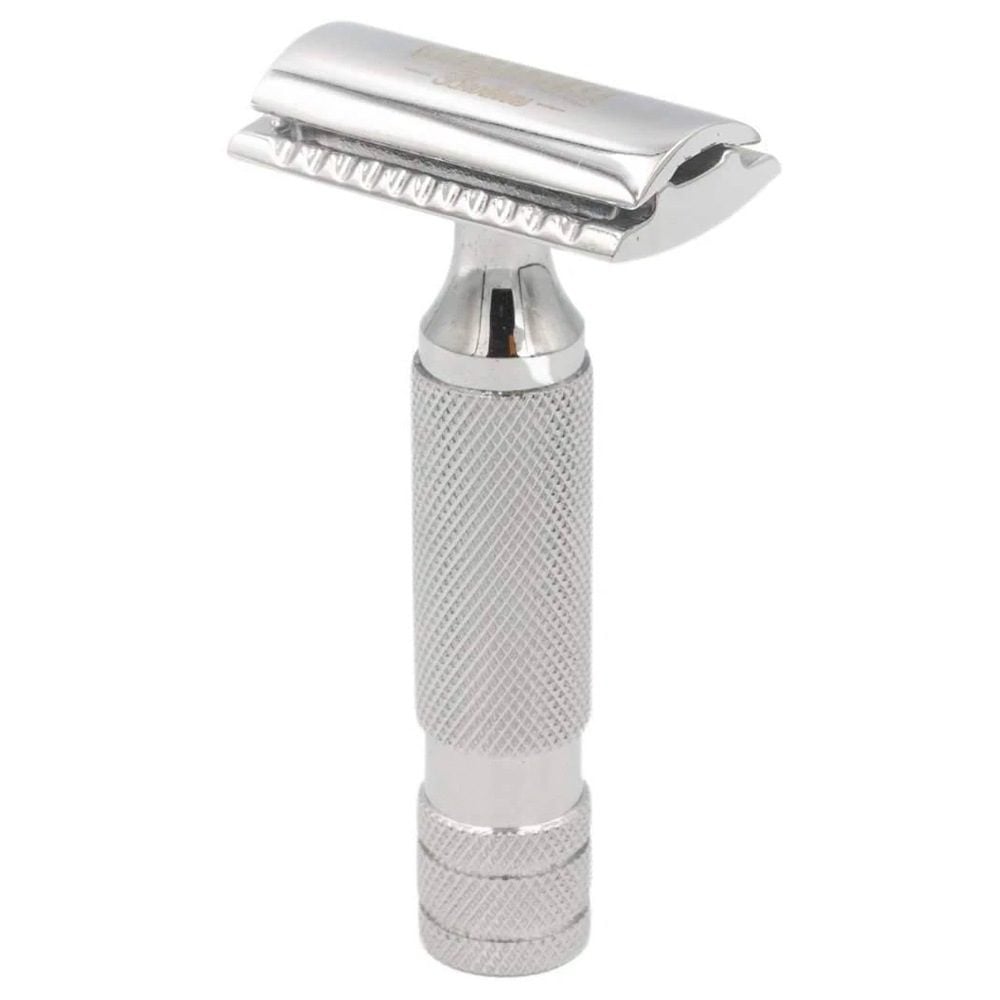 Weighing in at a hefty 150g, this beefy little number from Barbarossa Brothers is designed to glide through even the thickest of facial hair. The chunky handle provides a sturdy grip even when covered in water and slippery shaving ointments and it comes in a rather neat little gift box, complete with 10 replacement blades.
Buy now at Barbarossa Brothers
Bambaw Safety Razor
One of the positives of using a classic double-edge razor is it doesn't create any plastic waste. But Bambaw has taken things a step further and made this one out of bamboo. The brand's approach to shaving creates zero waste as both the blades and the handle are recyclable. A great shaving option for the eco-minded consumer.
Buy now at Amazon
The Best Modern Safety Razors
Bulldog Bamboo Razor
Bulldog's Bamboo razor has been a big hit thanks to its eco-friendly design and excellent shaving performance. It features a recycled bamboo handle and uses recycled steel blades. There are five blades in total combined with a lubricating strip with aloe vera for a smooth, comfortable shave.
Buy now at Mankind
Bolin Webb R1 Mach3
If you're looking for something that's going to match the carefully considered modern aesthetic you've been cultivating for your bathroom, this could well be it. Bolin Webb's R1 razor would look equally at home on your bathroom shelf or on display at the Tate Modern. It's a truly stunning piece of design that uses tried-and-true Gillette Mach3 blades for a reliable shave.
Buy now at MR PORTER
GilletteLabs Heated Razor
We know we said that razor marketing gimmicks should be avoided but hear us out on this one. GilletteLabs' heated razor is actually a really cool and useful idea. It emulates a traditional hot shave, allowing for a super-close and comfortable shave. Plus, it allows you to keep the blades nice and warm without having the hot tap running, providing a welcome bit of comfort on cold winter mornings.
Buy now at Gillette
Wilkinson Sword Hydro 5
This five-blade option from Wilkinson Sword is a great, budget-friendly razor that produces a brilliant shave. The strip next to the blades is actually water activated and turns from solid putty to soothing gel when wet. It also has a nice 'open' design, which means it's less likely to clog up with hair quickly.
Buy now at Amazon
The Best Subscription Razors
Harry's
Harry's enables customers to receive replacement blades directly to their door for less than £2 per blade. It's all worked out based on how often you shave so you don't even need to think about it once you've signed up. Plus, you can try it out for free. Just pay the postage and Harry's will send you a razor, a set of blades and a can of shave gel for free to see how you like it.
Buy now at Harry's
Gillette Shave Club
A starter kit from Gillette Shave Club will give you a Gillette razor of your choice, one blade refill, some shave gel and a travel cover. From then on, subscribers save 15% on blades which are delivered based on your shaving habits. It's a great way to save a little money with one of the most respected brands in the industry.
Buy now at Gillette
Cornerstone
Cornerstone delivers high-quality razors, blades and other grooming goodies to your door, in tailor-made packages to suit your needs. The brand's razor is the star of the show, featuring a surprisingly lightweight metal handle which you can even opt to have engraved.
Buy now at Cornerstone
Grüum
Fans of that Scandi minimalist aesthetic will love the clean, uncluttered styling of Grüum's shaving gear. The brand's Oska razor features a nice shapely, ergonomic handle and comes in bold, eye-catching colours. There are a number of different subscription plans to choose from so you can choose exactly what you'll get each month. It's not just blades either. You can even have grooming goods like moisturiser and face wash delivered by subscriptions too.
Buy now at Grüum
The Best Disposable Razors
Truefitt & Hill Lightweight Holiday Razor
This premium take on the classic disposable razor is perfect for those who need a great shave on the go but don't want to compromise on quality. They're lightweight, the handles are widely recyclable and a pack of five even comes in a special velveteen carry bag.
Buy now at Truefitt & Hill
Bic 3 Sensitive
The old faithful Bic razor has been on the scene for a very long time. Simply put, it does what it says on the tin. Nothing more, nothing less. This particular version is a bit of a step up from the classic one-blade option, instead offering three blades for increased comfort and a more efficient shave.
Buy now at Amazon
Wilkinson Sword Xtreme 3 Eco Green
This flexible razor from Wilkinson Sword is another more sustainable alternative to standard disposables. The handle is made from 95% recycled materials and even the packaging is made from 90% recycled paper. It also features two gel strips for increased smoothness and aloe vera to soothe as you shave.
Buy now at Amazon
The post King Of Shaves: The Best Razors For Men appeared first on Ape to Gentleman.
——————–
By: Paddy Maddison
Title: King Of Shaves: The Best Razors For Men
Sourced From: www.apetogentleman.com/razor-blade-shaving-system-king/?utm_source=rss&utm_medium=rss&utm_campaign=razor-blade-shaving-system-king
Published Date: Mon, 09 Nov 2020 09:00:16 +0000
How to wear your watch correctly
As much as you won't like hearing this, you're probably wearing your watch wrong.
It's not your fault; you may have never been taught how to wear a watch properly. After all, there is more than one way to wear a watch.
But how do you know which way is the right way?
Don't worry, gents; as always, I've got you covered. I'm here with the best way to wear your favorite timepiece properly and look as stylish as ever.
In today's article, I'll be covering:
Origins Of The Wrist Watch
What Wrist Do You Wear A Watch On?
Should You Wear Your Watch Facing Inward Or Outward?
The Stylish Way To Wear A Watch
#1 Origins Of The Wrist Watch
When it comes to wearing a watch correctly, it's important to note why the wristwatch came about in the first place.
Dating back to the 1800s, the first watches modified to be worn on the wrist were primarily worn by women as accessories. One of the earliest was created by Patek Philippe as a fashion accessory.
At the start of the 20th century, watchmakers became intrigued about using a wrist-worn timepiece for men in the military. They believed it would help them tell time quickly while on the battlefield.
Watchmakers started modifying pocket watches to fit on a bracelet worn on the wrist. Men would not wear the first iteration of the modern wristwatch until well into the 20th century.
Then developed as a 'trench watch' for military use, the earliest wrist watches offered something the pocket watch didn't have – convenience.
After the wristwatch became less of a fashion accessory and more of a functional tool, watchmakers would spend the next century modifying them into the modern wristwatches we enjoy today.
#2 What Wrist Do You Wear A Watch On?
The age-old question: what wrist to wear a watch on? The answer – it depends.
The reason it depends is that since the creation of the wristwatch, men have mostly worn their watch on their non-dominant wrist. And since most people are right-handed, you would wear your watch on your left wrist.
But this isn't always the correct answer. You may want to wear your watch on the right wrist if you are left-handed. But you may also want to wear it on your dominant hand.
So how do you know for sure?
The most significant benefit of wearing your watch on your non-dominant hand is that you can quickly put the watch on and navigate the dial more efficiently than with your non-dominant hand.
Wearing your watch on your non-dominant hand is less likely to damage the watch as you tend to do more with your dominant hand. If you were to wear it on your dominant hand, you're more likely to scratch or ding the watch than on your non-dominant hand.
So the rule of thumb here is to wear your watch on your non-dominant hand for the best way to navigate and protect your watch.
#3 Should You Wear Your Watch Facing Inward Or Outward?
The next question is, why would a man wear his watch facing inward on his wrist instead of outward?
This trend is seen primarily in individuals who need to check their watch frequently and in the most efficient way possible. Among the many reasons you should wear a watch, one of the most common is to support you in your profession.
You will see men in the military do this, as it's easier and prevents sun glare better than when it's on the outside of the wrist. It also offers faster convenience to other tools on the watch in addition to the time.
Another reason you may want to wear your watch facing inward is that it can help protect your watch from scratches and dings. Again, this is just a preference.
But you're a stylish guy looking for the best way to wear his watch. What should you do?
The answer here is to wear it facing outward, as that is the most common way to wear a wristwatch. It shows off your timepiece that you love while also still being functional.
Unless you're in a profession where you need to check your watch quickly while managing other tasks, the best way is to have your watch facing outward. After all, you probably didn't spend money on that beautiful timepiece to hide its character.
#4 The Stylish Way To Wear A Watch
Now it's time to find out exactly how to wear a watch in the most stylish way a guy can.
Assuming you've selected the right size watch for your wrist, the first thing you want to do is figure out if you'll be wearing your watch on your right or left wrist.
As mentioned above, traditionally, the watch is worn on your non-dominant wrist. So if you're right-handed, this means wearing your watch on your left wrist. For left-handed guys, this means your right wrist.
After you figure that out, it's quite easy. The first thing you want to do is locate your wrist bone.
You want to wear your watch face up just above your wrist bone. If done correctly, your watch should slightly peek out from under the cuffs of your shirt when wearing long sleeves.
Next, you want to tighten the strap so it's loose enough to be comfortable. You don't want it so loose it can spin freely around your wrist. You also don't want it too tight, or it will feel uncomfortable, especially when you bend your wrist.
After doing this correctly, you'll be wearing a watch in the most stylish way possible.
There you have it, gents.
Now you no longer have to worry about wearing your watch incorrectly.
There is more than one way to wear a watch, so find what's most comfortable for you personally, and rock your favorite timepiece accordingly.
If you want to take your watch knowledge to the next level, check out this article I wrote about the difference between quartz and mechanical watches.
The post How To Wear A Watch The Right Way appeared first on Real Men Real Style.
——————–
By: Antonio
Title: How To Wear A Watch The Right Way
Sourced From: www.realmenrealstyle.com/wear-watch-right-way/
Published Date: Sat, 30 Jul 2022 10:19:42 +0000
Did you miss our previous article…
https://www.mansbrand.com/fall-capsule-wardrobe-preparation-buy-now-and-get/
Fall Capsule Wardrobe Preparation (Buy Now and Get $$$)
We've all been there – fall comes around, and you open your closet only to find you have nothing but polos and shorts.
So what's a stylish guy to do? Pay a premium to build an entire fall wardrobe last minute? Sure, if you're loaded. But not every guy is that lucky!
Don't worry; as ever, I've got you covered. In today's article, I'll show you how to get the best bang for your buck when building your fall capsule wardrobe.
We'll be covering:
What Are The Advantages Of A Capsule Wardrobe?
How Do You Build A Fall Capsule Wardrobe?
Where Can You Find Deals On Fall Clothing?
What Are The Best Fall Capsule Wardrobe Essentials?
#1 What Are The Advantages Of A Capsule Wardrobe?
One of the most common headaches guys run into in their closet is having too many clothing options to choose from but not enough of the right options.
While more options aren't bad, they can be overwhelming, especially when you rarely wear most items. This is where building a capsule wardrobe comes into play.
A capsule wardrobe is a limited selection of clothing items that complement each other. This means you can buy a smaller selection of items and create a larger number of outfits.
This is crucial to understand because most guys don't have an unlimited budget for buying clothes. A capsule wardrobe allows you to purchase and use items frequently with little redundancy.
But where do you start in building your fall capsule wardrobe?
#2 How Do You Build A Fall Capsule Wardrobe?
After you have put together the perfect capsule wardrobe, you can start to add a few fall-specific items. This is done by adding a few staple pieces that complement what you already have.
For most, fall offers mild temperatures mixed with slightly warmer temperatures.
This means that layering will be of the utmost importance because you may leave the house needing a jacket, but it might be warm enough by midday to sport only the t-shirt underneath.
Start with the basics when building your fall capsule wardrobe and add pieces accordingly.
Keep It Simple
Fall is primetime for layering, so you only need a few outer layers and should focus more on the innermost layers.
You want to make sure that interchangeability is at the top of your list when it comes to your wardrobe. Everything should complement each other for ease of use.
With that said, having a few staples and adding additional items as you change seasons is essential.
For this reason, ensure you have the following items in your fall capsule wardrobe:
A dark three-piece suit
A light-colored tweed blazer
A leather bomber or biker jacket
An overcoat (dark or light)
A formal button-up shirt (white)
2 casual button-up shirts (flannel or chambray, you choose)
2 sweaters (1 shawl, 1 crew neck)
2 t-shirts (1 white, 1 black,)
2 pairs of Jeans (1 dark, 1 light)
2 pairs of slacks/chinos (1 dark, 1 light)
2 belts (1 black, 1 brown)
1 pair of black dress shoes
1 pair of brown oxfords (leather or suede, you decide)
1 pair of sneakers (plain white or brown)
1 pair of military boots (black or brown)
When it comes to accessories like watches, scarves, or gloves, you can use what you have as most men won't need all of them, so I won't count them in.
#3 Where Can You Find Deals On Fall Clothing?
As it is the middle of summer, fall will be approaching quickly.
Now is a great time to snag up some of last year's sale items at department stores as they usually have sales on previous season items. By now, most men aren't thinking about what to wear in the fall.
While you still might be able to find good deals on last year's fall items, it's usually the most optimal time to purchase these items after the season has ended. This is when retailers try hard to clear space and make room for the next season's clothing.
When they do this, it is a great time to get excellent deals on items that have just gone out of season.
Another great option to buy men's clothing is online at your favorite retailers, as they will often have sales and discounts on items they have in their online inventory but are not yet in prime season.
The most expensive items in your fall capsule wardrobe are the ones you want to focus on, as you can often save a significant amount of money out of season for them.
These big ticket items include:
Your dark three-piece suit and blazer
Overcoats and jackets
Dress shoes and sneakers
Boots
These items will be some of the most expensive items and can be found discounted out of season. Put these at the forefront of your fall capsule wardrobe search.
#4 What Are The Best Fall Capsule Wardrobe Essentials?
You want to adhere to a few staples when building your fall capsule wardrobe.
Since fall weather can vary, layering will be essential. These few items are crucial as mainstays that can be layered with other items within your wardrobe.
For example, if you experience a rather chilly day in fall and need to wear a suit, an overcoat is essential as that outermost layer because you can simply remove it when you no longer need it.
When it comes to the concept of layering within your fall capsule wardrobe, you want to make sure you nail these following items.
Overcoats
Having a good overcoat to complement your fall capsule wardrobe is crucial.
The overcoat acts as the outermost layer and will be removed whenever you go indoors. This makes for a great option as you can wear it with anything as it offers excellent versatility.
When searching for the perfect overcoat, it's essential to know your size as they usually come in sizes of suit jackets, not regular sizing. After you've nailed the size, focus on color.
Dark-colored overcoats tend to be the most versatile. However, a light camel color can work as well. Stay away from patterns with overcoats as the goal is to be as versatile as possible.
Leather Jackets
A good leather jacket goes a long way. You can choose a leather biker jacket or a leather bomber; it's your call.
Biker jackets can be slightly harder to pull off as most of the time, they will have a larger and more aggressive collar, but they still look great.
A leather bomber jacket is an excellent option because it looks great on all body types and often has more options than biker jackets.
For color, opt for black or dark brown, as that gives you the most versatility with other items in your fall capsule wardrobe.
Sweaters
Sweaters are to fall, what t-shirts are for summer. This means they are a critical piece as they are season specific and offer great versatility when it comes to layering.
So how do you find the perfect sweater?
You want options, so have a couple of different collar choices to give yourself the most bang for your buck.
Having a shawl neck sweater and a crew neck sweater ensures you have all your bases covered.
Make sure you choose neutral tones such as greys, creams, and tans for color. This ensures maximum versatility with other items within your wardrobe and gives you the most options.
That's it, gents.
To learn more about how versatile this concept of capsule wardrobes can be, check out how I turned 16 pieces of clothing into 256 outfits.
The post Preparing Your Fall Capsule Wardrobe (Buy Now And Save $$$) appeared first on Real Men Real Style.
——————–
By: Antonio
Title: Preparing Your Fall Capsule Wardrobe (Buy Now And Save $$$)
Sourced From: www.realmenrealstyle.com/fall-capsule-wardrobe/
Published Date: Thu, 28 Jul 2022 23:59:00 +0000
We all know of Zara and I'm pretty sure the majority of us own at least one piece from them, but I'm not here to talk about their reasonably priced clothing, I'm here for their fragrance.
Not quite a hidden gem but I don't feel that they vast range and high quality fragrance that they create is given enough air time, I'm about to change that. The fragrance game is massive at the moment, everyone from the big fashion houses all the way to footballers have a scent on the market and they all carry a hefty price tag, with some of the bigger hitters asking in excess of
£100 for 50ml.
Zara clearly understand the need for a great fragrance but also appreciate not everything has to be overly expensive. I've been lucky enough to sample my fair share over the years and wanted to share with you what I feel are some of their strongest.
Tobacco Collective 100ml – £16.99
This is one of my absolute favourites, it works perfectly as an everyday scent. The initial smell is strong and masculine but with undertones of vanilla bourbon help to soften it slightly.
For Him 100ml – £22.99
My current daily spray, its warm, modern and intense. It just so happens to be the perfect blend of three of my favourite scents, bergamot, cardamom and sandalwood. It's strong yet light, never over powering and leaves a wonderful trail.
Florence 100ml – £16.24
Summer calls for a fresh fragrance and I cannot recommend this highly enough, its light, fresh and citrus scent is perfectly for those warmer days. Notes of black pepper, strawberry and guaiac wood allow this scent to sit gently on the skin with offending the noses of those around you.
Written by Tom Loughran
The post The Best Of Zara Fragrances first appeared on Mens Fashion Magazine.
——————–
By: MFM
Title: The Best Of Zara Fragrances
Sourced From: www.mensfashionmagazine.com/the-best-of-zara-fragrances
Published Date: Fri, 22 Jul 2022 09:57:00 +0000
Did you miss our previous article…
https://www.mansbrand.com/how-to-teach-a-child-to-shave-a-guide-to-men/