One of the many lessons this year has taught us is a renewed appreciation for life's little essentials. It's always good to feel clean and refreshed but the humble shower is less about removing the daily grime these days and more about 10 minutes of relative calm and relaxation in a stressful world. Washing away the day has become more about self care than sanitation, especially with less frequent holidays, massages and therapies.
Whether you call it the body wash or shower gel, the liquid-gel has become an omnipresent part of the modern gentleman's grooming routine, alongside other essentials such as a cleansing face wash and regenerative eye cream.
The best of the new generation of liquid body cleansers boast superlative fragrances, made with natural ingredients and without unnecessary chemicals, served in recycled plastic or recyclable aluminium – all without any creatures being harmed in the process – and can elevate your daily ablutions to a more enjoyable level.
It's important to note that body-specific shower gels shouldn't be used on the face or hair on a daily basis. Instead, opt for a specialist face wash and haircare products designed specifically for the unique needs of each.
pH-Balance
The choice of shower gels for men is of course endless, but what makes a good body wash? Nearly all shower gels on the market today are pH-balanced. Why is this important? A poorly-balanced skin pH can result in wrinkles, inflammation, sensitivity and even acne, as a result of a disrupted skin barrier (also known as the acid mantle).
This barrier is crucial as it's responsible for keeping in lipids and moisture while blocking germs, pollution, toxins and bacteria. In an ideal world your skin would be slightly acidic, at a 5.5 pH-balance for optimal performance. If skin is too alkaline it becomes dry and sensitive. Conversely, too acidic means breakouts of spots and acne. For reference, a lower number indicates increasing acidity whereas a higher number indicates increased alkalinity.
Furthermore, with the basics of pH-balance covered, shower gels differentiate themselves using a variety of ingredients from herbal-infusions to aromatherapy benefits. Many contain menthol, particularly within the men's bath and body sphere, due to its stimulating and refreshing scent.
Naturally, many brands experiment with aroma, lather and texture. Having sampled everything under the sun here at Ape, the variance in quality is quite startling. Especially relevant are affordable supermarket brands, which often include cheaper, potentially skin-irritating ingredients – so it's a good idea to pay a little more.
Key Ingredients To Swerve
Sulphates/ SLS
Sulphates are not harmful but they can strip the skin of vital moisture. Often listed as sodium laureth – or lauryl – sulphate, sulphate or SLS, ALS or SLES, these chemicals are responsible for creating lather and suds aplenty, but they do not contribute to the cleansing action. Sulphate-free body washes cleanse just as efficiently, with less foam, often using alternative ingredients derived from coconuts. Go sulphate- free if you have very dry/sensitive or eczema/dermatitis-prone skin and you may see an improvement.
Ethanolamine
Commonly listed under DEA (Diethanolamine), MEA (Monoethanolamine) and TEA (Triethanolamine), Ethanolamine is a potential allergen and irritant which can persist in the human body. It's more common in hair products with bleach – and not particularly kind to hair – but it can pop up in shower gels from time to time.
Phthalates
Typically found in fragrances, phthalates are endocrine disrupters that can potentially interfere with hormones, impacting fertility.
Parabens
Parabens are artificial antimicrobial preservatives used to extend the shelf life and purity of personal care products by reducing the growth of bacteria and mould. Also called isoproplyparaben, propylparaben, butylparaben and isobutylparaben, methylparaben. These are known endocrine disrupters that can potentially interfere with hormones, impacting fertility.
Quaternium-15
Otherwise known as formaldehyde, unsurprisingly, this can cause major irritation to the skin.
Triclosan
Formerly found in some anti-bacterial-based body wash, hand wash and toothpaste, Triclosan persists in the environment and hinders our wider fight against antibiotic resistance.
The Best Men's Shower Gels & Body Washes
A good men's shower gel should look after the skin, smell fantastic, be highly concentrated, incorporate high-quality ingredients and generally offer good value for money. So, without further ado, it's time to lather up with the best body washes the male grooming world has to offer right now.
Quick Jump: Affordable | Mid-Priced | Luxury
Affordable
Harry's Redwood Shower Gel
Subscription king Harry's has added a new fragrance, Redwood, to its popular range of affordable shower gels (we love the Shiso and Fig too). Inspired by the soaring cedar and sequoia forests of the North Pacific coastline, it's ideal for some indoor shinrin yoko or forest bathing.
Sulphate and paraben free, this fresh, woody cleanser will wash away dirt and grime, without leaving the skin feeling dry or your bank balance too low.
Buy now at Target
Bulldog Black Pepper & Vetiver Shower Gel
If you want more bang for your buck and don't want to compromise on quality, Bulldog gives arguably the best value for money with its generous 500ml, bulk-buy body cleansers. The fragrance is 100% natural, the bottle is recycled plastic and proving that you don't need to spend mega bucks to live a greener lifestyle.
This earthy, spicy scent of peppery vetiver will help warm your cockles on a cold winter's morning or evening.
Buy now at Amazon
Horace Orange Blossom & Petitgrain Shower Gel
Do you love the smell of Tom Ford's Neroli Portofino but don't fancy the price quite as much? We're here to tell you can waft around in a similar scent for a fraction of the price, from a user-friendly bottle (because that awkward square TF one is anything but). The all-natural ingredients list includes petit grain essential oil and witch hazel water to calm red or irritated skin.
Buy now at Horace
The Ritual of Hammam Foaming Shower Gel
Steam room off limits due to social distancing? Or just don't fancy sitting in a sweatbox next to a semi-naked stranger? Recreate a rejuvenating spa experience in the comfort of your own home with this hammam-inspired foaming shower gel. The scent of rosemary and eucalyptus oil help conjure the purifying, reinvigorating sensations of a pore opening, lung clearing steam clean.
Buy now at LookFantastic
Triumph & Disaster YLF Body Wash
A one-for-all cleanser dubbed 'Your Little Friend' because it can be used on the hair, body and even sub for shaving foam if you're caught short. YLF contains skin helping argan oil, green tea, kawakawa extract and vitamin E with a very light scent of sandalwood and neroli.
Buy now at Mankind
Korres Guava Shower Gel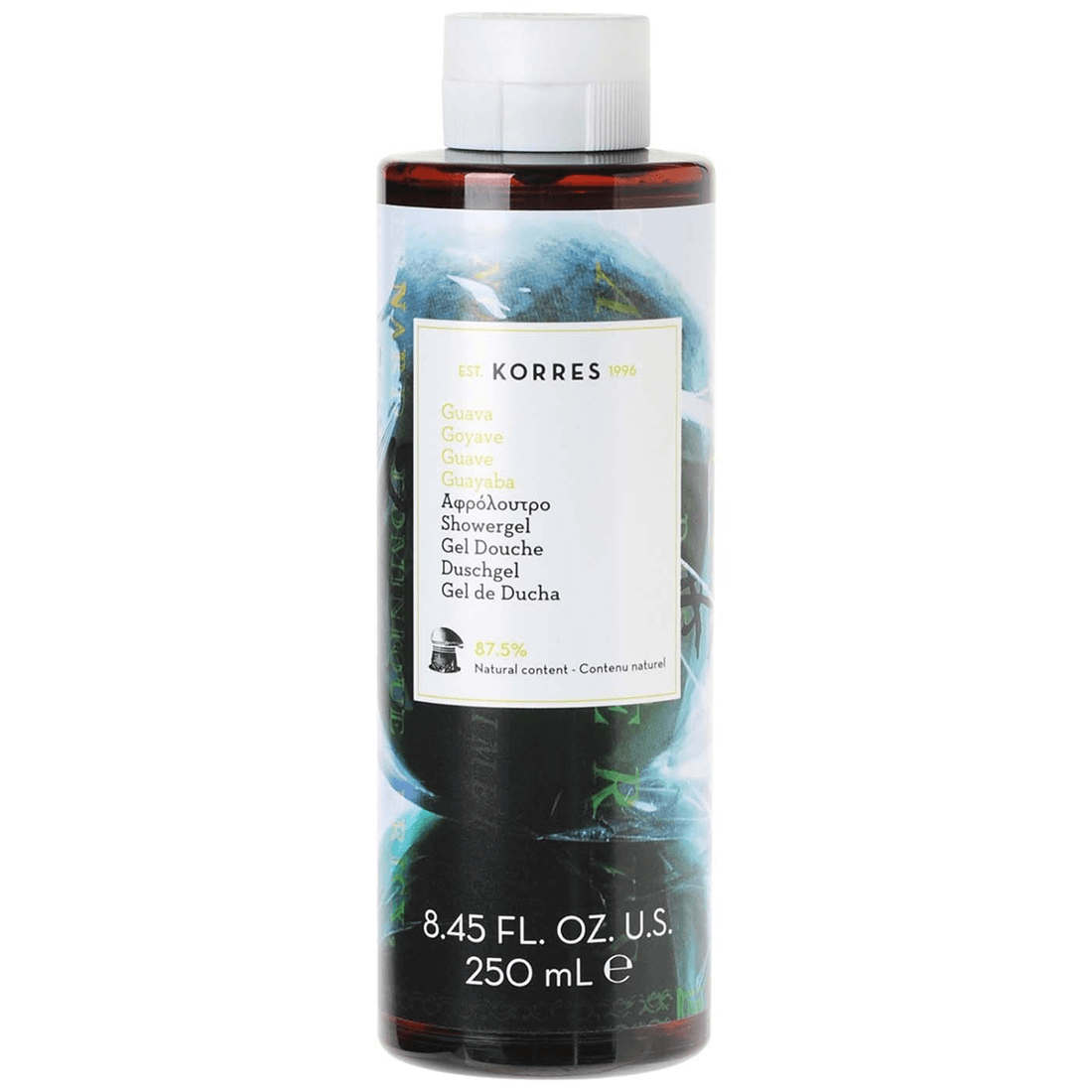 Delivering a deliciously invigorating blend of tropical fruits, this creamy-foam shower gel featuring wheat proteins and Althea extract helps maintain the skin's natural moisture levels and leaves you feeling fresher than a Starburst.
Buy now at Amazon
Mid-Priced
Molton Brown Re-Charge Black Pepper Shower Gel
Molton Brown's best-selling shower gel and it's easy to see why – it offers an incredibly manly scent with a rich and satisfying lather. No surprise, then, that it's popular with men across the globe and the winner of countless industry awards. The price is more than reasonable when you consider it has a concentrated formula which lasts a long, long time. Use sparingly.
Buy now at Amazon
Malin+Goetz Rum Body Wash
This Rum Body (+ Hand) Wash, from science-meets-nature experts Malin+Goetz, is designed to gently yet effectively purify and balance all skin types. The foaming cleansing gel synthesises 0.5% warm Dark Rum EDT fragrance with protein amino acids and natural glycerin, leaving skin thoroughly cleansed, hydrated and smelling fantastic.
It produces a rich lather and rinses off without residue whilst being non-irritating, drying or stripping the skin, reducing epidermal stress.
Buy now at MR PORTER
Baxter of California Invigorating Body Wash
A super-hydrating shower gel that gently washes away dirt and debris without stripping skin of moisture. Featuring bracing notes of zesty Italian lime, bergamot and pomegranate, it's great for jump-starting your morning routine or post-workout showers.
Buy now at MR PORTER
Kiehl's Bath And Shower Liquid Body Cleanser
A truly masculine-smelling shower gel from Manhattan's oldest pharmacy (now part of L'Oreal). A rich texture which produces a generous lather. This smells like the gentlemen of yesteryear, very manly.
Buy now at Kiehl's
retaW Fragrance Shampoo For Body And Soul
Anything with "a fragrance for your body and soul" in the product title will instantly capture our attention. Combine this with the richest lather you've ever seen, retaW's spicy NATURAL MYSTIC scent, potent organic ingredients and you get an incredible shower gel worthy of any bathroom.
Buy now at END.
Heinrich Barth Skin Softening Body Cleanser No. 04 Dakar
Named after the prominent 19th Century German explorer of Africa, Heinrich Barth is a worthy newcomer to our shower stable. Made in Italy and free from PEGs, SLES, parabens, silicone and mineral oils, this tightly edited skincare range is predominantly unscented, with the exception of two amazing shower gels, named after exotic destinations: Mykynos and Dakar. The latter is a warming cocktail of tropical fruits and plants with extracts of vanilla, banana, mango, pineapple, papaya leaf and aloe.
Buy now at Wolf & Badger
Scandinavisk SKOG Body Wash
Danish brand Scandinavisk makes a range of body washes inspired by the natural wonders of the Nordic countries: Fjord, Oy, Hav, Ro and Skog. It sounds like a name given to flat-pack furniture, but skog means "forest" in Swedish/ Norwegian and it has a clean, crisp scent of pine needles, fir cones, birch sap and woodland lily of the valley.
Scandinavisk uses recyclable bioplastic packaging made from sustainably farmed sugar cane, and creates fragrances using local spring water and certified vegan and organic natural ingredients.
Buy now at Amazon
Luxury
Aēsop Citrus Melange Body Cleanser
The defacto signature of stylish bathrooms everywhere, Aesop has a new body cleanser with a pure medley of citrus, garnered from petit grain, lemon and grapefruit rind. Zingy and zesty – it's refreshing like a glass of pressed OJ with a side of grapefruit first thing in the morning.
Buy now at FeelUnique
Acqua Di Parma x La DoubleJ Blu Mediterraneo Shower Mousse Fico di Amalfi
A collaboration between Italy's finest fragrance house and swanky home label La DoubleJ was always a going to be a match made in interiors heaven. Known for its bold prints, the La DoubleJ takeover of the Blu Mediterraneo range is an Instagram-friendly bath and body range for home decor fans everywhere.
Made with olive, sweet almond and grape seed oils and a lush, fig laden scent, this soft shower mousse is a mental mini break to the steep cliffs of the Amalfi Coast.
Buy now at John Lewis
Jo Malone London Cypress & Grapevine Exfoliating Shower Gel
Never one to shy away from superlative shower experiences, Jo Malone has an exfoliating shower gel, an ancillary to new intense scent, Cypress & Grapevine. Smooth the skin with extract of bamboo and smell fresh with this warm, woody chypre in the style of classic masculine cologne.
Buy now at John Lewis
DS & Durga Body Wash Rose Atlantic
New York perfumers, DS & Durga, has branched out into body care recently, bringing its superior scents to three fragranced body cleansers; Debaser, Bowmakers and Rose Atlantic. Rose Atlantic harnesses lemon oil, salt water and rose accord for pure, East Coast beach vibes. It contains argan oil, Vitamin C and aloe to help keep skin happy and healthy.
Buy now at MR PORTER
Sisley Eau de Campagne Gentle Bath and Shower Gel
Created by renowned perfumer Jean-Claude Ellena (of Terre D'Hermès fame), Eau de Campagne is a transportive scent that conjures up rolling fields of lush green; lemon, tomato leaf, basil and oakmoss – it's like shelling broad beans in a summer garden. Sales have been strong since 1974 and still smells modern. Uplifting and gender neutral, it's steep but worth it to smell this great – if only for those special occasions.
Buy now at AllBeauty
Maison Francis Kurkdjian Masculin Pluriel Scented Shower Cream
When you just want to douse yourself in a fabulous scent, may we suggest this scented shower cream from top perfumer, Maison Francis Kurkdjian. This woody, leathery fougére is a very sophisticated take on a classic barbershop aroma, with an effortlessly luxury look.
Buy now at John Lewis
The post Lather Up: The Best Men's Shower Gels & Body Washes For Every Budget appeared first on Ape to Gentleman.
——————–
By: Graham Jones
Title: Lather Up: The Best Men's Shower Gels & Body Washes For Every Budget
Sourced From: www.apetogentleman.com/top-10-shower-gels-for-men/?utm_source=rss&utm_medium=rss&utm_campaign=top-10-shower-gels-for-men
Published Date: Wed, 07 Oct 2020 08:00:06 +0000
Did you miss our previous article…
https://www.mansbrand.com/mens-winter-style-guide-7-cold-weather-mistakes-to-avoid/
How to wear your watch correctly
As much as you won't like hearing this, you're probably wearing your watch wrong.
It's not your fault; you may have never been taught how to wear a watch properly. After all, there is more than one way to wear a watch.
But how do you know which way is the right way?
Don't worry, gents; as always, I've got you covered. I'm here with the best way to wear your favorite timepiece properly and look as stylish as ever.
In today's article, I'll be covering:
Origins Of The Wrist Watch
What Wrist Do You Wear A Watch On?
Should You Wear Your Watch Facing Inward Or Outward?
The Stylish Way To Wear A Watch
#1 Origins Of The Wrist Watch
When it comes to wearing a watch correctly, it's important to note why the wristwatch came about in the first place.
Dating back to the 1800s, the first watches modified to be worn on the wrist were primarily worn by women as accessories. One of the earliest was created by Patek Philippe as a fashion accessory.
At the start of the 20th century, watchmakers became intrigued about using a wrist-worn timepiece for men in the military. They believed it would help them tell time quickly while on the battlefield.
Watchmakers started modifying pocket watches to fit on a bracelet worn on the wrist. Men would not wear the first iteration of the modern wristwatch until well into the 20th century.
Then developed as a 'trench watch' for military use, the earliest wrist watches offered something the pocket watch didn't have – convenience.
After the wristwatch became less of a fashion accessory and more of a functional tool, watchmakers would spend the next century modifying them into the modern wristwatches we enjoy today.
#2 What Wrist Do You Wear A Watch On?
The age-old question: what wrist to wear a watch on? The answer – it depends.
The reason it depends is that since the creation of the wristwatch, men have mostly worn their watch on their non-dominant wrist. And since most people are right-handed, you would wear your watch on your left wrist.
But this isn't always the correct answer. You may want to wear your watch on the right wrist if you are left-handed. But you may also want to wear it on your dominant hand.
So how do you know for sure?
The most significant benefit of wearing your watch on your non-dominant hand is that you can quickly put the watch on and navigate the dial more efficiently than with your non-dominant hand.
Wearing your watch on your non-dominant hand is less likely to damage the watch as you tend to do more with your dominant hand. If you were to wear it on your dominant hand, you're more likely to scratch or ding the watch than on your non-dominant hand.
So the rule of thumb here is to wear your watch on your non-dominant hand for the best way to navigate and protect your watch.
#3 Should You Wear Your Watch Facing Inward Or Outward?
The next question is, why would a man wear his watch facing inward on his wrist instead of outward?
This trend is seen primarily in individuals who need to check their watch frequently and in the most efficient way possible. Among the many reasons you should wear a watch, one of the most common is to support you in your profession.
You will see men in the military do this, as it's easier and prevents sun glare better than when it's on the outside of the wrist. It also offers faster convenience to other tools on the watch in addition to the time.
Another reason you may want to wear your watch facing inward is that it can help protect your watch from scratches and dings. Again, this is just a preference.
But you're a stylish guy looking for the best way to wear his watch. What should you do?
The answer here is to wear it facing outward, as that is the most common way to wear a wristwatch. It shows off your timepiece that you love while also still being functional.
Unless you're in a profession where you need to check your watch quickly while managing other tasks, the best way is to have your watch facing outward. After all, you probably didn't spend money on that beautiful timepiece to hide its character.
#4 The Stylish Way To Wear A Watch
Now it's time to find out exactly how to wear a watch in the most stylish way a guy can.
Assuming you've selected the right size watch for your wrist, the first thing you want to do is figure out if you'll be wearing your watch on your right or left wrist.
As mentioned above, traditionally, the watch is worn on your non-dominant wrist. So if you're right-handed, this means wearing your watch on your left wrist. For left-handed guys, this means your right wrist.
After you figure that out, it's quite easy. The first thing you want to do is locate your wrist bone.
You want to wear your watch face up just above your wrist bone. If done correctly, your watch should slightly peek out from under the cuffs of your shirt when wearing long sleeves.
Next, you want to tighten the strap so it's loose enough to be comfortable. You don't want it so loose it can spin freely around your wrist. You also don't want it too tight, or it will feel uncomfortable, especially when you bend your wrist.
After doing this correctly, you'll be wearing a watch in the most stylish way possible.
There you have it, gents.
Now you no longer have to worry about wearing your watch incorrectly.
There is more than one way to wear a watch, so find what's most comfortable for you personally, and rock your favorite timepiece accordingly.
If you want to take your watch knowledge to the next level, check out this article I wrote about the difference between quartz and mechanical watches.
The post How To Wear A Watch The Right Way appeared first on Real Men Real Style.
——————–
By: Antonio
Title: How To Wear A Watch The Right Way
Sourced From: www.realmenrealstyle.com/wear-watch-right-way/
Published Date: Sat, 30 Jul 2022 10:19:42 +0000
Did you miss our previous article…
https://www.mansbrand.com/fall-capsule-wardrobe-preparation-buy-now-and-get/
Fall Capsule Wardrobe Preparation (Buy Now and Get $$$)
We've all been there – fall comes around, and you open your closet only to find you have nothing but polos and shorts.
So what's a stylish guy to do? Pay a premium to build an entire fall wardrobe last minute? Sure, if you're loaded. But not every guy is that lucky!
Don't worry; as ever, I've got you covered. In today's article, I'll show you how to get the best bang for your buck when building your fall capsule wardrobe.
We'll be covering:
What Are The Advantages Of A Capsule Wardrobe?
How Do You Build A Fall Capsule Wardrobe?
Where Can You Find Deals On Fall Clothing?
What Are The Best Fall Capsule Wardrobe Essentials?
#1 What Are The Advantages Of A Capsule Wardrobe?
One of the most common headaches guys run into in their closet is having too many clothing options to choose from but not enough of the right options.
While more options aren't bad, they can be overwhelming, especially when you rarely wear most items. This is where building a capsule wardrobe comes into play.
A capsule wardrobe is a limited selection of clothing items that complement each other. This means you can buy a smaller selection of items and create a larger number of outfits.
This is crucial to understand because most guys don't have an unlimited budget for buying clothes. A capsule wardrobe allows you to purchase and use items frequently with little redundancy.
But where do you start in building your fall capsule wardrobe?
#2 How Do You Build A Fall Capsule Wardrobe?
After you have put together the perfect capsule wardrobe, you can start to add a few fall-specific items. This is done by adding a few staple pieces that complement what you already have.
For most, fall offers mild temperatures mixed with slightly warmer temperatures.
This means that layering will be of the utmost importance because you may leave the house needing a jacket, but it might be warm enough by midday to sport only the t-shirt underneath.
Start with the basics when building your fall capsule wardrobe and add pieces accordingly.
Keep It Simple
Fall is primetime for layering, so you only need a few outer layers and should focus more on the innermost layers.
You want to make sure that interchangeability is at the top of your list when it comes to your wardrobe. Everything should complement each other for ease of use.
With that said, having a few staples and adding additional items as you change seasons is essential.
For this reason, ensure you have the following items in your fall capsule wardrobe:
A dark three-piece suit
A light-colored tweed blazer
A leather bomber or biker jacket
An overcoat (dark or light)
A formal button-up shirt (white)
2 casual button-up shirts (flannel or chambray, you choose)
2 sweaters (1 shawl, 1 crew neck)
2 t-shirts (1 white, 1 black,)
2 pairs of Jeans (1 dark, 1 light)
2 pairs of slacks/chinos (1 dark, 1 light)
2 belts (1 black, 1 brown)
1 pair of black dress shoes
1 pair of brown oxfords (leather or suede, you decide)
1 pair of sneakers (plain white or brown)
1 pair of military boots (black or brown)
When it comes to accessories like watches, scarves, or gloves, you can use what you have as most men won't need all of them, so I won't count them in.
#3 Where Can You Find Deals On Fall Clothing?
As it is the middle of summer, fall will be approaching quickly.
Now is a great time to snag up some of last year's sale items at department stores as they usually have sales on previous season items. By now, most men aren't thinking about what to wear in the fall.
While you still might be able to find good deals on last year's fall items, it's usually the most optimal time to purchase these items after the season has ended. This is when retailers try hard to clear space and make room for the next season's clothing.
When they do this, it is a great time to get excellent deals on items that have just gone out of season.
Another great option to buy men's clothing is online at your favorite retailers, as they will often have sales and discounts on items they have in their online inventory but are not yet in prime season.
The most expensive items in your fall capsule wardrobe are the ones you want to focus on, as you can often save a significant amount of money out of season for them.
These big ticket items include:
Your dark three-piece suit and blazer
Overcoats and jackets
Dress shoes and sneakers
Boots
These items will be some of the most expensive items and can be found discounted out of season. Put these at the forefront of your fall capsule wardrobe search.
#4 What Are The Best Fall Capsule Wardrobe Essentials?
You want to adhere to a few staples when building your fall capsule wardrobe.
Since fall weather can vary, layering will be essential. These few items are crucial as mainstays that can be layered with other items within your wardrobe.
For example, if you experience a rather chilly day in fall and need to wear a suit, an overcoat is essential as that outermost layer because you can simply remove it when you no longer need it.
When it comes to the concept of layering within your fall capsule wardrobe, you want to make sure you nail these following items.
Overcoats
Having a good overcoat to complement your fall capsule wardrobe is crucial.
The overcoat acts as the outermost layer and will be removed whenever you go indoors. This makes for a great option as you can wear it with anything as it offers excellent versatility.
When searching for the perfect overcoat, it's essential to know your size as they usually come in sizes of suit jackets, not regular sizing. After you've nailed the size, focus on color.
Dark-colored overcoats tend to be the most versatile. However, a light camel color can work as well. Stay away from patterns with overcoats as the goal is to be as versatile as possible.
Leather Jackets
A good leather jacket goes a long way. You can choose a leather biker jacket or a leather bomber; it's your call.
Biker jackets can be slightly harder to pull off as most of the time, they will have a larger and more aggressive collar, but they still look great.
A leather bomber jacket is an excellent option because it looks great on all body types and often has more options than biker jackets.
For color, opt for black or dark brown, as that gives you the most versatility with other items in your fall capsule wardrobe.
Sweaters
Sweaters are to fall, what t-shirts are for summer. This means they are a critical piece as they are season specific and offer great versatility when it comes to layering.
So how do you find the perfect sweater?
You want options, so have a couple of different collar choices to give yourself the most bang for your buck.
Having a shawl neck sweater and a crew neck sweater ensures you have all your bases covered.
Make sure you choose neutral tones such as greys, creams, and tans for color. This ensures maximum versatility with other items within your wardrobe and gives you the most options.
That's it, gents.
To learn more about how versatile this concept of capsule wardrobes can be, check out how I turned 16 pieces of clothing into 256 outfits.
The post Preparing Your Fall Capsule Wardrobe (Buy Now And Save $$$) appeared first on Real Men Real Style.
——————–
By: Antonio
Title: Preparing Your Fall Capsule Wardrobe (Buy Now And Save $$$)
Sourced From: www.realmenrealstyle.com/fall-capsule-wardrobe/
Published Date: Thu, 28 Jul 2022 23:59:00 +0000
We all know of Zara and I'm pretty sure the majority of us own at least one piece from them, but I'm not here to talk about their reasonably priced clothing, I'm here for their fragrance.
Not quite a hidden gem but I don't feel that they vast range and high quality fragrance that they create is given enough air time, I'm about to change that. The fragrance game is massive at the moment, everyone from the big fashion houses all the way to footballers have a scent on the market and they all carry a hefty price tag, with some of the bigger hitters asking in excess of
£100 for 50ml.
Zara clearly understand the need for a great fragrance but also appreciate not everything has to be overly expensive. I've been lucky enough to sample my fair share over the years and wanted to share with you what I feel are some of their strongest.
Tobacco Collective 100ml – £16.99
This is one of my absolute favourites, it works perfectly as an everyday scent. The initial smell is strong and masculine but with undertones of vanilla bourbon help to soften it slightly.
For Him 100ml – £22.99
My current daily spray, its warm, modern and intense. It just so happens to be the perfect blend of three of my favourite scents, bergamot, cardamom and sandalwood. It's strong yet light, never over powering and leaves a wonderful trail.
Florence 100ml – £16.24
Summer calls for a fresh fragrance and I cannot recommend this highly enough, its light, fresh and citrus scent is perfectly for those warmer days. Notes of black pepper, strawberry and guaiac wood allow this scent to sit gently on the skin with offending the noses of those around you.
Written by Tom Loughran
The post The Best Of Zara Fragrances first appeared on Mens Fashion Magazine.
——————–
By: MFM
Title: The Best Of Zara Fragrances
Sourced From: www.mensfashionmagazine.com/the-best-of-zara-fragrances
Published Date: Fri, 22 Jul 2022 09:57:00 +0000
Did you miss our previous article…
https://www.mansbrand.com/how-to-teach-a-child-to-shave-a-guide-to-men/