'Lucky man!': AFL star Wayne Milera announces elopement to long-time partner Nina Starkey
Adelaide Crows defender Wayne Milera and his long-term partner Nina Starkey have officially tied the knot.
The AFL star announced the news on Instagram last night, sharing a carousel of stunning snaps of the intimate November 1 ceremony.
The post included photos of the pair – along with a celebrant – standing on a cliff edge overlooking the water while being wed.
READ MORE: Matthew McConaughey's son shares birthday tribute to his dad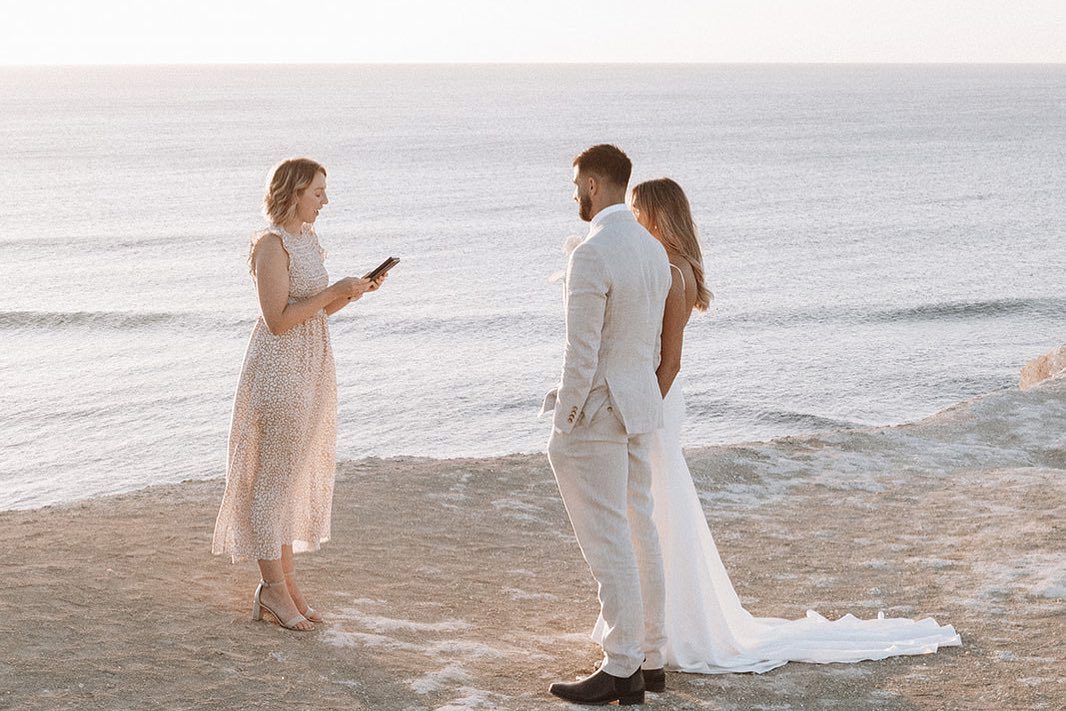 "Lucky man!" Milera captioned the photos which included snaps of the star and his new wife sharing cake and embracing each other by the sea.
Starkey herself shared some snaps to her own Instagram account, captioning the post "1.11.23 💍😍❤️".
Although the pair decided not to wed in front of a crowd, there was no lack of love surrounding the duo, with many friends and fans rushing to the comments to congratulate them.
For a daily dose of 9Honey, subscribe to our newsletter here
"I couldn't be happier for you my brother, congratulations I love you all ALWAYS," one wrote.
"So happy for you both love birds congratulations let this beautiful chapter called marriage begin," another added.
READ MORE: Andy Cohen reveals why he snubbed Meghan Markle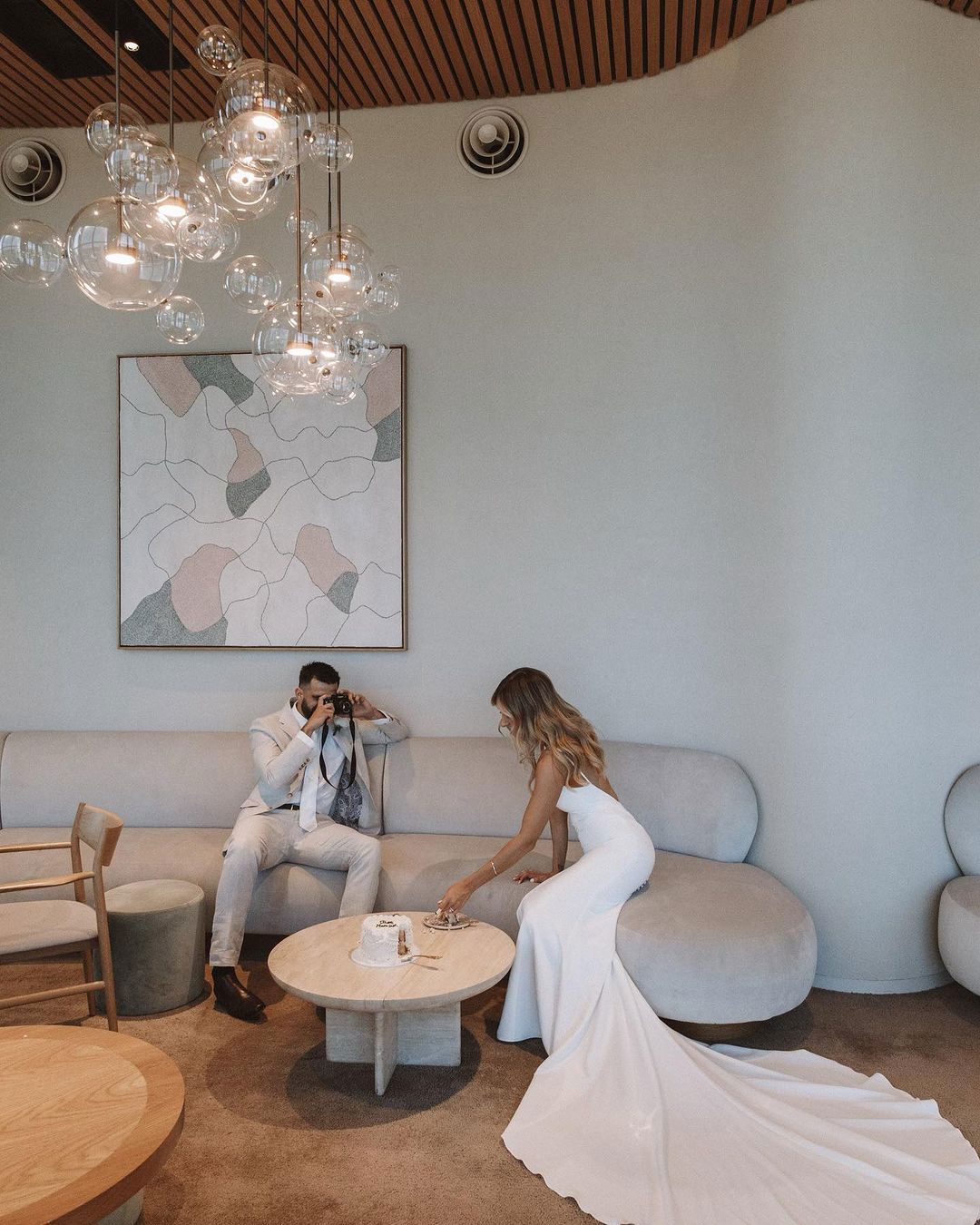 Milera proposed to Starkey in July last year, a year after the couple welcomed their first child Carter in March 2021.
""YES" it is!" Milera announced on Instagram at the time alongside a photo of Starkey showing off a glorious ring.
"Couldn't imagine my life without you!" he continued.
"So excited about the next chapter we are about to enter. Love you so much."
READ MORE: Inside F1 star Max Verstappen's 'magical' love story
https://www.instagram.com/p/CfivFCxJ3cj/?img_index=1
Milera and Starkey often post photos of each other and their son, sharing sweet tributes and messages of support for each other.
"You continue to amaze me on how beautiful, caring and loving you are!" Milera wrote of Starkey on her birthday in January.
————————————
Title: 'Lucky man!': AFL star Wayne Milera announces elopement to long-time partner Nina Starkey
Sourced From: celebrity.nine.com.au/latest/wayne-milera-and-nina-starkey-elopement-afl-adelaide-crows/e598440b-d0fd-4e75-879b-033814425cd5
Published Date: Mon, 06 Nov 2023 02:11:00 GMT
Read More
This Comedian Was Awarded the Only Wooden Oscar Statue
The Academy Awards' Oscars are the most esteemed prizes in Hollywood, with the statuette, a 1-foot-8 inch tall, 24-karat gold Adonis with a name of much debated origin, being the ultimate prize of everyone in Hollywood. While the movies may change, the Oscar itself has not… with one notable exception. It was an Oscar made of wood, with a movable mouth, handed out as an Honorary Oscar in 1937. At first glance, it seems like an odd medium to craft an Oscar out of, let alone distribute at a ceremony where every other winner gets a "normal" golden Oscar. But then, the recipient was never quite like the others, opting to work with his sidekick while entertaining millions. The recipient of the wooden Oscar was famed ventriloquist Edgar Bergen, and the special Oscar was the perfect way to celebrate his work.
———————–
By: Lloyd Farley
Title: This Comedian Was Awarded the Only Wooden Oscar Statue
Sourced From: collider.com/edgar-bergen-oscars/
Published Date: Tue, 28 Nov 2023 01:45:14 GMT
Read More
Did you miss our previous article…
https://mansbrand.com/remember-that-time-sean-astin-tried-to-direct-a-fantastic-four-movie/
Remember That Time Sean Astin Tried To Direct a 'Fantastic Four' Movie?
As we are reaching the end of 2023, casting rumors around the MCU's Fantastic Four movie are swirling in the air, and the Fox Marvel movie characters are reportedly returning for Deadpool 3, there has never been a more appropriate time to look back on the cinematic history of Marvel's first family. At this point, The Fantastic Four has been brought to life by numerous filmmakers. Tim Story gave us the original duology in the mid-2000s, Josh Trank bamboozled us with the production mishap that was Fant4stic, and even Roger Corman produced an unofficially released live-action film in the mid-'90s. Simply put, this group of characters are no strangers to moviegoers. But what about the films that were never made? What about Sean Astin's Fantastic Four?
———————–
By: Samuel Williamson
Title: Remember That Time Sean Astin Tried To Direct a 'Fantastic Four' Movie?
Sourced From: collider.com/sean-astin-fantastic-four-movie/
Published Date: Tue, 28 Nov 2023 13:00:14 GMT
Read More
Did you miss our previous article…
https://mansbrand.com/may-december-maestro-we-take-on-two-awards-buzzed-december-releases/
'May December,' 'Maestro:' We Take On Two Awards-Buzzed December Releases

Two huge awards-buzzed films will be released in the month of December, and we've seen them both! Todd Haynes' May December stars Natalie Portman and Julianne Moore in a camp drama that explores the aftermath of an illicit love affair between an adult woman (Moore) and a teenage boy, played as an adult by Charles […]
———————–
By: Clarence Moye
Title: 'May December,' 'Maestro:' We Take On Two Awards-Buzzed December Releases
Sourced From: www.awardsdaily.com/2023/11/27/wcpep439/
Published Date: Tue, 28 Nov 2023 02:23:18 +0000
Read More