Understanding Men's Dress Shoes isn't difficult.
Like most things in life, if you break it up into sections and apply a few guidelines it turns out to be pretty simple.
This guide is an overview of men's dress shoe formality meant to help you "generally" understand shoe types, the levels of dress, and what shoes can be worn with what style clothing.
Balmoral (Bal)
The dressiest oxford men's footwear selection. Sleek, refined, most often sold in black or brown but appropriate in any dark conservative color.
Style variations include plain toe, cap toe, brogue, and whole cut.
Appropriate for a suit, if casually styled works with sports jackets and odd trousers. Do not combine with jeans or chinos.
Every man who owns a suit should own a pair of classic oxfords that are minimally styled. If you wear suits daily you should rotate three pairs or more.
Men's Bluchers
Less dressy than Bal oxfords, identified by lacing system sewn outside of the shoe.
Well dressed men know these can be worn with a suit, but are better with an odd jacket and trousers. Can be worn with jeans assuming they are casually styled
Style variations include cap toe, wing tip, brogue, wide variation in materials like suede and mixed leathers.
Common variations are saddle shoes, derbies, spectators, and laced moccasins
A classic shoe that should serve as your 2nd or a 3rd pair depending on needs -the more extreme the styling, the less versatile the shoe.
Men's Dress Boots
Dress boots are meant to be worn when the weather dictates protecting the ankles from water, mud, and snow -in levels of formality they should not be worn with a suit, although they can if the weather calls for it. If wearing under fair weather conditions, boots should be worn under the rules applicable to a pair of informal bluchers.
Style variations include cap toe, wing tip, brogues, wide variation in materials especially water resistant leather cuts.
Appropriate for a sports jacket and odd trousers or jeans. Only wear with a suit in rainy/snowy weather.
A man should consider boots if he is exposed to conditions that warrant their wear -otherwise, reserve them for your 4th to 5thpair.
Men's Loafers or Slip-ons
The least dressy choice, they are a product of comfort and convenience.
Only with a suit when traveling, they are at home with a casual odd jacket and trousers minus necktie. Can be worn with jeans or chinos as well.
Style variations are wide -usually the more delicate and closer resemblance to oxfords the more dressy. Also, the greater the exposure of socks, the less formal.
Common variations are monk straps, tassel loafers, penny loafers, unlaced moccasins.
Loafers are a traveler's best friend – easy to slip on and off when going through airport security or when relaxing on the plane,I recommend they be the 2nd pair a traveling man owns or the 3rd pair for a man who like to look sharp around town in jeans and button down shirt.
Click below to watch the video – Overview of Men's Leather Shoes:
The post Men's Leather Dress Shoe Styles appeared first on Real Men Real Style.
——————–
By: Antonio Centeno
Title: Men's Leather Dress Shoe Styles
Sourced From: www.realmenrealstyle.com/dress-shoes-in-60-seconds/
Published Date: Tue, 07 Nov 2023 08:38:54 +0000
Best Men's Fragrance Gift Sets For Christmas 2023
If you're stuck for a gift to buy a loved one, you can't go wrong with a fragrance gift set. Whether you play it safe with their signature scent or opt for something a bit more left field, a cologne or eau de toilette/parfum gift set is a winner every time.
Naturally, there are thousands out there to choose from, and the bundles vary. Some sets come with a 100ml bottle and a smaller travel option, whereas others feature a full grooming kit, complete with deodorant, soap and shower gel as well as a bottle of perfume.
For fragrance lovers, sets are often more exciting than a single bottle. They allow you to try out a smaller-sized cologne at a discount, while 'fragrance wardrobe' sets come with multiple different smells in small, travel-friendly sizes. These offer an insight into a brand's full fragrance roster, enabling the recipient to pick and choose before committing to a more expensive full-size bottle.
So, whether you're scrambling for a last-minute gift, or simply want to treat yourself to something new, these are the best (smelling) fragrance gift sets for men this year.
Laboratory Perfumes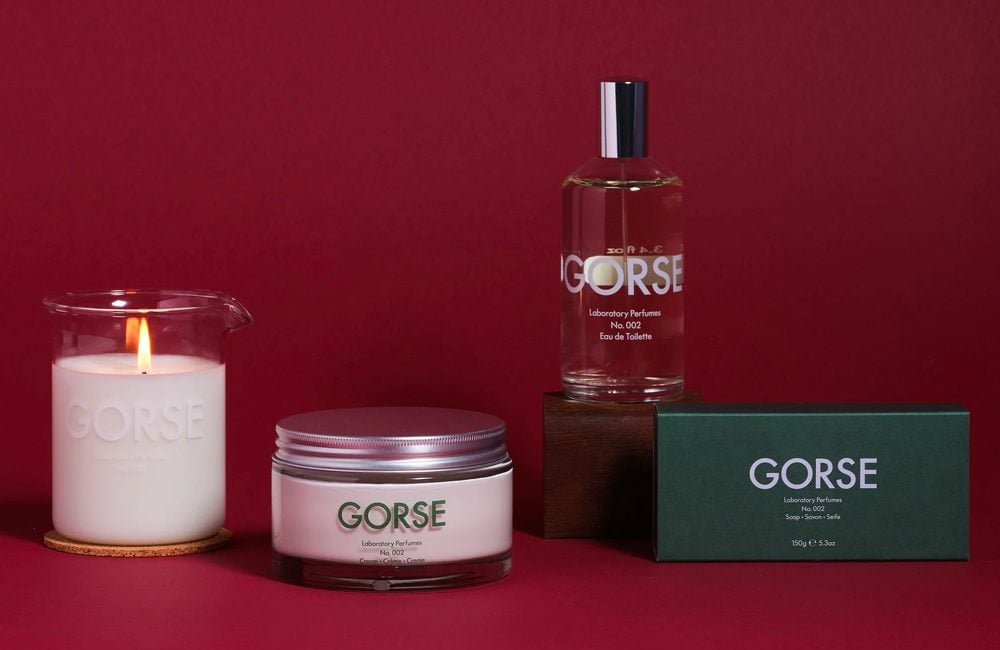 Designed to evoke the coconut-infused scent of the gorse flower found in Provence, this Laboratory set is perfect for those after a light, summery fragrance.
It comes with a 100ml eau de toilette, a candle, skin cream and a bar of soap, all blended with the spicy citrus hit of the brand's best-selling scent.
Buy now at Laboratory Perfumes
Aqua di Parma
Colonia is Aqua di Parma's classic scent and one that every man will love. Easy to wear every day, it's fresh and fruity, with Sicilian citrus combining with lavender and woody vetiver and patchouli.
Presented in a winter-themed box, this set comes with an eau de cologne as well as a matching shower gel and deodorant spray.
Buy now at Cult Beauty
Jo Malone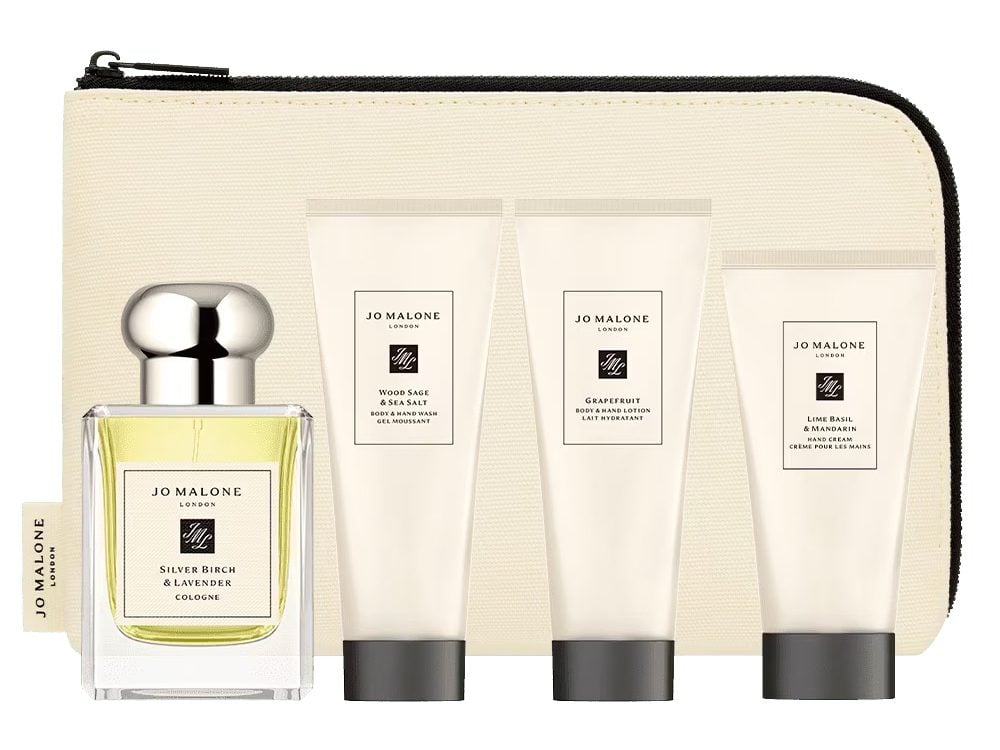 Jo Malone might be better known for its women's range, but the men's edit is just as good. Coming in a handy travel bag, this set is made up of the brand's Silver Birch & Lavender cologne, as well as an exfoliating shower gel, a woody hand wash and a grapefruit body and hand lotion.
Buy now at Jo Malone
Ralph Lauren
Any seasoned traveller will appreciate this Ralph Lauren twin set, which comes with both a large 100ml bottle as well as a wash bag-friendly 40ml of Polo Blue.
A clean, classic scent with notes of melon, basil and musk, Polo Blue is an easy daily wearer that works year-round.
Buy now at Ralph Lauren
Penhaligon's
First established in London in 1870, Penhaligon's is one of the UK's oldest perfumers and even holds a Royal Warrant by appointment to King Charles, back when he was The Prince of Wales.
Offering a range of scents, this set gives a great idea of what the house is all about, with 5ml bottles of Blenheim Bouquet, Endymion Concentré, Halfeti, Juniper Sling and Quercus.
Buy now at Penhaligon's
Tom Ford
Tom Ford's Ombré Leather fragrance is one of the brand's best-loved and most evocative scents.
Deep and dark with notes of black leather, patchouli, vetiver and jasmine, this set features Ombré Leather in both a 100ml eau de parfum and an all-over body spray, making it perfect for lovers of this Tom Ford classic.
Buy now at Tom Ford
Maison Francis Kurkdjian
For indecisive noses, or those who want an expansive introduction into the world of Maison Francis Kurkdjian, the Fragrance Wardrobe Discovery Collection is an excellent choice.
It boasts a total of eight different fragrances, ranging from the sweet vanilla and amber of Grand Soir to the dark, woody notes of Baccarat Rouge 540.
Buy now at John Lewis
Chanel
With Timothee Chalamet as its new ambassador, Bleu de Chanel is making something of a comeback. The French house's signature male fragrance, it's a refreshing, aromatic scent with sandalwood and cedar, alongside a series of subtle citrus notes.
This set features a 50ml eau de parfum, as well as an after-shave lotion and lip balm.
Buy now at John Lewis
Barbour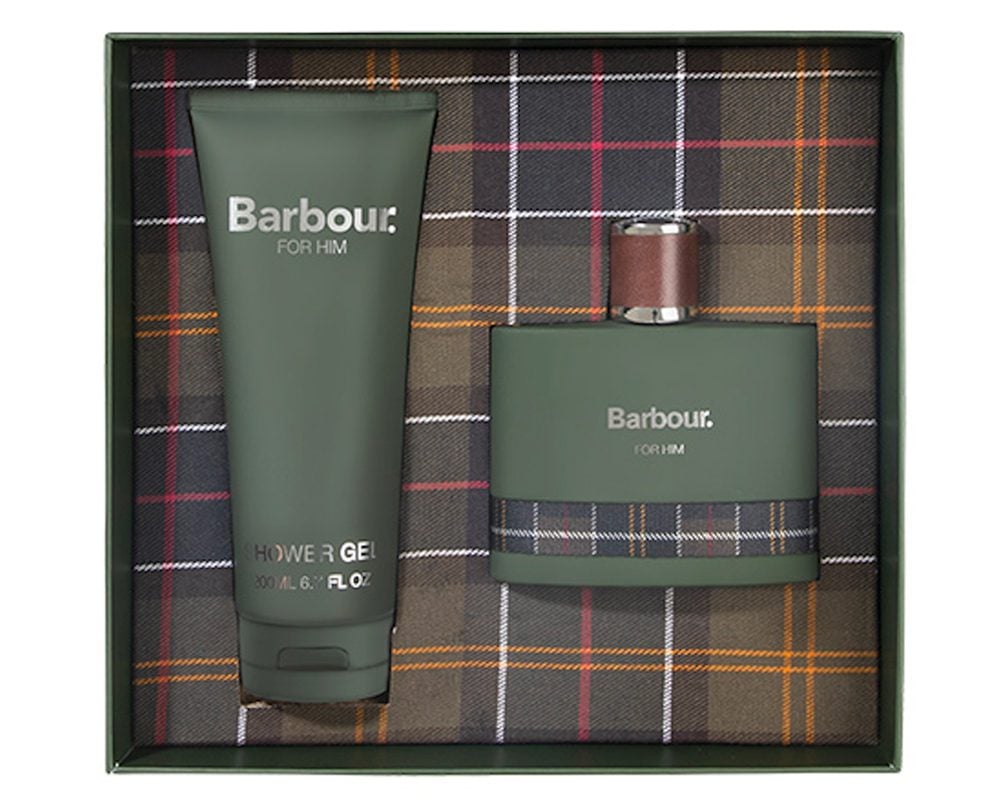 Barbour's outerwear is one of the UK's greatest style exports, but the British company's grooming range has long been a winner, too.
This gift set comes with the brand's signature scent in both eau de parfum and shower gel form. It's warm and woody, with notes of cedar, vetiver and amber, and a subtle citrus finish.
Buy now at The Fragrance Shop
Montblanc
Montblanc doesn't apply its signature star emblem to anything that isn't of the highest quality, whether it's pens, watches or, indeed, its ever-popular fragrances.
The brand's Explorer scent combines bergamot with vetiver and patchouli and can be found in this set featuring a bottle of eau de parfum and an all-over shower gel.
Buy now at John Lewis
Dior
Dior's Sauvage is one of the more instantly recognisable fragrances out there, thanks in part to its bold advertising but also its fresh, powerful scent. Made up of a combination of ambroxan, musky wood and bergamot, it takes on a slightly sweet, fruity yet peppery smell as the day goes on.
It's available here in an eau de parfum as well as a 10ml travel spray, which can be filled up using the larger 100ml bottle.
Buy now at Dior
Geo. F. Trumper
For fans of deep, musky notes of sandalwood, this Geo. F. Trumper set will be well received. It makes use of the historic Mayfair and St James perfumer's aptly-named Sandalwood scent, and comes with a cologne, shower gel, shampoo, shaving cream and deodorant, ensuring recipients get the full, head-to-toe experience.
Buy now at Fortnum & Mason
The post Best Men's Fragrance Gift Sets For Christmas 2023 appeared first on Ape to Gentleman.
——————–
By: Charlie Thomas
Title: Best Men's Fragrance Gift Sets For Christmas 2023
Sourced From: www.apetogentleman.com/best-mens-fragrance-gift-sets/?utm_source=rss&utm_medium=rss&utm_campaign=best-mens-fragrance-gift-sets
Published Date: Mon, 11 Dec 2023 09:16:42 +0000
Did you miss our previous article…
https://mansbrand.com/the-complete-guide-to-growing-a-beard-at-every-age/
The Complete Guide to Growing a Beard at Every Age
Beards are not just a trend; they're a journey. A journey that evolves with you as you age. The process of growing a beard is a fascinating blend of genetics, hormonal changes, lifestyle and personal grooming habits. Each age brings its own set of challenges and opportunities. In this comprehensive beard growing guide, we'll explain what to expect and explore how to grow and maintain a healthy beard at any age, backed by scientific insights and grooming expertise.

Before we dive into age specifics, it is important to understand the fundamental drivers of beard growth. Some of these we can control, others we cannot.
Genetics and Beard Growth
Genetics determine the number of hair follicles a person has, including those for beard hair. The density and distribution of hair follicles are largely determined by genetic factors inherited from your parents. These factors influence not only the number of follicles but also their responsiveness to hormones like testosterone, which affects beard growth and density. Thus, the ability to grow a thick or full beard is significantly influenced by one's genetic makeup.
Hormones and Beard Growth
Testosterone, along with its derivative dihydrotestosterone (DHT), plays a pivotal role in beard growth. These hormones are responsible for kickstarting the beard growth process during puberty and maintaining it throughout life. Testosterone stimulates the hair follicles, transforming the soft, fine vellus hair into the coarser, darker terminal hair that forms the beard.

DHT, in particular, is critical for initiating and maintaining facial hair growth. However, the sensitivity of hair follicles to these hormones varies among individuals, explaining why some men grow thicker beards than others. It's a complex interplay between genetics, hormone levels, and the body's response to these hormones that ultimately determines the characteristics of your beard. This is why some guys with "low" testosterone can still grow amazingly thick and full beards and some men with "high" testosterone struggle.
Diet, Exercise, and Their Impact on Beard Growth
A balanced diet rich in vitamins (like Biotin, Vitamins A, C, E), minerals (such as Zinc and Iron), and protein plays a crucial role in promoting healthy hair growth, including your beard. Foods like eggs, nuts, leafy greens, lean meats, and dairy products are excellent for supporting hair health.

Regular exercise boosts overall health and improves blood circulation, which can positively affect hair growth by delivering more nutrients and oxygen to the hair follicles. Additionally, weight training can increase your testosterone levels which positively impact beard growth.

Conversely, certain factors can negatively impact beard growth. Poor nutrition, stress, lack of sleep, and smoking can all inhibit beard growth. A high stress lifestyle can particularly take a toll, as stress hormones like cortisol can adversely affect testosterone levels and, consequently, beard growth. Regular exercise, a balanced diet, and a healthy lifestyle are key to promoting not just a healthy beard, but overall well-being.

Now that we have the fundamentals, let's dive into the age specifics!
Beard Growth in Teens and Early 20s
It seems like there is always one guy in high school with a full beard that would make any man envious. Just like that one 7' tall guy at school, this is not the norm! So if you are in high school and struggling to grow your face fur, there is not need to worry. Your beard is just getting started. This ramp up stage typically lasts until your early 20s.

During these years, genetics play a pivotal role in determining how your beard will develop. You might notice patchy areas or uneven growth, which is entirely normal. The key during this phase is patience.

Your body is still adjusting to the changes brought on by puberty, including fluctuating hormone levels. To support your beard's development, focus on a healthy lifestyle. A diet rich in proteins, vitamins, and minerals can boost hair growth. And while a healthy lifestyle promotes better hair growth, it won't override genetic factors.

Proper skin care is crucial. Gentle cleansing and moisturizing can provide a healthy foundation for hair growth. Avoid over-trimming or using harsh products that could damage your developing beard.

At this stage you likely won't need a beard oil but should definitely be using a beard friendly moisturizer like HYDRATE that supports healthy skin and beard growth without clogging your pores…you've got enough acne to worry about.

It is also important to use a pH balanced cleanser like CLEANSE that properly cleans your face without over-drying which can lead to a vicious cycle of excess oil production and breakouts.
Beard Growth in Mid-20s to 30s
Your mid-20s to 30s are often considered the golden years for beard growth. As a matter of fact, most men don't hit peak beard growth until their early to mid thirties. This is when testosterone, the hormone primarily responsible for facial hair growth, peaks. You'll likely notice your beard becoming fuller and more robust.

This is the perfect time to experiment with different beard styles and find what suits you best.

Establish a beard care routine that includes regular washing, exfoliating, and and moisturizing to keep your beard and the underlying skin in top condition. We've created a skincare line specifically designed for men with facial hair that takes all the guess work out of your grooming routine. You can learn more about our beard care products here.

Grooming tools like a good quality trimmer, a boar bristle brush, and scissors are essential for maintaining the shape and health of your beard.
Beard Growth in the 40s and 50s
As you enter your 40s and 50s, you might start noticing some changes. Your beard may grow slower, and gray hairs may begin to appear. This is due to a natural decrease in testosterone levels and the aging process affecting your hair follicles.

Adjust your beard care routine to these new changes. If you experience thinning, consider using gentle supplements designed to support hair health.

Embracing the gray can add a distinguished look to your beard. If it is not your vibe, there are beard dyes available. And while there are no pills or supplements proven to reverse the graying process, there have been several scientific breakthroughs that will hopefully lead to products that actually reverse graying.

If you're not already using a beard oil in addition to your moisturizer, now is the time to add it in. This is because your body will start producing less sebum (oil) which leads to dry, coarser facial hair.

Beard Growth in the 60s and Beyond


In your 60s and beyond, the rate of beard growth might slow down further, and the texture can change, becoming coarser or wirier. This is partly due to decreased sebum production, leading to drier hair, and changes in the hair follicles themselves.

At this stage, comfort and health should be your priority. Opt for softer grooming tools to accommodate more sensitive skin. Keeping your beard and skin hydrated is more important than ever. If you prefer to keep the grays at bay, choose gentle, natural coloring products that are kind to your skin and hair.

Growing a beard is a personal and evolving journey unique to every man. From the first signs of facial hair in your teens to the distinguished look of a mature beard, each phase of growth brings its own challenges and rewards. Embrace each stage, care for your beard with patience and dedication, and enjoy the transformation. Remember, your beard is a reflection of your life's journey – wear it proudly!
HOME
——————–
By: Nicholas Karnaze
Title: The Complete Guide to Growing a Beard at Every Age
Sourced From: www.stubbleandstache.com/blogs/blog/the-complete-guide-to-growing-a-beard-at-every-age
Published Date: Fri, 08 Dec 2023 22:09:27 +0000
Did you miss our previous article…
https://mansbrand.com/horizontal-vs-vertical-stripes-fact-and-fiction-about-striped-clothing/
Horizontal vs. Vertical Stripes | Fact and Fiction About Striped Clothing
Q: I've heard in the past that horizontal stripes make someone look wider and vertical stripes make them look taller and thinner. But I keep seeing studies going back and forth whether this is true. Who do I believe?
A: Three decades or so of research on this question have yielded inconsistent results. A more recent study seems to show that this is because the answer is actually more complicated than we all would like.
BACKGROUND:
There's a famous optical illusion called the Helmholtz Illusion, discovered by a man named Helmholtz in 1867.
Which of these squares looks thinner and taller than the other? Most people would say

the left square looks thinner and taller.
But that seems to go against the conventional wisdom that horizontal stripes make a person look fatter/wider. Wouldn't it be the other way around?
A number of studies have tested this effect and have found conflicting results. Why would fashion work differently than this famous optical illusion?

Three Japanese researchers noticed some interesting patterns in the previous research. They all presented pictures of models wearing either horizontal or vertical stripes. However, they weren't using the same models: some were fat and some were thin. Additionally, they were all shaded differently. And finally, they were presented in various orders.

These researchers decided

there were multiple factors at play here

and published a study testing their hypotheses in the journal

i-Perception

in 2013

.

The researchers did a number of studies testing the possibility that three factors were influencing all the previous research on this subject that has been conducted:
Whether the model is slim or fat.
Whether previous judgments of other people influence later judgments of different people.
Whether judgments are so varied between people that the whole thing isn't very useful.
EXPERIMENT:
31 undergraduate students (63% female) were recruited for the study.

The students were placed in a chair and

put their chin in a chin rest that ensured that their eyes were a certain distance from a computer screen

.

A number of computer images were flashed in the screens depicting people wearing clothing with

either horizontal or vertical lines

.

The size of the images was digitally altered to be

either slim or wide

.

Two figures were shown

side-by-side

for 1.8 seconds. One had horizontal stripes and the other had vertical stripes. Then, participants were to judge which of the images were fatter and press a key indicating their response.

This method was done 20 times with slim figures and 20 times with fat figures, or with the fat figures first and then the slim figures.
RESULTS:
So what do you think – is conventional wisdom true for fashion, or is the Helmholtz Illusion the main driving factor?
The conventional wisdom was not found to be true. Horizontal stripes don't make people look fatter and vertical stripes don't make people look slimmer and taller.

BUT sometimes the stripes didn't really make a difference at all.
Which factors influenced whether the Helmholtz Illusion held true for the figures?
YES.

Slender models look even thinner with horizontal stripes (supporting the Helmholtz Illusion and going against conventional wisdom).

But this effect was not as strong for the wide models – for wide models, the type of stripe BY ITSELF actually didn't have as much of an influence at all.

Order of Presentation:
YES.

Here's an interesting result. When SLENDER models were shown first to people, and then wide models, the Helmholtz Illusion was strongest of all (Horizontal stripes make people seem taller and slenderer) for both groups. This applied to both fat and slender images. Again, conventional wisdom does not seem to hold.

When the wide models were shown first, the type of stripe did NOT seem to matter for anyone.

Variance Between Observers:
YES.

Significantly, the researchers found that, even though there were noticeable results when they compared averages, there was a wide variety of results across all participants.
DISCUSSION:
So how do we interpret the results of this experiment? Here are some important conclusions that can be inferred from the results:
In no case was the conventional wisdom found to be true. Horizontal stripes did not, on the whole, make someone look wider. Vertical stripes, on the whole, did not make a person look taller and slimmer.
In fact, where there was an effect, it supported the opposite conclusion.
Horizontal stripes made slender people look taller and slenderer.
On the fatter models, the kinds of stripes made much less difference.
People's judgments seemed to be more influenced by what models they had previously judged.
For some reason (that the authors did not fully understand) when participants judged a large group of slender people first, the Helmholtz Illusion got very strong.
What does this mean for laypeople?
It means that when we view a person, we are mentally comparing them to people we have already seen.
Here's the (very strange but scientifically supported) bottom line:
If a fat person is going to an event full of thin people, horizontal stripes may actually make them look slimmer and taller.
Why? The researchers weren't sure.
Finally, there was another big take-away:
There was so much variation between participants in the study that the researchers concluded that stripes may not really, on the whole, make that huge of a difference.
This would explain why all the previous studies since the '80s were inconsistent.
This makes it seem like, unless you want to make a calculated, complex decision based on the results in this study, you might make your fashion selections based on other factors instead of whether the stripes are horizontal or vertical.
Whenever science doesn't seem to go one way or the other, I say trust your own personal judgment.
REFERENCE
Ashida, H., Kuraguchi, K., & Miyoshi, K. (2013). Helmholtz illusion makes you look fit only when you are already fit, but not for everyone. I-Perception, 4, 347-351. Link: https://ipe.sagepub.com/content/4/5/347.short
The post Horizontal vs. Vertical Stripes | Fact and Fiction About Striped Clothing appeared first on Real Men Real Style.
——————–
By: Antonio Centeno
Title: Horizontal vs. Vertical Stripes | Fact and Fiction About Striped Clothing
Sourced From: www.realmenrealstyle.com/horizontal-vs-vertical-stripes/
Published Date: Thu, 07 Dec 2023 15:29:48 +0000