BMW isn't shy about making a statement with many of their new models, all gas-powered, hybrid, and electric vehicles (EVs). For making a statement on the side of forthcoming EVs, the new 2022 BMW i4 makes an entrance wearing mostly conventional styling that is taken directly from the new BMW M440i Gran Coupe that we drove just a week ago.
The new 2022 BMW i4 is a take on mainstream EVs that competes with vehicles like the Tesla Model 3. There are two trim levels for the new BMW i4, an eDrive40 and M50 model. The base BMW i4 eDrive40 has 335 horsepower from its rear-mounted electric motor to power the rear wheels. The BMW i4 M50 is all-wheel-drive via two electric motors, one at each axle, for a total output of 536 horsepower and 586 lb-ft of torque. With the power in the i4 M50 this BMW will hit 60 mph in 3.7 seconds.
The range for the new 2022 BMW i4 eDrive40 is around 300 miles, while the more powerful dual-motor all-wheel-drive i4 M50 is 245 miles. Both trims use the same 80.7-kWh battery pack and has a 200-kilowatt charging capacity allowing you to add between 88 and 108 miles in just 10 minutes. Taking a slower route using its Level 2 (11 kW) onboard charger, you can fully charge the BMW i4 from zero percent all the way to 100% in less than 8 hours.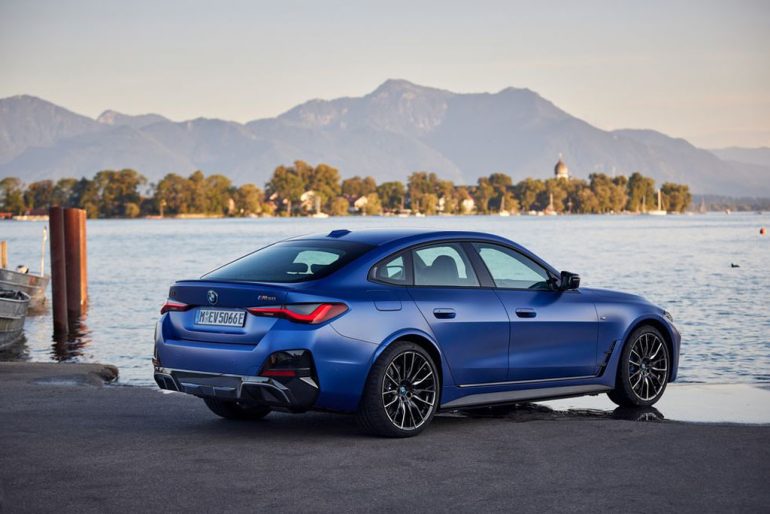 Having experienced the 2022 BMW M440i Gran Coupe, we can conclude that there's a welcomed cohesive package in this new i4 EV and an assured balanced chassis considering BMW's driving dynamics that's carried over into their new line of EVs.
Read More
—————-
By: Malcolm Hogan
Title: New Car Preview: 2022 BMW i4
Sourced From: www.automotiveaddicts.com/76245/new-car-preview-2022-bmw-i4
Published Date: Fri, 07 Jan 2022 13:56:25 +0000
Desirable Muscle Cars, Supercars and Resto-Mods to Headline Several Collections at Barrett-Jackson's Inaugural New Orleans Auction
>



1969 FORD MUSTANG 428 SCJ DRAG PACK – Lot #779
SCOTTSDALE, Ariz. ‒ September 26, 2023 – Barrett-Jackson, The World's Greatest Collector Car Auctions, will feature three collections during the inaugural New Orleans Auction, September 28-30 at the Ernest N. Morial Convention Center, including a diverse selection of collectible cars, trucks and SUVs. All crossing the block at No Reserve, the collectible vehicles from the Sherwood Classics, MS Classic Cars and Jimmy Bankhead collections feature an array of well-preserved, restored and custom-built selections, including a pair of late-model Aston Martins, a 2005 Ford GT, custom 1954 pickup and a matching-numbers 1969 Ford Mustang 428 SCJ Drag Pack.
2005 Ford GT – Lot #735
"Many astute collectors turn to Barrett-Jackson to auction their prized vehicles that have been restored and maintained within their private collections," said Craig Jackson, chairman and CEO of Barrett-Jackson. "Among the hundreds of vehicles crossing the auction block in New Orleans, we have three exceptional groupings that will be featured. The Sherwood Classics, MS Classic Cars and Jimmy Bankhead collections are excellent examples of the passion and extreme care taken to preserve these vehicles, ensuring they provide a wonderful opportunity for their next stewards looking to add to a collection of their own."
The Sherwood Classics Collection features eight collectible vehicles, including a 2005 Ford GT (Lot #735), as well as a custom 1961 Chevrolet Corvette convertible (Lot #681) powered by an all-aluminum LS1 engine backed by a 4-speed automatic transmission. Powered by its original matching-numbers drivetrain, a 1958 Chevrolet Corvette 283/290 Fuelie convertible (Lot #778) was restored to NCRS standards, featuring a striking red exterior that matches the interior and complements the black soft-top. Lot #779 is a 1969 Ford Mustang Mach 1 428 SCJ Drag Pack powered by its matching-numbers R-code 428ci Super Cobra Jet engine paired with a Toploader 4-speed manual transmission.
1954 Chevrolet Custom Pickup – Lot #782
Leading the MS Classic Cars Collection is "Shadow," a custom 1954 Chevrolet Pickup (Lot #782) built with a vision to create the ultimate classic pickup while keeping the iconic factory appearance. Countless hours and dollars were invested in the 4-year build, which was completed in May 2023. An authentic and meticulously restored 1972 Dodge Charger 440 Magnum (Lot #412) is a seldom-seen Mopar muscle car and is one of only 785 "U-Code" models built that year, which included the 440ci 4-barrel Magnum High Performance V8. A great example of an original matching-numbers iconic American sports car, a 1960 Chevrolet Corvette 283/270 convertible (Lot #760) will also cross the block with No Reserve. The result of an impressive show-quality restoration, it is listed in the Corvette C1 Registry.
"The diversity of these three collections is amazing and represents some of the most desirable vehicles in the hobby," said Steve Davis, president of Barrett-Jackson. "The breadth of these collections resembles our entire auction docket, appealing to enthusiasts from every generation. Our inaugural New Orleans Auction will offer everyone the chance to find that perfect collectible vehicle they've always wanted."
2014 Aston Martin Vanquish – Lot #676
Featuring an array of domestic and import collectible vehicles, the Jimmy Bankhead Collection is led by a 2014 Aston Martin Vanquish (Lot #676) with less than 5,000 actual miles and a 2011 Aston Martin Vantage V12 (Lot #655) powered by a hand-built 510-horsepower V12 engine with a custom-installed Borla exhaust system. Also included in the collection is a black-on-black 2006 Porsche 911 Carrera S cabriolet (Lot #416) that has less than 6,000 miles. Domestic prowess is available from a 2022 Chevrolet Corvette 3LT convertible (Lot #791) powered by a V8 engine that generates 490 horsepower. Classics from the collection include two fully restored trucks: a 1956 Chevrolet Cameo (Lot #403) and a 1969 Chevrolet C10 long-bed pickup (Lot #389)
Enthusiasts interested in being a part of the excitement may also consign their collector vehicle here. Those interested in registering to bid for Barrett-Jackson's inaugural New Orleans Auction may do so here.
Advance tickets to the event are available here. On Location, Barrett-Jackson's official hospitality partner, is offering several immersive VIP Experience packages for guests to join the action on the auction block, enjoy premium hospitality and connect with like-minded enthusiasts like never before. To learn more about On Location's offerings, click here.
Join Barrett-Jackson's online conversation with #BarrettJackson and #BJAC on Facebook, Twitter, Instagram and YouTube.
—————-
By: Barrett-Jackson
Title: Desirable Muscle Cars, Supercars and Resto-Mods to Headline Several Collections at Barrett-Jackson's Inaugural New Orleans Auction
Sourced From: www.barrett-jackson.com/Media/Home/Reader/desirable-muscle-cars-supercars-and-resto-mods-to-headline-several-collections-at-barrett-jacksons-inaugural-new-orleans-auction/
Published Date: Tue, 26 Sep 2023 18:27:39 +0000
Do You Need a Motorcycle in Your Living Room?

Nathan Hill's BMW R50/5 holds court at his cozy basement bar. (Nathan Hill/)
When you really love a motorcycle, should it become part of the family and live inside the home? Or is there an invisible line that shouldn't be crossed between garage and domicile? There are a million different types of motorcycle owners and riders. But this issue (among countless others) divides our community neatly into two camps. For some, a beloved motorcycle in the living room really brings the room together. For others, there are lines you just don't cross.
The idea carries water for some. We keep busts of famous people, fine art, musical instruments, books, or music to show off our taste and class. Is a motorcycle that different? Some bikes certainly qualify as art. But most art doesn't leave oil stains or smell like gas fumes. A motorcycle lives and breathes outside and usually makes a mess. Do you really want that in the house?
In the spirit of hard-hitting news, Motorcyclist decided to investigate this historically divisive issue. Does putting a motorcycle inside your house make it a motorcycle home? Does one go from "bike owner" to "noted motorcycle collector" when you put two wheels in your living room? Or is a bike in your house just trying too hard on some level?
Here's an informal sampling of mostly Midwestern motorcycle owners about why they put motorcycles in their living room. Or which particular models deserve a place in their home. Or why they don't.

Dan May's living room doubles as a stable of sorts for his beloved Beemers. (Dan May/)
"They Like the Warmth in Winter"
The answer to the article question is a resounding yes, five times over for Dan May. As race director for the American Historic Racing Motorcycle Association, May is decidedly in the "Yes" camp. A lover of BMW airheads, his collection slowly moved indoors. His motorcycle menagerie counts a few /2 models as well as a lovely R90. For May, it's partly a question of art, with Midwestern practicality thrown in.
"It makes starting them after hibernation much easier."
May's not currently married, but claims his previous spouse wouldn't have minded a bike in the living room. How about five?
"She probably would not have let me have five," he allows.
Does he ever sit on the bikes with friends, drinking beer and making happy brapping noises while imagining riding the Nürbürgring, I ask?
"No," he insists. "I don't hang out in that room much. Remember, I have a garage full of racebikes. That's where the beer drinking and wrenching happens."

Liviu Alexandru Maslin's award-winning custom (and very trick) Buell Blast was partially assembled in his (and his wife's) living room. (Liviu Alexandru Maslin/)
"My Wife Doesn't Mind"
No data supports this, but most indoor motorcycles seem to be "established" classic or vintage bikes. Unless you're Liviu Alexandru Maslin. His custom-built 2002 Buell Blast makes for a compelling exception. It was actually partly built in his living room.
A veteran of the Mama Tried H-D 120th Anniversary, 2022 Sturgis Buffalo Chip "Motorcycles as Art" show, The Handbuilt Motorcycle Show, and the 2021 Mama Tried show, Maslin's Buell Blast was a familiar presence on the motorcycle show circuit—until it was sold to a collector.
A 1971 Harley-Davidson Ironhead roller currently resides in his living room, awaiting work. Does his wife mind? Would he add another one to his living quarters?
"My wife doesn't mind as long as I dust it off and it doesn't make a mess. And, yes, I would add another—if the space allowed."

Jarl Wathne's Honda
—————-
By: Anders T. Carlson
Title: Do You Need a Motorcycle in Your Living Room?
Sourced From: www.motorcyclistonline.com/news/motorcycle-art-and-home-decor-debate/
Published Date: Tue, 26 Sep 2023 17:31:59 +0000
2023 Honda CBR1000RR-R Fireblade SP

2023 Honda CBR1000RR-R Fireblade SP. (Honda/)
Ups
The CBR1000RR-R Fireblade SP is Honda's single-minded pursuit of production-class racing gloryThe engine uses the same bore and stroke (81.0 x 48.5mm) as the RC213V MotoGP racebike, emphasizing the depth of HRC's involvementDripping with 'Blade nostalgia, the striking paint scheme was designed by Hiroaki Tsukui who was also responsible for the original 1992 design.
Downs
The US-spec model's output is limited to 186 hp at the crank. Who wants to spend top dollar and not get all the goods?Uncompromising seating positionWhere's a rider supposed to put the key fob when wearing one-piece leathers?
Verdict
The pinnacle of Honda's CB lineage, the CBR1000RR-R Fireblade SP is an HRC-developed, uncompromising race replica with significantly more performance than the CBR1000RR that American Honda continues to sell. For a production Honda motorcycle, it's as rarefied as they come. The only problem? In the US, output is limited to 186 hp at the crank, and less when measured at the rear wheel.

The CBR1000RR-R Fireblade SP's anniversary livery is about as good as it gets. (Honda/)
Overview
The 1992 Honda CBR900RR is easily one of the most significant motorcycles of its day. As CW's first prescient analysis said back in 1991: "It is a motorcycle that promises to change forever the way big-bore sportbikes are conceived and built."
Its first comparison test—against the Yamaha FZR1000 and Suzuki GSX-R1100—confirmed the veracity of that statement. On the CW scales, the CBR weighed 76 pounds less than the FZR and 94 pounds less than the GSX-R. That first 'Blade was the shot heard round the world, transforming the economy of two-wheeled performance in much the same way the Honda Interceptor and the original Suzuki GSX-R750 did the decade before.
Thirty years later, it's difficult to conceive of a motorcycle so technically beyond the competition that it inspires such a sea change. Still, the Honda CBR1000RR-R Fireblade SP is a credit to Tadao Baba's legacy.
At $28,900, the Triple R is as expensive as the European competition with performance to match. From the highest-spec electronic suspension to integrated aero and a screaming inline-four powerplant, the CBR is Honda's purest performance weapon. Undoubtedly, the latest CBR was built to win. While the World SBK crown has thus far evaded capture, Honda won the 2022 and 2023 Suzuka 8 Hours.
The fly in the ointment, however, is that the US-spec Triple R comes stateside with output limited to 186 hp. In a highly competitive field, coming to the fray with one hand tied behind its back is very unfortunate.
Related: Fastest Bikes You Can Buy in 2023

While American Honda still sells the base-model CBR1000RR, the CBR1000RR-R Fireblade SP is recognized as its top-tier, track-focused offering. This is one of those bikes that makes the most sense when being pushed around a racetrack. (Honda/)
Updates for 2023
The Fireblade SP is unchanged for 2023. For 2022, however, the engine was tweaked with revised intake ports, narrower than before to increase the air velocity into the combustion chambers and bump up torque, along with an increased compression ratio of 13.4:1, up from 13.2:1. A new airbox, modified to improve flow, feeds revised intake funnels, with the center pair shorter by 15mm, and all four getting new, slash-cut shapes.
On the other side of the engine, the exhaust was modified with a new center section and redesigned catalytic converter, both intended to improve gas flow. Elsewhere, the throttle was modified to make it easier on the wrist, no doubt further emphasizing the impression of improved response. More notably, the rear sprocket gained three teeth, rising to 43 in total, reducing the final drive gearing for better acceleration. That sprocket change, and the longer chain that comes with it,
—————-
By: Cycle World Staff
Title: 2023 Honda CBR1000RR-R Fireblade SP
Sourced From: www.motorcyclistonline.com/honda/cbr1000rr-r-fireblade-sp/
Published Date: Wed, 27 Sep 2023 20:46:06 +0000