'No one would lend me a dress': Days before her 18th film release, Sharon Stone say she was a 'nobody'
Sharon Stone is one of the most familiar faces of Hollywood, but her journey to get to this point has not always been smooth sailing.
The actress, now 65, rose to fame after the release of 1992 hit film Basic Instinct which earned her a Chicago Film Critics Association Award, Golden Globe Award, and Saturn Award nominations.
Stone played a well renowned character named Catherine Tramell, known for flashing cops during an interrogation scene.
While in conversation with CNN's Chris Wallace, Stone opened up about the mass fandom that she gained after the film took off.
"I didn't now on Friday when that movie came out that I would be basically a nobody, and on Tuesday I would go to get my eye glasses picked up in Sunset plaza and I would come out in my little 325 BMW and I would stop at the stop light and everybody would climb all over my car," she said.
READ MORE: Jackie O's Logies all-nighter: 'This is embarrassing'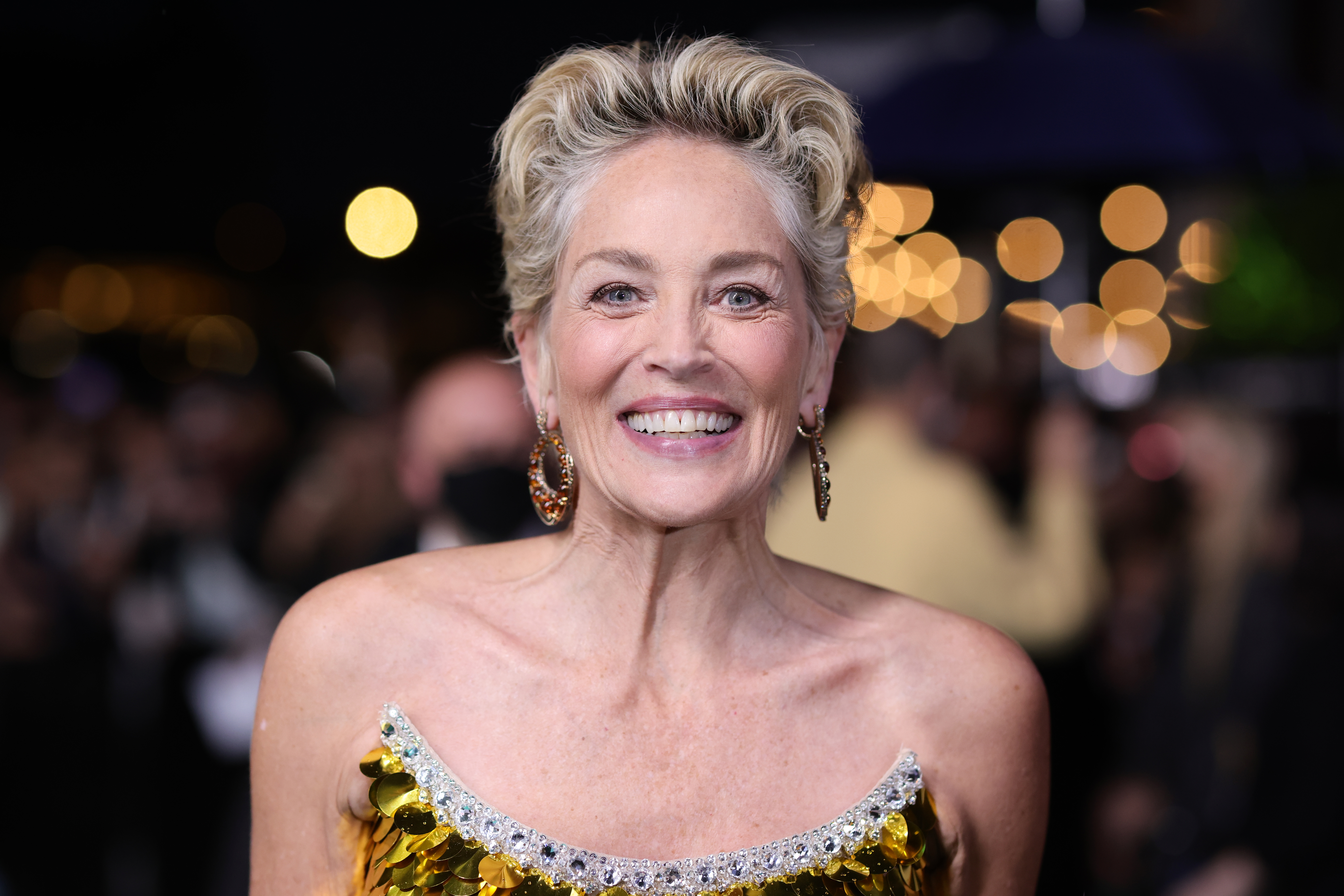 During the encounter, Stone noted her panicked attempt to figure out what the road rules were in the situation.
"The light would turn green and cars would start beeping and I wouldn't know is it legal to drive when people are all over the top of your car," she said.
In Stone's 2021 memoir, The Beauty of Living Twice, the actress spoke further to feeling like a "nobody" in Hollywood before the film's release, and explained how hard she fought to get the role.
"Basic Instinct was my 18th movie," Stone wrote.
"For years, I had been getting pummelled doing a bunch of crap movies… I was 32 years old… aging out of the business I hadn't really gotten into yet. I needed a break."
READ MORE: The great Logies moments you missed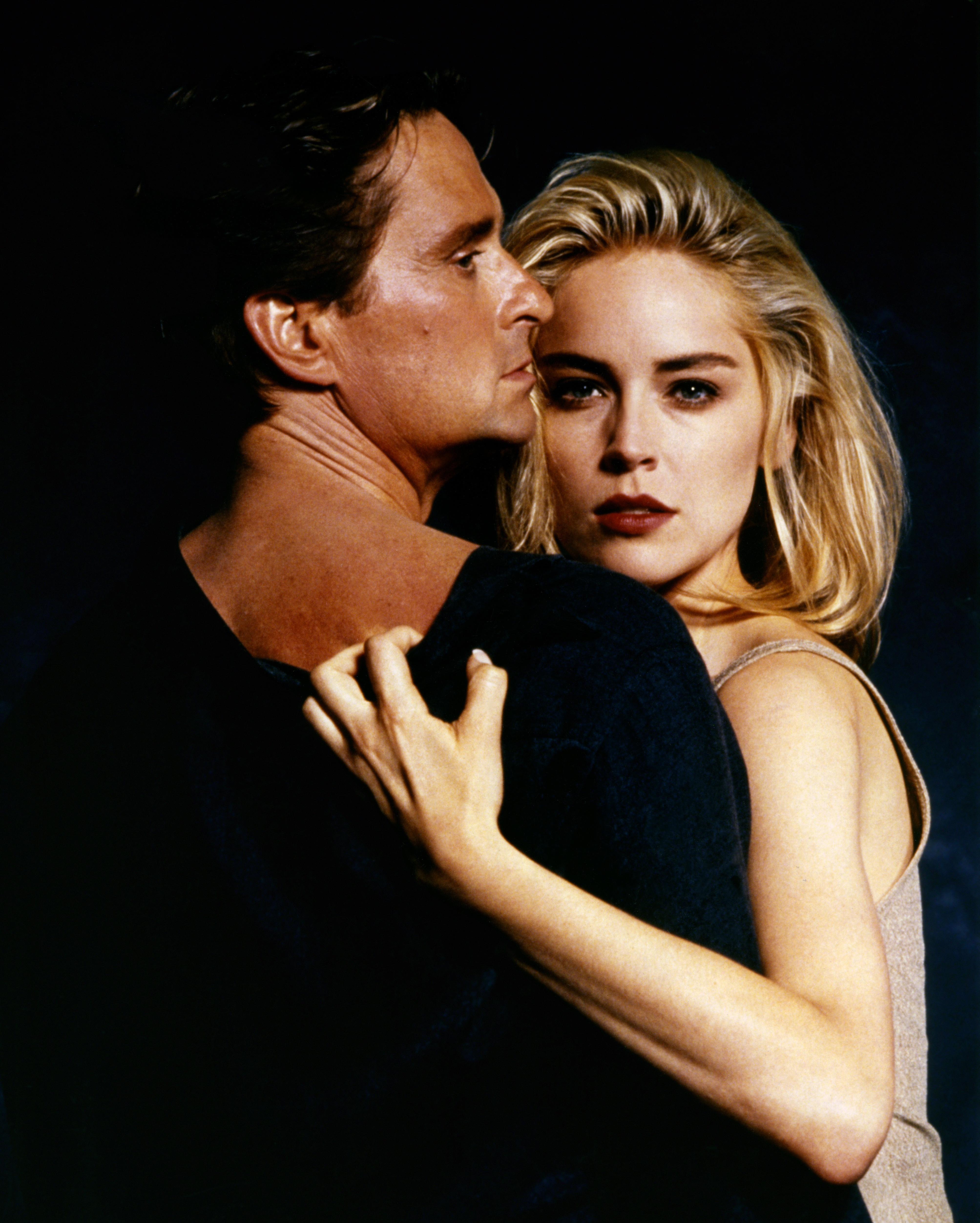 The star recalled her manager breaking into the office of a casting director working with director Paul Verhoeven to steal the script of the classic film for her.
"I had already done Total Recall with Paul, but Michael Douglas didn't want to test with me," she said. "Hey, I was a nobody compared to him, and this was such a risky movie."
Stone added: "Eventually, after they had offered the part to 12 other actresses who had turned it down, Michael agreed to test with me."
Even after fighting to get the part an amassing huge success as a result, Stone wasn't exaggerating about the difference between the day before and after the film's release.
"When I first got invited to the Oscars right before Basic Instinct, the movie hadn't come out, so no one would lend me a dress," Stone said during a March interview on the Table for Two with Bruce Bozzi podcast.
READ MORE: Hamish Blake cornered seconds into Logies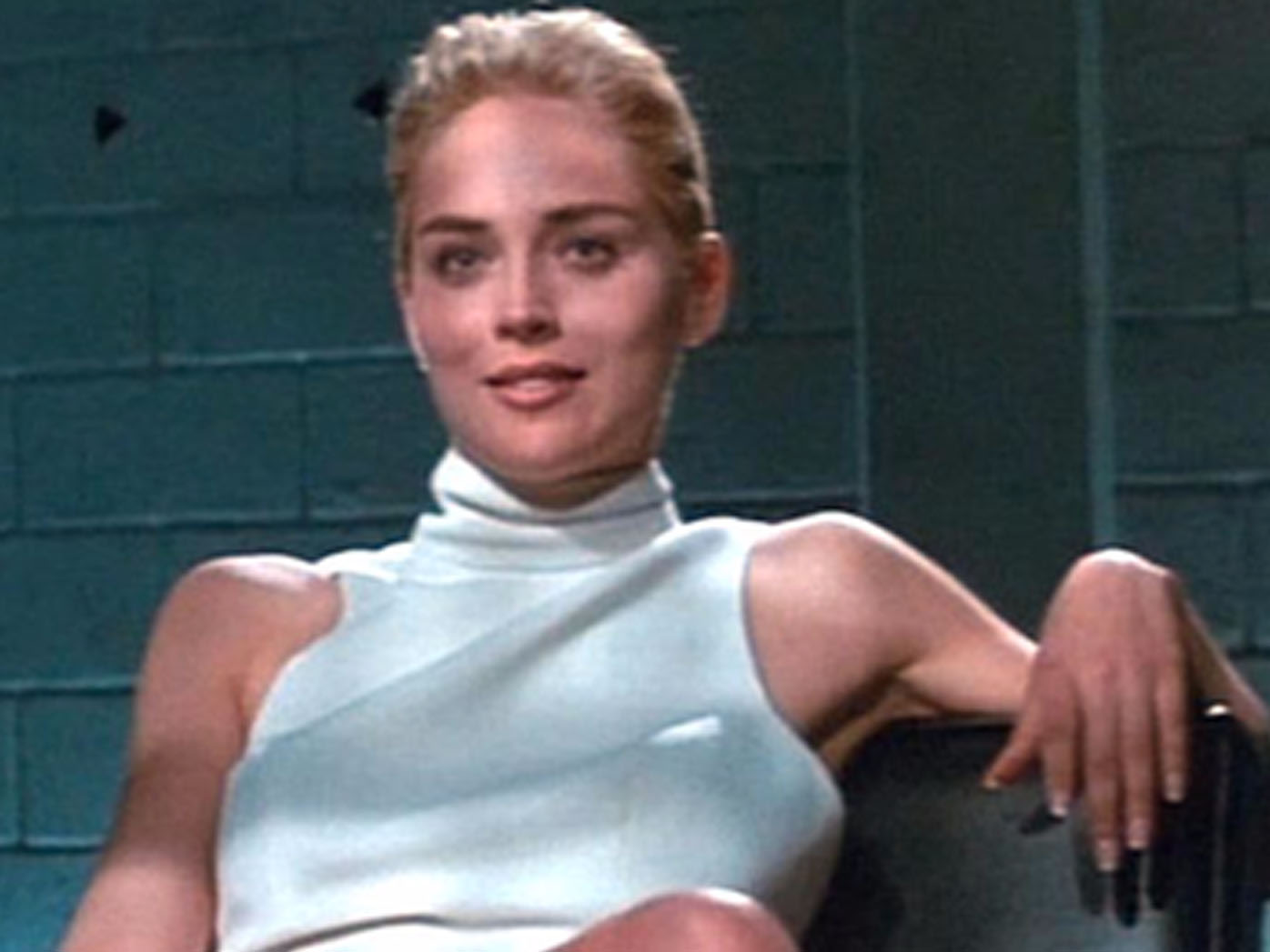 When arriving to the event the star recalled showing up in her Betsey Johnson polyester jumpsuit while being surrounded by stunning gowns costing up to $50,000.
"That was the best I could do," she said, adding that aside from her outfit, she was also responsible for her own glam.
"I'm doing my own hair and makeup and I was just like, 'Wow, this is awful. Like, how am I going to do this, right?'" she recalled.
While interacting with other actors and actresses however, the star soon knew that something great was about to happen.
"… I got there and I was like in the fourth or fifth row back which was really good," she said.
"And I was on the aisle, and I was seated right behind Anthony Hopkins, and when I walked by, he put his hands together and put them over his head like a champion and held them up to me when I passed him. I was like, 'Oh my God, he saw my movie.'"
After Basic Instinct
Although the actress was desperate for a break after all her hard work, the fame the came after Basic Instinct didn't do Stone a world of good.
"In the olden days, what we were doing was very new," she said. "This was a feature film for a major studio, and we had nudity, sex, homosexuality, all these things that, in my era, were breaking norms."
The public attention that came from the film earned her a firm lecture from a friend who gave her advice to help her cope with the change.
READ MORE: The best foundation for ageing skin is just $23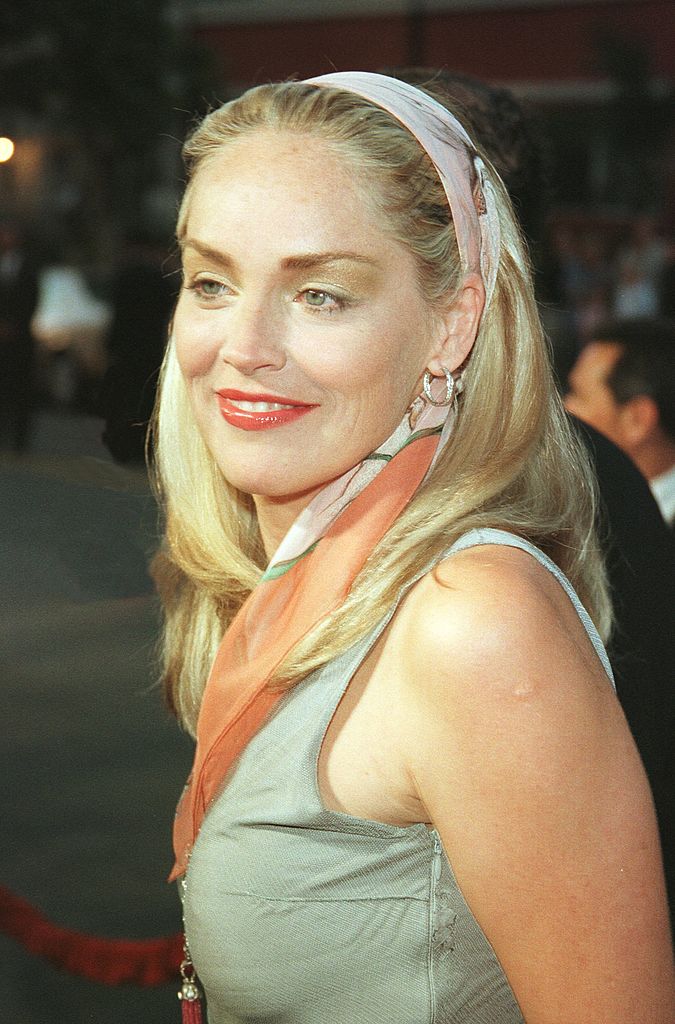 As for dealing with all the public attention, Stone told USA Today that a friend had to educate her about the "new rules" of fame.
"I was on my knees, dry heaving. And he took me to his room, sat me on the side of the tub, ran some cold water, told me to put my feet in there and gave me a Valium," Stone told USA Today of the emotional incident after the film's Cannes premiere.
"He handled a lot of big stars in his time and he was like, 'Look, from now on, life is going to change. You need Sharon-Stone-the-movie-star clothes, and then you need your clothes.' You need to start separating out your life so that you have a sane existence."
Stone continued, recalling his bizarre advice about autographs.
"He actually told me to pay for anything under a hundred dollars with a check because people won't cash the check. They'll want your autograph. Which is something I didn't do. But it was sound advice."
READ MORE: All of the incredible looks from the 2023 Logies red carpet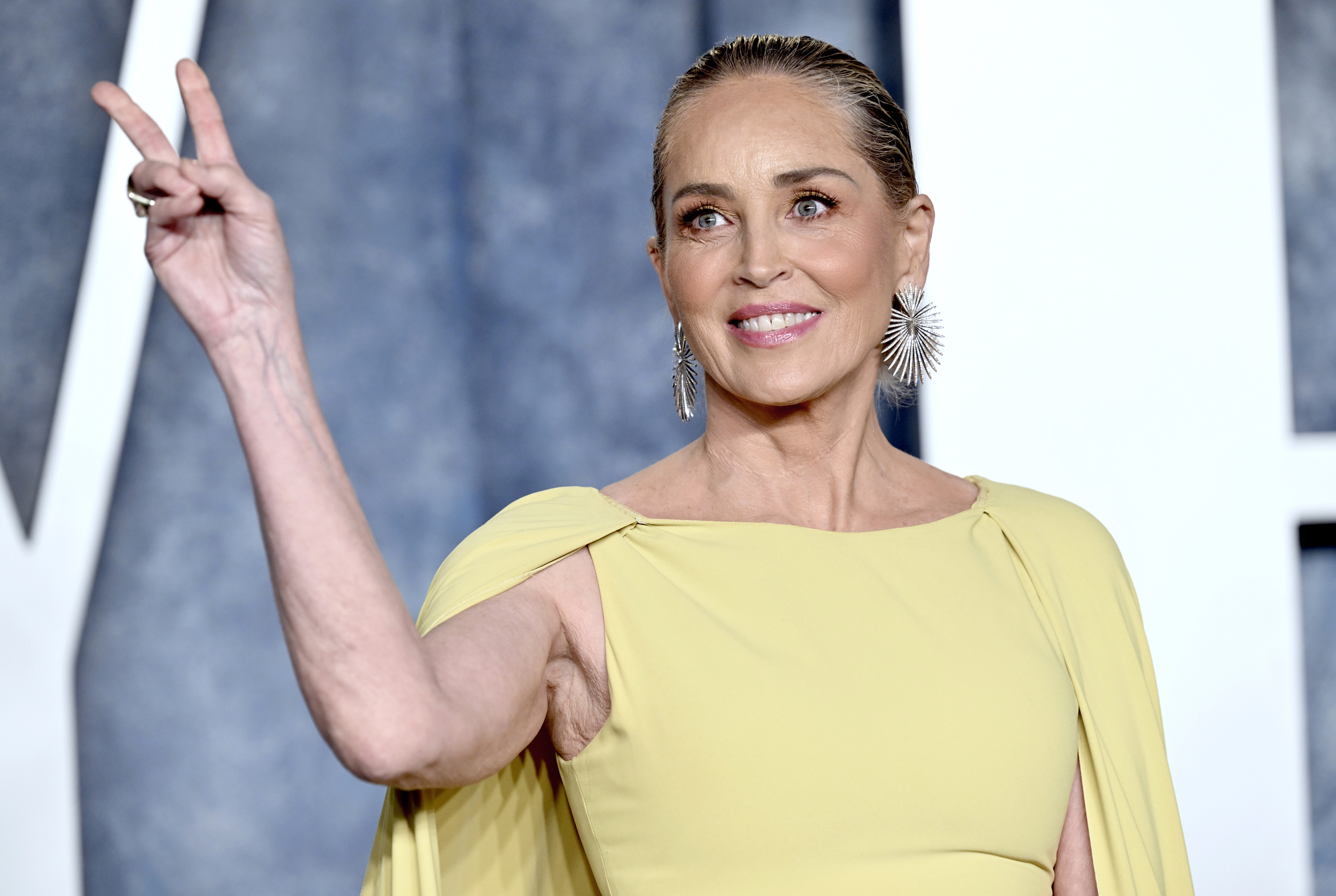 The repercussions also affected her family with the star losing custody of her son after a judge had apparently asked her "tiny little tiny boy 'do you know your mother makes sex movies?'"
She described it as an "abuse by the system," noting that the scene was just "maybe a 16th of a second of possible nudity."
The actress was so heartbroken that it took a toll on her health.
"I ended up in the Mayo Clinic with extra heartbeats in my upper and lower chamber of my heart," she recounted. "It broke my heart."
These days you can find the star posting regular updates about her life on social media, particularly Instagram.
In regards to projects, Stone reportedly optioned the right to Lisa Barr's novel Woman on Fire, and is set to produce a film adaptation in which she will star.
For a daily dose of 9Honey, subscribe to our newsletter here.
————————————
Title: 'No one would lend me a dress': Days before her 18th film release, Sharon Stone say she was a 'nobody'
Sourced From: celebrity.nine.com.au/latest/sharon-stone-explainer-who-is-she-rise-to-fame-movies-career/ed5df487-2654-49e5-9664-427f755fd027
Published Date: Mon, 31 Jul 2023 04:07:00 GMT
Read More
Did you miss our previous article…
https://mansbrand.com/the-gaps-get-smaller-as-the-world-cup-gets-larger/
Did the Golden Globes Finally Figure Out How to Award Best Popular Film?

It didn't work for the Oscars. But the Globes aren't the Oscars.
———————–
Title: Did the Golden Globes Finally Figure Out How to Award Best Popular Film?
Sourced From: www.indiewire.com/awards/industry/golden-globes-award-best-popular-film-analysis-1234909167/
Published Date: Tue, 26 Sep 2023 19:43:09 +0000
Read More
Did you miss our previous article…
https://mansbrand.com/gone-with-the-wind-star-hattie-mcdaniels-missing-oscar-to-be-replaced/
'Gone With the Wind' Star Hattie McDaniel's Missing Oscar to Be Replaced
Missing for decades, the first-ever Oscar won by a Black actor, Gone With the Wind's Hattie McDaniel, will be replaced. The Academy of Motion Picture Arts and Sciences will donate the replica award to Howard University. Deadline reports that the award will be donated to the Chadwick A. Boseman College of Fine Arts at the University. McDaniel won the original award in the Best Supporting Actress category for her performance as Mammy in 1939's Gone with the Wind.
———————–
By: Rob London
Title: 'Gone With the Wind' Star Hattie McDaniel's Missing Oscar to Be Replaced
Sourced From: collider.com/gone-with-the-wind-hattie-mcdaniel-missing-oscar-replacement/
Published Date: Tue, 26 Sep 2023 20:25:43 GMT
Read More
Did you miss our previous article…
https://mansbrand.com/nfl-mvp-odds-tua-tagovailoa-is-now-the-outright-leader-over-patrick-mahomes/
NFL MVP Odds: Tua Tagovailoa Is Now The Outright Leader Over Patrick Mahomes
NFL MVP Odds: Tua Tagovailoa Is Now The Outright Leader Over Patrick Mahomes – originally posted on Sportslens.com
For the second time in three weeks, the Miami Dolphins put on a historic offensive showing on Sunday. They scored the 3rd most points in NFL history against the Broncos, even forfeiting a chance at breaking the record of 73. It was a well-rounded effort that thrived in both the rushing and passing attacks, and it has quarterback Tua Tagovailoa all by himself when it comes to the favorite to win the NFL's MVP award.
Tua Tagovailoa Is Now The Overall Favorite For NFL MVP
Tua is on pace for:

47 TD's
5,600 passing yards

MVP. #FinsUp pic.twitter.com/Of98mwvs3M

— 𝙁𝙞𝙣𝙨 (@FinsPhanatics) September 25, 2023
The award was Patrick Mahomes' to lose. The Chiefs quarterback is the reigning MVP of the NFL, and he entered the season with the shortest odds to repeat (+600). He was the outright favorite, but trailing close behind were guys like Josh Allen and Joe Burrow. Mahomes and the Chiefs got out to a rough start in Week 1, as did the other MVP candidates.
But not Tagovailoa. His 466 yard, 3 touchdown performance vaulted him to the top of the leader board, where he took a share of the lead with Mahomes at +650 going into Week 2. Tua's performance against the Patriots in the second game was solid enough to keep him near the top, but the top of the leaderboard was cluttered heading into Week 3.
The clutter is gone. Tagovailoa led the Dolphins to their historic 70 point day, completing 89% of his passes en route to 309 yards and 4 touchdown passes. He achieved those numbers in just three quarters of play, and the oddsmakers at the sports books have taken notice.
Big Test For Tagovailoa And Miami In Week 4
Tua Tagovailoa ranks this season

NFL rank
Wins 3 t-1st
Pass Rating 121.9 1st
TD/att. 7.9% 1st
Yards/att. 10.1 1st
Yards/comp. 14.2 1st

he's doing it again, you guys pic.twitter.com/9RscVnwqDu

— NFL on CBS (@NFLonCBS) September 25, 2023
As of Monday morning, Tagovailoa was listed as the heavy favorite to win the NFL MVP award, coming in at +400, the shortest of any MVP odds so far this season. Mahomes was listed at +700 at the time of writing, though that number is subject to heavy change. The public will believe that Mahomes will eventually win the MVP award until it is firmly taken out of his grasp, and the more that they bet on him with longer odds, the more his number will come down.
Will it last? Tagovailoa and the Dolphins will face their biggest test of the young season this coming Sunday, as they travel to Buffalo to face the division rival Bills. They have had one of the top-2 defenses in the league through the first three games, and are familiar with Tua and the Dolphins, having played against them three times last year.
The Bills are currently 2.5 point favorites for Sunday's game.
---
NFL Betting Guides You May Like
Best NFL Betting Sites Sites 2023 – Discover Top-rated Football Sportsbooks Ranked & Reviewed.
Live Betting NFL Guide – Compare The Best NFL Live Betting Sites for 2023.
Best NFL Betting Apps 2023 – List of Top Football Betting Apps in US.
Best Offshore Betting Sites Review – Compare Best Offshore Sports Betting Sites.
Best Online Gambling Sites 2023 – Best Gambling Sites in USA Ranked & Reviewed.
---
From Sportslens.com – NFL, NBA, NHL, MLB News, Rumors & Betting Picks
———————–
By: Anthony R. Cardenas
Title: NFL MVP Odds: Tua Tagovailoa Is Now The Outright Leader Over Patrick Mahomes
Sourced From: sportslens.com/news/nfl-mvp-odds-tua-tagovailoa-is-now-the-outright-leader-over-patrick-mahomes/
Published Date: Mon, 25 Sep 2023 18:26:02 +0000
Read More