Report: Joel Embiid Has Given The Sixers 'Assurances' About 'Riding Out The Current Drama' With James Harden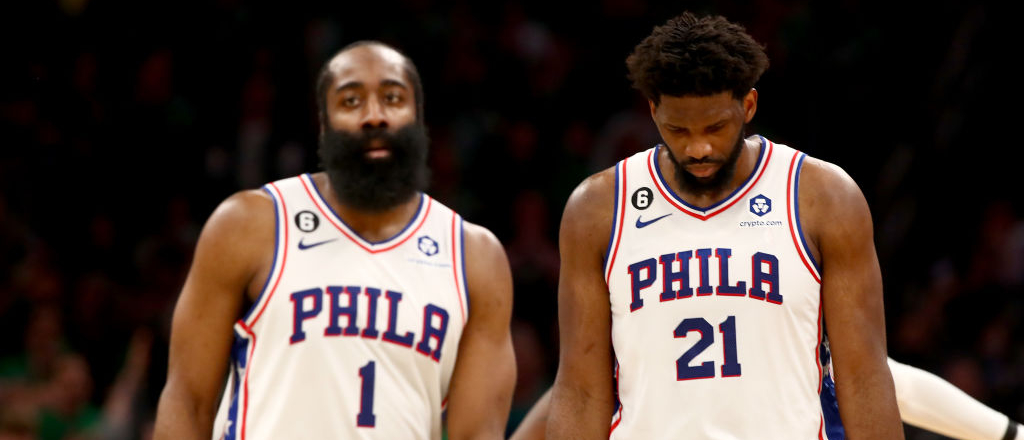 There is one question at the center of everything in Philadelphia as the James Harden trade saga rolls on: What does Joel Embiid think about all of this? Embiid opened the door for a potential departure from the Philadelphia 76ers earlier this offseason, as the reigning league MVP stressed that his goal is to win championships before saying "I don't know where that's gonna be, whether it's in Philly or anywhere else, I just want to have a chance to accomplish that."
With rumors circulating in the past that teams — most notably the New York Knicks — are keeping an eye on Embiid as a potential trade candidate, it's fair to wonder if he might start looking around based on how things go with Harden. But in a new piece by Ramona Shelburne of ESPN, Sixers fans got a bit of good news on that front, as Embiid (along with standout young guard Tyrese Maxey) have apparently told the team they're fine with riding out this storm.
Thus far, Embiid has given the franchise assurances he is OK riding out the current drama with Harden, sources said. How long he gives them to resolve the matter remains to be seen.

Maxey has done the same, even waiting on a contract extension this summer so the franchise can preserve its ability to operate under the salary cap and improve the team in the future.
Of course, it is very easy for Embiid to be fine with riding this out for now, but it's certainly better than nothing for him to let the team know he's not itching for a move. He has made very clear that he'd like Harden to reconsider his stance, and Shelburne noted that the pair still have a good relationship and have kept in contact despite his trade request.
———————–
By: Bill DiFilippo
Title: Report: Joel Embiid Has Given The Sixers 'Assurances' About 'Riding Out The Current Drama' With James Harden
Sourced From: uproxx.com/dimemag/joel-embiid-given-sixers-assureances-riding-out-current-drama-james-harden/
Published Date: Wed, 06 Sep 2023 15:27:34 +0000
Read More
This Comedian Was Awarded the Only Wooden Oscar Statue
The Academy Awards' Oscars are the most esteemed prizes in Hollywood, with the statuette, a 1-foot-8 inch tall, 24-karat gold Adonis with a name of much debated origin, being the ultimate prize of everyone in Hollywood. While the movies may change, the Oscar itself has not… with one notable exception. It was an Oscar made of wood, with a movable mouth, handed out as an Honorary Oscar in 1937. At first glance, it seems like an odd medium to craft an Oscar out of, let alone distribute at a ceremony where every other winner gets a "normal" golden Oscar. But then, the recipient was never quite like the others, opting to work with his sidekick while entertaining millions. The recipient of the wooden Oscar was famed ventriloquist Edgar Bergen, and the special Oscar was the perfect way to celebrate his work.
———————–
By: Lloyd Farley
Title: This Comedian Was Awarded the Only Wooden Oscar Statue
Sourced From: collider.com/edgar-bergen-oscars/
Published Date: Tue, 28 Nov 2023 01:45:14 GMT
Read More
Did you miss our previous article…
https://mansbrand.com/remember-that-time-sean-astin-tried-to-direct-a-fantastic-four-movie/
Remember That Time Sean Astin Tried To Direct a 'Fantastic Four' Movie?
As we are reaching the end of 2023, casting rumors around the MCU's Fantastic Four movie are swirling in the air, and the Fox Marvel movie characters are reportedly returning for Deadpool 3, there has never been a more appropriate time to look back on the cinematic history of Marvel's first family. At this point, The Fantastic Four has been brought to life by numerous filmmakers. Tim Story gave us the original duology in the mid-2000s, Josh Trank bamboozled us with the production mishap that was Fant4stic, and even Roger Corman produced an unofficially released live-action film in the mid-'90s. Simply put, this group of characters are no strangers to moviegoers. But what about the films that were never made? What about Sean Astin's Fantastic Four?
———————–
By: Samuel Williamson
Title: Remember That Time Sean Astin Tried To Direct a 'Fantastic Four' Movie?
Sourced From: collider.com/sean-astin-fantastic-four-movie/
Published Date: Tue, 28 Nov 2023 13:00:14 GMT
Read More
Did you miss our previous article…
https://mansbrand.com/may-december-maestro-we-take-on-two-awards-buzzed-december-releases/
'May December,' 'Maestro:' We Take On Two Awards-Buzzed December Releases

Two huge awards-buzzed films will be released in the month of December, and we've seen them both! Todd Haynes' May December stars Natalie Portman and Julianne Moore in a camp drama that explores the aftermath of an illicit love affair between an adult woman (Moore) and a teenage boy, played as an adult by Charles […]
———————–
By: Clarence Moye
Title: 'May December,' 'Maestro:' We Take On Two Awards-Buzzed December Releases
Sourced From: www.awardsdaily.com/2023/11/27/wcpep439/
Published Date: Tue, 28 Nov 2023 02:23:18 +0000
Read More