There's an old saying that a good workman never blames his tools, but we'd be lying if we said the right ones don't make a difference. When it comes to hair products, it can literally be life-changing.
The list of lightbulb moments we've had includes: the first time we tried John Frieda's original Frizz Ease; when we discovered ceramic hair straighteners; that time we had a scalp makeover at Philip Kingsley; and when we learned to co-cleanse curly hair so that it actually looked good.
Much like modern skincare, haircare has evolved well beyond the basic steps of cleansing and moisturising. You've got options now – hundreds of them – in refined, state-of-the-art formulas that are designed to tackle every hair concern under the sun.
Knowing how to tame frizz, control curls, fix a tricky scalp, successfully de-oil greasy hair or heat style without making everything a hot mess is going to make your hair look better on the daily.
That cheap bottle of shampoo? Sure, it'll clean your hair, but it's more likely to strip the natural oils, making it dryer and duller over time. So, while some brands may be pricier than others, these are some of our most tried-and-trusted. And as the saying goes, you're worth it.
Looking for more good hair days? Just click add to cart.
Denman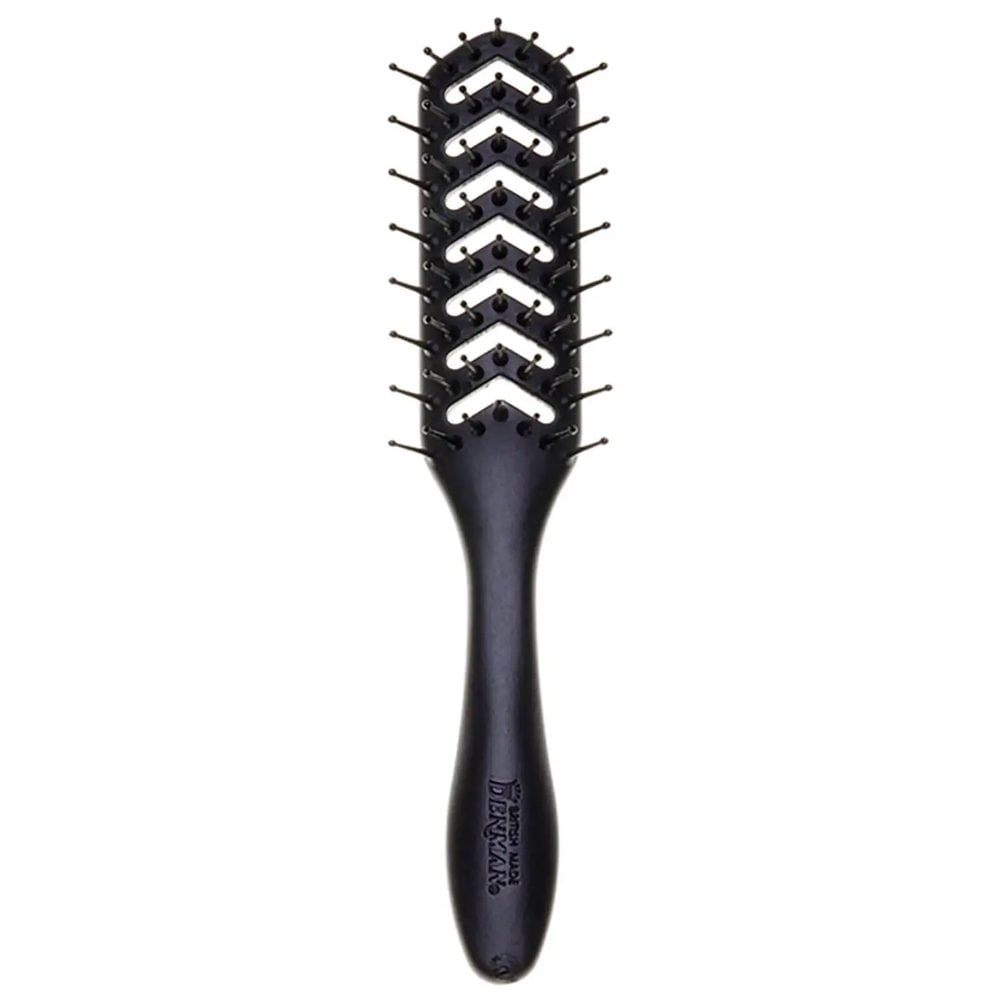 Let's start with the basics: do you have hair to brush? Ever given any thought to the type of brush you are using? Time to start.
Denman has been making hairbrushes for over 80 years. In 1938, on a visit to New York, John Denman Dean discovered a revolutionary new product, nylon, brought it back home to Northern Ireland, and started a line of brushes. In the 1960s, super snipper, Vidal Sassoon picked up the Denman D3 Original Styler and cemented its status as the ultimate styling brush.
Today, there's a brush for every hair type and purpose. The go-to products in our kit include the Jack Dean Luxury Beech Wood Club Brush, which has super-soft, natural boar bristles to smooth and shine short, fine and weak hair and sensitive scalps. It's so gentle you can barely feel it.
The D6 Original Scalp Massager and Shower Brush is the perfect palm styler to get right to the roots, massage in strengthening tonic or beard oil, and to detangle and comb product through wet hair or stubble. And the Jack Dean D200 Skeleton Vent handles easily without snagging or pulling, adds root lift and volume, and offers express heat styling thanks to the clever vent design.
Shop now at denmanbrush.com
THIX
Mother Nature is a cruel mistress. Unless you're blessed in the genetic lottery, that lustrous head of hair that you take for granted will slowly wither on the vine with the passage of time. Of course, it might not – but are you willing to risk it?
Prevention is always better than a cure (which is, most likely, a Turkish hair transplant down the line). Male pattern baldness isn't the only cause of thinning – stress and poor diet can be factors, wearing it tied up can cause traction alopecia around the hairline, and even a pesky virus can cause temporary hair loss.
Want to make more of an effort to preserve what you've got? THIX has got those precious follicles covered. This tight routine of shampoo, conditioner and styling paste is infused with science-backed ingredients including essential vitamins, amino acids, proteins and stimulating caffeine.
Like a super green smoothie, it provides all the nutrients the hair needs with a cocktail of plant keratin, biotin (B7), niacinamide (B3), panthenol (B5), pyridoxine (B6) and vitamins C and E.
Is it a miracle cure for baldness? Nope – and it doesn't claim to be. Will it help your strands feel thicker, fuller and healthier? Yup – with visible root lift and a lush texture.
It's vegan, sulphate and GMO free, comes in fully recyclable aluminium packaging, and the invigorating minty fresh smell provides a more stimulating shower experience in the morning.
Shop now at THIX
Bumble and bumble.
Every pro hair stylist has Bumble and bumble in their kit. A backstage favourite, Bumble and bumble opened their first salon in New York in the late 1970s, and quickly became known for a signature cutting style using a straight edge razor.
It launched Brilliantine, its first own label product in 1990, a best-selling oil-based styling creme to add shine and separation, and dropped its famous Surf Spray, which gives instant salty waves, in 2001. Bb. has been serving pro formulas that out perform the rest since the start, which is why it costs more than your average haircare brand.
Frequent blow dryer or heat styler? Right now, the Hairdresser's Invisible Oil Heat/UV Protective Primer takes the top spot, with good reason: it cuts frizz, adds definition to curls, provides heat styling protection, sun protection and adds hydration without weighing hair down. You need this – stat.
For the wax and gel enthusiast, Sunday Shampoo is like a memory wipe to correct a styling gunk overload. This weekly detox will gently remove oil, grime and build-up. So, when your hair suddenly feels like it can't get clean or your regulars feel less effective, re-set with this; it leaves the hair feeling lighter, bouncy and squeaky clean.
Timothée Chalamet's work as the unofficial ambassador for loose, natural curls has done more for the cause than most other personalities in recent memory (not you, Timberlake). Knowing how to manage those rebellious coils it is half the battle when embracing one's natural texture.
Whether your hair is coily, kinky or sits in tight spirals, the Curl Defining Cream is a designed to de-frizz and enhance the shape of your curls without leaving any tell-tale crunchiness.
Shop now at Amazon
Horace
French grooming specialist Horace prove that quality haircare can still be affordable. With a full range of styling aids, shampoos, conditioners (including solid bars for zero waste) and specialist treatments for every hair type and concern, you can look after your hair with a reasonable outlay.
The Wax Pomade is made with natural ingredients – beeswax, kaolin clay, sapote butter (to nourish the scalp) and glycerin – and without mineral oil, parabens and silicone. We love it because it lasts all day, looks natural, leaves no residue, and washes clean out without any effort.
When you're dogged with an itchy, dry, flaky scalp it can be hard to find effective products that don't make the issue worse. Unlike the major anti-dandruff brand found in the supermarket, Gentle Anti-Dandruff Shampoo is sulphate-free, so it's less likely to irritate the skin or tax your hair. Use it 2-3 times a week for one month, and say goodbye to tell-tale flakes and bothersome itch.
Great for all hair types – especially fine, thinning or straight – the Texturising Hair Spray deserves a spot in your grooming arsenal. This salty spray has a pleasant flowery marine scent and adds much needed volume and texture when applied to damp hair.
Shop now at Horace
Davines
As a certified B Corporation, this under-the-radar Italian brand has serious environmental creds and offers excellent hair/skin solutions that's mostly sold through independent outlets. Davines strives to be circular, using locally-sourced, botanical ingredients and renewable or recycled packaging that can be reused and refilled at your nearest bulk supply.
So, what do we love? It's easy to navigate and find the right products for your concern. In the essential range, Volu boosts fine or limp hair, Melu takes care of breaking/damaged hair, Momo replenishes dry hair and Love Curl does what it says on the tin.
SU offers sun protection, OI is for shiny, silky hair, while Naturaltech is a complete holistic range on top. The offer is huge, and the products are a pleasure to use.
Scalp care has ratcheted up our list of priorities in recent times and the Solu Salt Scrub, from the clarifying line for oily/clogged hair, is a deep cleansing, purifying treatment made with pure sea salt that removes pollution and impurities for a revitalised scalp.
Individually sealed in wrapping paper, every time we re-up our supply of This is a Forming Pomade it's like a gift. One of our longest serving styling products for short, textured styles, this lightweight formula adds shine and re-workable hold.
Always burning your bonce? Make sure you've got SU Milk Sun-Protecting Leave in Hair Spray when you're headed to the pool or beach. This leave-in spray has UV filters to protect scalp, hair and prevent colour fade, and it replenishes the hair and skin from the moisture sapping trio of sun, salt and chlorine.
Shop now at Amazon
Kiehl's
Kiehl's is an 170-year-old New York apothecary that occupied corner stores in Manhattan, and originally fulfilled prescriptions by hand. French beauty giant L'Orèal acquired the business in 2000, and – we're going to be brutally honest here – most of the brand's best-loved, cult products are original formulas which pre-date the millennium.
While skincare innovations are the current focus, it still has a tight edit of effective hair care products that we go back to time and time again – when they have them in stock. Crucially, there seems to be persistent supply chain issues both in the UK and in the US.
To the best of our knowledge, Creme with Silk Groom was one of the first hair creams on the market. This non-greasy, conditioning styling cream is made with wheat protein and jojoba oil, nixes frizz and flyaways and gives light structure when applied to damp or dry hair. One tube lasts for ages, which is just as well, because while the brand insist it's not been discontinued, it's been out of stock for two years.
Needs must, so we've been experimenting with substitutes and highly recommend these (cheaper) alternatives: Larry King A Social Life for Your Hair, Phyto 7 Moisturising Day Cream and Bumble and bumble Grooming Creme.
We still love you Kiehl's, and we'll ride out this storm together. Thankfully, all is not lost, because we can still get our hands on these hair saviours: Amino Acid Shampoo, a gentle cleanser with a soft scent of coconut that adds volume; and Hair Conditioner and Grooming Aid Formula 133, a super-lightweight conditioner for all types to detangle, soften and tame.
Shop now at Kiehl's
Harry's
What began as a subscription shave club has morphed into a fully fledged grooming powerhouse. Harry's USP is style and value for money – an appreciable bonus in these wallet-crunching times.
Harry's still offer its original premise of subscribe and save, plus one-off purchases for the commitment-phobic, and you can source them online and offline via major outlets like Sainsbury's, Boots, Target and Amazon.
Even if you don't have dandruff (which is caused by a specific fungus), that doesn't mean your scalp isn't parched. Step forward, Dry Scalp 2 in 1 Shampoo & Conditioner, which is designed to soothe a tight, dry skin.
For styling aids that won't break the bank, we've got Texturising Putty on repeat to keep our barnet from looking a dishevelled, sticky mess. Malleable with a matte finish, this putty can easily be reshaped.
On the flip side, the Sculpting Gel offers firm hold and polished shine that won't flake or dry out the hair.
Shop now at Harry's
Malin+Goetz
Combining NYC cool with no-nonsense vibes, Malin+Goetz' founding purpose was to deliver efficacious grooming products that were also fragrance-free, kind to sensitive skin, vegan and cruelty free – a big point of difference when it launched.
Scalp masks can be fiddly and/or time consuming, so we thoroughly high-five the Detox Scalp Mask. This express treatment takes just five minutes to work its foaming magic. Top line ingredients include a blend of glycolic, lactic and salicylic acid to gently exfoliate and clarify, conditioning safflower, olive oil and coconut oil, and therapeutic spearmint leaf and peppermint oil to cool and soothe. Use it once a week for noticeably fuller, thicker, softer and shinier hair that stays cleaner between washes, and a healthier, happier scalp.
On the cleansing front, the Gentle Hydrating Shampoo is sulphate-free and kinder to hair that's washed frequently, prone to frizz, chemically relaxed or colour treated hair, with a combination of amino acids, marine algae extract and panthenol.
The brand also sell Peppermint Shampoo by the gallon (3.78 litres), so if you can stump up for it then go full prepper and you'll save almost 50% on a year's supply or more.
Shop now at Amazon
Aēsop
Naturally, the makers of everyone's favourite hand wash also do well in other departments, offering generous 500ml bottles of shampoo and conditioner to keep your shower stall well stocked (bulk options always offer the most economical price). Superior fragrances come as standard with Aēsop, so you can bet they smell great too.
Scalp issues? Sage & Cedar Scalp Treatment is a pre-shampoo oil for sensitive, dry or easily irritated scalps that can do with some extra TLC. This easy to wash out formula contains rosemary leaf, cedar atlas and sage leaf. Take a full pipette's worth and massage all over, leave for 15 minutes, and shampoo away. Expect to see less dryness and redness as a result.
Dry, dull, wiry and coarse facial hair will love the Shine Hair & Beard Oil. With a herbaceous scent of petitgrain and borage, this multitasking product will give lacklustre strands a new lease of life, without any greasiness.
Shop now at SSENSE
Baxter of California
The story goes that Baxter Finley couldn't find any dedicated skincare products for men, so he started making his own. That was in California, way back in 1965. Now, Baxter of California has a global presence, and a barbershop on La Cienega on West Hollywood that carries his name above the door.
One of the best-known, classic products is Clay Pomade, which offers unbeatable, matte hold when applied to dry or damp hair, and a shine finish when applied to wet hair. Made with kaolin and bentonite clay and natural beeswax, it can wrangle straight, thick and short hair types into submission.
For longer lengths, straight, wavy and fine hair, the versatile Clay Effect Style Spray is a pre-styler that adds oomph, texture and semi-matte hold. You can even use it with Clay Pomade for extra grit. It only contains good stuff, like jojoba oil, bamboo leaf extract and green tea extract, and it's seriously easy to use: spray into wet or damp hair, style with or without heat, and just get on with your day.
Daily Fortifying Conditioner gets rave reviews for it's tingling, minty fresh scent and hair-loving ingredients of wheat protein, Vitamin E, and coconut extract. It offers weightless, silk conditioning and because you don't need to apply generously, one bottle lasts for ages.
Shop now at Baxter of California
Hanz de Fuko
A relative newcomer to the men's grooming scene, Hanz De Fuko was created in 2009 by childhood friends, David Alfonso and Christopher Zent. Born in San Francisco, the brand quickly gained a reputation for cult haircare products made with natural and organic ingredients.
While the full range covers skincare and haircare, the versatile, easy to use stylers are some of the best-known and best-loved in the business, and you only need to use a tiny bit.
When it's all about bigging up the volume, we reach for Claymation. This hybrid wax offers excellent staying power and pliability with a semi-matte finish, lending a relaxed, textured look to the hair. Just warm up a small amount in the hands and apply.
For a beach-y finish with high hold, there's Quicksand – an ingenious blend of wax and dry shampoo. This gritty paste is like a salt spray that keeps on giving; it adds volume, absorbs excess oil and gives a dead matte finish – with the benefit of weightless texture. The experts at HdF recommend it for second day looks (wash day plus one).
Untameable hair types will meet their match with Sponge Wax. Flexible, firm and with a matte finish, use it to create slept-in, textured styles on dry hair and smooth styles on damp hair. With long-lasting, pliable hold you can change it up throughout the day.
Shop now at Mankind
Aveda
Horst Rechelbacher was heavily inspired by the science of ayurveda and founded Aveda in Minneapolis in 1978, creating his first product, a clove shampoo, over his kitchen sink with the help of two Ayurvedic doctors.
An early pioneer of holistic haircare, greater environmental responsibility, he established the Aveda Institute to train up the next generation of hair stylists, colourists and therapists.
Silver fox in the making? Bring out that badger streak with the famed Blue Malva Color Enhance Shampoo. This vivid, purple-hued shampoo is a miracle for white, grey, salt and pepper, very blonde or bleached hair, cleaning up the brassiest yellows to icy white, with noticeable pop. It's harder to find in smaller quantities than one litre, so shop around for the best deal.
The thickening men's hair care line, Invati, targets the achilles heel of hair loss. A solid five-star performer is the Aveda Advanced Thickening Foam. So simple to use, this leave-in foam adds reassuring bulk to the weakest of strands and uses rice protein to reinforce fragile hair, smooth frizz, add bounce and shine. Use before styling or drying naturally.
Looking for the perfect gel that doesn't leave an oil slick? Aveda Men Pure-formance Firm Hold Gel is the holy grail of gel products. It's lightweight, so it won't weigh hair down, leaves zero residue, contains UV filters for extra sun protection, offers great hold and does all this without smelling like tropical bubblegum or some kind of cheap plastic toy.
Shop now at Space NK
American Crew
American Crew started out as a professional only haircare brand founded by hair stylist David Raccuglia, in 1994. Pre-internet, being a salon-only brand was a strong sales tactic; customers got a hands-on demo from their barber, and a recommendation they could trust.
The recognisable styling 'pucks' are sensibly divided by the strength of hold and level of shine. American Crew Fiber has by far the most reviews on Amazon, and 68% gave it a 5 star rating. There are thousands of satisfied customers commending it for its strong, pliable hold and matte finish.
It's suited to short hairstyles between 1-3 inches in length, which want height and texture. It also contains lanolin and beeswax, so it's definitely not vegan.
We're also partial to the Boost Powder, which adds grip, height and texture – especially useful when sprinkled into floppy, freshly washed hair, or fine, flat and very straight hair. Combine it at will with other products in the line.
Of the newcomers to the range, we'll tip our hat to the Matte Clay Spray for mid to long lengths, and dirty hair, due to the oil-absorbing, dry shampoo effect. The premise is similar to Baxter's Clay Spray – at half the price. Spray in and style with your fingers for medium hold and a matte finish.
Shop now at Amazon
Shu Uemura Art of Hair
Originally from Japan, Shu Uemura was a legendary makeup artist who worked in Hollywood with screen idols Shirley MacLaine, Frank Sinatra and Lucille Ball at their peak. In 1964, he returned home to Tokyo and opened the Shu Uemura Makeup School. His first product was a cleansing oil for the skin, which remains a bestseller to this day.
In 2007, the company launched Art of Hair, a professional first hair care line, just a year before he died. His parting gift to the world is a superior collection organised by hair type, with products that regularly nudge five-star reviews.
Taking inspiration from yu-su-ru, the Japanese ritual of bathing hair in rice water, the new Izumi Tonic range is dedicated to reinforcing weak hair. The Strengthening Energising Water harnesses this hero ingredient and ceramide to transform hair into smooth, strong follicles. It works like a lightweight leave-in conditioner that you just apply to wet hair.
Like St. Jude in a jar, Ultimate Reset Masque is our patron saint of lost causes; whether that's overly chemically treated, coloured, chlorinated or heated, or simply parched and straw-like, this mask is like super bond for frazzled follicles. Enriched with Japanese rice extract, antioxidants, vitamins and minerals its a deeply restorative treatment that's worth the splurge.
Art of Styling Ishi Sculpt is an extremely versatile styling aid for all hair types that can create smooth or textured, reworkable matte looks – add it to your styling cabinet.
Shop now at LookFantastic
Patricks
With the motto 'we can do better' Aussie brand Patricks delivers high performance grooming products in super-stylish packaging. It's so good, and looks so cool, DC Comics tapped the brand to create an energising, anti-fatigue moisturiser under the banner of Wayne Enterprises, for anyone who aspires to live like the Gotham City billionaire/Batman.
Expect no less of the haircare formulas, which perform beyond expectation. They've put significant R&D into the ultra thickening range, if you're happy to part with £68 for a shampoo. At a significantly lower price point, Lite Shampoo is far from entry level. Expressly designed for universal, non-thinning hair, it uses an impressive list of high-spec ingredients that includes scientifically-proven botanical extracts, tetrapeptides, essential vitamins and fatty acids to support the skin function and follicle growth cycle.
Alternatively, start your addiction and sample the range with the Discovery Set, which contains six travel-size versions of the SH1/CD1 Daily Thickening Shampoo and Conditioner, SH2/CD2 Deep Clean Shampoo and Moisturizing Conditioner and minis of the Lite Shampoo and conditioner. Take it on tour this summer and it will leave every rubbish hotel amenity in the shade.
We can't mention Patricks without shouting out the styling range. The M2 Matte Finish, Medium Hold Styling Product is the brand's bestseller and rightly so, because it ticks all the boxes: it promotes hair growth, nourishes the scalp, protects with UV filters, has a luxurious feel and a high-end scent to boot.
Shop now at END.
The post The 15 Best Men's Hair Care & Styling Brands In The World appeared first on Ape to Gentleman.
——————–
By: Jessica Punter
Title: The 15 Best Men's Hair Care & Styling Brands In The World
Sourced From: www.apetogentleman.com/best-mens-haircare-styling-brands/?utm_source=rss&utm_medium=rss&utm_campaign=best-mens-haircare-styling-brands
Published Date: Wed, 09 Aug 2023 08:00:06 +0000
10 Companies To Buy The Best Made-To-Measure Suits Online
Let's face it, we've all thought of buying a suit online. But with so many options to choose from, how can you be sure you're getting a good value? Well, today, I'm going to show you the top 10 companies that sell made-to-measure suits online.
I'll show you the companies I think offer the best value for quality in a sea of online suit retailers.
To help you buy the best made-to-measure suit for your needs, I will be going over my recommendations (in no particular order) and giving you a brief introduction to online suit retailers.
Why Buy A Made-To-Measure Suit?
First of all, what is a made-to-measure suit?
This type of suit is one that is crafted by using a predesigned template and utilizing measurements provided by you, or taken by a professional at a showroom. They are cut exactly to your size, shape, and needs.
While made-to-measure is not the same as bespoke, they offer a much better fit than your standard off-the-rack suits. The best part about this way of fitment though, is rather the convenience factor of buying the suit.
Since the introduction of made-to-measure suits, many companies have expanded and begun offering almost completely online buying experiences.
All you have to do is provide them with your measurements and pick your combination of styles and you're done. Within a short time, you'll have a great-fitting suit arrive at your doorstep that will only need minor tailoring to make it perfect.
These next companies I'll tell you about are my top 10 recommendations (in no particular order) of made-to-measure suit retailers that provide great value for the money.
1. Hockerty
Hockerty has put their entire made-to-measure process online. They use a proprietary system to estimate your measurements. That way, if you or a friend can't make your measurements perfect, they'll be able to work with it.
They excel at bringing forth old-school English elegance. Think tweeds, three-piece suits, and thick, sturdy lapels. They also deliver their suits quicker than most on this list.
What They Do Well
They offer vast custom options and countless fabric and suit cut combinations starting at an affordable price
Turnaround time is 2-3 weeks
Average cost is $299+
Check out more from Hockerty.
2. DanielRe
DanieleRe offers exquisite craftsmanship with impeccable suits that use the finest fabrics sourced from Italian mills. They excel at combining the perfect fusion of artistry, elegance, and personalized style into affordable suits.
Whether you're in need of a sophisticated business suit, an elegant wedding suit, or a more relaxed and casual ensemble, they have you covered. With loads of personalization options, DanielRe solidifies itself as a top contender in the made-to-measure business.
What They Do Well
They offer a diverse range of styles and fabrics so that you can have a suit for any occasion
Turnaround time varies
Average cost is $350+
Check out more from DanielRe.
3. Suitsupply
Suitsupply is a European brand that has brought an elevated and attainable way of suit buying to the masses. They have showrooms across the United States, along with an excellent online experience.
Where Suitsupply excels is in their approach to offerings. You can build a suit from scratch, or you can have one of their current designs made to your specifications.
What They Do Well
They offer a full array of designs as well as custom, built-from-scratch options
Turnaround time is 2-4 weeks
Average cost is $690+
Check out more from Suitsupply.
4. Studio Suits
StudioSuits is a traditional tailoring shop that uses classic techniques to make custom clothing. They have a team of skilled craftsmen who are involved in the process from start to finish.
Where they excel is in offering a wide range of quality, custom-tailored men's suits, jackets, and trousers designed to fit you and your budget no matter the occasion. They also partner with Scottish weavers to source the best Scottish tweed, if you're into that.
What They Do Well
They offer some of the most affordable suits on this list yet still well-made with amazing craftsmanship
Turnaround time varies
Average cost is $250+
Check out more from StudioSuits.
5. Proper Cloth
Proper Cloth is a brand that prioritizes quality over quantity. Their made-to-measure suiting is available in a tight curation of classic silhouettes rather than a build-it-yourself service.
You will essentially buy the suit in an off-the-rack size and add your custom measurements to it, similar to a traditional tailor that you'd bring suit to. It's a pared-down service compared to the others on this list but an excellent one that promises high-quality suits.
What They Do Well
They offer a wide selection of styles and cuts made from premium fabrics in all price points.
Turnaround time varies
Average cost is $900+
Check out more from Proper Cloth.
6. Indochino
Indochino is one of the original and most accessible options for made-to-measure suits. Their services are available both on their website and in showrooms across the country.
Their brand offers endless combinations of fabric and styles that are perfect for anyone buying their first suit or their hundredth. They offer really high value-to-quality.
What They Do Well
They have a large amount of styles and designs to choose from at affordable prices
Turnaround time is 4-6 weeks
Average cost is $550+
Check out more from Indochino.
7. Oliver Wicks
Oliver Wicks offers high-quality, European-tailored suits made from the finest English and Italian fabrics. With an easy-to-use online ordering system, you can be on your way to a new suit in just 15 minutes.
With high-end fabrics to suit most budgets, they offer a diverse selction of European cuts with endless amounts of customization. Oh, and when it comes to warranties on fitment, they offer a full year, 365 days, for fit alterations. So you can rest easy when you order.
What They Do Well
They offer varying quality of construction in their suits to fit your budget starting from half-canvas construction all the way to full-canvas if you desire
Turnaround time is 4 weeks
Average cost is $800+
Check out more from Oliver Wicks.
8. Alton Lane
Alton Lane brings modern cuts and energy to made-to-measure suits. They source high-quality fabrics from high-end mills and use them to create simple, classic suits that you can customize to your liking.
Given the quality and simplicity of their offerings, Alton Lane is perfect for anyone who needs a high-end suit that then becomes their go-to suit any time they need one. It truly is a great place to find that "one" perfect suit.
What They Do Well
They offer modern styles with high-quality fabrics that captivate trending styles more than others on this list.
Turnaround time is 3-6 weeks
Average cost is $1000
Check out more from Alton Lane.
9. Gieves And Hawkes
Gieves and Hawkes have been keeping the spirit of Savile Row alive. The shop has been making suits for over two centuries and has outfitted everyone from British royalty to American music icons.
You will have to hop on a plane to get measured though (if you're not a resident of Europe), as all made-to-measure orders start in their showroom, where they'll take measurements, walk you through the fabric library and show you examples of the suit you can have.
What They Do Well
They offer one of the highest-end experiences on this list along with premium fabrics and timeless styling
Turnaround time is 6-8 weeks
Average cost is $1200+
Check out more from Gieves And Hawkes.
10. Commonwealth Proper
As one of the "newer kids on the block" Commonwealth Proper has been making timeless styled suits and jackets with the highest quality. Their selection of made-to-measure suits is narrower than most others on this list, but the quality is high.
With narrower style offerings, they specialize is classic designs met with modern pizazz. They were founded in Philadelphia, Pennsylvania, USA and have expanded into other states offering great quality suits for the "proper" gentleman.
What They Do Well
They offer very high-quality suits and jackets that are inspired by classic, timeless styling. They will also travel to you for fitment
Turnaround time varies
Average cost is $3000+
Check out more from Commonwealth Proper.
Hopefully, this list of the top made-to-measure suit offerings helps you find a great suit that fits both you and your needs well.
If you're looking for more suit articles, check out this one I wrote about 5 mistakes I made when buying custom suits.
FAQs: Made-To-Measure Suits
Why should I choose a made-to-measure suit over a ready-made suit?
Made-to-measure suits offer a superior fit, personalized style options, and higher quality craftsmanship, making them a better investment for both comfort and appearance.
How do I get measured for a made-to-measure suit?
Measurements are usually taken by a professional tailor either in-store or at your location if the service is offered, ensuring precise and accurate sizing.
How much does a made-to-measure suit typically cost?
Prices can vary greatly depending on the fabric, brand, and complexity, but generally start from a few hundred dollars to several thousand.
How long does it take to get a made-to-measure suit?
It typically takes 4-8 weeks from measurement to delivery, depending on the tailor and specific requirements.
Can I customize the design of my made-to-measure suit?
Yes, you can usually choose from various fabrics, styles, buttons, linings, and other details to create a suit that reflects your personal style.
What's the difference between made-to-measure and bespoke suits?
While both are customized, bespoke suits are entirely handmade with more fittings and personalized details, often making them more expensive than made-to-measure suits.
How do I choose the right fabric for my made-to-measure suit?
Consider factors like climate, occasion, and personal comfort. Wool, linen, and cotton are popular choices, each with their own benefits.
Can I alter a made-to-measure suit if my size changes?
Yes, minor alterations can usually be made, but significant size changes might require a new suit
Is a made-to-measure suit worth the investment?
Given its custom fit, quality, and longevity, a made-to-measure suit can be a worthwhile investment, especially for frequent wear.
The post 10 Companies To Buy The Best Made-To-Measure Suits Online appeared first on Real Men Real Style.
——————–
By: Antonio Centeno
Title: 10 Companies To Buy The Best Made-To-Measure Suits Online
Sourced From: www.realmenrealstyle.com/made-to-measure-suits/
Published Date: Tue, 28 Nov 2023 12:39:56 +0000
The Man's Guide to Swimwear | How To Choose A Proper Swim Suit
For most of human history, recreational swimming was done naked. (Non-recreational swimming was done in whatever you were wearing when you fell in, because it beat the heck out of drowning.)
Purpose-designed swimwear started out as a modesty garment first, and a practical garment very much second. Early swimsuits were made from knit wool, and in the case of women's swimwear included long skirts, weighted down at the hem to keep the water from lifting them up.
Suits were strictest in the late 19th and early 20th centuries, when both men and women were prohibited by law and custom from going bare-chested in public. One-piece suits with cutoff sleeves and legs were a common style.
In the 50s and 60s, men actually organized protests arguing for the right to go topless. Many were cited for public indecency until the laws finally changed. (Women are undergoing a very similar struggle right now.)
From that point on, swimsuits were more about function than modesty. Specialty suits began to evolve in the 60s and onward, leading up to today's world of wetsuits, drysuits, racing wear, drag suits for training, and more.
Different Types and Styles of Modern Swimwear
Contemporary swimsuits can serve both decorative and practical functions. Most strive for both. Swimsuits are usually categorized by the length and looseness of their cut:
Trunks are the most common men's swimwear in North America. They look similar to shorts worn as clothing on land, but are made from light, fast-drying materials (usually nylon or polyester) and feature a tighter-fitting lining inside the shorts. Longer versions that come past the knee are sometimes called boardshorts.
Swim briefs are often called "speedos," a trademarked brand that has been popular for many years. They are tight, body-hugging swimsuits with a V-shaped front that bares the thighs. Recreational swim briefs typically feature an interior lining.
Square-cut shorts are a body-hugging style that covers the wearer from the waist to the upper thigh. The leg openings are cut straight across the thigh for a boxy look that is slightly less revealing than angled swim briefs.
Jammers are knee-length, skintight suits used by competitive swimmers and other watersports participants to reduce drag. They resemble bike shorts, but without the padded crotch and seat.
Racing suits are tight, form-fitting suits designed to reduce drag by streamlining the body and skin. They come in a number of cuts, baring or covering varying amounts of arm and leg. Modern marketing usually refers to them as "skins," i.e., bodyskin, legskin, kneeskin, etc.
Wetsuits and drysuits are insulated suits designed for prolonged immersion, usually in the context of snorkeling, scuba diving, or board sports. They are quite close-fitting.
Rash guards are a looser form of all-body swimwear than a wetsuit, and are generally used by watersports participants such as surfers, kayakers, and paddleboarders. Most are made from a UV-reflective fabric with a UPF rating.
Swim shirts are an upper-body-only version of a rash guard, and are gaining popularity as a sun and surf protection option for casual bathers.
Thongs are small briefs designed to expose the buttocks. Many cultures traditionally use thong-style swimwear for men, such as the Japanese fundoshi, but in contemporary Western culture thongs are predominantly marketed toward women. Men can and do wear them, however.
All of the above styles can come in nearly any color or pattern imaginable, provided one is willing to shop around long enough. Traditional colors and patterns for men include solid navy blue, blue-and-white striping, and floral or Hawaiian-style prints.
Buying a Swimsuit
Swimsuits are, relative to a lot of menswear, forgiving garments to shop for. You don't need an absolutely perfect tailored fit, so long as the suit stays up when you dive in (and most have a cord at the waist to help with that).
That doesn't mean you should grab whatever's cheapest off the Wal-Mart shelf and call it a day, though. You're likely to only have one or two swim garments in your wardrobe at a time, so it's worth finding ones you really like.
A couple key steps:
1. Know Your Active Needs
Just how intense are your activities going to be in your swimwear?
A swimsuit for a hotel pool now and then doesn't have a lot of technical requirements. Something to go surfing in for hours at a stretch is another matter.
Think about the following when you're weighing swimsuit options:
How much leg movement are you going to do? Loose fabric, when wet, can chafe very quickly, so a loose trunk style of shorts isn't great if you plan on walking around in your suit or using your legs for exercise. (Despite the "boardshort" name, pro surfers usually wear snug, tight-fitting swimwear these days.)
How much actual swimming (as opposed to wading and splashing around) are you going to do? You'll want to reduce drag if you're actually propelling yourself through the water for any length of time, making a tighter fit preferable.
How much sun protection do you need? For prolonged sun exposure, it's worth considering something that covers the upper body as well as the lower.
As you can see, the basic, short-like trunk style is really only suited for casual users who plan on lying around, wading, and maybe doing a little light swimming. If you're planning on being more sporty than that, a snugger fit and potentially some more body coverage is worth considering.
2. Know the Visual Impression You Want
Who you're going to be wearing your swimsuit around, and what you want from them, plays just as important a role as your activities.
Family vacationers don't have much in the way of stylistic needs. Men who are planning on hitting up beach parties and crowd scenes, perhaps with an eye toward meeting women (or other men) for romance, need to be a little pickier. And businessmen who may end up in the spa or hotel pool with co-workers and business partners have their own special concerns. Ask yourself:
Are you trying to impress anyone? If not, stop worrying. Wear whatever is comfortable and works for you.
Are you trying to look professional? Conservative (but not exaggerated) length, conventional styles (trunks or square-cuts), and dark, solid colors or restrained stripes are for you. Navy blue with brass-colored grommets and white rope ties are always safe.
Do you want to look sexy? If so, you'll need a cut that flatters your body type (see below), and a color and pattern that's eye-catching without being ridiculous. Think stripes, plaids, bright solids, or some not-too-crazy floral patterning.
These affect cuts as well as colors and patterns: tight, form-fitting styles look sharp and practical in the longer cuts, but sexualized and only good for showing off your bod in the smaller cuts. Baggier styles look less sexualized, but can also look slumped and casual, like you don't care about your appearance.
3. Be Honest About Your Body
It's the 21st century — if you want to let it all hang out, you're free to, at least as far as the local laws permit it.
That said, some realistic expectations about who wants to see your naked flesh, and how much of it, go a long way. A little self-consciousness is not a bad thing. Be honest:
Are you a little soft around the middle? If you are, a looser cut will balance things out a bit, and you'll absolutely want to avoid anything with a tight, strongly-elasticized waist opening that's going to dig in to your belly.
Are your thighs and buttocks toned? If they're not, a tight swimming brief or thong is going to expose a lot of jiggle. Your call on whether you want to do that or not.
Are you fit, but not interested in getting ogled? Longer, form-fitting styles like jammers or skinsuits are for you: all the streamlining and none of the naked flesh. It desexualizes things a bit.
There are no right or wrong choices here, but you should realistically expect your choices to have some effect on other people. There are going to be visual judgments on whether you look good in shorts, whether you want them or not.
Want more?
Discover How The Right Image Helps You Make More Money, Attract Women, & Command Respect.
Learn the secrets of style in a structured environment leveraging my proven step-by-step master programs.
The post The Man's Guide to Swimwear | How To Choose A Proper Swim Suit appeared first on Real Men Real Style.
——————–
By: Antonio Centeno
Title: The Man's Guide to Swimwear | How To Choose A Proper Swim Suit
Sourced From: www.realmenrealstyle.com/guide-to-swimwear/
Published Date: Mon, 27 Nov 2023 15:54:09 +0000
Did you miss our previous article…
https://mansbrand.com/50-last-minute-holiday-mens-gift-ideas-for-2023/
50 Last-Minute Holiday Men's Gift Ideas for 2023
Struggling to find a last-minute gift for the man in your life as the holiday season approaches?
You're not alone. The challenge of selecting a thoughtful gift under the pressure of looming deadlines is real, especially with the year drawing to a close.
Whether it's for your dad, brother, uncle, or friend – the vast array of options can seem overwhelming.
Don't worry, we've got you covered.
Our curated list of 50 last-minute gift ideas for men cuts through the clutter. From tech and apparel to accessories and home goods, we'll ensure you find the perfect gift without the stress, making this holiday season memorable and enjoyable.
1. Echo Buds (2023 Release)
Echo Buds deliver crisp, balanced sound and active noise cancellation for immersive listening anywhere.
With Alexa built-in, men can enjoy hands-free access to music, calls, or getting information on the go.
The comfortable, customizable fit ensures they'll stay secure during workouts or daily wear.
With up to 15 hours of music playback per charge, these wireless earbuds provide reliable performance all day long for the busy modern man.
Key Features:
Active Noise Cancellation: Immerse in high-quality audio by reducing ambient noise.
Hands-free Alexa Integration: Effortlessly control tasks with voice commands for ultimate convenience.
Customizable Fit: Achieve comfort and security with customizable ear tips.
Wireless Connectivity: Experience hassle-free and tangle-free audio with Bluetooth technology.
Click here to grab Echo Buds (2023 Release)
2. Google Pixel 7a
The Google Pixel 7a offers top-notch technology and features, making it an ideal gift for the man who seeks a powerful Android, affordable, and reliable smartphone for various needs.
Key Features:
Advanced Camera System: Capture stunning photos and videos with the high-quality camera.
Fast Performance: Powered by cutting-edge technology for smooth multitasking and app performance.
Long-lasting Battery: Enjoy extended usage without worrying about frequent recharging.
Pixel Experience: Access the latest Android updates and features for an optimized user experience.
Click here to purchase Google Pixel 7A
3. PlayStation Portal Remote Player
The New PlayStation Portal Remote Console allows men to easily stream their PS5 games on mobile devices.
With high-quality graphics and responsive controls, guys can continue playing hit titles like God of War Ragnarök and Horizon Forbidden West on the go.
Setup takes just seconds by pairing your smartphone or tablet with the PS5 via the same WiFi network.
Wherever he is, a man can use Remote Play to access his PS5 and pick up game progress right where he left off.
Key Features:
Seamless Control: Navigate games and media effortlessly with an intuitively designed remote.
Ergonomic Advantage: Enjoy a comfortable grip designed for prolonged gaming sessions.
Universal Compatibility: Connects seamlessly with PlayStation consoles and various media devices.
Durable Performance: Built to withstand the demands of intense gaming sessions for long-lasting enjoyment.
Click here to grab the PlayStation Portal Remote Player
4. Apple 10.9-inch iPad
The 10.9-inch iPad is a fantastic gift for men who are always on the move, especially for those who enjoy entertainment on the go.
Its compact size and powerful features make it perfect for catching up on favorite shows, movies, or sports while on a plane or during long commutes.
Key Features:
Vibrant Liquid Retina Display: Ensures an immersive viewing experience, ideal for movies and games.
Powerful A14 Bionic Chip: Provides smooth, lag-free performance for streaming and browsing.
All-Day Battery Life: Great for long flights or travel without constant need for charging.
Lightweight and Portable Design: Easy to carry, perfect for entertainment anywhere, anytime.
Click here to grab Apple's iPad (10th Generation)
5. Sony WF-1000XM5 Noise-Canceling Earbuds
The Sony WF-1000XM5 Noise-Canceling Earbuds are an exceptional gift for any man who appreciates high-quality sound and cutting-edge technology.
Ideal for the music lover, the frequent traveler, or the fitness enthusiast, these earbuds offer a blend of superior sound quality, noise cancellation, and comfort.
Key Features:
Industry-Leading Noise Cancellation: Perfect for immersive listening and distraction-free sound.
High-Resolution Audio: Delivers exceptional sound quality for an unparalleled listening experience.
Long Battery Life with Quick Charging: Ensures uninterrupted listening throughout the day.
Ergonomic Design: Provides comfort and stability, suitable for extended wear and active use.
6. The Echo Show 5
The Echo Show 5 is an excellent gift for men who enjoy the convenience and innovation of smart home technology.
This compact device is perfect for a nightstand, office desk, or kitchen counter, providing easy access to information, entertainment, and smart home control.
Key Features:
5.5-inch Smart Display: Offers visual content like weather forecasts, to-do lists, and video calls.
Built-in Alexa: Provides hands-free control of smart home devices, music, and more.
Privacy Controls: Includes a camera shutter and microphone off button for added security.
Compact Design: Fits perfectly in small spaces, adding functionality without clutter.
Click here to grab Echo Show-5 (3rd Generation, 2023 Release)
7. Garmin Venu 2 Smartwatch
The Garmin Venu 2 is the ultimate smartwatch for active men wanting to track their health and fitness.
With built-in GPS, 25+ sports apps, and advanced health monitoring, it captures detailed metrics to optimize workouts.
With a sleek, lightweight design and long battery life, the Venu 2 delivers robust performance during demanding training schedules.
Key Features:
Comprehensive Fitness Tracking: Real-time metrics and sports apps for optimized workouts.
Stylish AMOLED Display: Vibrant visuals on a sleek stainless steel bezel.
Long Battery Life with Rapid Charging: Up to 11 days of use and quick recharging.
Smart Connectivity: Notifications, music control, Garmin Pay, and customizable features for a personalized experience.
Click here to grab Garmin Venu 2
8. Echo Studio
With powerful immersive sound, the Echo Studio is the perfect smart speaker for music-loving men.
The Echo Studio also doubles as a TV speaker for clear voice and entertainment, even during loud scenes.
With its simple setup and hands-free control, the Echo Studio makes streaming music effortless for the modern man.
Key Features:
Next-Level Audio Experience: Enjoy high-fidelity 3D sound for a truly immersive listening experience.
Smart Home Harmony: Effortlessly control smart home devices with a device that complements his tech-savvy lifestyle.
Versatile Music Compatibility: Connect to various music streaming services for a personalized and diverse listening library.
Stylish and Comfortable Design: Its sleek and ergonomic design makes a statement in any room while ensuring comfort during extended use.
Click here to grab Echo Studio
9. VITAMAN's Daily Essential Skincare Kit
What could be better than the gift of youthful skin? VITAMAN's men's skincare products are made with natural Australian ingredients – no toxins, aluminum or chemicals.
Their Daily Essential Skincare Kit gives you the core VITAMAN face-care essentials you need this winter:
Natural Face Wash
Natural Face Scrub
Natural Face Moisturizer
No alcohol or soap, both of which can dry your skin and lead to premature aging.
Chemical-free – all products are made from unique native Australian plants that tighten and nourish your skin.
He'll also get simple instructions on how to use this kit and VITAMAN's world-class support if he has any questions. Click here to grab this kit and claim free US shipping!
10. Apple MacBook Pro 13-Inch
The Apple MacBook Pro 13-inch is the ultimate gift for the tech-savvy man.
Whether he's a professional needing robust computing power, a creative looking for top-notch graphics and processing, or simply someone who appreciates the finer things in tech, this MacBook Pro is a perfect match.
Its blend of power, precision, and Apple's signature sleek design makes it a highly desirable gadget that any man would be thrilled to unwrap.
Key Features:
M1 Chip: Delivers outstanding performance for multitasking and demanding applications.
Retina Display: Offers crystal-clear visuals, perfect for both work and entertainment.
Long Battery Life: Keeps up with a busy lifestyle, from all-day meetings to travel.
Touch Bar and Touch ID: Provides quick access to tools and secure login, enhancing both convenience and security.
Click here to grab Apple's 2023 MacBook Pro Laptop M3 chip
11. Anker PowerCore 13000
The Anker PowerCore 13000 is a compact yet powerful portable phone charger ideal for men on the go.
Weighing only 8 oz, it slips easily into a pocket or bag for convenient power during work, travel, or outdoor adventures.
The durable, sleek design and LED power display make it the perfect portable power bank for any tech-savvy man needing reliable performance.
Key Features:
High Capacity: With 13000mAh, it ensures multiple device charges while on the move.
Fast Charging Technology: Quickly replenish devices with efficient charging capabilities.
Compact and Lightweight: Designed for portability, fitting easily into pockets or bags.
Durable Build: Sturdy construction ensures long-lasting durability.
Click here to grab Anker PowerCore 13000mAh
12. W-KING Bluetooth Speakers with Subwoofer
With powerful sound and deep bass, the W-KING 80W Bluetooth speaker amps up any party or event.
The portable design makes it easy to bring full, immersive sound on camping trips, tailgates, or the backyard BBQ.
Durable and water-resistant, this speaker can go wherever the fun is happening while delivering booming audio that keeps the good times going.
Key Features:
Powerful Sound with Subwoofer: Experience enhanced audio quality with deep bass for a captivating listening experience.
Bluetooth Convenience: Enjoy wireless connectivity for seamless device pairing.
Durable Construction: Sturdy build suitable for outdoor adventures.
Versatile Use: Perfect for a range of activities, from picnics to parties.
Click here to grab W-KING Bluetooth Speakers with Subwoofer
13. MOFT MagSafe Wallet Stand
The MOFT MagSafe Wallet Stand provides a convenient 2-in-1 accessory for men on the go. It securely holds cards and cash on the back of an iPhone or Samsung phone using strong magnets.
With a thin, minimalist design, the MOFT Wallet Stand adheres directly to phones without adding bulk.
This versatile accessory declutters pockets while keeping essentials within reach for modern busy men.
Key Features:
MagSafe Compatibility: Securely attach to his iPhone for convenient use.
Wallet Function: Carry essential cards along with the phone.
Convertible Stand: Doubles as a stand for hands-free use.
Compact and Portable: Slim design for easy pocket storage.
Click here to grab MOFT MagSafe Wallet Stand
14. GEJUICAI Magnetic Wireless Charger Stand
The GEJIUCAI wireless charging stand is perfect for keeping a man's devices powered up and organized.
Its upright stand eliminates messy cables while charging phones quickly just by setting them on the base.
The built-in Apple Watch charger allows men to conveniently power up their watch at the same time as their phone. Its compact and minimalist design is ideal for a man's nightstand or desk, keeping daily tech essentials charged and decluttered.
Key Features:
Magnetic Charging: Effortlessly align and charge his devices with magnetic precision.
Wireless Convenience: Experience hassle-free charging without the need for tangled cables.
Sleek Design: A modern and compact charging stand that complements any workspace or bedside table.
Versatile Compatibility: Compatible with a range of devices, making it a versatile and practical gift.
Click here to grab GEJUICAI Magnetic Wireless Charger Stand
15. Ring Battery Doorbell Plus
The Ring Battery Doorbell Plus lets guys keep an eye on their home from anywhere. With its 1080p HD video and Two-Way Talk, men can see, hear, and speak to visitors right from the app.
Setup takes just minutes with the included drill-free brackets to easily mount to the doorframe.
With customizable motion alerts, night vision and a quick-change battery, the Doorbell Plus is an easy way for tech-savvy men to upgrade home security.
Key Features:
Enhanced Security: Monitor his home in high-definition video with advanced motion detection.
Wire-Free Installation: Easy setup without the need for complicated wiring.
Two-Way Talk: Communicate with visitors through the built-in microphone and speaker.
Extended Battery Life: Enjoy long-lasting security with a powerful battery.
Click here to grab Ring Battery Doorbell Plus
16. GoPro HERO12 Black
The GoPro HERO12 Black empowers men to document life's most thrilling adventures in exquisite detail.
A rugged waterproof design allows men to film HD clips in virtually any environment, from mountains to oceans.
With quick access buttons and intuitive touch controls, the HERO12 makes it simple for dads, husbands and adventurers to chronicle their exploits from exciting POV angles.
Key Features:
High-Resolution Action: Capture stunning 4K videos and high-quality photos in any environment.
Advanced Stabilization: Ensure smooth and steady footage, even in dynamic and fast-paced activities.
Waterproof Design: Dive into underwater adventures with confidence with its rugged and waterproof construction.
Intuitive Touchscreen: Easily navigate settings and review footage with the user-friendly touchscreen interface.
Click here to grab GoPro HERO12 Black
17. Canon EOS R8
The Canon EOS R8 is the perfect full-frame mirrorless camera for creative men looking to up their photography game.
Its lightweight, compact body delivers powerful performance for street, travel, and everyday shooting.
With fast autofocus and up to 40 fps continuous shooting, the EOS R8 lets male photographers and content creators capture stunning images of life's best moments.
Key Features:
High-Resolution Imaging: Experience exceptional image quality with advanced sensor technology.
Versatile Shooting Modes: From landscapes to portraits, explore a range of creative possibilities.
Advanced Autofocus: Capture fast-moving subjects with precision and speed.
Intuitive Touchscreen Interface: Easily navigate settings and review images with the responsive touchscreen.
Click here to grab Canon EOS R8
18. Thursday Boots Cavalier
Few boots really drive home sleek and casual perfection the way Chelsea Boots do.
The boots were first used as riding boots, the elastic on the sides making them easy to slip on and off.
They make amazing casual boots that really lend a much-needed elegance to any man's outfit. The Thursday Boots Cavalier is a must-have in a fall closet.Click here to grab the Thursday Boots Cavalier
Key Features:
Handcrafted Quality: Each pair is meticulously crafted for exceptional durability and comfort.
Versatile Design: Stylish boots suitable for various occasions, from casual outings to formal events.
Premium Materials: Made from high-quality leather for a sophisticated look.
Resilient Construction: Built to withstand the elements while maintaining a polished appearance.
Click here to grab the Thursday Boots Cavalier
19. John Henric Blue Jeans
Meet John Henric Blue Jeans – the coolest addition to any guy's wardrobe!
These jeans aren't just denim; they're your go-to for laid-back vibes with a touch of style.
Picture this: comfortable, versatile, and effortlessly cool – that's the magic of John Henric.
It's not just a pair of jeans; it's a statement of laid-back sophistication.
Key Features:
Contemporary Design: Stylish blue jeans that effortlessly elevate his casual wardrobe.
Quality Material: Crafted with durable denim for long-lasting comfort.
Versatile Style: Perfect for a variety of occasions, from casual outings to weekend get-togethers.
Tailored Fit: Provides a modern and flattering silhouette.
Click here to grab John Henric Blue Jeans
20. Collars & Co's Original Dress Collar Polo Shirt
Elevate your wardrobe with the Collars & Co Original Dress Collar Polo – the perfect fusion of casual comfort and refined style.
This polo isn't your average shirt; it's a statement piece for the man who appreciates the finer details.
Whether you're heading to the office or a weekend brunch, the Collars & Co polo effortlessly transitions from casual to smart, making it a versatile must-have for any man's closet.
Key Features:
Timeless Polo Shirt Style: Classic design suitable for various occasions.
High-Quality Fabric: Comfortable and durable for long-lasting wear.
Versatility: Pairs well with different outfits for a polished look.
Attention to Detail: Crafted with precision for a refined finish.
Click here to grab Collars & Co's Original Dress Collar Polo Shirt
21. Bruno Marc's Casual Oxford Dress Sneakers
Dress better in these Bruno Marc oxford dress sneakers. A 100% leather upper looks great, complete with stitched details. Lace-up closure offers a look that is refined and easy to lock in.
A leather-covered insole keeps feet comfortable, while an EVA outsole provides superior shock absorption.
Key Features:
Stylish and Comfortable: Fashionable design without compromising comfort.
Durable Construction: Quality materials for long-lasting wear.
Versatile Design: Suitable for both casual and semi-formal settings.
Classic Oxford Style: Timeless and refined look for various occasions.
Click here to grab Bruno Marc's Casual Oxford Dress Sneakers
22. Peter Manning's Lambskin Leather Jacket
Lambskin Leather Jacket by Peter Manning can take you from work to play in sublime comfort and perfect cool.
Designed in proportions for shorter men and made from buttery New Zealand lambskin with a quilted chambray lining, it is perfect over a t-shirt or layered with an Everyday Shirt and Wool Sweater.
This jacket wears well now and will only get better with age. Please note it will also stretch a bit with time. Available both in brown and black color.
Key Features:
Classic Leather Elegance: Crafted with premium leather for a sleek and sophisticated look.
Tailored Fit: Designed specifically for shorter men for a flattering and comfortable fit.
Versatile Style: Elevates both casual and formal outfits with its timeless design.
Durable Construction: High-quality materials ensure longevity for years of wear.
Click to explore Peter Manning leather jackets
23. Peter Manning's Heather Grey Classic Hoodie
Peter Manning's Classic Hoodie is made from quality year-round 11oz cotton, with a bit of stretch added for performance and comfort.
Designed to fit the 'not so tall' guy, it includes shorter sleeves and body length, and properly scaled pockets and hood. Never too big or too baggy, you will love this versatile piece!
Key Features:
Tailored Fit: Specifically designed for shorter men for a perfect fit.
High-Quality Fabric: Ensures comfort and durability.
Classic Heather Grey Color: Timeless and versatile aesthetic.
Casual and Stylish: Suitable for a relaxed yet polished look.
Click here to grab Peter Manning's Heather Grey Classic Hoodie
24. Classic Monta Watches
What man doesn't want a stylish, elegant timepiece? Monta Watches are great starter watches for those who want to go a little more high-end but still want to stay on a budget.
These watches are sleek and professional and come in several styles that cater to every whim and fancy. I'd definitely be happy to see this under the tree!
Key Features:
Swiss Precision: Experience the artistry of Swiss watchmaking for accurate timekeeping.
Classic and Elegant Design: A timeless aesthetic suitable for any occasion.
Premium Materials: Crafted with high-quality materials for durability and style.
Attention to Detail: Every timepiece reflects meticulous craftsmanship and attention to detail.
Click here to discover Monta's classic, elegant Swiss-made timepieces
25. Amazon Best-sellling Self Improvement Books For Men
Book is always a friend. Surround yourself with wise 'friends'.
The 7 Habits of Highly Effective People: 30th Anniversary Edition
The Man in the Mirror: Solving the 24 Problems Men Face
How to Make Sh*t Happen: Make More Money, Get in Better Shape, Create Epic Relationships and Control
The Art of War
Atomic Habits: An Easy & Proven Way to Build Good Habits & Break Bad Ones
The Subtle Art of Not Giving a F*ck: A Counterintuitive Approach to Living a Good Life
…and many more on the list!
Key Features:
Diverse Selection: Choose from a curated list of Amazon's bestselling self-improvement books catering to various interests.
Expert Insights: Gain valuable knowledge and insights from acclaimed authors in the field.
Inspiring Narratives: Motivational stories and practical advice to empower his personal and professional life.
Accessible Wisdom: A convenient and thoughtful gift available with just a click on Amazon.
Grab these and many other great books on Amazon
26. Maui Sunglasses
As the name suggests, Maui Jim has devoted its cool sunglass designs to the beauty and culture of the island itself.
The brand is on a mission to provide you with the best vision possible with their quality lens technology that makes you see colors more vividly and your surroundings more clearly.
Key Features:
Superior UV Protection: Shield his eyes with advanced polarized lenses for clear vision and sun protection.
Stylish Designs: Choose from a variety of fashionable frames to suit his personal style.
Lightweight Comfort: Experience all-day comfort with lightweight and durable materials.
Clarity and Color: Enhance visual clarity and perception with Maui Jim's advanced lens technology.
Click here to visit Maui Jim store and browse various collections
27. EZRI Executive Backpack
Whether you're traveling, hitting the gym, or heading to work – EZRI has a stylish, practical backpack for you.
All EZRI's backpacks are made of incredible high-end unique materials, making them ultra-lightweight while allowing them to maintain their shape even when empty, and to stand on their own.
Key Features:
Organized Storage: Multiple compartments for efficient organization of essentials.
Durable Construction: Designed to withstand the rigors of daily use.
Professional Aesthetics: Sleek and stylish design suitable for business or casual settings.
Comfortable to Carry: Ergonomic features ensure comfort during extended wear.
Click to grab the EZRI Executive Backpack
28. Carl Friedrik Leather Wallet
Every man needs an amazing leather wallet. And to tell you the truth… not a lot of companies are up to Carl Friedrik's standard.
Beautifully made Italian leather wallets crafted to perfection will bring a smile to any man who receives one as a gift this holiday season.
You can pick different sizes, colors and types of wallets – I'm sure you'll find the perfect one for your friend, brother, father (or any man for that matter) and I'm sure they'll thank you for it!
Key Features:
Sleek Minimalism: Streamlined designs for an elegant and modern aesthetic.
Quality Materials: Crafted with premium leather for a luxurious feel and lasting durability.
Practical Organization: Thoughtful compartments for cards, cash, and essentials.
Versatile Options: Choose from a variety of styles to suit his personal taste.
Click here to see Carl Friedrik's Wallets Collection
29. Gerber Gear Tactical MultiTool
This multi-tool has saved me countless times when going on trips, especially when I used to ride my bike all over the country.
Small enough to fit in the compartment or bag but has everything you need in a pinch.
Key Features:
Multifunctional Design: Pliers, knives, screwdrivers, and more in one compact tool.
Durable Construction: Built with robust materials for longevity and reliability.
Easy Accessibility: Quick and accessible tool deployment for efficiency.
Versatile Carry: Compact and foldable for easy portability in pockets or belts.
Click to grab the Gerber Gear Truss Multitool
30. Anson Belt And Buckle
A good belt can take your whole outfit from good to great.
Anson Belt & Buckle has taken the classic belt and improved it with their revolutionary exchangeable buckle system and micro-adjustable belt.
Instead of 5 holes, 1" apart like most traditional belts, Anson Belt offers 30+ options only a 1/4" apart, allowing you to always achieve the perfect fit.
Key Features:
Interchangeable Buckles and Straps: Mix and match for a versatile and personalized look.
Microadjustable Fit: No-holes design for a comfortable and precise fit.
Quality Craftsmanship: Made with premium materials for durability and sophistication.
Timeless Design: Classic styles that complement a range of outfits.
Click here to check out Anson Belt and Buckle!
31. Parfums De Marly Fragrances
In the world of men's fragrances, Parfums de Marly is a relatively new kid on the block but they've already built up a reputation as an exquisite, niche fragrance house.
Known for their bold fragrances that leverage exotic fruits, florals, spices, and woods Parfums de Marly fragrances will surely make you smell and feel like royalty.
With over 30 colognes available, it won't be difficult finding that signature scent for you or that special someone.
Key Features:
Premium Fragrances: Crafted with high-quality ingredients for a lasting and memorable scent.
Diverse Collection: Choose from a range of unique and captivating fragrances to suit individual preferences.
Elegant Packaging: Presented in beautifully designed bottles for an added touch of luxury.
Long-Lasting: High concentration for a fragrance that lingers throughout the day.
Click here to get an amazing discount on Parfums De Marly Fragrances
32. Harry's Shaving Kit
Looking for a quality shaving kit that won't empty your pockets? This Harry's five-piece shaving set is all you need to fine-tune your grooming routine.
This set is all you need for a crisp, close shave.
Key Features:
Precision Razor: Ergonomically designed for a close and comfortable shave.
Quality Blades: Sharp and durable blades for a smooth and irritation-free grooming experience.
Hydrating Shave Gel: Ensures a smooth glide and nourishes the skin during shaving.
Thoughtful Packaging: Presented in a stylish kit for a complete and premium grooming experience.
Click here to get your Harry's Shaving Kit
33. Brio Trimmer
The Brio Beardscape is the ultimate tool to manage your beard from 5 o'clock shadow to 5-month masterpiece!
The ceramic blade is 4 times harder than stainless steel, creates less friction and heat and is quieter than metal. The Beardscape is one of the quietest trimmers available!
The Beardscape makes an excellent hair trimmer and is perfect for any manscaping project, for the Beard and Beyond.
Key Features:
Cordless Convenience: Easily maneuver and trim without the constraints of cords.
Adjustable Length Settings: Customize grooming preferences with multiple length options.
Durable Construction: Designed for long-lasting use with quality materials.
Efficient Battery Life: Extended battery life for multiple grooming sessions on a single charge.
Click here to explore all features of Brio Trimmer
34. Paudin Pairing Knife
Classic Paring Knife – This small knife gives you complete control over the tip and edge of the blade – making it perfect for peeling, cutting, coring, chopping, and other detail work.
No matter what your skill level is, this 3.5 Inch paring knife is easy to use.
Key Features:
High-Quality Blade: Crafted with precision for sharpness and durability.
Versatile Use: Ideal for intricate tasks such as peeling, trimming, and precise cutting.
Comfortable Grip: Ergonomic handle for a secure and comfortable grip during use.
Easy Maintenance: Designed for easy cleaning and maintenance to keep it in top condition.
Click here to buy PAUDIN Paring Knife
35. It's_Organized Computer Desk
Working from home has its perks but it definitely has its disadvantages too.
I often found myself distracted and even falling asleep on my workspace.
But by having a nice, elegant and sleek desk for my desk set up – I have a completely new outlook on working from home and I actually get excited to set everything up and start my workday every single day!
Key Features:
Spacious Surface: Provides ample space for gaming peripherals, monitors, and accessories.
Cable Management System: Keep cables organized and out of the way for a clean setup.
Sturdy Construction: Built to withstand the rigors of gaming, ensuring durability and stability.
Ergonomic Design: Designed for comfortable gaming sessions, minimizing fatigue.
Click to grab the It's_Organized Computer Desk
36. Satechi Eco-Leather Deskmate
Satechi Eco-Leather Deskmate helps to protect your desk space and complements your modern setup.
The Multi-Function Desk Mat – acts as a comfortable resting surface for your hands while typing or writing; ideal as a desktop blotter, mouse pad, writing mat and much more!
Key Features:
Premium Eco-Leather: Crafted with environmentally friendly materials for a luxurious feel.
Organization Pockets: Multiple compartments for keeping essentials organized and within reach.
Non-Slip Base: Ensures stability and prevents slipping on the desk surface.
Stylish Design: Elevates the aesthetics of the workspace with a modern and sleek look.
Click here to grab Satechi Eco-Leather Deskmate
37. Ember Smat Mug
Ember Coffee Mug with Longer Lasting Battery: smart coffee mug's extended battery life keeps your drink at your preferred temperature (between 120°F – 145°F) for up to 80 minutes on a full charge or all day on its redesigned charging coaster.
Key Features:
Temperature Control: Keeps beverages at the desired temperature for an extended period.
Customizable Settings: Adjust temperature preferences through a smartphone app.
Long-lasting Battery: Enjoy hot beverages throughout the day with an extended battery life.
Sleek Design: Modern and minimalist design for a stylish addition to any desk or coffee table.
Click here to grab Ember Smart Mug
38. De'Longhi Manual Espresso Machine
De'Longhi Stilosa Manual Espresso Machine: brew lattes, cappuccinos and espressos in a comfort of your home.
The optimal pressure to extract a single or double espresso, so your coffee drink comes out perfectly rich.
Key Features:
Manual Brewing Control: Allows for a hands-on brewing experience to achieve the perfect espresso.
15-Bar Pump Pressure: Ensures optimal extraction for a rich and flavorful coffee.
Steam Wand: Froth milk for lattes and cappuccinos with the built-in steam wand.
Compact Design: Fits easily on countertops for a convenient and stylish addition to the kitchen.
Click here to grab De'Longhi Stilosa Manual Espresso Machine
39. Perfect Pushup Elite
Perfect Pushup Elite, Anti-Slip Rotating Handles Prevent Wrist and Elbow Strain
Ergonomic grips help distribute weight evenly, reducing pressure points and joint strain on wrists and elbows
Built to last construction with smooth rotation and steel ball bearing system; Treads on bottom of handles Securely grip all floor surfaces.
Key Features:
Rotating Handles: Engage more muscles and reduce strain on wrists for a safer and more effective pushup.
Ergonomic Grips: Comfortable and non-slip handles for a secure grip during workouts.
Sturdy Design: Built with durable materials to withstand intense workouts.
Versatile Fitness: Suitable for home workouts or on-the-go exercises.
Click here to purchase Perfect Pushup Elite
40. Lodge's 10.25-inch Cast Iron Skillet
Lodge 10.25 Inch Cast Iron Pre-Seasoned Skillet – Signature Teardrop Handle – Use in the Oven, on the Stove, on the Grill, or Over a Campfire
Lodge cast iron cookware is the perfect kitchen tool for beginners, home cooks and chefs. Cast iron can handle any kitchen cooktop, oven, grill and open flame.
Crafted in America with iron and oil, its naturally seasoned cooking surface creates an easy-release and improves with use.
Key Features:
Even Heating: Distributes heat evenly for consistent cooking results.
Pre-Seasoned Finish: Ready for immediate use and easy maintenance.
Multi-Functional: Suitable for various cooking methods, from stovetop to oven.
Durable Construction: Crafted with high-quality cast iron for long-lasting performance.
Click here to grab Lodge's 10.25 Inch Cast Iron Skillet
41. Wsiiroon 1600 Lumen XML-T6 Handheld Flashlight
I know I've listed several other flashlights here but with a house of 5 kids who like to the outdoors – somehow I just need several of these.
I keep these in our camping gear as well as keep one in each of the rooms.
Just in case we get a blackout from the nasty storm, everyone's set. Pro-dad tip, these are waterproof.
Making them super handy for sticky little fingers.
Key Features:
High Lumen Output: Provides a bright and far-reaching beam for visibility in the dark.
Adjustable Focus: Zoom in for spotlight or zoom out for floodlight, adapting to different situations.
Durable Build: Constructed with robust materials to withstand outdoor conditions.
Versatile Use: Ideal for camping, hiking, emergencies, and other outdoor activities.
Click here to grab this Wsiiroon 1600 Lumen XML-T6 Handheld Flashlight
42. Tile Pro: Never Lose Your Essentials Again
Have you ever lost something inside your own house or car? The Tile Pro is a thoughtful gift for men who tend to misplace their keys or wallet.
This Bluetooth tracker helps locate lost items quickly, making it a practical and useful gadget.
Key Features:

400 ft Range: Wide area coverage.
Loud Ring: Easily hear it from a distance.
Replaceable Battery: For long-term use.
Tile App Compatibility: For easy tracking on a smartphone.
Click here to grab Tile Pro
43. Victorinox Swiss Army Classic SD
The Victorinox Swiss Army Classic SD is a classic and practical gift, perfect for men who appreciate a handy and reliable tool for everyday tasks.
Key Features:

7 Functions: Includes a blade, scissors, nail file, and more.
Compact Size: Fits easily on a keychain or in a pocket.
Stainless Steel Tools: Durable and rust-resistant.
Lifetime Warranty: Ensures quality and satisfaction.
Click here to grab Swiss Army Classis Knife
44. MasterClass Annual Membership: Learning Unleashed
A MasterClass Annual Membership is a unique gift for men who love to learn and explore new skills.
From cooking to photography, it offers access to classes taught by world-renowned experts.
Key Features:

Wide Range of Topics: Covers cooking, writing, music, and more.
Expert Instructors: Learn from the best in their fields.
High-Quality Video Lessons: Engaging and informative.
Accessible on Multiple Devices: Learn anytime, anywhere.
Click to start ultimate learning with Masterclass
45. Timex Weekender Chronograph
The Timex Weekender Chronograph is a versatile and stylish watch, suitable for both casual and formal wear.
It's a great gift for men who value simplicity and functionality in their accessories.
Key Features:

Indiglo Light-Up Watch Dial: Easy to read in the dark.
Chronograph Functionality: Adds practicality.
Interchangeable Straps: To match different styles.
Water-Resistant: Suitable for everyday use
Click here to grab Timex Weekender Chronograph watch
46. RAK Magnetic Wristband For Holding Tools
The RAK Magnetic Wristband is a game-changer for DIY enthusiasts, providing a convenient and hands-free solution for holding tools during various projects.
Key Features:
Powerful Magnets: Securely holds screws, nuts, bolts, and small tools, preventing them from getting lost.
Adjustable Strap: Ensures a comfortable and secure fit, accommodating different wrist sizes.
Durable Construction: Made with high-quality materials to withstand the demands of DIY tasks.
Time and Energy Saver: Streamlines the workflow by keeping essential tools within easy reach, boosting efficiency.
Click here to grab RAK Magnetic Wristband for Holding Tools
47. Audible Subscription (RMRS Special Deal)
Audible is a subscription-based service that provides users with access to a vast library of audiobooks, podcasts, and other spoken-word content including titles in various genres such as fiction, non-fiction, self-help, business, and more.
Men seeking self-improvement can find Audible especially useful for several reasons:
Convenience: Audiobooks can be listened to while multitasking – during commutes, workouts, or even while doing chores.
Diverse Learning Resources: Audible offers a wide range of self-improvement books covering topics like productivity, mental health, leadership skills, financial management, and personal development.
Accessibility: For those who are not fond of reading or have limited time to read, audiobooks provide an alternative way to consume information and gain knowledge.
Expert Narration: Many books on Audible are narrated by experts or even the authors themselves, which can add an extra layer of engagement and understanding to the material.
Portable and Easy to Access: With the Audible app, users can listen to their audiobooks on various devices, making it easy to continue where they left off, regardless of location.
Self-Paced Learning: Men seeking self-improvement can listen at their own pace, rewind to revisit complex topics, or even speed up the narration to go through materials faster.
Mental Stimulation and Relaxation: Listening to audiobooks can be a relaxing activity that simultaneously stimulates the mind, aiding in the absorption of new information and ideas.
Click here to claim your Audible subscription.
48. Ray-Ban Classic Aviator Sunglasses
Ray-Ban Classic Aviator Sunglasses are a stylish and practical gift, perfect for men who appreciate classic fashion. These sunglasses offer both protection and a timeless look.
Key Features:

UV Protection: Shields eyes from harmful rays.
Durable Metal Frame: Long-lasting and stylish.
Iconic Design: Recognizable and fashionable.
Variety of Lens Options: To suit personal style.
Click here to purchase Ray-Ban Classic Aviator Sunglasses
49. Glencairn Whisky Glass Set
The Glencairn Whisky Glass Set is designed to enhance the whisky-drinking experience, making it a sophisticated gift for the man who appreciates the nuances of fine spirits.
Key Features:
Tulip-Shaped Design: Concentrates aromas for a richer tasting experience.
Lead-Free Crystal: Ensures clarity and showcases the color of the whisky.
Sturdy Base: Provides stability and a comfortable grip for sipping.
Set of Glasses: Perfect for enjoying whisky with friends or hosting tasting sessions.
Click here to purchase Glencairn Whiskey Glass Set
50. Timberland Men's Classic Boot Ankle
Timberland Men's Classic Boot Ankle combines style and durability, making it a versatile gift for the man who values both fashion and functionality.
Key Features:
Premium Leather: Crafted with high-quality leather for a rugged and stylish look.
Anti-Fatigue Technology: Provides all-day comfort and support for long walks or hikes.
Waterproof Construction: Keeps feet dry and comfortable in various weather conditions.
Versatile Design: Suitable for both casual outings and outdoor adventures, offering a timeless aesthetic.
Click here to purchase Timberland's Classic Boot Ankle
The post 50 Last-Minute Holiday Men's Gift Ideas for 2023 appeared first on Real Men Real Style.
——————–
By: Antonio Centeno
Title: 50 Last-Minute Holiday Men's Gift Ideas for 2023
Sourced From: www.realmenrealstyle.com/holiday-gift-ideas/
Published Date: Fri, 24 Nov 2023 13:05:03 +0000