The 2022 World Cup Groups are Officially Finalized, Here are the Way too Early Predictions for the Group Stage
When FIFA held the 2022 World Cup Draw on April 1, 2022, there were still a few group stage slots undetermined. However, in the last week, Australia beat Peru 0-0 (5-4) on penalties, and Costa Rica beat New Zealand 1-0 to officially cement their bids to the world's biggest soccer tournament in Qatar.
A few weeks earlier, Ukraine beat Scotland 3-1 in a war-postponed qualifier but fell to Wales 1-0 to barely miss out on this year's World Cup.
This means that 32 teams playing in the 2022 World Cup are set in stone. Here are the way too early predictions for which countries two countries will make it out of each group in the Group Stage.
Group A: Qatar (host country, No. 51 in FIFA World Rankings), Netherlands (10), Senegal (20), Ecuador (46)
The 2022 World Cup host nation, Qatar, actually got an easy Group Stage with a path to the Round of 16. The Netherlands, with its host of big-name European players like Frenkie de Jong, Virgil van Dijk, and Memphis Depay, should advance, no problem. Unfortunately for the host nation, new Bayern Munich transfer Sadio Mane's Senegal has too much firepower to lose to two teams ranked below 45 in the FIFA World Rankings.
Group B: England (5), USA (15), Wales (18), Iran (21)
England has struggled in the UEFA Nations League after incredible performances in the 2018 World Cup and 2020 Euros. However, England manager Gareth Southgate should be able to turn it around by November. The USMNT has also struggled to figure out its defense with the loss of Miles Robinson, but that should get fixed in the next few months as well.
Group C: Argentina (4), Mexico (9), Poland (26), Saudi Arabia (49)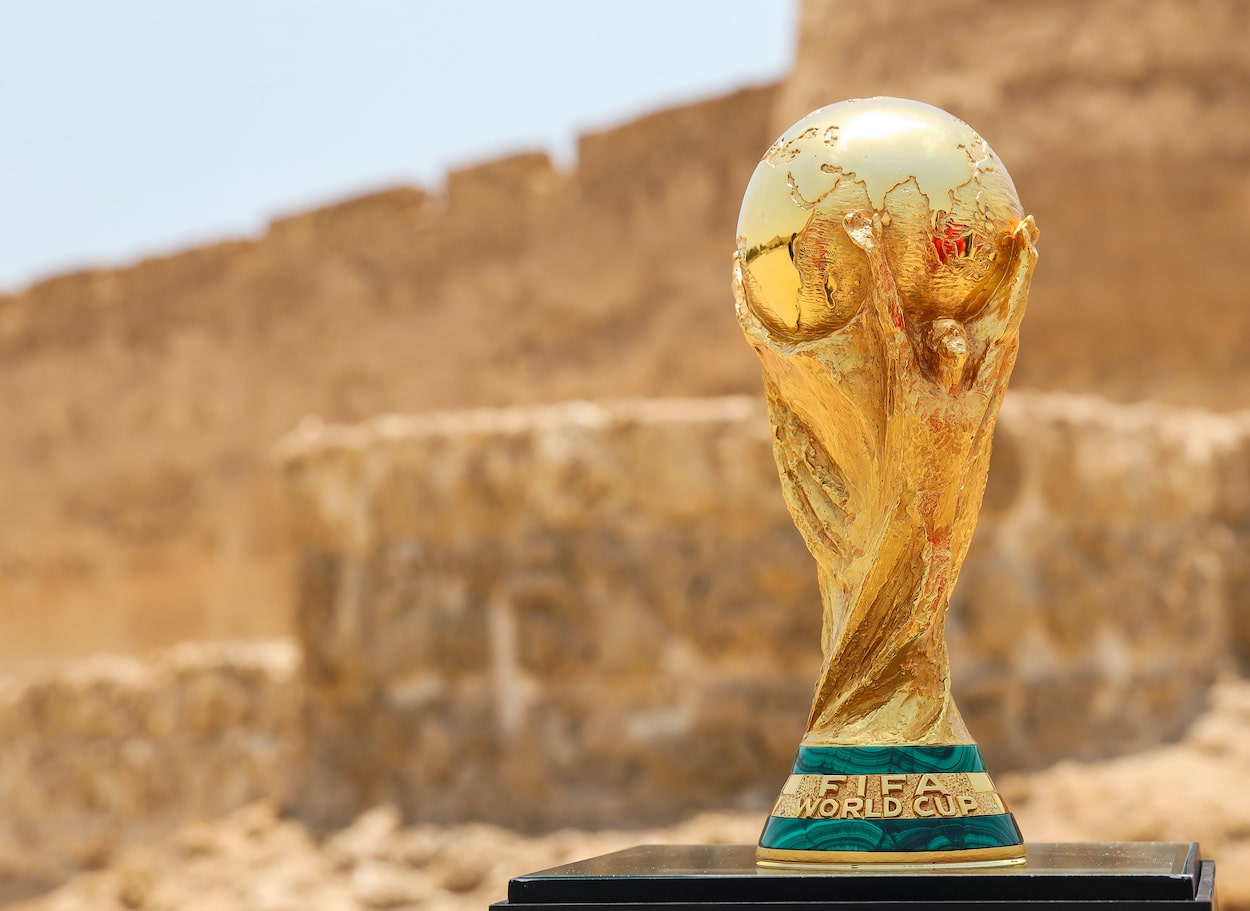 Group C is the first group that doesn't go chalk at the 2022 World Cup. Argentina should go through in what likely will be Lionel Messi's last World Cup. Poland will surprise some teams, too, as superstar striker Robert Lewandowski works to justify whatever transfer he makes this summer.
Group D: France (3), Denmark (11), Tunisia (35), Australia (42)
France is loaded and led by one of the best players in the game in Kylian Mbappe. I don't have a ton of faith in Denmark and think it is slightly overrated by FIFA, but the team got a good draw. Tunisia only has one player in a top European league (Manchester United 19-year-old Hannibal Mejbri), and Australia needed penalties to get by Peru and sneak into the tournament. Yes, Denmark did just beat France in UEFA Nations League but come World Cup time, the French will be ready.
Group E: Spain (7), Germany (12), Japan (23), Costa Rica (31)
As two of the eight countries that have ever won a World Cup, Germany and Spain are simply two of the best and most historic international football sides in the world. Both should cruise in the Group Stage. The only upset prediction here is that Germany will come out as the No. 1 team in the group, despite the lower FIFA ranking.
Group F: Belgium (2), Croatia (16), Morocco (24), Canada (38)
Both Belgium and Croatia are on the back end of Golden Generations. The core of both these teams have led their countries to great heights but haven't won the big one. Belgium should get through on Kevin De Bruyne and Romelu Lukaku alone. Here's where I pick the biggest upset of the World Cup, though. I see Canada, which won CONCACAF, upsetting Croatia and moving on to the Round of 16.
Group G: Brazil (1), Switzerland (14), Serbia (25), Cameroon (37)
One last upset pick — and it's not Brazil — even though they are already fighting each other in training camp. Here I see Serbia and 24-year-old striker Luka Jović, who could be the breakout star of the 2022 World Cup, getting the best of Switzerland and moving on.
Group H: Portugal (8), Uruguay (13), Korea (29), Ghana (60)
No drama in the last group, though. Portugal still has Cristiano Ronaldo, and youngsters behind him like Bernardo Silva, Bruno Fernandes, and Diogo Jota have developed into stars. With Uruguay it's another team with an intriguing mix of established veterans (Luis Suárez, Edinson Cavani, Diego Godín) and promising young talent (Darwin Núñez, Ronald Araújo, Federico Valverde). For these reasons, both top teams should roll in Group H.
Like Sportscasting on Facebook. Follow us on Twitter @sportscasting19 and subscribe to our YouTube channel.
RELATED: What Does 'Football's Coming Home' Mean?
The post The 2022 World Cup Groups are Officially Finalized, Here are the Way too Early Predictions for the Group Stage appeared first on Sportscasting | Pure Sports.
———————–
By: Tim Crean
Title: The 2022 World Cup Groups are Officially Finalized, Here are the Way too Early Predictions for the Group Stage
Sourced From: www.sportscasting.com/2022-world-cup-groups-officially-finalized-way-too-early-predictions-group-stage/
Published Date: Thu, 16 Jun 2022 00:34:03 +0000
Read More
Remember That Time Sean Astin Tried To Direct a 'Fantastic Four' Movie?
As we are reaching the end of 2023, casting rumors around the MCU's Fantastic Four movie are swirling in the air, and the Fox Marvel movie characters are reportedly returning for Deadpool 3, there has never been a more appropriate time to look back on the cinematic history of Marvel's first family. At this point, The Fantastic Four has been brought to life by numerous filmmakers. Tim Story gave us the original duology in the mid-2000s, Josh Trank bamboozled us with the production mishap that was Fant4stic, and even Roger Corman produced an unofficially released live-action film in the mid-'90s. Simply put, this group of characters are no strangers to moviegoers. But what about the films that were never made? What about Sean Astin's Fantastic Four?
———————–
By: Samuel Williamson
Title: Remember That Time Sean Astin Tried To Direct a 'Fantastic Four' Movie?
Sourced From: collider.com/sean-astin-fantastic-four-movie/
Published Date: Tue, 28 Nov 2023 13:00:14 GMT
Read More
Did you miss our previous article…
https://mansbrand.com/may-december-maestro-we-take-on-two-awards-buzzed-december-releases/
'May December,' 'Maestro:' We Take On Two Awards-Buzzed December Releases

Two huge awards-buzzed films will be released in the month of December, and we've seen them both! Todd Haynes' May December stars Natalie Portman and Julianne Moore in a camp drama that explores the aftermath of an illicit love affair between an adult woman (Moore) and a teenage boy, played as an adult by Charles […]
———————–
By: Clarence Moye
Title: 'May December,' 'Maestro:' We Take On Two Awards-Buzzed December Releases
Sourced From: www.awardsdaily.com/2023/11/27/wcpep439/
Published Date: Tue, 28 Nov 2023 02:23:18 +0000
Read More
Mo Gilligan to "step down and hand over the baton" as BRIT Awards host
Mo Gilligan has announced he will be "stepping down" as a BRIT Awards host due to his first world tour.
READ MORE: Soundtrack Of My Life – Mo Gilligan
The comedian took to his official social media account to share that due to scheduling conflicts with his first-ever world tour, he will "hand over the baton" and give his usual hosting duties to someone else.
"I've had the most incredible time working on The BRITS but unfortunately as I'll be in the US for my first world tour next spring. I'm sorry to say that I'll be stepping down from hosting duties for 2024 and handing over the baton," began his statement on his Instagram stories.
He continued: "It's been phenomenal to work on this iconic event. I've loved getting to know all the remarkable people who run The BRIT Trust and the outstanding BRIT school. The tireless work you do to improve lives through the power of music and the creative arts is sensational and I promise to continue supporting wherever I can.
"Thank you to ITV for making a young man's dream come true and to all the brilliant performers, guests, production team and most importantly, the viewers at home for all your amazing support. It's been an honor. See you on tour!"
Gillian also shared one of his tweets from 2011 in which he wrote: "In 2013 I need to host the #MOBO's or #TheBritAwards *Fingers Crossed*".
The comedian has served as the awards show presenter for the past two years. Speaking to The Sun, a BRITs spokesperson said: "The BRITs are incredibly proud of Mo hosting the awards for the last two years, he is an exceptional entertainer who is going from strength to strength in his career, and we thank him for delivering two brilliant shows for us."
They continued: "The live awards show is always evolving, and we are excited to welcome someone new to the helm for 2024, with more details to be announced at a later date."
I did it. I hosted the @BRITs https://t.co/ACaToEAkLr pic.twitter.com/9w0CKveszc

— Mo Gilligan (@MoTheComedian) February 9, 2022
Back in September, the date for the BRIT Awards 2024 was revealed. Next year's ceremony is due to take place on March 2 at The O2 in London. It'll mark the second consecutive year that the show has aired in a primetime Saturday night slot on ITV1 and ITVX.
Last week, the  BRIT Awards organisers announced that they will be tweaking their rules for the 2024 instalment, following a row over diversity.
According to a new report by BBC News, it has been announced that the organisers of the BRITS will now increase the number of shortlisted artists for the Best Artist award. This sees an expansion from five to 10 nominees for the 2024 edition, in the hopes of creating a more balanced field.
The expanded shortlist will also apply to the Best International Artist category as of next year. As well as broadening the number of nominees, the organisers have also confirmed that they will be introducing a new award category, dedicated solely to the R&B genre.
The post Mo Gilligan to "step down and hand over the baton" as BRIT Awards host appeared first on NME.
———————————–
By: Anagricel Duran
Title: Mo Gilligan to "step down and hand over the baton" as BRIT Awards host
Sourced From: www.nme.com/news/music/mo-gilligan-to-step-down-and-hand-over-the-baton-as-brit-awards-host-3549693?utm_source=rss&utm_medium=rss&utm_campaign=mo-gilligan-to-step-down-and-hand-over-the-baton-as-brit-awards-host
Published Date: Mon, 27 Nov 2023 16:52:29 +0000
Read More