Yosemite National Park is now open (with limits; campgrounds remain closed). As a local climber, this means I'm taking day-trips into the nearby park and revisiting my favorite famed routes in the "Center of the Universe," as it's known to climbers all over the world. The park offers climbing options unmatched anywhere for their length and grandeur—waterfalls flow down giant golden granite, cracks split the rock vertically for hundreds of feet, and slender spires pepper the canyon walls.
Finally, after months of training at home on hangboards and trail running to stay fit, I'm scrambling over the boulders in historic Camp 4, jamming splitter cracks, and running up cruiser lines like the 2,000-foot Royal Arches route. The walk-off for this route snakes its way across the precipice of Yosemite Valley, following a faint climber's trail of worn lichen before descending slabs and narrow ledges. Half Dome commands the view. The final descent gully is one of the most scenic—not to mention one of the most exposed and dangerous—areas of the park (not recommended except for the most experienced climbers).
To complete this descent safely, I wear sticky-soled approach shoes and a fleece top, as the hike is often done at last light while it's cool outside, and I carry a fully charged headlamp that's bright enough to help me navigate the circuitous trail and do the down-climbing sections safely.
Even if you don't plan or execute a route this ambitious, you still want to know that your climbing gear is built to handle these rigors. And if you do want to set Yosemite National Park as your target bucket-list climbing destination, selecting the right kit is a good place to start—stocked with gear that can stand up to these long, demanding climbs, from shoes to headlamps to custom fleeces. Below are six new items that excel in Yosemite, and that can be used in any big climbing area (or even if your climbs are shorter and you're just thinking Yosemite big).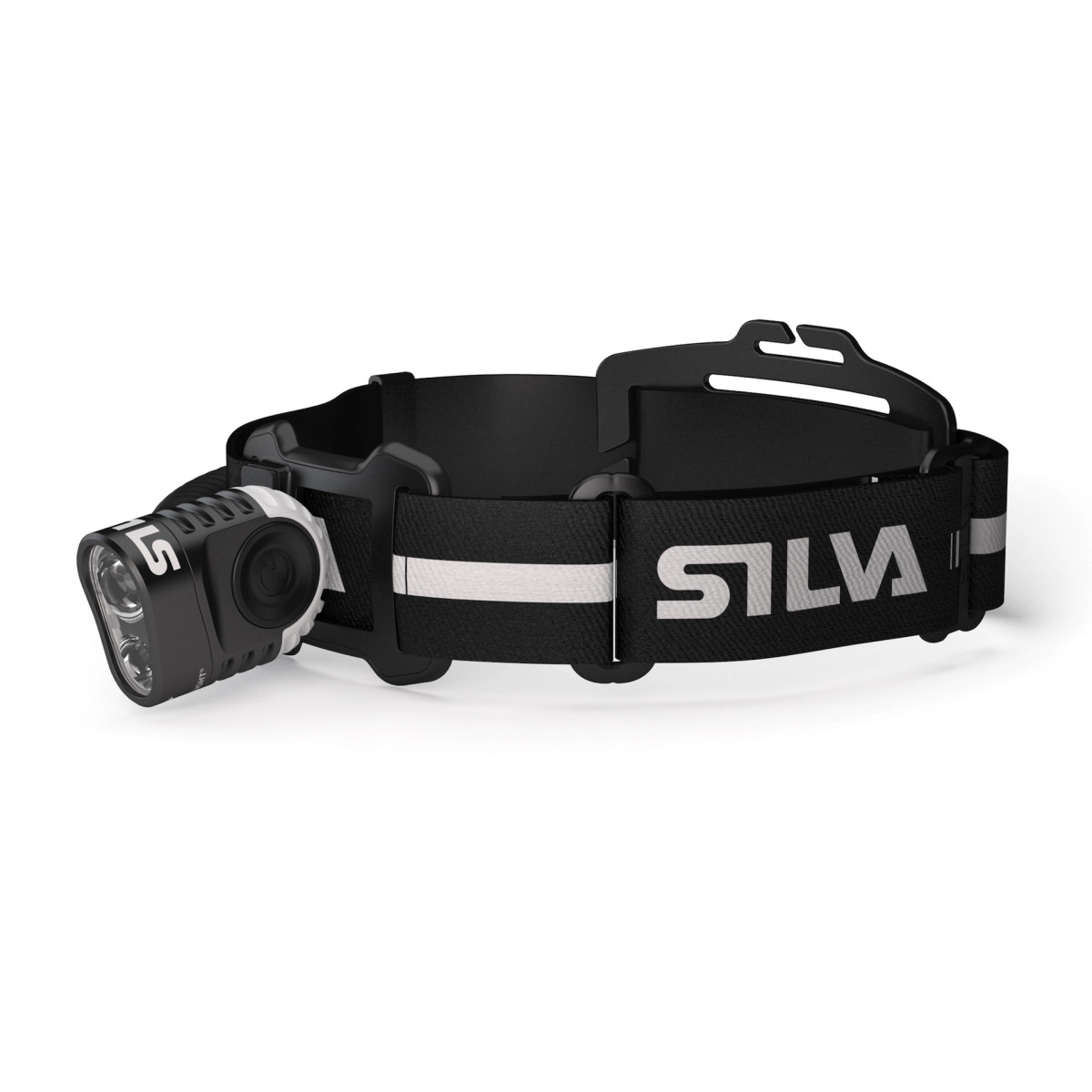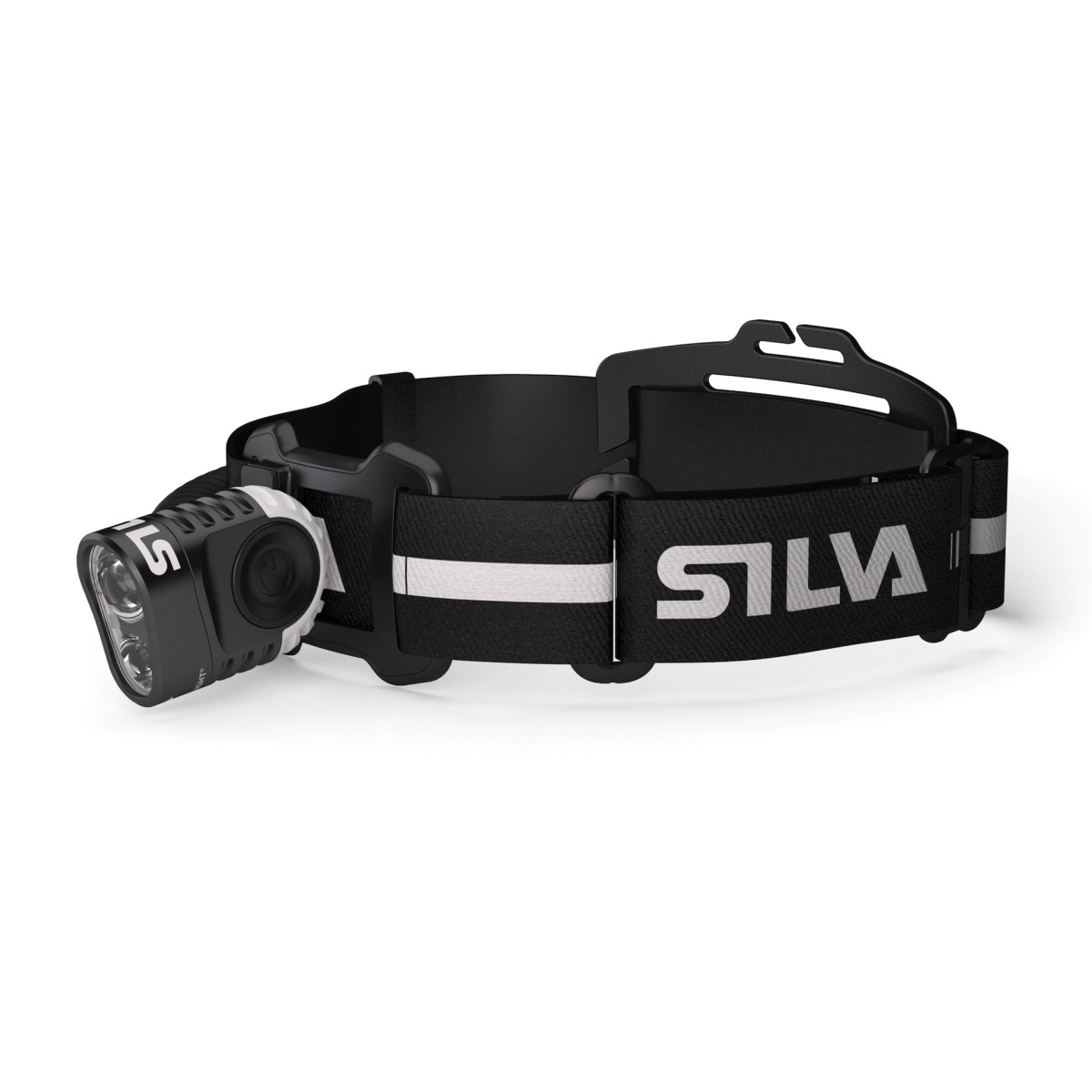 Silva Trail Speed 4XT 1200 Headlamp The Silva Trail Speed 4XT 1200 is a compact and water-resistant headlamp that comes with an adjustable spotlight and floodlight. Tilting it down makes the beam wider to cover more ground and tilting it up makes the beam narrower for long-distance focus. It has a detachable battery pack that can be worn on either the rear of the headlamp or stashed in a pack. The light and battery weigh a scant 245 grams. Light output is 1200 lumens and the rechargeable battery lasts up to 20 hours.  $246; silva.se
Get it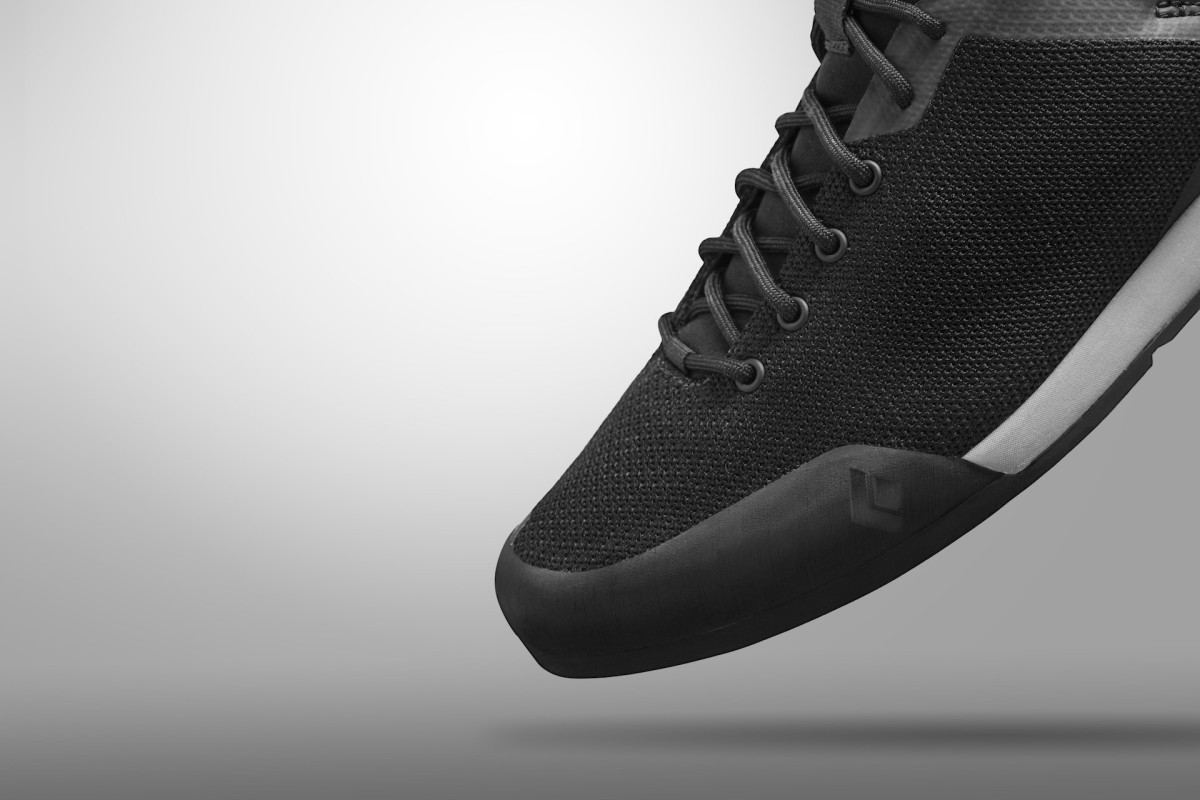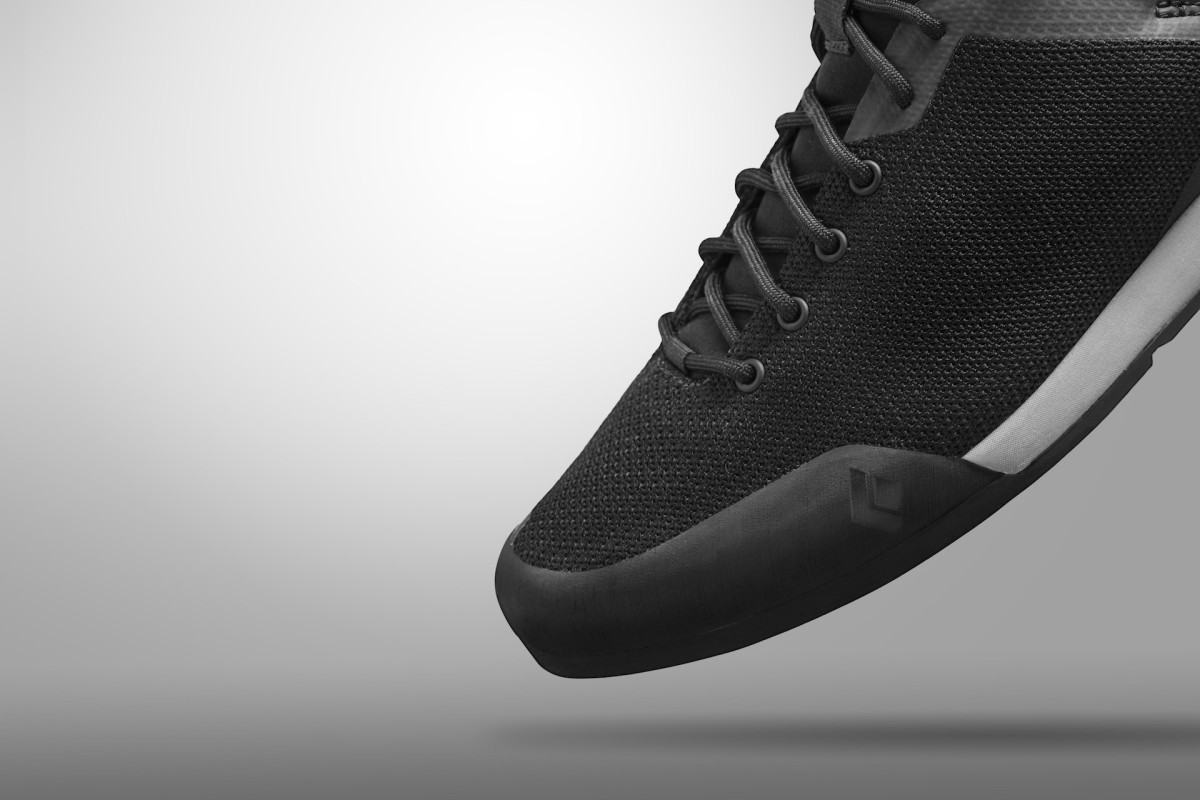 Black Diamond Circuit Approach Shoes Yosemite lies inside a 21,000-square-mile granite batholith, which means rocks are everywhere. Black Diamond's Circuit approach shoes are made with breathable knit uppers so they stay cool on hot days, with sticky rubber soles for scrambling over slabs, technical hiking and light bouldering.  $99; blackdiamondequipment.com
Get it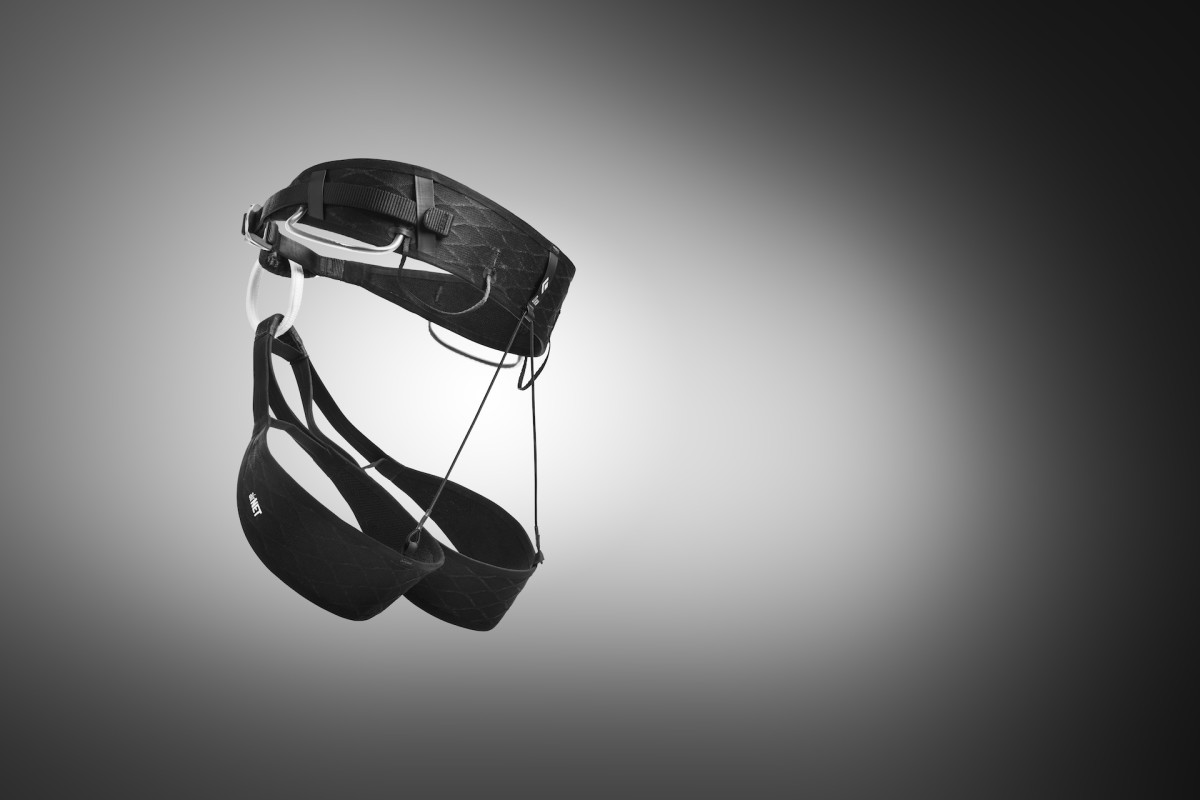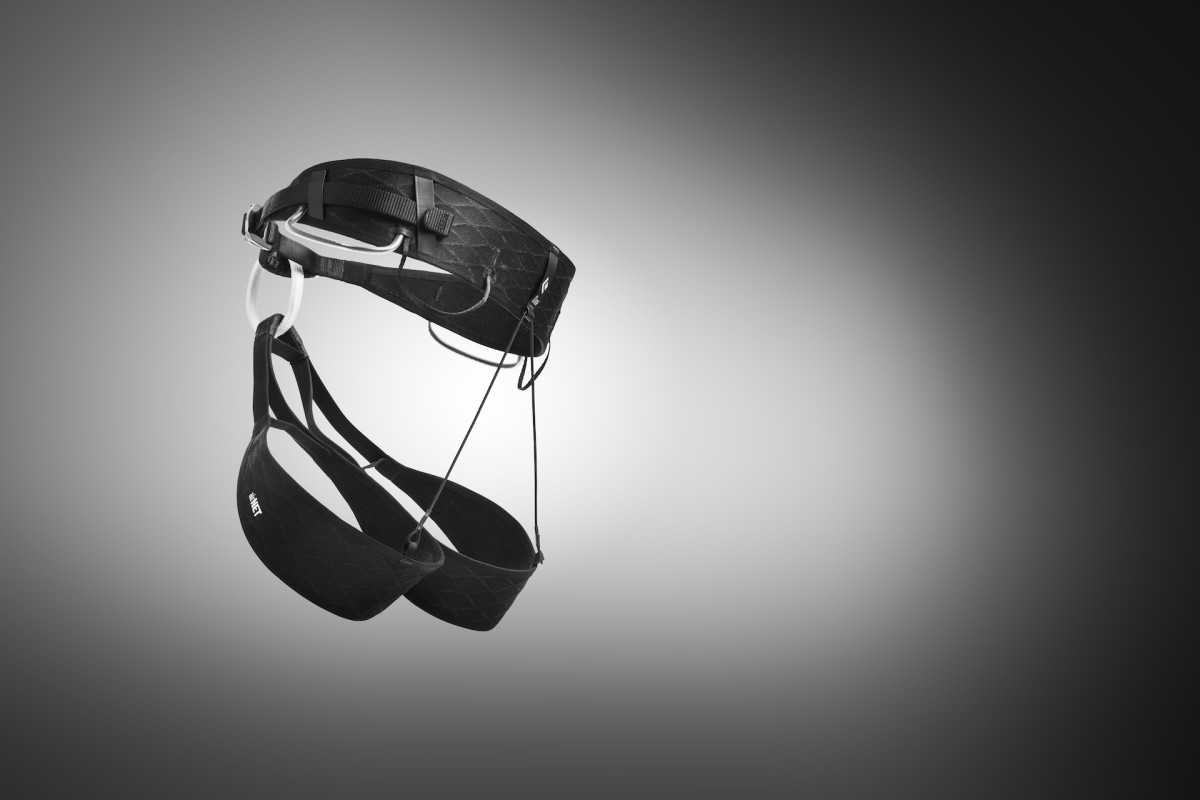 AirNET Climbing Harness This no-frills harness designed for competition climbing is what the world's best climber, Adam Ondra, uses. It's soft, supple, comfy to hang in at belays, and it folds into a small stuff sack so it takes up little room. Utilizing Black Diamond's latest technologies, AirNET features low weight and high comfort, plus the new low-profile Infinity Belay Loop. The AirNET harness works equally well on everything from short sport climbs to the long cracks found on El Capitan.  $160; blackdiamondequipment.com

Get it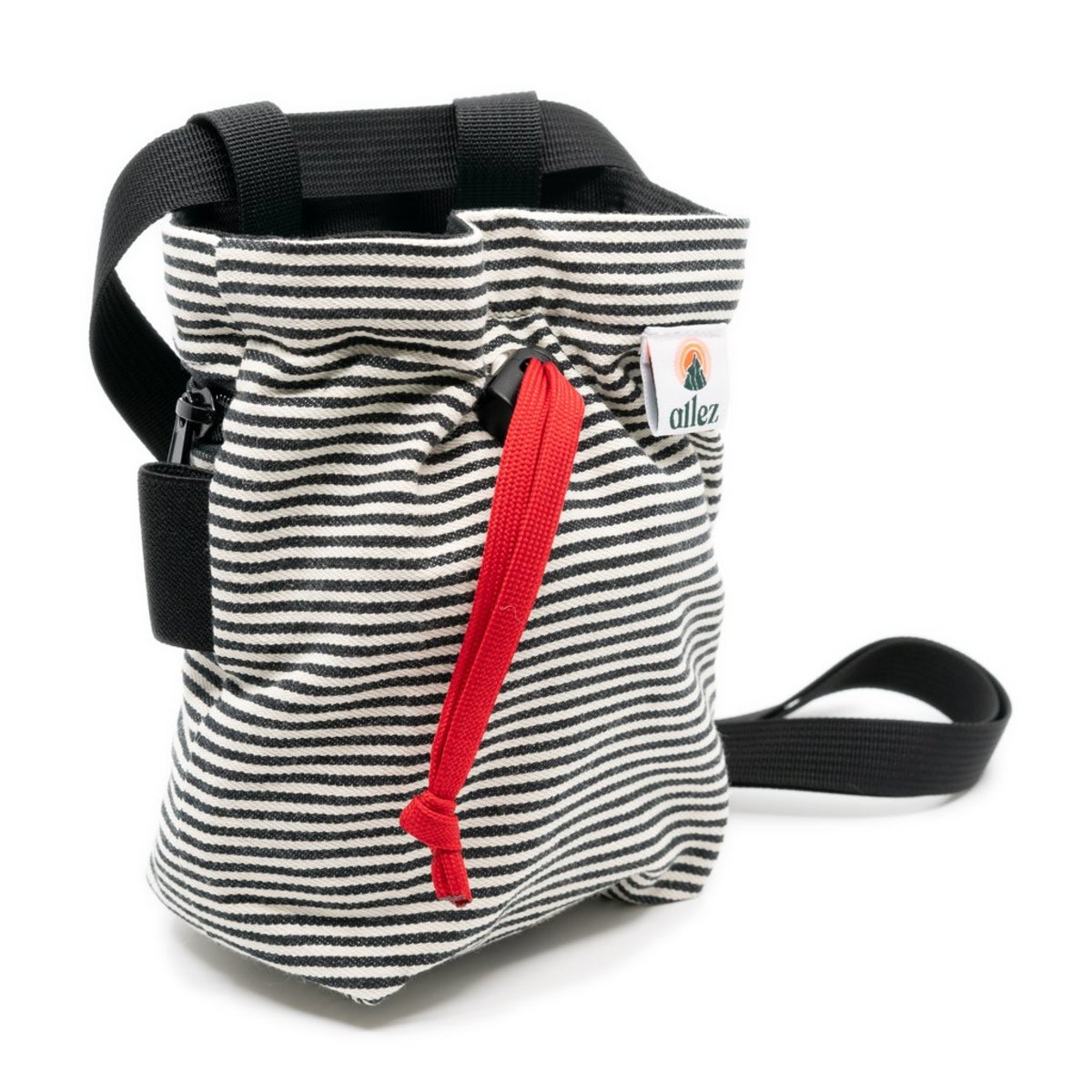 Allez Outdoor Limited Edition Upcycled Chalk Bag Generously sized so it can hold enough chalk to cover thousands of feet in a day without needing a refill, the Upcycled Chalk Bag is durable, fashionable, and comes with a large zippered pocket for keys or energy gels. Additional items from Allez include alpaca and merino wool beanies, biodegradable cleansing cloths and repair and recovery salves, with or without CBD.  $30; allezoutdoor.com

Get it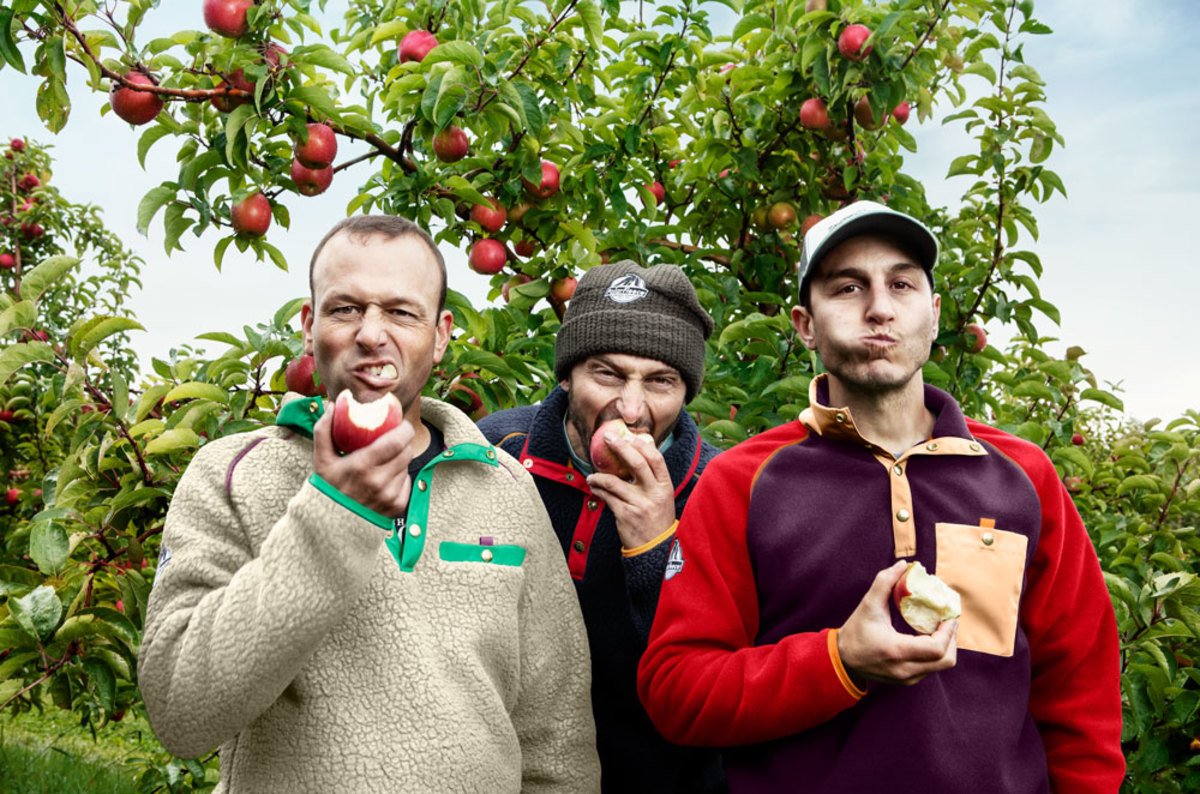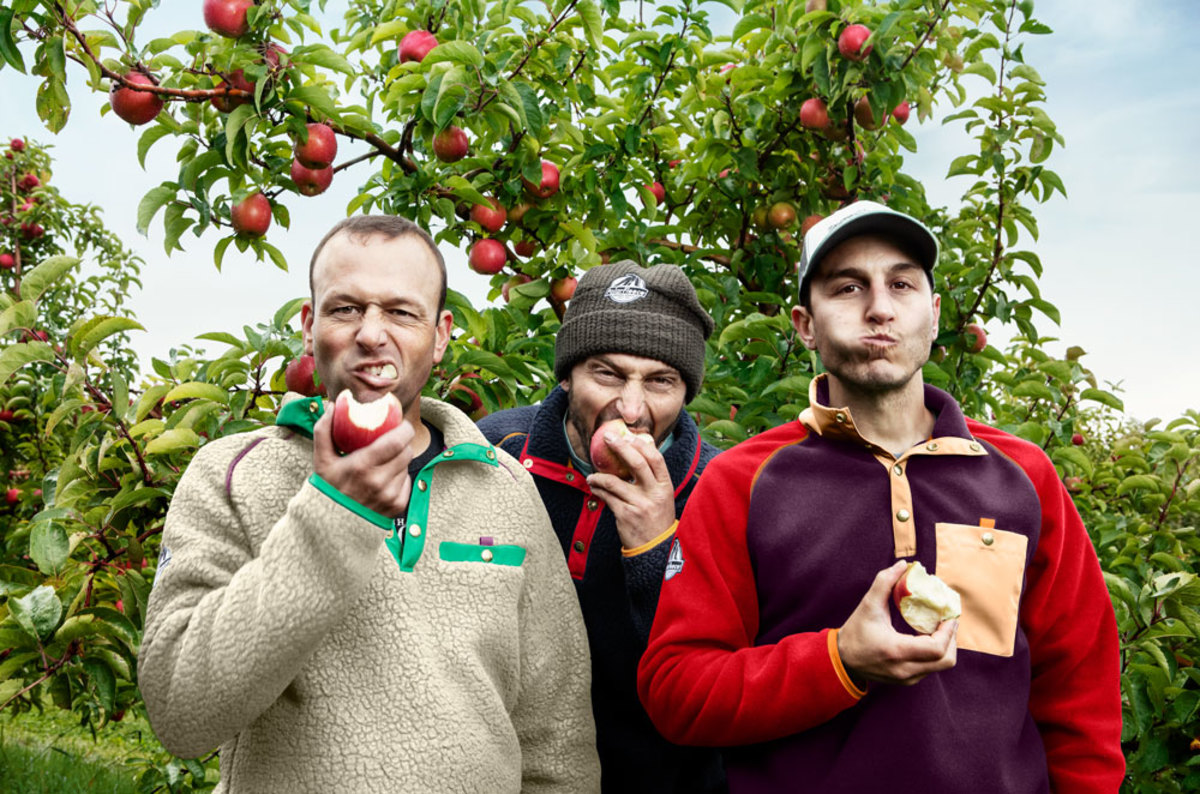 PolarFleece Customizable Pullover Through PolarFleece.com, Polartec is offering fully customizable pullover fleeces in either mid-layer weight Andover or heavy-weight Shearling. These pullovers are a nod to its original release in 1981, now offered in a variety of styles and colors that are designed entirely by you, down to the snap color and pocket ribbon. Made from 100 percent recycled bottles and sewn in New England, these layers are equally at home on chilly High Sierra mornings as they are halfway up a rock dome in Tuolumne Meadows.  $140 Shearling, $120 Andover; polarfleece.com

Get it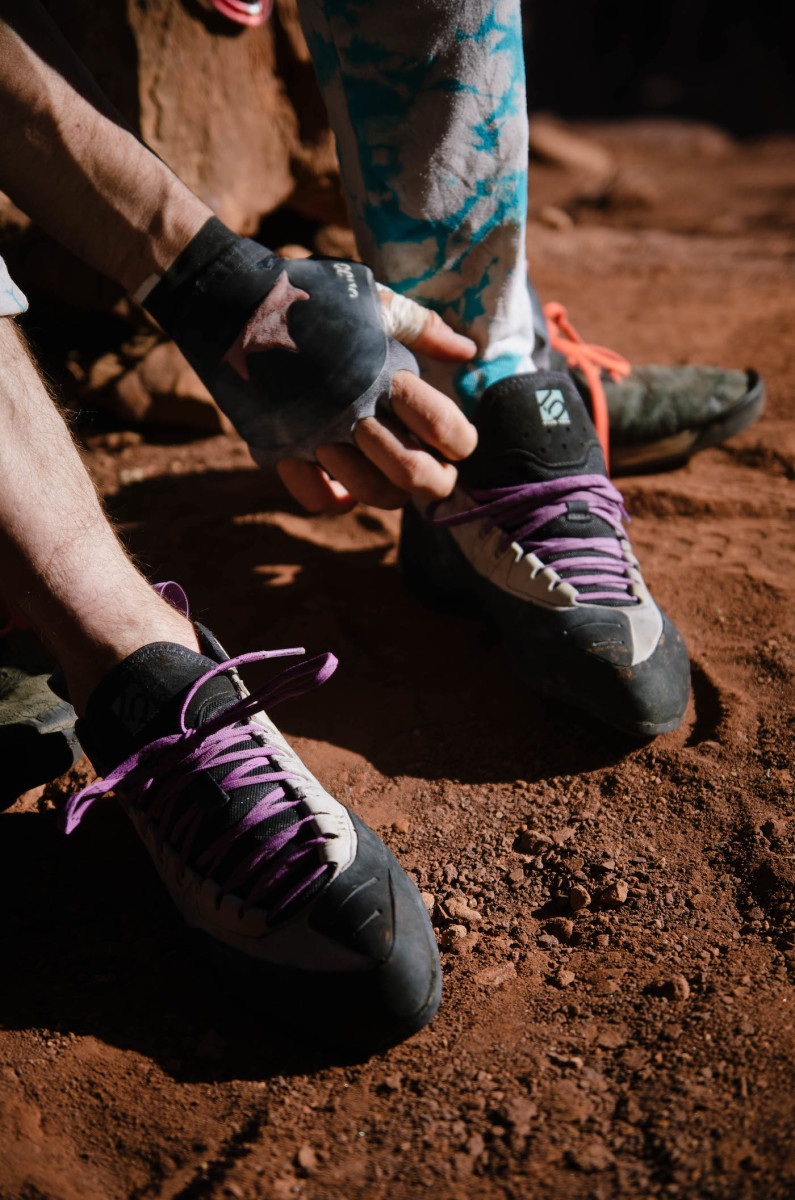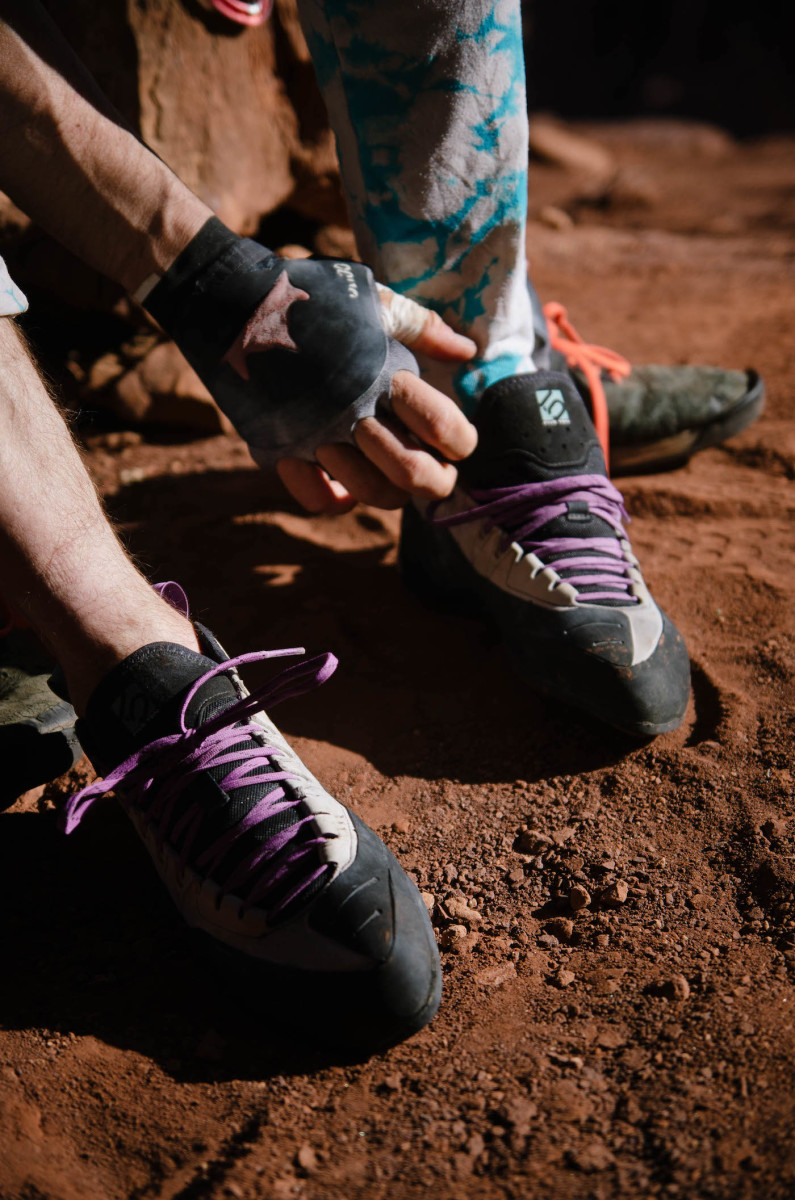 Five Ten Grandstone Climbing Shoes Founder of Five Ten Charles Cole (1955-2018) climbed the hardest big walls on El Cap and Half Dome in Yosemite. Inspired by climbing in the park, in 1985, Cole started his iconic shoe company and formulated the stickiest rubber in the world. With the shoes of his design laced onto his feet, Cole climbed demanding face and crack routes from Joshua Tree to Yosemite.
The all-round Grandstone has a protective, high-top design to protect ankles from sharp cracks, a stiff sole for all-day support, and low-stretch fit. They ship with Stealth C4 rubber, the grippy compound that put Five Ten on the map.  on sale for $108; adidasoutdoor.com

Get it
——————–
By: Chris Van Leuven
Title: The Best New Climbing Gear for 2020
Sourced From: www.mensjournal.com/gear/the-best-new-climbing-gear-for-2020-mens-journal/
Published Date: Tue, 30 Jun 2020 00:58:41 +0000
Did you miss our previous article…
https://www.mansbrand.com/gordon-ramsay-on-the-wildest-adventures-from-his-nat-geo-series-uncharted/
Jake Paul Says Salt Bae Might Actually Annoy Him More Than Long Term Rival KSI
Jake Paul Says Salt Bae Might Actually Annoy Him More Than Long Term Rival KSI – originally posted on Sportslens.com
Jake Paul has taken to social media to criticize famous chef 'Salt Bae' for his actions after the 2022 Qatar World Cup Final. The restaurateur was seen joining in on the celebrations with Lionel Messi and co, posing for photographs and holding the World Cup trophy. Jake Paul admits that Salt Bae now annoys him more than long term rival KSI.
Jake Paul Slams Salt Bae For Intruding Argentina World Cup Final Celebrations
After arguably the best World Cup Final in history, Argentina players and fans were rightly celebrating after achieving world soccer supremacy in Qatar. On the pitch, the likes of Lionel Messi, Angel Di Maria and co were celebrating the biggest win of their life, and rightly so.
However, famous chef known as 'Salt Bae' seems to have stirred a lot of football fans up the wrong way by intruding and impeding on the Argentina World Cup winning celebrations.
one man who is furious at the actions of Salt Bae is Jake Paul. 'The Problem Child' has slammed the restaurateur for 'disrespecting GOATs' and ruining the moment for Argentina players after achieving their lifelong dream of winning the World Cup.
This isn't the first time Salt Bae has been slammed for this. In the aftermath of the 2018 Champions League Final, the chef posed for a photo with Mohammad Salah, a Liverpool player who had just lost the final and sustained a terrible injury. Again, many people saw this as disrespectful, just like intruding the Argentinian celebrations at the World Cup.
Jake Paul admits that Salt Bae may have overtaken KSI in his hate ratings now after his World Cup actions. That is saying something, given the fact that Paul and KSI have had a long-term feud dating back over three years. It all started when KSI beat Logan Paul in a professional boxing fight in 2019, and has been a fierce rivalry ever since.
The 25-year-old has been very vocal with his opinions on Salt Bae and feels that he 'has been disrespecting GOATs way too long'. As you can see in the tweet below, the YouTube star turned boxer has made his opinions on Salt Bae very vocal:
This dude has been disrespecting GOATs way too long. I may have found someone who annoys me more than KSI. pic.twitter.com/YYZTgI5cCi

— Jake Paul (@jakepaul) December 26, 2022
Will Jake Paul Still Fight KSI Next Year Despite Frustration At Salt Bae?
Despite Jake Paul's most recent call-out of Salt Bae, the fight everyone wants to see him in is the KSI fight or the Tommy Fury fight. It seems like both of these bouts could happen for 'The Problem Child' in 2023. A fight between Jake Paul and KSI is closer than ever, with the pair seemingly agreeing to fight at Wembley Stadium next summer in England in a Twitter back and forth.
Fans will be hoping that the former Disney channel and YouTube star still has his sights set on a fight with long term rival KSI, rather than calling out Salt Bae and potentially having a fight with him instead.
Although Paul has admitted that Salt Bae annoys him more than his English counterpart, it seems that the Paul vs KSI fight could well happen next year. The fight has been brewing for some time now and looks closer than ever to happening.
Both Jake Paul and KSI were in action in the boxing ring very recently, so will both be in good shape and raring to get through the ropes again and face each other in the centre of the canvas.
Fingers crossed we get the Jake Paul vs KSI fight next year and let the pair finally settle their differences in the ring. Who knows, Salt Bae could be ringside to watch!
Potential Jake Paul vs KSI Future Odds
Already claimed the Jake Paul vs KSI boxing betting offer? Take a look and claim the best bookmaker free bets from our offshore partners.
Check out the chart below for the best Paul vs KSI boxing odds from BetOnline, one of the best boxing betting apps.
| Boxer | Odds | Sportsbook |
| --- | --- | --- |
| Jake Paul | -188 | |
| KSI | +150 | |
| Draw | +1600 | |
Odds are correct at the time of publication and are subject to change
---
Other Content You May Like
Best Offshore Betting Sites – your guide to the best offshore sportsbooks.
Best Crypto Betting Sites – Best betting sites to bet using cryptocurrency.
Boxing Free Bets – Work out all of your best sports free bets today.
Best Offshore Gambling Sites – Your guide to the best offshore gambling sites in the US.
Exclusive High Limit Sportsbooks – Best high-limit sportsbooks from various US bookmakers.
Best Betting Apps – Your guide to the best betting apps in the US.
Best US Sportsbooks – Best sites that you can wager on sports in the US.
From Sportslens.com – NFL, NBA, NHL, MLB News, Rumors & Betting Picks
———————–
By: Paul Kelly
Title: Jake Paul Says Salt Bae Might Actually Annoy Him More Than Long Term Rival KSI
Sourced From: sportslens.com/news/jake-paul-says-salt-bae-might-actually-annoy-him-more-than-long-term-rival-ksi/
Published Date: Thu, 29 Dec 2022 12:21:01 +0000
Read More
Did you miss our previous article…
https://mansbrand.com/megans-top-10-tv-shows-of-2022/
Off Shore Fishing Charters Growth in Wilmington NC
Reel Zinger Fishing Charters of Wilmington offers Full & Half Day Fishing Charters for both In-Shore fishing and Off-Shore Fishing of the Carolina Coast. Depending on the charter you have booked and weather, we will take you to the best local fishing spots found over the years. Common fish for this area include Redfish, Black Drum, Bluefin & Yellowfin Tuna, Wahoo, White Marlin, Mahi Mahi, Spanish and King Mackerel, Amberjack and Striped Bass. Thrilling adventures for whole families and friends. The Wilmington and Wrightsville Beach Area not only has an abundance of world-class fishing but has every type of hotel accommodation, cuisine, and restaurants, as well as nightlife. Call today to book your next Big Fish & Tall Tales Adventure!
AN AMAZING GOLF GLOVE THAT WILL IMPROVE YOUR SWING
There are many choices when it comes to golf gloves and all are very similar, with the only real difference being some are made with real Cabretta leather and some are synthetic. Until now!
The Pro Air golf glove is an unbelievable new concept that adds tiny air pockets inside the golf glove which allows you to hold the golf club with a softer grip. With a softer grip on the golf club, it allows for a more relaxed and lighter grip. No more death grip. With a lighter grip, this should produce longer, straighter and more consistent golf shots!
The Pro Air golf glove also features perforated fingers which the company says accomplished 2 goals, first, it allows your hand to remain cool, second it gives flexibility to your fingers to achieve a relaxed grip. In addition, every panel of the Pro Air golf glove is reinforced with double –backstitched nylon seams.
I must say the feel of the Pro Air golf glove is very unique. It feels like the inside of the glove has very small bubble wrap in it. After a few swings I could immediately notice a more relaxed grip and I didn't even realize the unusual feel of the tiny air bubbles. I used the glove on the driving range for about 30 minutes, then onto the chipping area then off to the golf course for the real test.
I used only the Pro Air golf glove for 4 rounds of golf for the test. The glove worked exactly as the company says it would. My grip was much lighter than normal, and my hand stayed cool and dry throughout the entire round of golf. It felt like my golf shots were almost effortless, as I  wasn't using my normal super tight golf grip.
The company website is www.proairgrip.com and the cost of the glove is only $24.95. It is available for men and woman and a youth version is only $19.95
Overall, a very unique golf glove without question, and unlike any other golf glove in the market. It is a great way to train your hands away from a death grip, and allow you to swing more freely and consistently.
To learn about more unique and helpful golf products, please subscribe to our email list at www.nichegolf.com or like us on Facebook at https:/www.facebook.com/nichegolf or visit us on Instagramhttps://www.instagram.com/nichegolf/
Original Post: https://www.nichegolf.com/an-amazing-golf-glove-that-will-improve-your-swing/