The simple act of removing stubble from one's face has created a limitless choice of devices and concoctions to perform this mundane task. Navigating the ones that work can literally be a lifetime of trial and error: shaving cream, gel, foam, soaps and more. Or, it can be picking up the bog standard can of foam that dad uses, and sticking to the same brand for life.
Like toothpaste, it might be easier to repeat purchase a functional item like this, but if you've never tried a shaving cream before, you're missing out on a vastly superior shave. As well all know, shaving can be tough on your skin so it's important to pick the right products to help protect and nourish both the skin and the hair follicles. The best shaving creams do exactly that, combining a close shave with a gentle touch.
The Benefits Of Shaving Cream
What are the benefits of a shaving cream over other types of shave preparations? Who better to ask than the international purveyors of fine barber products, Truefitt & Hill. They say: "Shaving creams are far kinder to the skin than any shaving foam, which often contain alcohol and can dry out the skin and can cause irritation. Shaving soap has a firm consistency compared to the soft consistency of shaving creams."
This means that soaps generally require more water to build a lather and a brush is always required. A hard, glycerine shaving soap usually offers slightly stiffer lather, however it isn't quite as moisturising as a glycerine-based cream. For that reason, shaving cream is better for the overall care of dry and normal skin types (though not exclusively).
When shopping for a shaving cream Truefitt & Hill adds, "price is not always a guarantee of quality, but expertise is. Unfortunately, a lot of the cheaper products tend to use less desirable ingredients, which do not deliver on performance. A good quality product should last for a very long time and deliver tangible results."
Read the ingredients list before adding to cart as, "glycerine is the key element for a close, smooth, comfortable shave. Avoid alcohol, benzocaine or peppermint oil, which can irritate and numb the skin."
Do You Need A Shaving Brush To Apply Shaving Cream?
That depends on the cream. Quite often this type of product creates minimal lather so hand application works fine. Since we're not whipping up a foam, a brush can still help with the even distribution of the cream on the stubble, and by lifting the hairs in preparation for the blade. Truefitt & Hill make the valid point that, "if you have to shave every day, you might as well make it a little bit more fun. A good quality shaving brush makes the shaving experience so much more pleasurable."
Shaving creams can also work better for longer stubble and thicker, coarser hair, because there is a lesser volume of foam to clog the blades. Usually available in either a screw top tub or tube, tubs or bowls allow the user to dip in a shaving brush, or scoop the required amount out with fingers, while tubes are cleaner to handle and easier to transport. You might prefer a bowl to sit next to your basin and a tube for your wash bag.
The Best Shaving Cream Brands
In no particular order, this is Ape's rundown of the very best shaving cream brands on the market today – determined using customer feedback, innovation, ingredients, price and our own in-house testing – along with our favourite product from the range.
The Art of Shaving
Our Pick: Shaving Cream Oud
Blending a functional product with an upscale fragrance is always a win in our opinion, and it's a core tenet of the The Art of Shaving range, with its abundant choice of essential oil-scented shave creams. Tracking down this rich oud version is worth the extra effort. Used with or without a brush, it creates a rich lather from a small amount and gives a skin softening shave.
Buy now at The Art Of Shaving
Horace
Our Pick: Shave Cream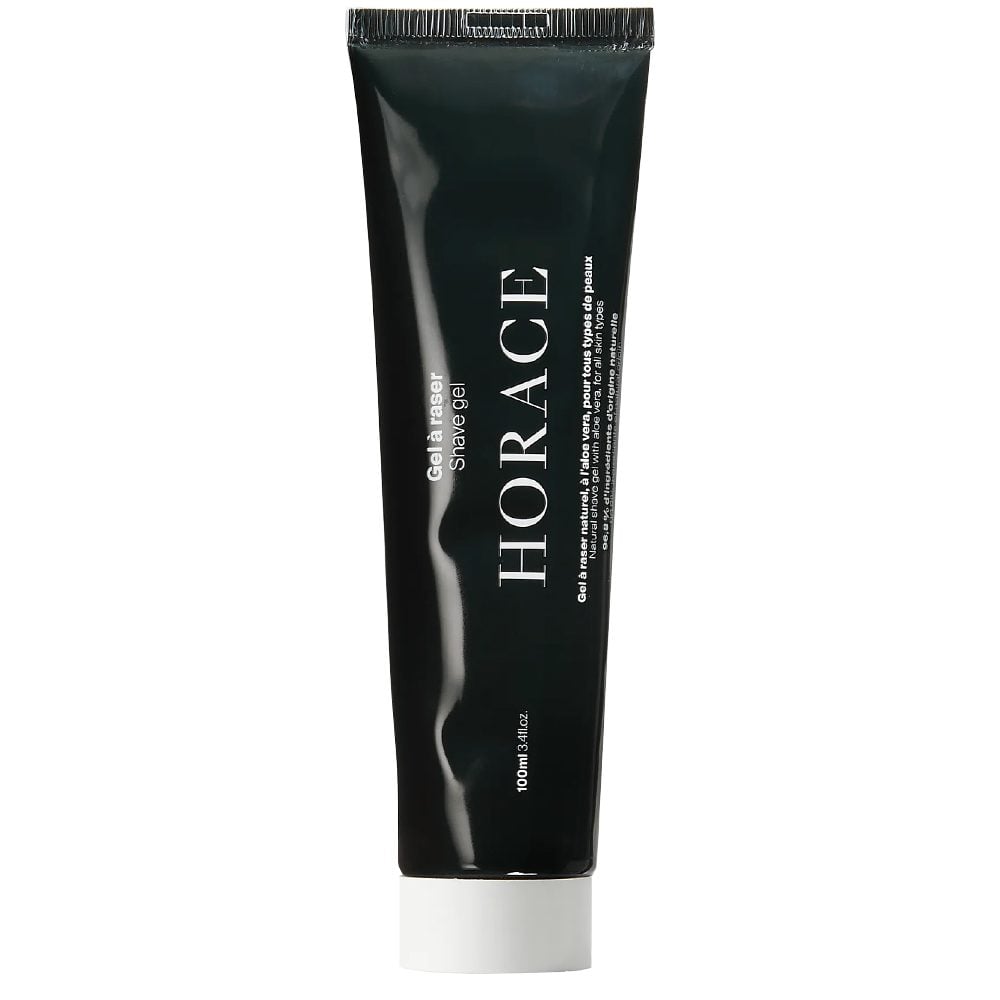 Like all Horace products, this shave cream is excellent value for money. It has a high content of natural ingredients and is free of parabens, silicone and mineral oils. Shoera butter, kukui oil, shea butter and allantoin allow the blades to glide over the skin for a close shave, while nixing any razor burn, leaving a gentle, green citrus scent.
Buy now at Horace
Geo.F. Trumper
Our Pick: Sandalwood Soft Shaving Cream
One of the best-known grooming emporiums in the heart of London, Geo. F. Trumper opened its doors in 1875. It's so renowned, it has a place in the canon of British literature, with mentions in Evelyn Waugh's Brideshead Revisited, John Le Carré's Tinker Tailor Soldier Spy and Ian Fleming's On Her Majesty's Secret Service, no less. So, consider it a privilege that you can lather up like a classic Mayfair gent, with this cushioning sandalwood scented shave cream.
Buy now at Amazon
Kiehl's
Our Pick: Ultimate Brushless Shave Cream with Menthol White Eagle
The Ultimate Brushless Shave Cream by Kiehl's is extremely popular, and often goes out of stock, so you need to be quick. Even a small amount of this hand-applied preparation creates super-smooth results and a clean and energising feeling, thanks to the added menthol and camphor. It's the perfect wake up call for bleary-eyed mornings.
Buy now at Kiehls
D.R Harris
Our Pick: Windsor Shaving Cream Bowl
Just a short hop from Buckingham Palace, you'll find D.R Harris on St. James's, one of the oldest apothecaries in London, and the appointed chemists for HRH the Prince of Wales. Rich in glycerine, the aptly named Windsor shaving cream has a suitably regal scent of citrus, grapefruit, black pepper and vetiver that's literally fit for a (future) king.
Buy now at Amazon
Lab Series
Our Pick: Cooling Shave Cream
Fresh from a rebrand, Lab Series has traded in the old typefaces and switched away from the white and blue colour scheme, but thankfully it hasn't altered any of its expert formulations. The Cooling Shave Cream awakens the senses thanks to a combination of menthol and peppermint oil, while rich emollient coconut oil, murumuru seed butter and shea butter protect the skin's barrier while giving the razor a frictionless pass. And, it now comes in a fully recyclable pot.
Buy now at Selfridges
Malin + Goetz
Our Pick: Vitamin E Shaving Cream
This Vitamin E laden shave cream from Malin + Goetz is great for the face and for other, well, sensitive areas on the body. Squalane, shea butter, glycerin and amino acids, along with soothing chamomile and cooling menthol make this a good choice for anyone who is prone to eczema, dryness or irritation, as this cream leaves the skin feeling moisturised and calm.
Buy now at Amazon
Hanz De Fuko
Our Pick: Invisible Shave Cream For Sensitive Skin
When shaving an intimate area like your privates, it's helpful to see where the blade is going. This creamy textured potion from Hanz De Fuko goes clear on application, so it reduces the chances of unwanted nicks and cuts. It has anti-ageing properties with antioxidant protection against free radicals, while aloe vera and pomegranate help reduce the appearance of wrinkles. A tempting scent of minty rum and vanilla freshens your skin both upstairs and down below.
Buy now at Mankind
ESPA
Our Pick: Dual-Action Shavemud
This creamy, clay-based formula from ESPA doubles as a rich shave cream and deeply purifying face mask, making it a worthy investment. Kaolin and bentonite draw out impurities from the pores, while smoothing the path for your razor. Shea butter and sweet almond oil protect and nourish against razor burn and tightness, keeping the skin smooth and supple. Use it as a weekly detox treatment, leave it on for a couple of minutes before you shave, or as an instant shave preparation.
Buy now at John Lewis
Tom Ford For Men
Our Pick: Shave Cream
Blow the budget with Tom Ford's indulgent shave cream. The nourishing, whipped formula certainly elevates the ritual of facial depilation. As you'd expect from this master perfumer, it has a superior herbal, citrus scent. Hold tight because more stock is coming soon.
Buy now at SpaceNK
Baxter of California
Our Pick: Super Close Shave Formula
You can apply this with your hands, or a brush to help distribute it evenly, but don't expect to see any lather. This mentholated cream creates a protective layer between the blade and the skin for a silky smooth shave.
Buy now at Amazon
Floris London
Our Pick: No.89 Shaving Cream
Floris No.89 Conditioning Shaving Cream was first introduced in 1951 and has been a favourite with gents ever since. At 100ml, it's ideal for travel, and a little goes a long way with this rich shaving cream. It lathers particularly well, and the aloe vera and chamomile employed within the formula ensures that skin stays soothed and comfortable throughout and after a shave.
Buy now at Next
Truefitt & Hill
Our Pick: Ultimate Comfort Shaving Cream Unscented
Another stalwart of St. James's, Truefitt & Hill has been around since 1805 and now spans the globe with barbershops in Singapore, Kolkata, Kuala Lumpur, Shanghai and more. It has a Royal Warrant by appointment to the late HRH Duke of Edinburgh. Choosing the fragrance-free Ultimate Comfort cream seems a crime when there's the scented versions featuring the famous West Indian Limes, Apsley and Trafalgar, so grab a bottle of cologne while you're there.
This cream takes brilliant care of sensitive skin. Lavender oil provides a touch of antiseptic, in the very unlikely event that you cut yourself.
Buy now at Amazon
Taylor Of Old Bond Street
Our Pick: Sandalwood Shave Cream
The youngest of the traditional London barbers, Taylor of Old Bond Street was established in 1854. Its Sandalwood Shaving Cream creates a luxurious lather which simply coddles the chin. But don't just take our word for it – it has a number one bestseller award on Amazon with 83% of shavers giving it a five star rating.
Buy now at Amazon
The post The Best Shaving Cream Brands For Men (And The One To Buy) appeared first on Ape to Gentleman.
——————–
By: Jessica Punter
Title: The Best Shaving Cream Brands For Men (And The One To Buy)
Sourced From: www.apetogentleman.com/best-shaving-creams-men/?utm_source=rss&utm_medium=rss&utm_campaign=best-shaving-creams-men
Published Date: Tue, 11 Jan 2022 09:00:08 +0000
Did you miss our previous article…
https://www.mansbrand.com/ultimate-guide-to-mens-hair-types/
How to wear your watch correctly
As much as you won't like hearing this, you're probably wearing your watch wrong.
It's not your fault; you may have never been taught how to wear a watch properly. After all, there is more than one way to wear a watch.
But how do you know which way is the right way?
Don't worry, gents; as always, I've got you covered. I'm here with the best way to wear your favorite timepiece properly and look as stylish as ever.
In today's article, I'll be covering:
Origins Of The Wrist Watch
What Wrist Do You Wear A Watch On?
Should You Wear Your Watch Facing Inward Or Outward?
The Stylish Way To Wear A Watch
#1 Origins Of The Wrist Watch
When it comes to wearing a watch correctly, it's important to note why the wristwatch came about in the first place.
Dating back to the 1800s, the first watches modified to be worn on the wrist were primarily worn by women as accessories. One of the earliest was created by Patek Philippe as a fashion accessory.
At the start of the 20th century, watchmakers became intrigued about using a wrist-worn timepiece for men in the military. They believed it would help them tell time quickly while on the battlefield.
Watchmakers started modifying pocket watches to fit on a bracelet worn on the wrist. Men would not wear the first iteration of the modern wristwatch until well into the 20th century.
Then developed as a 'trench watch' for military use, the earliest wrist watches offered something the pocket watch didn't have – convenience.
After the wristwatch became less of a fashion accessory and more of a functional tool, watchmakers would spend the next century modifying them into the modern wristwatches we enjoy today.
#2 What Wrist Do You Wear A Watch On?
The age-old question: what wrist to wear a watch on? The answer – it depends.
The reason it depends is that since the creation of the wristwatch, men have mostly worn their watch on their non-dominant wrist. And since most people are right-handed, you would wear your watch on your left wrist.
But this isn't always the correct answer. You may want to wear your watch on the right wrist if you are left-handed. But you may also want to wear it on your dominant hand.
So how do you know for sure?
The most significant benefit of wearing your watch on your non-dominant hand is that you can quickly put the watch on and navigate the dial more efficiently than with your non-dominant hand.
Wearing your watch on your non-dominant hand is less likely to damage the watch as you tend to do more with your dominant hand. If you were to wear it on your dominant hand, you're more likely to scratch or ding the watch than on your non-dominant hand.
So the rule of thumb here is to wear your watch on your non-dominant hand for the best way to navigate and protect your watch.
#3 Should You Wear Your Watch Facing Inward Or Outward?
The next question is, why would a man wear his watch facing inward on his wrist instead of outward?
This trend is seen primarily in individuals who need to check their watch frequently and in the most efficient way possible. Among the many reasons you should wear a watch, one of the most common is to support you in your profession.
You will see men in the military do this, as it's easier and prevents sun glare better than when it's on the outside of the wrist. It also offers faster convenience to other tools on the watch in addition to the time.
Another reason you may want to wear your watch facing inward is that it can help protect your watch from scratches and dings. Again, this is just a preference.
But you're a stylish guy looking for the best way to wear his watch. What should you do?
The answer here is to wear it facing outward, as that is the most common way to wear a wristwatch. It shows off your timepiece that you love while also still being functional.
Unless you're in a profession where you need to check your watch quickly while managing other tasks, the best way is to have your watch facing outward. After all, you probably didn't spend money on that beautiful timepiece to hide its character.
#4 The Stylish Way To Wear A Watch
Now it's time to find out exactly how to wear a watch in the most stylish way a guy can.
Assuming you've selected the right size watch for your wrist, the first thing you want to do is figure out if you'll be wearing your watch on your right or left wrist.
As mentioned above, traditionally, the watch is worn on your non-dominant wrist. So if you're right-handed, this means wearing your watch on your left wrist. For left-handed guys, this means your right wrist.
After you figure that out, it's quite easy. The first thing you want to do is locate your wrist bone.
You want to wear your watch face up just above your wrist bone. If done correctly, your watch should slightly peek out from under the cuffs of your shirt when wearing long sleeves.
Next, you want to tighten the strap so it's loose enough to be comfortable. You don't want it so loose it can spin freely around your wrist. You also don't want it too tight, or it will feel uncomfortable, especially when you bend your wrist.
After doing this correctly, you'll be wearing a watch in the most stylish way possible.
There you have it, gents.
Now you no longer have to worry about wearing your watch incorrectly.
There is more than one way to wear a watch, so find what's most comfortable for you personally, and rock your favorite timepiece accordingly.
If you want to take your watch knowledge to the next level, check out this article I wrote about the difference between quartz and mechanical watches.
The post How To Wear A Watch The Right Way appeared first on Real Men Real Style.
——————–
By: Antonio
Title: How To Wear A Watch The Right Way
Sourced From: www.realmenrealstyle.com/wear-watch-right-way/
Published Date: Sat, 30 Jul 2022 10:19:42 +0000
Did you miss our previous article…
https://www.mansbrand.com/fall-capsule-wardrobe-preparation-buy-now-and-get/
Fall Capsule Wardrobe Preparation (Buy Now and Get $$$)
We've all been there – fall comes around, and you open your closet only to find you have nothing but polos and shorts.
So what's a stylish guy to do? Pay a premium to build an entire fall wardrobe last minute? Sure, if you're loaded. But not every guy is that lucky!
Don't worry; as ever, I've got you covered. In today's article, I'll show you how to get the best bang for your buck when building your fall capsule wardrobe.
We'll be covering:
What Are The Advantages Of A Capsule Wardrobe?
How Do You Build A Fall Capsule Wardrobe?
Where Can You Find Deals On Fall Clothing?
What Are The Best Fall Capsule Wardrobe Essentials?
#1 What Are The Advantages Of A Capsule Wardrobe?
One of the most common headaches guys run into in their closet is having too many clothing options to choose from but not enough of the right options.
While more options aren't bad, they can be overwhelming, especially when you rarely wear most items. This is where building a capsule wardrobe comes into play.
A capsule wardrobe is a limited selection of clothing items that complement each other. This means you can buy a smaller selection of items and create a larger number of outfits.
This is crucial to understand because most guys don't have an unlimited budget for buying clothes. A capsule wardrobe allows you to purchase and use items frequently with little redundancy.
But where do you start in building your fall capsule wardrobe?
#2 How Do You Build A Fall Capsule Wardrobe?
After you have put together the perfect capsule wardrobe, you can start to add a few fall-specific items. This is done by adding a few staple pieces that complement what you already have.
For most, fall offers mild temperatures mixed with slightly warmer temperatures.
This means that layering will be of the utmost importance because you may leave the house needing a jacket, but it might be warm enough by midday to sport only the t-shirt underneath.
Start with the basics when building your fall capsule wardrobe and add pieces accordingly.
Keep It Simple
Fall is primetime for layering, so you only need a few outer layers and should focus more on the innermost layers.
You want to make sure that interchangeability is at the top of your list when it comes to your wardrobe. Everything should complement each other for ease of use.
With that said, having a few staples and adding additional items as you change seasons is essential.
For this reason, ensure you have the following items in your fall capsule wardrobe:
A dark three-piece suit
A light-colored tweed blazer
A leather bomber or biker jacket
An overcoat (dark or light)
A formal button-up shirt (white)
2 casual button-up shirts (flannel or chambray, you choose)
2 sweaters (1 shawl, 1 crew neck)
2 t-shirts (1 white, 1 black,)
2 pairs of Jeans (1 dark, 1 light)
2 pairs of slacks/chinos (1 dark, 1 light)
2 belts (1 black, 1 brown)
1 pair of black dress shoes
1 pair of brown oxfords (leather or suede, you decide)
1 pair of sneakers (plain white or brown)
1 pair of military boots (black or brown)
When it comes to accessories like watches, scarves, or gloves, you can use what you have as most men won't need all of them, so I won't count them in.
#3 Where Can You Find Deals On Fall Clothing?
As it is the middle of summer, fall will be approaching quickly.
Now is a great time to snag up some of last year's sale items at department stores as they usually have sales on previous season items. By now, most men aren't thinking about what to wear in the fall.
While you still might be able to find good deals on last year's fall items, it's usually the most optimal time to purchase these items after the season has ended. This is when retailers try hard to clear space and make room for the next season's clothing.
When they do this, it is a great time to get excellent deals on items that have just gone out of season.
Another great option to buy men's clothing is online at your favorite retailers, as they will often have sales and discounts on items they have in their online inventory but are not yet in prime season.
The most expensive items in your fall capsule wardrobe are the ones you want to focus on, as you can often save a significant amount of money out of season for them.
These big ticket items include:
Your dark three-piece suit and blazer
Overcoats and jackets
Dress shoes and sneakers
Boots
These items will be some of the most expensive items and can be found discounted out of season. Put these at the forefront of your fall capsule wardrobe search.
#4 What Are The Best Fall Capsule Wardrobe Essentials?
You want to adhere to a few staples when building your fall capsule wardrobe.
Since fall weather can vary, layering will be essential. These few items are crucial as mainstays that can be layered with other items within your wardrobe.
For example, if you experience a rather chilly day in fall and need to wear a suit, an overcoat is essential as that outermost layer because you can simply remove it when you no longer need it.
When it comes to the concept of layering within your fall capsule wardrobe, you want to make sure you nail these following items.
Overcoats
Having a good overcoat to complement your fall capsule wardrobe is crucial.
The overcoat acts as the outermost layer and will be removed whenever you go indoors. This makes for a great option as you can wear it with anything as it offers excellent versatility.
When searching for the perfect overcoat, it's essential to know your size as they usually come in sizes of suit jackets, not regular sizing. After you've nailed the size, focus on color.
Dark-colored overcoats tend to be the most versatile. However, a light camel color can work as well. Stay away from patterns with overcoats as the goal is to be as versatile as possible.
Leather Jackets
A good leather jacket goes a long way. You can choose a leather biker jacket or a leather bomber; it's your call.
Biker jackets can be slightly harder to pull off as most of the time, they will have a larger and more aggressive collar, but they still look great.
A leather bomber jacket is an excellent option because it looks great on all body types and often has more options than biker jackets.
For color, opt for black or dark brown, as that gives you the most versatility with other items in your fall capsule wardrobe.
Sweaters
Sweaters are to fall, what t-shirts are for summer. This means they are a critical piece as they are season specific and offer great versatility when it comes to layering.
So how do you find the perfect sweater?
You want options, so have a couple of different collar choices to give yourself the most bang for your buck.
Having a shawl neck sweater and a crew neck sweater ensures you have all your bases covered.
Make sure you choose neutral tones such as greys, creams, and tans for color. This ensures maximum versatility with other items within your wardrobe and gives you the most options.
That's it, gents.
To learn more about how versatile this concept of capsule wardrobes can be, check out how I turned 16 pieces of clothing into 256 outfits.
The post Preparing Your Fall Capsule Wardrobe (Buy Now And Save $$$) appeared first on Real Men Real Style.
——————–
By: Antonio
Title: Preparing Your Fall Capsule Wardrobe (Buy Now And Save $$$)
Sourced From: www.realmenrealstyle.com/fall-capsule-wardrobe/
Published Date: Thu, 28 Jul 2022 23:59:00 +0000
We all know of Zara and I'm pretty sure the majority of us own at least one piece from them, but I'm not here to talk about their reasonably priced clothing, I'm here for their fragrance.
Not quite a hidden gem but I don't feel that they vast range and high quality fragrance that they create is given enough air time, I'm about to change that. The fragrance game is massive at the moment, everyone from the big fashion houses all the way to footballers have a scent on the market and they all carry a hefty price tag, with some of the bigger hitters asking in excess of
£100 for 50ml.
Zara clearly understand the need for a great fragrance but also appreciate not everything has to be overly expensive. I've been lucky enough to sample my fair share over the years and wanted to share with you what I feel are some of their strongest.
Tobacco Collective 100ml – £16.99
This is one of my absolute favourites, it works perfectly as an everyday scent. The initial smell is strong and masculine but with undertones of vanilla bourbon help to soften it slightly.
For Him 100ml – £22.99
My current daily spray, its warm, modern and intense. It just so happens to be the perfect blend of three of my favourite scents, bergamot, cardamom and sandalwood. It's strong yet light, never over powering and leaves a wonderful trail.
Florence 100ml – £16.24
Summer calls for a fresh fragrance and I cannot recommend this highly enough, its light, fresh and citrus scent is perfectly for those warmer days. Notes of black pepper, strawberry and guaiac wood allow this scent to sit gently on the skin with offending the noses of those around you.
Written by Tom Loughran
The post The Best Of Zara Fragrances first appeared on Mens Fashion Magazine.
——————–
By: MFM
Title: The Best Of Zara Fragrances
Sourced From: www.mensfashionmagazine.com/the-best-of-zara-fragrances
Published Date: Fri, 22 Jul 2022 09:57:00 +0000
Did you miss our previous article…
https://www.mansbrand.com/how-to-teach-a-child-to-shave-a-guide-to-men/