Want to start the new year looking and feeling great? Arguably the easiest way is to upgrade your grooming routine. A couple of choice additions to your bathroom cabinet can make a huge difference to your complexion and hair, instantly refreshing your appearance.
But with thousands of grooming products on the market, and more being released seemingly by the day, it can be difficult to know where to start. Fear not, as we've handpicked the very best creams, styling aids and fragrances that dropped in 2022, so you can make 2023 your most handsome year yet.
Ole Henriksen The Smooth Search Scrub & Moisturizer Duo
An extended cold snap and dry, overheated indoors can only mean one thing: it won't be long before your skin sends out a winter SOS. Dry, chapped, dull and rough are all familiar distress signals.
Ole Henriksen's Smooth Search Duo delivers a one-two punch to old, grey skin cells. The Lemonade Smoothing Scrub is laced with AHAs to resurface the upper epidermis while the C-Rush Brightening Gel Crème is packed with Vitamin C to brighten, hydrate and soften furrow lines.
Buy now at Boots
Akt Deodorant Balm
De-stinking our pits has never been a particularly remarkable activity, but Akt make it a ritual. Created by two West End performers who had tried everything under the sun and were sick of sweating it out on the stage every night, Akt is a natural, vegan and effective deodorant balm designed to stop the schvitz and protect the skin.
The sophisticated scents are a world away from cheap deodorant sprays. We love the fancy brass applicator, because who wants to rub bicarbonate of soda in their eyes?
Buy now at Amazon
Creed Leather Sleeve & Fragrance
Truly for the man who has everything, Creed has introduced a range of luxury monogrammed leather accessories including this rather natty case in cool shades of blue.
With a price tag higher than most budget airlines, it's nice to know your signature scent will always travel first class, even when you're stuck in coach.
Buy now at Creed
Horace Tinted Skincare Duo
In shades to suit every skin tone, Horace's new tinted skin care products are designed to camouflage imperfections invisibly. Apply the concealer to cover spots, under-eye circles and blemishes, and the Healthy Glow Fluid all-over for instantly matte, better-looking skin.
The real world before and after images show exactly how the shade will look on your beautiful mug.
Buy now at Horace
Mr Blackman's Face & Skin Moisturiser
Made specifically for darker skin and anyone who wants to support black-owned businesses, this hydrating face cream contains mango, hemp and papaya seed oils, along with aloe vera, papain and salicylic acid, to soothe shaved skin and prevent razor bumps and ingrown hairs.
Buy now at Mr Blackman's
Philip Kingsley Vitamin C Jelly
Since we're all about taking better care of our roots, we highly recommend this genius detox treatment to rescue oily scalps from product build up. A unique powder-to-jelly formula that's packed with antioxidants, it comes in individual sachets that you mix at home, apply to apply to wet hair and leave in for five minutes before rinsing out.
It gives noticeable results – brighter-looking, weightless hair and better root lift.
Buy now at John Lewis
Papier d'Arménie Incense Booklet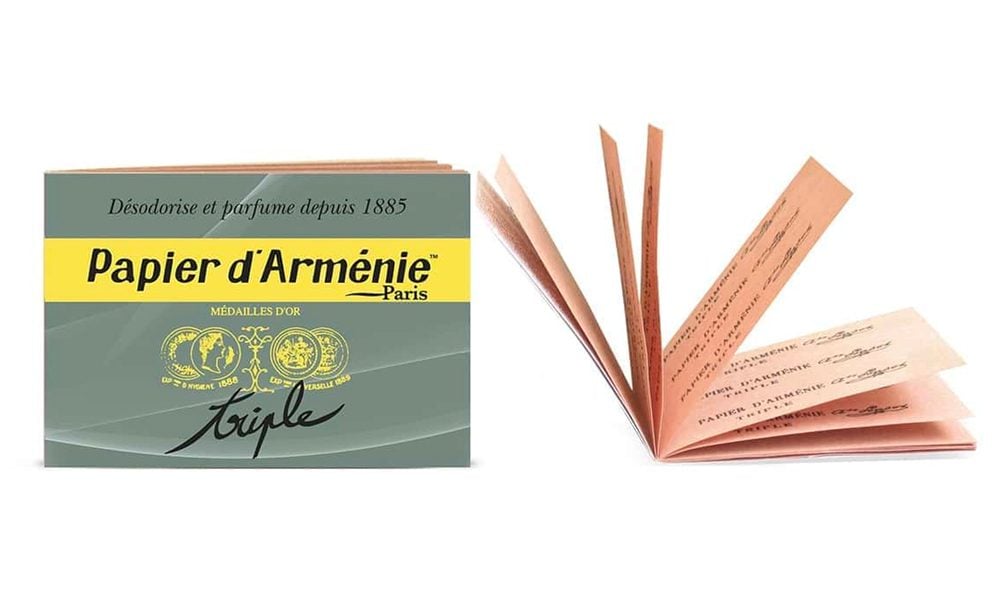 We all like a well-scented abode, but a designer candle habit isn't always sustainable. For the times when there's too much month at the end of your money, may we suggest Papier d'Armènie from The French Pharmacy – a treasure trove of personal care imports from France.
Papier d'Armènie's scented book of incense strips will pleasantly mask the medley of domestic aromas – such as burnt toast, wet dog or stinky bin – with the calming scent of vanilla, benzoin and styrax.
Each strip gives three-to-four hours, and at 13 pages we estimate that one booklet can offer 117 hours burning time, for less than a London pint.
Buy now at The French Pharmacy
Paul Smith Home Bookworm Candle
Money to burn? Make a beeline for Paul Smith's candle collection. Bookworm is one of our favourite scents – the mix of grapefruit, amber, pimento and cedar wood captures the cosy comfort of book-lined walls.
These hand-poured candles come in colourful glass canisters that can serve as smart storage jars later.
Buy now at END.
Vitruvian Man Anti-Pollution Cleanser & Toner
Unless you live in the middle of nowhere, there's little escape from air pollution. City dwellers will benefit from arming themselves with this organic smog-fighting face wash.
Laced with anti-bacterial ginger juice and anti-inflammatory nutgrass root juice, it's a grime busting and balancing detox smoothie for your face.
Buy now at Vitruvian Man
Movementum Prime Pro-Performance Warming Body Oil
Starting the new year with body goals? Created to bridge the gap between the fitness studio and the spa, Movementum offers a range of wellness products and treatment protocols designed to optimise performance and recovery. Teaming up with the Mandarin Oriental, Movementum now offer movement therapy treatments which combine assisted stretching, breath work, lymphatic drainage and trigger point massage and can be done before or after a work out.
Can't make it to London? Use the all-natural pro-performance body oil to enhance your work out – it's designed to kickstart your muscles, eliminate tightness, stimulate blood flow and improve focus.
Buy now at Movementum
Japan Best Bath Set
A genuine Japanese onsen is high on our bucket list, so we'll admit we're a little obsessed with this authentic bath set from Mr Porter. According to the blurb, the body brush is crafted out of real horse hair and magnolia wood and hand made in a family workshop, the detailed fish shaped soap-on-a-rope is infused with purifying binchotan charcoal, while the peeling towel has a unique exfoliating texture.
It's sure to please those who appreciate the detail and simplicity of Japanese design, and need to brush away bumpy winter skin and improve circulation at the same time.
Buy now at MR PORTER
Bulldog Skincare Original Styling Pomade
Bulldog expanded its styling offer earlier this year, adding a salt spray, a styling cream and styling pomade to the mix. The pomade is made with natural ingredients such as hydrating argan oil, has a very subtle scent and a little goes a long way.
One to have on hand if you like a shiny finish with firm hold.
Buy now at Amazon
Le Petit Marseillais Shower Gel
An endless cheese aisle and wine so cheap they're practically giving it away? French supermarkets are a worthy Aladdin's cave for gourmet treats – and bathroom bargains.
Le Petit Marseillais make a range of affordable shower gels with superior scents like Cade wood & Fern, Minerals & Cedar wood and Maritime Pine and Eucalyptus. You don't need to cross the channel to refresh your shower routine, snap them at the French Pharmacy.
Buy now at The French Pharmacy
Soho Skin 24/7 Treatment
Designed with members' lifestyles in mind, Soho House has literal skin in the game with its new range of face products. The energising 24/7 treatment is what everyone needs right now, in the party-fuelled, deadline hurdling, virus dodging, rush to the holiday finish line.
Made with lactic acid, hyaluronic acid, Vitamin C magnesium, and ATP detoxify, a natural ferment, you can use this brightening, lifting gel as a quick mask or deep overnight treatment.
Buy now at SpaceNK
Grown Alchemist Face Trio Kit
Selling like hot cakes, we recommend snapping up this seasonal set from Aussie skincare brand Grown Alchemist before you miss out. The gift of good skin surely ranks above novelty socks and underpants, and this kit contains a mini routine that will set you up for the day.
It includes the wondrous Gentle Gel Facial Cleanser, Balancing Toner and the Hydra-Repair Day Cream.
Buy now at ASOS
L'Oréal Men Expert Magnesium Defence 48H Deodorant
Need a robust underarm performer to stem the tide? Look no further than this alcohol-free, hypoallergenic deodorant packed with absorbent magnesium minerals that create a barrier against sweat.
It smells fresh, lasts all day and treats the skin kindly.
Buy now at Superdrug
Arkive All Together Now Co Cleanse
It's hard to escape Timothée Chalamet at the moment, but quite frankly, who would want to? Dune 2 has just wrapped, so we say bring on the next instalment.
Adam Reed's unscented Co Cleanse is the ideal way to manage a head of coils like the one Chalamet enjoys. A cleansing conditioner, it carefully clarifies while keeping the curl shape – all you need to do is rinse for a tiny bit longer.
Buy now at Boots
Dr Jart+ Pore. Remedy PHA Exfoliating Serum
New year's resolution to see off enlarged pores and break outs? Start here, with this exfoliating serum from Korean skincare brand Dr Jart. Perfect for those awkward places where blackheads love to congregate, like the crevices around the nostrils, this watery serum uses chemical exfoliants to gently decongest the area without drying out the skin.
Buy now at SpaceNK
Gillette Labs Exfoliating Razor
We raised our shaving game this year thanks to the innovation of Gillette's exfoliating bar, which makes easier work for the blades, cuts the drag and irritation and lifts the hairs.
The dock helps the blades dry and stay sharp (rather than languishing in the puddles by the basin).
Buy now at Amazon
Wahl Cordless Mini Massager Gun
Slept funny? Lifted something the wrong way? Didn't warm up properly? Didn't warm down? There are many reasons that you need a personal massager, and this one from Wahl is compact and lightweight so you can take it wherever you go.
It comes with four different heads to cover trigger points, deep tissue, large muscle groups and joints, so you can tackle shoulder knots, tight glutes, achey lower back and stiff calves, and ward off costly trips to the physio.
Buy now at Amazon
The post The Best New Men's Grooming Products Released In 2022 appeared first on Ape to Gentleman.
——————–
By: Jessica Punter
Title: The Best New Men's Grooming Products Released In 2022
Sourced From: www.apetogentleman.com/best-new-grooming-products/?utm_source=rss&utm_medium=rss&utm_campaign=best-new-grooming-products
Published Date: Fri, 30 Dec 2022 09:00:02 +0000
LISTEN: DRMAGDN Unveils Memorable Tribute Remix of The Beatles' "Something" Featuring All-Star Collaborators
Renowned drummer/DJ DRMAGDN has returned with his most powerful release yet, this time coming in the form of a breathtaking tribute remix of The Beatles' timeless hit, "Something." Recently signed with BMG, DRMAGDN was granted access to dive into George Harrison's decorated catalog, and he enlisted the talents of Michelle Ray (Team Blake on Season 4 of The Voice) and a stellar lineup of accomplished artists to elevate his reimagionation of "Something" to new heights. The outcome is an exceptionally captivating electronic-infused masterpiece, enriched by crisp drum fills that pay homage to the original track. Hear what we mean by watching the video below and be sure to turn your speakers up for this one.
DRMAGDN – Something Remix | Stream
'LISTEN: DRMAGDN Unveils Memorable Tribute Remix of The Beatles' "Something" Featuring All-Star Collaborators
The post LISTEN: DRMAGDN Unveils Memorable Tribute Remix of The Beatles' "Something" Featuring All-Star Collaborators appeared first on Run The Trap: The Best EDM, Hip Hop & Trap Music.
—————————–
By: Max Chung
Title: LISTEN: DRMAGDN Unveils Memorable Tribute Remix of The Beatles' "Something" Featuring All-Star Collaborators
Sourced From: runthetrap.com/2023/06/02/listen-drmagdn-unveils-memorable-tribute-remix-of-the-beatles-something-featuring-all-star-collaborators/
Published Date: Fri, 02 Jun 2023 20:01:04 +0000
Did you miss our previous article…
https://mansbrand.com/size-and-adidas-enter-into-partnership-with-amnesia-ibiza/
What if we could just ask AI to be less biased?
This story originally appeared in The Algorithm, our weekly newsletter on AI. To get stories like this in your inbox first, sign up here.
Think of a teacher. Close your eyes. What does that person look like? If you ask Stable Diffusion or DALL-E 2, two of the most popular AI image generators, it's a white man with glasses. 
Last week, I published a story about new tools developed by researchers at AI startup Hugging Face and the University of Leipzig that let people see for themselves what kinds of inherent biases AI models have about different genders and ethnicities.
Although I've written a lot about how our biases are reflected in AI models, it still felt jarring to see exactly how pale, male, and stale the humans of AI are. That was particularly true for DALL-E 2, which generates white men 97% of the time when given prompts like "CEO" or "director."
And the bias problem runs even deeper than you might think into the broader world created by AI. These models are built by American companies and trained on North American data, and thus when they're asked to generate even mundane everyday items, from doors to houses, they create objects that look American, Federico Bianchi, a researcher at Stanford University, tells me.
As the world becomes increasingly filled with AI-generated imagery, we are going to mostly see images that reflect America's biases, culture, and values. Who knew AI could end up being a major instrument of American soft power?
So how do we address these problems? A lot of work has gone into fixing biases in the data sets AI models are trained on. But two recent research papers propose interesting new approaches.
What if, instead of making the training data less biased, you could simply ask the model to give you less biased answers?
A team of researchers at the Technical University of Darmstadt, Germany, and AI startup Hugging Face developed a tool called Fair Diffusion that makes it easier to tweak AI models to generate the types of images you want. For example, you can generate stock photos of CEOs in different settings and then use Fair Diffusion to swap out the white men in the images for women or people of different ethnicities.
As the Hugging Face tools show, AI models that generate images on the basis of image-text pairs in their training data default to very strong biases about professions, gender, and ethnicity. The German researchers' Fair Diffusion tool is based on a technique they developed called semantic guidance, which allows users to guide how the AI system generates images of people and edit the results.
The AI system stays very close to the original image, says Kristian Kersting, a computer science professor at TU Darmstadt who participated in the work. 
This method lets people create the images they want without having to undertake the cumbersome and time-consuming task of trying to improve the biased data set that was used to train the AI model, says Felix Friedrich, a PhD student at TU Darmstadt who worked on the tool.
However, the tool is not perfect. Changing the images for some occupations, such as "dishwasher," didn't work as well because the word means both a machine and a job. The tool also only works with two genders. And ultimately, the diversity of the people the model can generate is still limited by the images in the AI system's training set. Still, while more research is needed, this tool could be an important step in mitigating biases.
A similar technique also seems to work for language models. Research from the AI lab Anthropic shows how simple instructions can steer large language models to produce less toxic content, as my colleague Niall Firth reported recently. The Anthropic team tested different language models of varying sizes and found that if the models are large enough, they self-correct for some biases after simply being asked to.
Researchers don't know why text- and image-generating AI models do this. The Anthropic team thinks it might be because larger models have larger training data sets, which include lots of examples of biased or stereotypical behavior—but also examples of people pushing back against this biased behavior.
AI tools are becoming increasingly popular for generating stock images. Tools like Fair Diffusion could be useful for companies that want their promotional pictures to reflect society's diversity,
————
By: Melissa Heikkilä
Title: What if we could just ask AI to be less biased?
Sourced From: www.technologyreview.com/2023/03/28/1070390/what-if-we-could-just-ask-ai-to-be-less-biased/
Published Date: Tue, 28 Mar 2023 08:22:40 +0000
 Size? and Adidas Enter Into Partnership With Amnesia Ibiza
The world-renowned super club Amnesia has teamed up with the peerless footwear specialists size? and globally recognized Adidas Originals for the 2023 season. This partnership aims to bring together two cultural powerhouses to create unforgettable experiences for club-goers.
As part of this partnership, size? and adidas Originals will sponsor some of the biggest events at Amnesia, including the Pyramid opening on June 11th and the closing party. Pyramid parties will feature headliners such as Caribou, Bonobo (DJ Set), Ricardo Villabolos, Nina Kraviz, Raresh, Richie Hawin, and more. They will also sponsor the all-inclusive party HE.SHE.THEY. with several exciting activations throughout the season.
For each of these special collaborative events, size? and adidas Originals will take things to a whole new level with unique video mapping on the Amnesia entrance wall, special bus wraps, and plenty more across the season.
Do Not Sleep
The partnership will commence with the Do Not Sleep event on June 7th, featuring Jackmaster and Sidney Charles b2b Yaya, Manchester's favorite trio, Mason Collective.
Tickets: €35 +
Pyramid Opening
The Pyramid opening on June 11th will feature a special three-way back-to-back between Ricard Villalobos, Raresh, and Franco Cinelli on the Terraza, alongside Nima Gorji and Cuartero. The Main Room will welcome Andres Campo, Deborah De Luca, Kobosil, and Luca Donzelli.
Tickets: €55 +
The partnership between size? and adidas Originals with Amnesia Ibiza is truly a coming together of some mighty forces in the worlds of music and fashion. We can expect the 2023 season to be a season of unforgettable experiences.
Size? shared their excitement about the partnership, saying "With the summer season upon us, we're excited to announce our partnership with iconic super club Amnesia for the full season in Ibiza. Here at size?, we are incredibly passionate about music, and we'll also be sponsoring some of the most renowned nights on the Balearic island; Pyramid, Do Not Sleep, Amnesia Present, and HE/SHE/THEY. We can't wait to see what the season has to offer."
Neil Evans, Music Director at Amnesia Ibiza, also expressed his excitement about the partnership, saying "It's a real pleasure to be working alongside two forward-thinking brands. We have been looking for a perfect brand alignment for some time, and we have a like-minded partnership for the future."
The post  Size? and Adidas Enter Into Partnership With Amnesia Ibiza appeared first on EDMTunes.
—————————–
By: Oscar Yerushalmi
Title:  Size? and Adidas Enter Into Partnership With Amnesia Ibiza
Sourced From: www.edmtunes.com/2023/06/size-and-adidas-enter-into-partnership-with-amnesia-ibiza/?utm_source=rss&utm_medium=rss&utm_campaign=size-and-adidas-enter-into-partnership-with-amnesia-ibiza
Published Date: Mon, 05 Jun 2023 13:08:21 +0000
Did you miss our previous article…
https://mansbrand.com/festival-report-card-lightning-in-a-bottle-2023/