"The best a man can get." It's a bold claim, but one that iconic shaving company Gillette, parent company of The Art of Shaving, has managed to deliver on consistently for well over a century.
Over the years, the Boston-born brand's elite unit of engineers has revolutionised our morning routines. A precision blade here, a gel cushioning strip there; little tweaks and innovations designed to make the shaving experience as enjoyable and efficient as possible.
It's difficult to imagine where they can go with it from there. But not for the crack team at GilletteLabs, a new tech-focused initiative tasked with bringing shaving into the future. Because somewhere – in what we can only imagine is a top-secret, underground facility – they created something truly unprecedented: the world's very first heated razor. A technological marvel of a tool that promises to deliver grooming luxury at the mere push of a button.
A Hot Towel Shave, Minus The Hassle
Being able to enjoy a hot-towel shave each and every morning is a privilege few of us can afford, both in terms of time and cost. However, this revolutionary new piece of kit from The Art of Shaving enables you to bring the full barbershop experience to your bathroom, simply by pushing a button.
Forget shaving with a sink full of tepid water and bits of stubble. The Art of Shaving's new heated razor delivers constant warmth, replicating the feeling of a hot-towel shave with every stroke.
Science tells us that applying heat while shaving opens up the pores, reducing resistance, eliminating razor burn and, overall, providing the smoothest, most effective grooming experience.
How Does It Work?
If you were thinking it's the blades of the razor that heat up, you'd be wrong. In actual fact, the temperature trickery lies just south of them, in the form of a stainless steel warming bar.
Once the button on the handle is pressed, the bar activates instantly, providing soothing warmth directly to the skin for a superior shave.
If you find the temperature isn't to your liking, an extended push of the button will bring the heat down from 50°C to 43°C, allowing you to achieve optimal comfort based on your own personal preference.
It's got good looks on its side, too. The razor's aesthetically-designed, ergonomic handle is composed of premium- grade aluminium zinc. It's the first thing you'll notice right out of the box: this is one seriously handsome piece of kit, and a welcome addition to any bathroom counter.
The Future Of Shaving
In addition to the obvious, The Art of Shaving's heated razor brings a myriad of smart features to the table. First off, automatic overheat protection employs four intelligent heat sensors to deliver a safe and consistent temperature during each and every shave. The razor will maintain whichever setting it is placed on, never straying above or below the degree of heat specified.
Meanwhile, Flexidisk and advanced five-blade technology work in conjunction to make shaving as smooth and close as possible. The Art of Shaving's magic number of blades glide effortlessly over the skin, while the Flexidisk follows the curves and contours of the face, ensuring no spot is missed.
Wireless charging is also included, courtesy of a magnetic charging dock. And don't worry if the razor does happen to take a tumble and fall into the sink – it's 100% waterproof.
From Chore To Experience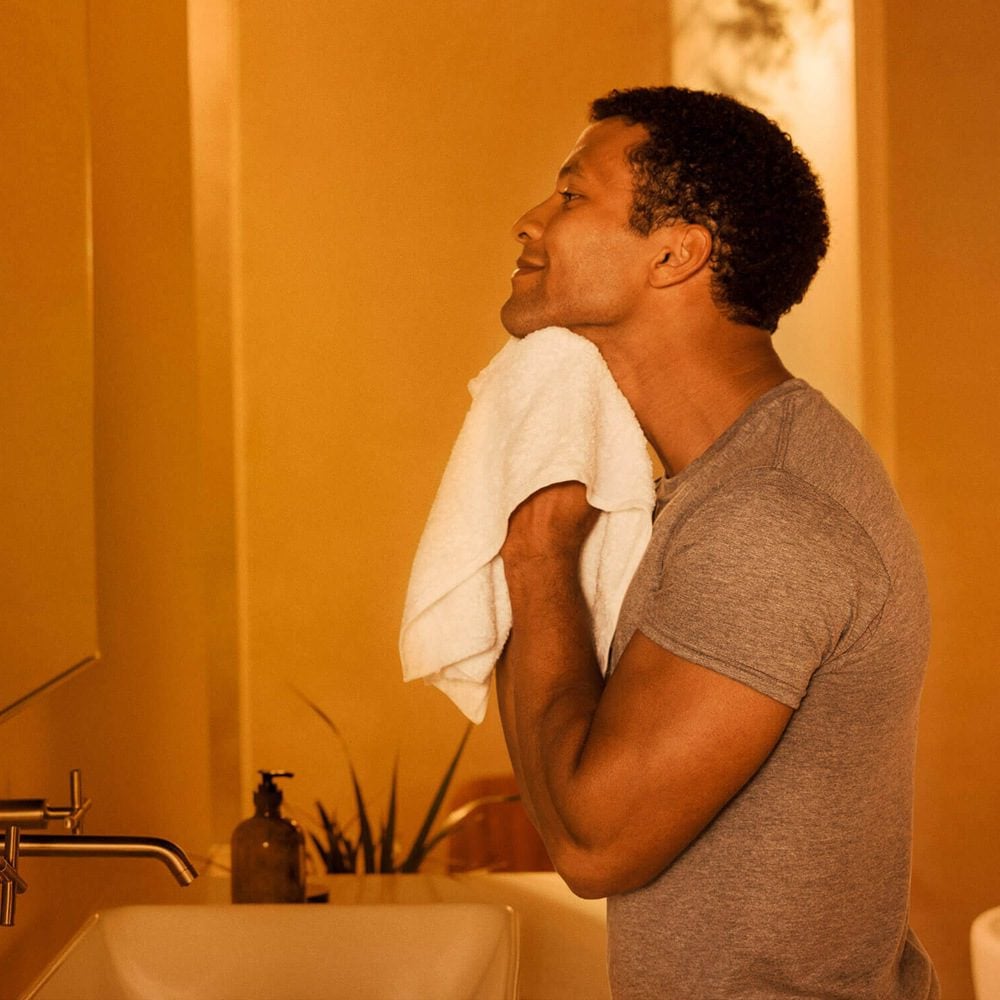 The bottom line is that The Art of Shaving's heated razor turns shaving from a daily chore into a luxury grooming experience. It replicates the comfort of an old-school barbershop shave without any of the hassle, meaning you can enjoy it every morning.
It's what we've all been waiting for: a real shaving innovation that doesn't just involve sticking another blade on. This is your morning routine reinvented, putting you at the cutting edge of modern grooming.
How To Buy & Availability
The Art of Shaving Heated Razor is available to purchase now at theartofshaving.com, priced $115.
Best Combined With
We all know, or should know, that a great razor is nothing without the right product to augment the shaving process. And no one does shaving 'software' better than The Art of Shaving. We recommend you begin with a shaving kit, which provides everything you need to achieve the perfect shave.
Key elements include a pre-shave oil, shaving cream, shaving brush and after-shave balm. The combination of quality ingredients, handcrafted accessories and expert shaving techniques provide an optimal closeness while helping to ward off ingrown hairs, razor burn and nicks and cuts, all while leaving behind a soft and smooth face. What more can a man ask for?
In partnership with The Art of Shaving – words and opinion Ape's own.
The post This Heated Razor Will Take Your Shave To The Next Level appeared first on Ape to Gentleman.
——————–
By: Graham Jones
Title: This Heated Razor Will Take Your Shave To The Next Level
Sourced From: www.apetogentleman.com/gillettelabs-heated-razor/?utm_source=rss&utm_medium=rss&utm_campaign=gillettelabs-heated-razor
Published Date: Mon, 22 Nov 2021 08:00:18 +0000
Styling Streetwear Sneakers with Classic Outfits: Tips and Tricks
Somebody once said 'Do not judge an outfit yet, until it is worn with shoes', while that can be a valid although funny point, it serves as a perfect conjunction into our article today – 'streetwear sneakers'!
Sneakers as a staple accessory of fashion are an undeniable elevator to any look. From Adidas to Reebok to Vans and to many more out there, these accessories to fashion have proven to be the perfect footwear for casual and even business casual events.
In modern times, influenced by the younger generation, we've seen that classic pieces can actually be paired with streetwear sneakers and still come off as super stylish. When looking to elevate looks, attention needs to be paid to the little details, in this regard, sneakers being paired with a classic piece, are that little detail, which you should definitely try out.
Now, the whole concept of styling streetwear sneakers with classic outfits shows the uniqueness and versatility of whoever pulls this off, and we shall be covering that in today's article.
Styling Streetwear Sneakers #1: Finding the Right Sneakers
First off, pairing the right sneakers for a look (streetwear or classic) boils down to three major points;
Colour: The colour of a sneaker is the first thing people notice before these other points. Even when you're being described, you're going to hear 'Oh, he was putting on a black and white sneakers'. This goes to show that attention needs to be given to the colour of sneakers being worn in a fit. My advice is to go for the simple, neutral colours, as they say, the flair is in the simplicity. Do not try to do too much when choosing the right colour of sneakers, go with a white and black Converse if you can. If you want to add a bit of colour, choose from a variety of neutral/earthy tones to balance out the look.
Design: Next is design, after noticing the colours of statement sneakers, the next thing people notice is what design you are wearing, so what you're hearing is 'Oh he was putting on black and white Adidas sneakers' right? Now, when looking to get the best design for your sneakers, your major focus shouldn't be on the popularity or brand influence of those sneakers. While that is a valid point, a more valid point to take note of is the quality, which leads us to our next point.
Quality: The quality of sneakers matters, whether they are Converse or all-stars. Being able to maintain and sustain a footwear piece is a testament to proper maintenance and good quality. So when shopping for streetwear sneakers, you might want to pick out quality ones.
While we don't share relatable opinions on what brand of sneakers are of good quality and with respect to your choice and preference, here are a few brands that make it up to the list when looking to shop for quality items. These brands have made their way to the top by giving customers a good run for their money.
Classic Outfit Essentials
Below is a list of classic outfit essentials that go perfectly well with a pair of streetwear sneakers
When exploring streetwear sneakers and classic elements one has to take into consideration the fittings and proportion of the clothing. A well-fitted clothing equals a balanced and stylish look. Most of the time, a whopping 70 per cent of your worst looks are due to the irregular fit and shape of your body.
So when looking to mix streetwear and classic fabrics together, you really should stick to well-fitted fabrications just to stay safe.
Here are some styling tips and tricks to take note of when pairing streetwear with classics.
Styling Streetwear Sneakers #2: Balancing Act
Another key element to take note of in styling these alternative staples together is balance. When exploring two opposite but related pieces in fashion, one has to find the right balance so as not to look too overdressed. Briefly, let's look at the several types of balance in styling:
Symmetrical; This occurs when an outfit is evenly balanced on both sides. Usually, both halves of the outfit share similar patterns, colours and texture
Asymmetrical: This is when an outfit is balanced but not in a mirrored way. This features a unique and different style approach to create interest and dynamism
Radial balance: This basically means a balance that originates from a central point. It's less common in everyday styling but can be seen in designs like mandala-inspired patterns or a circular skirt.
Proportional balance: This occurs when proportions and sizes are being put into play when styling. For example, a loose fitted clothing shouldn't be paired with another loose-fitting one, the latter should be fitted instead
Proportion
Pay attention to the proportion of your statement sneakers in relation to your outfit. If your classic outfit has a streamlined silhouette, chunky sneakers might add an interesting contrast. Conversely, if your outfit is more relaxed, sleek and minimalistic sneakers can work well.
Styling Streetwear Sneakers #3: Mixing and Matching
For an elevated and stylish outlook, pairing sneakers with various classic clothing items is one to try out. Just by pairing sneakers with a classic outfit, you have already shown versatility and style, you know what would show off more style? mixing and matching your clothing items to compliment the sneakers.
Wear a t-shirt as an inner layer to your suit: Now for those of us who love a good collared shirt every now and then, this is a bit of a stray away. You can decide to elevate your classic look by pairing a round neck tshirt alongside your blazers, this fit perfectly complements your sneakers
Colours: Again, colours. When mixing and matching outfits to compliment your sneakers, it is important to take note of the colour combination involved. A monochromatic outlook will give a boldened silhouette to the whole look, whereas a splash of colour would offer the needed brightness to attract eyes to yourself. Either way, make sure the colours are relatable and are in no way different from your sneakers
Styling Streetwear Sneakers #4: Accessorizing
Accessories are overall enhancers to a look, so mixing and matching them for your sneakers totally elevates your game. Here are some accessory staples you should opt for when mixing and matching clothes with your sneakers.
Headgear: you can never go wrong with a statement headpiece when pairing a sneaker with your outfit. A white baseball cap would automatically go with a white all-stars sneakers when paired together.
Bags: There are quite a variety of bags that men can strap on stepping out on a formal fit. For streetwear style, especially when paired with a sneaker, maybe go for a casual bag to match the vibe of your footwear. A nice slingback or backstrap would be highly recommended.
Statement pieces: Watches, eye-wear, hand and neck pieces, these little details are the elevators to your look, do not leave them unattended to
Styling Streetwear Sneakers #4: Outerwear as a Bridge
The role that outerwear plays in mainstream fashion can sometimes be underemphasized. First off, let's get this clear, outerwear is those pieces that are layered over inner ensembles to create a structure and depth, or really just to look stylish. Examples of outerwear are jackets, suits, long coats and so much more.
In achieving a balanced look when pairing sneakers with classic outfits, one has to incorporate outerwear into styling such looks. So when styling your sneakers with that t-shirt or collared shirt, maybe throw over some denim jackets or overcoats.
Here are some ways outerwear can compliment your outfit.
Texture and Material: The texture and material of your outerwear can provide contrast and depth to your outfit. For example, a leather jacket can add edge and contrast to a soft, flowy dress.
Style Statement: Wearing outerwear automatically elevates your look and makes it a statement. There's a clear difference between someone who wears a tshirt to someone who wears a jacket over that tshirt.
Shape and Silhouette: Wearing outerwear can change the overall silhouette of your outfit. It also gives shape and structure to the fit. Wearing a long coat over a turtleneck or tshirt gives off a bold silhouette and is therefore perfect to pair with any sneaker of choice
Overall, styling sneakers with a classic look can be fun and trendy, you just need to find the perfect balance as this article has stated. Note that any fit paired with sneakers automatically transcends the look into either a business casual or casual look. This goes to say that sneakers shouldn't be an option for formal and corporate occasions
The post Styling Streetwear Sneakers with Classic Outfits: Tips and Tricks appeared first on Real Men Real Style.
——————–
By: Antonio Centeno
Title: Styling Streetwear Sneakers with Classic Outfits: Tips and Tricks
Sourced From: www.realmenrealstyle.com/streetwear-sneakers/
Published Date: Thu, 28 Sep 2023 15:53:02 +0000
6 Classic Accessories Modern Men Should Have
Have you ever wondered why some people stand out from the crowd while others blend in?
They seem to have the X-Factor.
Perhaps you've never realized what it is until now.
All of the men and women that look more confident have one thing in common – details. The small accessories elevate their style to a different level.
In today's article, you're going to discover some classic men's accessories that will make you stand out in the crowd and help you be the best-dressed man in the room.
Classic Accessory #1 – Sunglasses
Sunglasses have been around for centuries, so it's no surprise they're considered a classic men's accessory.
Sunglasses date to prehistoric times. Of course, they didn't look like today's sunglasses, but they served the same purpose as today – to protect the wearer's eyes from the sun.
As time passed, technology advanced. And with that came different models, so you can keep your eyes safe and look more attractive in sunglasses if you choose the right ones.
You've got lots of options – Aviators, Wayfarers, Clubmasters, to name a few.
But did you know that you need to buy the right sunglasses for your face shape? Use the chart below to find out the right sunglasses for you!
Classic Accessory #2 – Wristwatch
In the world of technology, the wristwatch often gets overlooked.
After all, the only thing watches do is tell you the time, right?
Instead, you can use your phone to check the time, answer the email you just got, scroll through social media, and waste 30 minutes of your day.
See the difference? Phones are becoming more and more addictive, which is why watches are coming back with a vengeance. They serve the functional purpose of telling you the time, and that's about it.
And if done right, they can make you look 10x times better. You will look like a grown-up, which automatically means you got your shit together. And to tell you the truth, so far, I haven't met a single woman who didn't want a man that had his shit together.
Just like with sunglasses, there's a wide variety of watches you can pick for your collection. Divers, dress watches, chronographs – You name it. If you want to discover different watch styles, you can check out the 5 Watch Styles Every Man Should Know.
Classic Accessory #3 – Neck Gaiter
I know what you're probably thinking. What the hell, right? How can a neck gaiter be a timeless accessory?
Well, how about the fact that professional athletes across the world, in all sorts of different climates, have used neck gaiters for decades to protect their face and neck from either cold or hot weather.
Football players, soccer players, joggers, and many more have utilized this accessory for its functionality.
But, especially during the crazy times we live in, it's essential to stay safe.
That's why neck gaiters also serve as a face mask.
A 2020 study by the National Institute of Occupational Safety and Health (a part of the US Centers for Disease Control and Prevention) showed that neck gaiters and regular face masks could significantly reduce the expulsion of respiratory aerosol particles during coughing, preventing you from catching any virus.
The study showed that a single-layered gaiter 47% and a double-layered gaiter blocked 60% of virus particles during testing.
And even though we won't have to wear face masks forever, neck gaiters will be a part of classic men's accessories because of their athletic and medical purpose.
Classic Accessory #4 – Jewelry
Put merely; jewelry is a decorative piece that you put on your hands or around your neck to look good.
Rings, bracelets, cufflinks, and necklaces are among the most popular for men, even though many "real men" say that jewelry is feminine.
You, on the other hand, know that women give you compliments if you're rocking a bracelet or a pair of cufflinks properly.
And let's not forget about the fact that rings have been a status symbol for centuries. Kings wore rings, royalty wore rings, and Popes wore rings.
The issue is that many men don't know how to wear jewelry and make a ton of mistakes. If you want to avoid those mistakes, make sure you check out 7 Jewelry Mistakes Men Make.
Classic Accessory #5 – Pocket Square
A suit jacket is not complete without a pocket square. Ask any man who has even the slightest knowledge on this topic, and they will all say the same thing – it's on every list of classic men's accessories.
Indeed, pocket squares have proven time and time again that they're genuinely a timeless classic accessory.
There's a wide variety of pocket squares you can pick. Solid colors, small patterns, or big and loud patterns. Don't forget to have fun with your pocket squares and make them the attention-grabbing piece in your outfit.
If you want to be a pocket square master who receives compliments daily on his picks, make sure to check out How to Start Wearing a Pocket Square for more information and inspiration!
Classic Accessory #6 – Men's Hats
Headwear will never go out of style. I know it seems like men don't wear classic hats nowadays. That's true, unfortunately. They wear baseball hats more often, but they're still putting something on their heads.
Why? Hot sun, cold wind, lousy hair, maybe a little less hair. Men have all kinds of functional reasons for wearing hats. Like scarves, hats have a job to do, which is why they'll always be with us.
Want to stand out? Break today's mold and try some classic headwear. Don't worry, you can still find a useful way to wear it. Hot outside? Want some protection from the sun? Try a straw fedora!
When it's cold (which is often…I live in Wisconsin), I wear a black wool flat cap. It's far more stylish than a baseball cap, and warmer too. You can always find a way to wear hats stylishly.
If you want to learn more about classic hat styles, click here to discover 9 Classic Hat Styles For The Modern Man.
Summary
There you have it, gentlemen, a list of perfect classic men's accessories for the spring of 2021. Some of these you probably knew, some of these may come as a bit of a surprise.
Make sure to have fun with your accessories, rock them with confidence, and you will automatically look 10x more attractive.
Need more tips on great men's accessories? Then let's not forget about bags! Click here to discover why a backpack could be your next best wardrobe purchase.
Click Below To Watch The Video – 8 Modern Men's Accessories That Will NEVER Go Out Of Style!
The post 6 Classic Accessories Modern Men Should Have appeared first on Real Men Real Style.
——————–
By: Antonio Centeno
Title: 6 Classic Accessories Modern Men Should Have
Sourced From: www.realmenrealstyle.com/timeless-classic-accessories/
Published Date: Thu, 28 Sep 2023 12:17:56 +0000
Did you miss our previous article…
https://mansbrand.com/10-things-women-notice-first-in-a-man-2/
10 Things Women Notice First In A Man
Most guys think women only notice men with the looks of Brad Pitt, biceps the size of Texas and more money than Jeff Bezos.
But this isn't true. If you nail that first impression when you walk in a room women will easily notice you. That's why in this article I'm going to give you the ten things a woman notices about a man first.
Take note because after you've read this article getting to know a woman will be infinitely easier.
#1 Women Notice Your Face
No debates here. If you keep your face in its best form – it means you're taking great care of yourself.
Do you need a super handsome face? Nope! Not all of us are born with the Hollywood movie star look. If women only wanted that, there'd be a huge surplus of single men on this planet!
What you really need are good grooming habits. You want to show the ladies your well-maintained facial hair (whether it's short stubble or a full-grown beard).
Or maybe you prefer a clean-shaven look – just make sure there are no post-shave bumps or red marks plaguing your face.
And then there's the skin itself. Some guys still think they are 'too manly' for skincare. They wait for an acne outbreak or pain issue before seeking treatment.
The truth is, it's every man's responsibility to find the right lotion, cleanser or anti-aging cream to keep his skin healthy 24/7.
#2 Women Notice Your Smile
The most important part of your face is so valuable it's worth talking about separately.
A captivating smile is a "welcome" sign that you're waving from afar in a woman's direction.
Combine that smile with seductive eye contact and a confident posture? You're well on your way to impressing a woman.
BUT
Your smile can also be a hindrance if the teeth are noticeably dirty. Or worse… discolored! That's why you need to watch out for:
Stains from drinking lots of coffee, tea or wine (see your dentist every 3-4 months).
Stains from smoking (as if there aren't enough reasons to quit smoking).
Too much fluoride from certain toothpaste brands or environmental sources (e.g. water) can darken your teeth.
Teeth as you age – the outer layer of enamel wears out over time and starts revealing the natural yellow color (of the inner layer of dentin). You may want to consider some teeth-whitening products at home when you're older.
#3 Women Notice Your Silhouette
Here the term silhouette refers to the outline of your body PLUS your clothing. Women are unsurprisingly drawn to a hyper-masculine silhouette:
A built-up chest.
Lean torso.
Strong shoulders.
For those of us without the body of Adonis, what is the easiest way of getting this look? A suit jacket or blazer.
There are many types of suit jackets and it's important you find the right one for your body shape. The sack-cut suit is very common in America because it is affordable to produce and fits over most men. It is not the fit that will make you look your best though.
A structured jacket adds subtle padding to the wearer's shoulders, making them appear larger and broader. A fitted jacket tapers towards the middle to give the wearer the appearance of a leaner torso.
Just be careful to avoid a fit that is too tight in the search for a flattering jacket. A jacket should drape gently over your shirt and body. If a jacket creates an X-shaped crease when buttoned you have gone too far.
The same principle applies when matching trousers with your jacket. Avoid skinny trousers and jeans – they create an unattractive 'matchstick' silhouette that signals a lack of muscle. Swap them for slim-fit or subtly tapering cuts that create a muscular but lean silhouette.
#4 Women Notice Your Style
We are taught growing up never to judge a book by its cover. The truth is though, women (and men for that matter) make judgments and assumptions based on what you wear.
Don't underestimate the power of nailing the 3 core components of dressing well – ever.
Also consider what your clothes say about your status, lifestyle and personality. Make an effort to choose clothes that send positive messages like maturity, sophistication and passion.
Women seeking a long-term partner are attracted to men who can be good providers – so knowing how to dress like a grown man helps if you're looking to settle down.
#5 Women Notice The Details
Sure. You may initially impress with a well-fitted blazer and slacks. But if those are the only elements you work on – you won't get far.
Any man who understands the laws of men's style can find good shirts, jackets, and pants
Hairstyle – consider this list of most attractive men's hairstyles.
Eyewear – choose the perfect sunglasses or eyeglasses for your face shape.
Watches/Jewelry – discover how to match a watch to your outfit when buying one.
Shoes – learn how to identify quality men's leather shoes.
#6 Women Notice Your Mannerisms
Picture yourself as a contestant on The Bachelorette. You step out of the limo on Day 1 with all the guys. Your bachelorette is waiting by the mansion door.
You're all on an even playing field appearance-wise, so what can you do to instantly get noticed?
Nail the greeting. This small act sets the tone for everything else that follows.
Offer a firm handshake.
Make solid eye contact.
Smile!
Communicate to a woman that you are giving her your full attention.
Take just a few seconds to acknowledge her presence. Make her believe you're invested in courting her.
OK, so chances are you're not a reality show contestant. It's the same principle in real life though: greet a woman poorly or have bad manners and you've immediately dug yourself a hole.
Showing a disregard for others' feelings or basic courtesy might seem like a small issue to you. Women quickly pick up on these things though and assume you're a loose cannon.
What are some examples of bad manners?
Forget about your phone and other distractions. Keep your cell in your pocket.
Arrive early. Aiming to arrive exactly on time is a recipe for being late.
Go easy on cursing and foul language.
Avoid constantly interrupting. Don't cut a woman off in the middle of saying something.
Meeting a woman online? Don't say anything you wouldn't say in real life.
#7 Women Notice Your Hands
What good is a handshake if your hands look like you've been digging through garbage? Always wash your hands and take care of your nails before an event. Even better, build it into your daily routine.
Otherwise – you can come off as neglectful, unhygienic or even 'poorly raised' (making your parents look bad).
Let's not forget about dry hands with cracked skin! Should you use hand lotion? The natural oil your body produces normally keeps your skin supple. If your hands have a lack of natural oil I strongly suggest you regularly apply a hand lotion or cream. No woman wants her man to have hands covered with calluses.
#8 Women Notice Your Fragrance
You can nail every other category on this list – but none of them will count for anything if a woman doesn't like how you smell.
Most men settle for using deodorant to keep their smell 'neutral'… but why not go one step further and smell GREAT?
It's no mystery. Studies prove that smelling great and wearing cologne makes you more attractive to women.
Get into the habit of routinely wearing a fragrance.
TIP: Learn how to apply cologne to avoid over-spraying and smelling like a biohazard.
#9 Women Notice Your Voice & Language
Yep. Women care about what they're going to hear from you.
This time you can't throw money at the problem. Even the most expensive jacket and fragrance won't make you a smooth talker.
So what do you do?
It's about self-development. Expand your knowledge and vocabulary. Set yourself apart from guys who always talk like they're at a football game.
The next step is to read quality books. Click here to discover ten books every man should own. Find books that go deep into enriching topics (not just entertain you) – and help you grow as a person.
You're aiming to show women you're relatable, that there is no 'intellectual barrier' between the two of you. How enthusiastic you sound and whether you say "No" or "I've heard of that" when she mentions a topic – all these factors come into play.
Learn how to speak in an engaging way once you know what you are talking about. It comes easier to some than others but there are techniques you can learn. Use your voice in a way that grabs a woman's attention and makes them eager to listen.
Who knows? With a little rhythm and use of your diaphragm – you may end up with a deep and booming voice like Neil deGrasse Tyson. That will definitely intrigue a few women!
#10 Women Notice Your Body Language
Actions speak louder than words.
Fun as it might be to talk knowledgeably and engagingly – don't forget what your non-verbal communication is saying. Like your voice, body language can be more powerful than whatever clothes you are wearing.
Avoid any closed-off, negative or aggressive gestures that can catch a lady off guard. Particularly if a woman is getting to know you, even a subtle finger wag or angled neck can make the wrong first impression. Remind yourself every now and then to keep your arms unfolded.
Over time understand how men can use body language to signal positivity and openness all the time. It will take practice and a conscious effort at first but before you know it you'll be using positive body language without realizing it.
TIP: Do NOT clench your fists in front of a woman (as if you're about to punch someone!) You're probably stronger than her – so why make yourself more intimidating?
BONUS: Women Notice Your Attitude/Personality
Some important points regarding attitude that you ought to take note of:
Women do perceive some men as 'douchebags' unfortunately and it often stems from try-hard macho male behavior. One-upping people, wrecking someone's home you've been invited to and taking your shirt off at every opportunity might have been cool when you were a frat bro. However, grown-up women want a grown-up man. This kind of attitude sends a negative vibe regardless of how nice you are in actual conversation.
What you find funny tells women a lot about your attitude in general. You may not think about what your sense of humor says about you but there are different advantages to using 'positive' humor (using optimism, puns or wittiness) versus 'negative' humor (being sarcastic or self-disparaging).
Be a 'nice guy' to start a serious relationship! Some women might want a fling with a bad boy but that's all it will be. Have good manners and show maturity if you're searching for your soulmate.
Click below to watch the video – 11 Unusual Traits Women Find Surprisingly Attractive
The post 10 Things Women Notice First In A Man appeared first on Real Men Real Style.
——————–
By: Antonio Centeno
Title: 10 Things Women Notice First In A Man
Sourced From: www.realmenrealstyle.com/first-things-women-notice/
Published Date: Wed, 27 Sep 2023 16:27:10 +0000
Did you miss our previous article…
https://mansbrand.com/ultimate-seiko-watch-buying-guide/