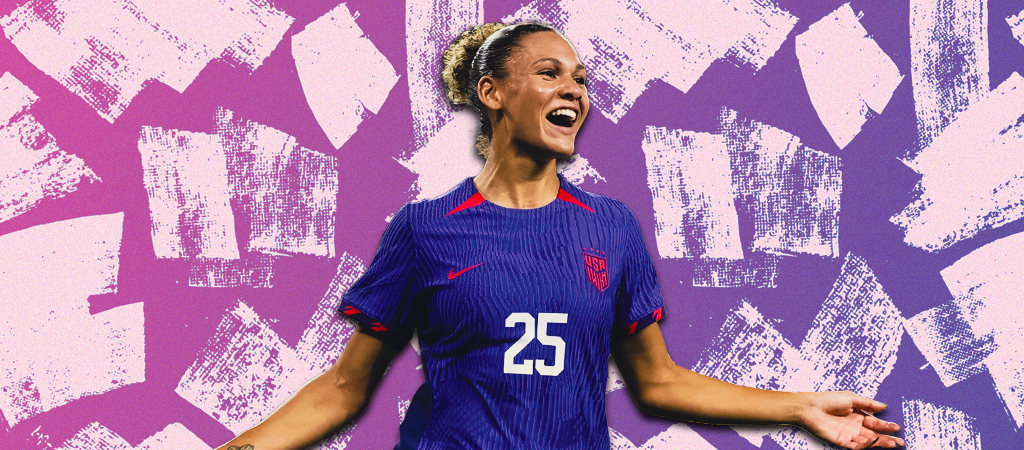 Trinity Rodman has been dubbed the future of the USWNT so many times that, frankly, it's starting to get old. The problem with being annointed is the misconception that a player has yet to reach their potential. Being "the next" anything is to exist in hypotheticals — with all the hopes, expectations, and pressures that come from that.
But watching Rodman play, either at the club level with her Washington Spirit side or on the international stage during a pair of farewell friendlies last month, it's pretty clear: the future for Trinity Rodman is right now.
With goals in back-to-back games against South Africa and her club team making a push to finish in the top half of league play, Rodman isn't waiting in the wings to fill a void. She's forging her own path, leaning on her speed, agility, and attack-minded style of play to deliver the one thing every coach, squad, player, and fan want more of: goals. She's always exhausted her opponents on both sides of the ball, trekking back to help defend, sprinting forward to infiltrate backlines with ease. Now, after a disappointing performance at the World Cup, she's gained the confidence that should terrify any team playing against her.
When we caught up with Rodman recently, she was partnering with Marriott Bonvoy for the Marriott Bonvoy Moments campaign, which offers members a chance to put all their travel points to good use by bidding on unique experiences, like being able to train with one of the most talented young players in women's soccer.
Rodman walked us through the partnership, sharing some memorable travel experiences of her own. She also broke down how the national team feels different post-World Cup, gave us insight into her FYP, and revealed what she and teammate Ashley Sanchez got up to Down Under.
It felt like we saw a different look to the USWNT during those farewell games against South Africa. What was it like returning to that camp after the World Cup?
Yeah, I do feel like there was a type of freedom. I don't know where that came from. The World Cup obviously didn't end the way we wanted it to, but I do think it was a learning experience for everybody. It tested our new group with the younger players coming in, integrating with the veterans. I think this camp there was a lot more trust, communication, and just willingness to play for each other. And if things weren't going right, we fixed it really fast. We leaned on each other a little bit more.
What was the atmosphere like in the locker room after that World Cup loss, especially for the younger players?
For us younger players, it was so hard to gauge where or how this World Cup was going to go just because we had no similar experience. Nothing really sets you up for what the World Cup is really like. I think being new players, it's easy to just have an automatic connection. But going into this camp after the World Cup, I think the conversation changed more to like, this is the future. It's us. It's taking it game by game and not thinking about, "Oh, the next game we have to beat this team by eight goals." I think it was more about us having joy in celebrating the little wins rather than needing to score a certain amount or needing to do this and that for the media or the fans or anything like that.
How have you dealt with adjusting back with the Washington Spirit, especially during the tail end of an NWSL season that's been so competitive?
It's definitely a shift. There's a comfort level with your own club, there's freedom of play and not worrying about minutes and the big stage, I think. Coming back to the club is always an amazing feeling, just to have the people that you're with all year long behind you no matter what happens. I think the biggest thing is taking it game by game, fixing the little things because, at the end of the day, that's what wins or loses games.
Were there "little things" about your game that you wanted to fix after playing in Australia and New Zealand?
Going into the World Cup, I kept reiterating the fact that I was very nervous. It's so easy to let the pressure get to your head and to only think about what's going to help you keep that starting spot or what's going to keep you in the game. I don't want to say I lost it, but during the World Cup, I think a lot of people weren't being as true to themselves because they were scared about either coming out, messing up, or not being in a good position for the next game. That was a big reason why we didn't do well. For me during the World Cup, I don't think I brought what my special quality was, and I'm kind of kicking myself for that. But again, it's a learning experience. Obviously, this past camp against South Africa, I kind of threw it all out the door and I was like, "I got here for a reason and I need to show my true qualities. I need to be the goal scorer that I am and do that."
You travel so much as a professional athlete. What's one moment or experience on the road that's stayed with you?
I go back to Wembley Stadium when we played there. I don't know what it was. In youth camp, we traveled a lot and I played in London multiple times. And I think going there again, the familiarization with that place and then it also being the biggest stadium and the most amount of people I had played in front of was so surreal. That stadium is absolutely beautiful. And I'll never forget the moment I walked out, getting that start for that game, because I think that was a huge [moment] in my USWNT career.
What's your favorite way to experience a new city? Are you dining out, are you hitting up a museum, or going to watch a game?
I have a problem with shopping, so if you were to ask me if I've been to a mall in every place that I've traveled, I would say yes, probably twice. I think malls are really cool. Just the scenery is cool, being able to see the different types of people and interact with them. But I also love food. I mean, who doesn't? When we were in New Zealand … the pastries there were amazing.
TikTok dances have become your go-to celly on the field. What's on your FYP right now?
Oh gosh, the Vampire Diaries is always on my For You Page. There are always organization videos — food organization, closet organization. I love those. And then obviously dances. I mean, those will always be on my For You Page because I'm always filming them.
EA just released EA Sports FC 24. You're a big gamer. Are you playing yourself or someone else in the game?
I've been getting that question a lot lately. I'm definitely going to play, but I just feel like I can't play as myself. I'd want to play against myself to see what she's all about.
When you're not critiquing your FIFA avatar, what's your go-to game?
Oh, Fortnite, absolutely. I think all my biggest fans and all my friends know that I love Fortnite. I was just talking to somebody [about this], I was like, "If I could get myself in a Fortnite game, I would lose it."
In World Cup interviews, you and Washington Spirit teammate Ashley Sanchez said you spent your downtime solving a crime. What can you tell us about the case?
[laughs] So one of our massage therapists had an emotional support ducky that she traveled with. This sounds so stupid. It was a half duck, half banana, and it was her thing that she got at camp and she brought it to practice. She stood it up on the cooler, she brought it to meals, everything, and our security guards decided they wanted to steal it. They were sending cryptic messages of the banana duck in random locations saying, "We have your duck," all this stuff. And me, Kelley O'Hara, Ashley Sanchez, and Alyssa Thompson, were doing the most to find this duck. We got to the bottom of it.
———————–
By: Jessica Toomer
Title: USWNT Star Trinity Rodman Is The Moment
Sourced From: uproxx.com/sports/uswnt-trinity-rodman-interview/
Published Date: Wed, 04 Oct 2023 20:11:48 +0000
Read More
Did you miss our previous article…
https://mansbrand.com/netflix-reportedly-planning-price-hike-after-sag-aftra-strike-ends/
Mo Gilligan to "step down and hand over the baton" as BRIT Awards host
Mo Gilligan has announced he will be "stepping down" as a BRIT Awards host due to his first world tour.
READ MORE: Soundtrack Of My Life – Mo Gilligan
The comedian took to his official social media account to share that due to scheduling conflicts with his first-ever world tour, he will "hand over the baton" and give his usual hosting duties to someone else.
"I've had the most incredible time working on The BRITS but unfortunately as I'll be in the US for my first world tour next spring. I'm sorry to say that I'll be stepping down from hosting duties for 2024 and handing over the baton," began his statement on his Instagram stories.
He continued: "It's been phenomenal to work on this iconic event. I've loved getting to know all the remarkable people who run The BRIT Trust and the outstanding BRIT school. The tireless work you do to improve lives through the power of music and the creative arts is sensational and I promise to continue supporting wherever I can.
"Thank you to ITV for making a young man's dream come true and to all the brilliant performers, guests, production team and most importantly, the viewers at home for all your amazing support. It's been an honor. See you on tour!"
Gillian also shared one of his tweets from 2011 in which he wrote: "In 2013 I need to host the #MOBO's or #TheBritAwards *Fingers Crossed*".
The comedian has served as the awards show presenter for the past two years. Speaking to The Sun, a BRITs spokesperson said: "The BRITs are incredibly proud of Mo hosting the awards for the last two years, he is an exceptional entertainer who is going from strength to strength in his career, and we thank him for delivering two brilliant shows for us."
They continued: "The live awards show is always evolving, and we are excited to welcome someone new to the helm for 2024, with more details to be announced at a later date."
I did it. I hosted the @BRITs https://t.co/ACaToEAkLr pic.twitter.com/9w0CKveszc

— Mo Gilligan (@MoTheComedian) February 9, 2022
Back in September, the date for the BRIT Awards 2024 was revealed. Next year's ceremony is due to take place on March 2 at The O2 in London. It'll mark the second consecutive year that the show has aired in a primetime Saturday night slot on ITV1 and ITVX.
Last week, the  BRIT Awards organisers announced that they will be tweaking their rules for the 2024 instalment, following a row over diversity.
According to a new report by BBC News, it has been announced that the organisers of the BRITS will now increase the number of shortlisted artists for the Best Artist award. This sees an expansion from five to 10 nominees for the 2024 edition, in the hopes of creating a more balanced field.
The expanded shortlist will also apply to the Best International Artist category as of next year. As well as broadening the number of nominees, the organisers have also confirmed that they will be introducing a new award category, dedicated solely to the R&B genre.
The post Mo Gilligan to "step down and hand over the baton" as BRIT Awards host appeared first on NME.
———————————–
By: Anagricel Duran
Title: Mo Gilligan to "step down and hand over the baton" as BRIT Awards host
Sourced From: www.nme.com/news/music/mo-gilligan-to-step-down-and-hand-over-the-baton-as-brit-awards-host-3549693?utm_source=rss&utm_medium=rss&utm_campaign=mo-gilligan-to-step-down-and-hand-over-the-baton-as-brit-awards-host
Published Date: Mon, 27 Nov 2023 16:52:29 +0000
Read More
Here's The Full List Of 2023 Soul Train Awards Winners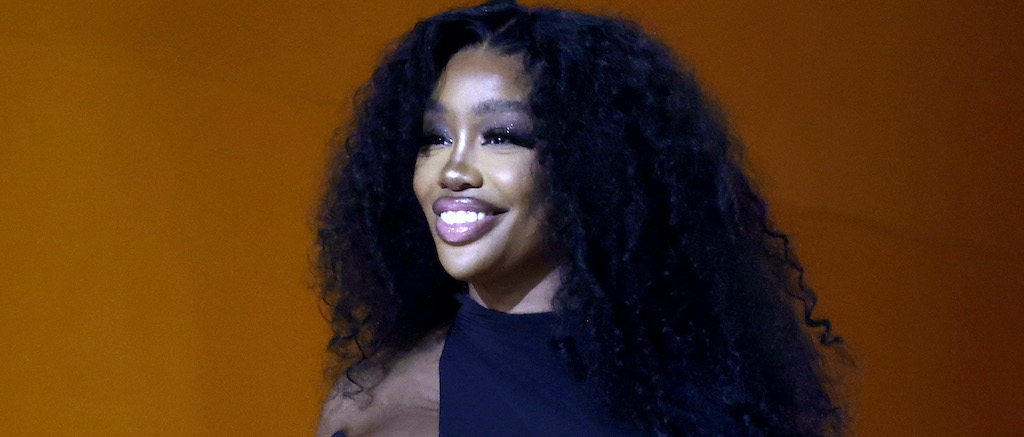 The year is coming to an end, but there are still so many flowers still to be given out to the year's biggest musical acts. Last week, the Billboard Music Awards celebrated the chart metric. Today (November 26), the 2023 Soul Train Awards, presented by BET, honored R&B acts moving the genre forward.
Keke Palmer did the honors of hosting the event. While acts like Muni Long, Coco Jones, and BJ The Chicago Kid appeared to perform for the attendees. However, the evening is all about walking away with a trophy.
Both Janelle Monáe and T-Pain were bestowed special honors during the ceremony. Janelle Monáe was granted the Spirit Of Soul Award. "[Janelle Monáe] have shown us the true meaning of freedom of expression through all facets of entertainment," said organizers in a statement.
T-Pain was given the Legend Award for his impact on R&B, Soul, and hip-hop's forever-intervened mix.
Continue below for the complete winner list for the 2023 Soul Train Awards.
Album Of The Year
Janelle Monáe — The Age of Pleasure
Ari Lennox — Age/Sex/Location
Summer Walker — Clear 2: Soft Life EP
Babyface — Girls Night Out (Extended)
Burna Boy — I Told Them…
Victoria Monét — Jaguar II
SZA — SOS
Coco Jones — What I Didn't Tell You (Deluxe)
Song Of The Year
October London – "Back to Your Place"
Toosii – "Favorite Song"
Usher Feat. Summer Walker & 21 Savage – "Good Good"
Coco Jones – "ICU"
SZA – "Kill Bill"
Janelle Monáe – "Lipstick Lover"
Victoria Monét – "On My Mama"
SZA – "Snooze"
Video Of The Year
October London – "Back to Your Place"
PinkPantheress & Ice Spice – "Boy's a Liar Pt. 2"
Usher – "Boyfriend"
Usher Feat. Summer Walker & 21 Savage – "Good Good"
Coco Jones – "ICU"
SZA – "Kill Bill"
Janelle Monáe – "Lipstick Lover"
Victoria Monét – "On My Mama"
Lizzo – "Special"
Best R&B/Soul Female Artist
Ari Lennox
Beyoncé
Coco Jones
H.E.R.
Janelle Monáe
Summer Walker
SZA
Victoria Monét
Best R&B/Soul Male Artist
6lack
Babyface
Brent Faiyaz
Burna Boy
Chris Brown
Eric Bellinger
October London
Usher
Best Group
DVSN
Flo
Jagged Edge
Kool & The Gang
Maverick City Music
Phony Ppl
Ronald Isley & The Isley Brothers
Tank and The Bangas
Wanmor
Best Collaboration
Beyoncé Feat. Kendrick Lamar – "America Has a Problem" (Remix),
PinkPantheress & Ice Spice – "Boy's a Liar, Pt. 2"
Metro Boomin, The Weeknd, Diddy Feat. 21 Savage – "Creepin' (Remix)"
Flo feat. Missy Elliott – "Fly Girl"
Usher Feat. Summer Walker & 21 Savage – "Good Good"
Burna Boy Feat. 21 Savage – "Sittin' on Top of the World"
Lizzo Feat. SZA – "Special"
Summer Walker Feat. J. Cole – "To Summer, From Cole (Audio Hug)"
Best New Artist
Ambré
Ayra Starr
Coco Jones
Doechii
Flo
Fridayy
Tyla
Wanmor
Certified Soul Award
Anthony Hamilton
Ashanti
Ciara
Eric Bellinger
Monica
PJ Morton
Ronald Isley & The Isley Brothers
T-Pain
Usher
The Ashford And Simpson Songwriter's Award
October London – "Back to Your Place"
Toosii – "Favorite Song"
Usher Feat. Summer Walker & 21 Savage – "Good Good"
Coco Jones – "ICU"
SZA – "Kill Bill"
Victoria Monét – "On My Mama"
Burna Boy Feat. 21 Savage – "Sittin' on Top of the World"
SZA – "Snooze"
Best Dance Performance
Ciara Feat. Summer Walker – "Better Thangs"
Usher – "Boyfriend"
Usher Feat. Summer Walker, 21 Savage – "Good Good"
Ciara & Chris Brown – "How We Roll"
Victoria Monét – "On My Mama"
SZA – "Snooze"
Chris Brown – "Summer Too Hot"
Chris Brown – "Under the Influence"
Best Gospel/Inspirational Award
Shirley Caesar – "All Of The Glory"
Kirk Franklin – "All Things"
Fridayy Feat. Maverick City Music & My Mom – "Came Too Far"
Koryn Hawthorne – "Cry"
Erica Campbell – "Feel Alright (Blessed)"
Maverick City Music featuring Chandler Moore & Naomi Raine – "God Problems"
H.E.R. – "The Journey"
Kirk Franklin – "Try Love"
Some artists covered here are Warner Music artists. Uproxx is an independent subsidiary of Warner Music Group.
———————————–
By: Flisadam
Title: Here's The Full List Of 2023 Soul Train Awards Winners
Sourced From: uproxx.com/music/2023-soul-train-awards-winner-list/
Published Date: Mon, 27 Nov 2023 01:26:53 +0000
Read More
JY Park goes viral for polarising 44th Blue Dragon Film Awards performance
South Korean singer and businessman JY Park, best known as the founder and namesake of JYP Entertainment, has gone viral for a recent live performance at the 44th Blue Dragon Film Awards.
READ MORE: KISS OF LIFE – 'Born to Be XX': a diamond in the rough
JY Park recently made an appearance at the 44th Blue Dragon Film Awards, where he performed a medley of original songs ('When We Disco' and 'Changed Man') and popular hits (Eurythmics classic 'Sweet Dreams' and a-ha's 'Take On Me').
The singer's elaborate performance, including a costume change from a dramatic white coat dress to a purple bodysuit, elicited a range of reactions from the audience, which consisted of popular actors and K-pop idols alike.
A number of these reactions have since gone viral, including Concrete Utopia actress Kim Sun-young's shocked face, Reborn Rich star Song Joong-ki's apparent look of concern, and EXO's D.O. and Krystal Jung's looks of confusion.
The audience's reactions to JY Park's performance at the 44th Blue Dragon Film Awards have also since been compared those for NewJeans, who had taken to the stage to sing their hit singles 'ETA' and 'Super Shy' earlier in the night.
During NewJeans' performance, the audience at the 44th Blue Dragon Film Awards can be seen smiling and clapping along to the girl group. Some also pointed out how singer-actress BIBI looked like she was about to cry watching the quintet perform.
@charlottee_lov

#kbs #newjeans #jyp #ryujunyeol #songjoongki #jeonyeobeen #bibi #dokyungsoo #parkboyoung #krystal #bluedragonseriesawards2023

♬ som original – tea_kpop
In other K-pop news, KISS OF LIFE member Belle recently covered Ariana Grande's 2013 ballad with Nathan Sykes, 'Almost Is Never Enough'. Meanwhile, BABYMONSTER have made their long-anticipated debut with 'Batter Up'.
The post JY Park goes viral for polarising 44th Blue Dragon Film Awards performance appeared first on NME.
———————————–
By: Puah Ziwei
Title: JY Park goes viral for polarising 44th Blue Dragon Film Awards performance
Sourced From: www.nme.com/news/music/jy-park-goes-viral-for-polarising-44th-blue-dragon-film-awards-performance-3549439?utm_source=rss&utm_medium=rss&utm_campaign=jy-park-goes-viral-for-polarising-44th-blue-dragon-film-awards-performance
Published Date: Mon, 27 Nov 2023 07:26:52 +0000
Read More