>
Image: Gooding & Company
For vintage car enthusiasts, Gooding & Company's annual Amelia Island Auction is one of the top events of the calendar. Every year, the catalogue is filled with gems and this year is no different. As enthusiasts excitedly rip the covers off their beloved collection in time for Spring, we bring you a few of our favourite classic cars from the upcoming auction.
1959 Porsche 718 RSK
Image: Gooding & Company
This 718 is one of just 34 examples ever made, and was designed off the success of the 550 Spyder. Internally designated as the Type 718, the RSK replaced the 550. Aesthetically, it was designed to be more modern than its predecessor, featuring streamlined Wendler coachwork and faired-in headlamps. Both of these design features resulted in a lower aerodynamic drag. Its power plant is a Ernst Fuhrmann-designed four-cam engine, a more advanced version the Type 547 unit. This engine allowed the RSK to adapt to a variety of applications, from track days to hill climbs and even coastal drives.
Estimate: $2,500,000 – $3,500,000
READ MORE: The McLaren F1 Is The Most Expensive Car Sold at Auction
1967 Ferrari 330 GTS

Image: Gooding & Company
The 330 GTS was built as a successor to the 275 GTS, combining iconic Pininfarina styling with a larger 4.0-liter engine. It also features a revised nose reminiscent of the 500 Superfast, which enabled it to reach a jaw-dropping 240 kph in an open configuration. The example offered here, chassis 10173, was delivered new in July 1967 to Luigi Chinetti Motors of Greenwich, Connecticut. It features a stunning combination of Amaranto – named for the vibrant, dark-red perennial — and Pelle Beige (Beige Leather) interior.
Estimate: $2,000,000 – $2,400,000
1937 Talbot-Lago T150-C-SS Teardrop Coupe

Image: Gooding & Company
Quite possibly the gem of the entire auction, the Teardrop is touted as "one of the most enduringly beautiful automobiles of all time". The brainchild of two Italian visionaries, Anthony Lago and Joseph Figoni — who became darlings of the Parisian automotive scene, the Teardrop presented here is only one of two that features this unique body type. Of the two, this car, chassis 90107 is the only one that survives with its original coachwork intact. 90107 has been the star of many automotive shows, including the historic Concours d'Elegance.
Estimate: In excess of $10,000,000
READ MORE: Rolls-Royce Unveils Most Advanced Black Badge Motorcar Yet in SEA
1954 Mercedes-Benz 300 SL Gullwing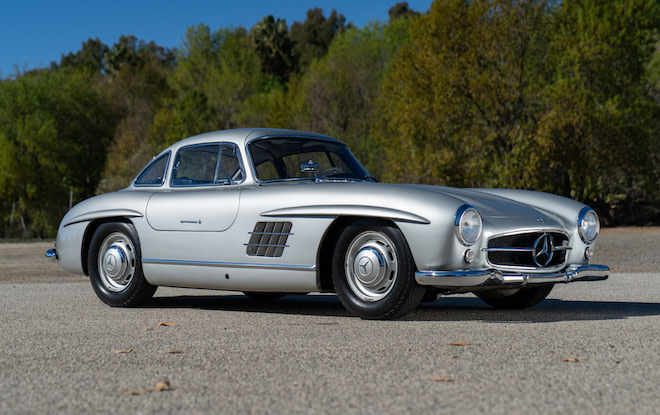 Image: Gooding & Company
Gullwings are about as sexy as features can get on a car, and this is a prime example of it. In 1954, New York-based importer Max Hoffman announced that a refined version of the 300 SL race car would soon be available to the public, and order came immediately flooding in. It wasn't only racetrack enthusiasts clamouring to get their hands on the new car — the 1954 Mercedes-Benz 300 SL Gullwing had attracted the well-heeled members of society as well. This particular offering was initially owned by William A.M. Burden II, a member of the Vanderbilt family. He was a brilliant businessman, philanthropist, and, for decades, a highly valued customer of Mercedes-Benz.
Estimate: $1,100,000 – $1,300,000
READ MORE: Los Angeles Museum Holds Exhibition Dedicated to Hypercars
1954 OSCA MT4 2-AD 1500 Spider

Image: Gooding & Company
Officine Specializzate Costruzione Automobili, or OSCA, was launched in
—————-
By: Terence Ruis
Title: Vintage Cars: 5 Classic Beauties Ready for Spring
Sourced From: www.luxuo.com/cars/automobile/vintage-cars-5-classic-beauties-ready-for-spring.html
Published Date: Tue, 15 Feb 2022 02:04:55 +0000
Here comes trouble: A Triumph TR6 with a Matchless frame
Kids are impressionable, especially when motorcycles are involved. That magical combination of sound, smell and danger has a way of imprinting itself on young minds. But Kyle Harvey didn't just dream of bikes as a child—he practically grew up with them.
Kyle's trade is tool and die making, but his passion is building bikes. His father, Garth Harvey, got Kyle and his brother into bikes at a young age; as soon as they could start their old man's vintage motorcycles, they were riding them. Living in Edenvale in South Africa's Gauteng province, the boys also had direct access to the local Classic Motorcycle Club.
The folks at the CMC made quite an impression on young Kyle—and taught him everything he knows about vintage bikes. After helping numerous friends work on their bikes, he went on to open his own shop, named simply 'The Workshop.' Kyle has been building and restoring classic motorcycles for over a decade now.
This cheeky bobber is his latest build, and it's immensely fascinating. The engine's from a Triumph TR6 Trophy, the frame is from a Matchless, and the quirky handmade details on it are endless.
—————-
By: Ben Pilatti
Title: Here comes trouble: A Triumph TR6 with a Matchless frame
Sourced From: www.bikeexif.com/custom-triumph-tr6-matchless-frame
Published Date: Wed, 21 Dec 2022 17:01:12 +0000
Did you miss our previous article…
https://mansbrand.com/country-cub-a-diy-honda-ct125-kit-from-k-speed/
The V12 engine holds a special place in the heart of many automotive and motorsports fans. For some, it's the sound of Formula 1 through the years, especially during the 1990s. For others, it's engines like the 6.1 L BMW S70/2 from the McLaren F1 or the 3.9L Lamborghini V12 that powered all their cars from the Miura through to the Diablo. No matter where it lies in your heart, it is the "proper" configuration for many: 6 cylinders per bank, put into a V, and firing in an odd sequence to give it that special roar under power.
Yet, as concerns over fuel efficiency, qualms about environmental impact, and high-powered turbocharged V8 or V6 engines are the norm now, the V12 is slowly, but surely, being put to rest. In fact, the only place that V12s are still hanging on by the last threads of their engine mounting bolts are in supercars, hypercars, and a few ultra-luxury cars. Even then, many exotic brands have announced that their next cars will either be V10s or turbo V8s and V6s.
Since it appears that the swan song of the V12 is reaching a crescendo, we thought it only appropriate to celebrate the few remaining cars out there that carry them. It may be the last time we see some of these brands, many of which are known for their V12s.
The Amazing Last V12 Production Versions from the Big Brands
Ferrari 812 Superfast
Ferrari 812 Superfast. Image via Supercars.
The writing is on the wall for the prancing horse, as the new Ferrari 296 GTB is showing the direction that Maranello is headed. Yet, unless you were invited to snag one of the limited-edition Monza SP1 or SP2 cars, there is still one car you can buy from the legendary marque that has all 12 cylinders fully intact.

The 6.5L F140 GA V12. Image Via: Wikimedia Commons.
The 6.5L F140 GA 65-degree V12 in the front of the 812 is the last road-going version of the V12 that debuted in the Ferrari Enzo. Producing a monstrous 789 HP and 530 lbs-ft of torque, it is no slouch either, as when the 812 Superfast debuted, it was the most powerful naturally aspirated production car engine ever made.
It has the typical low-rev Ferrari roar that rises into a howl as the car revs up to nearly 9,000 RPM, and will catapult the 3,845 (1,744 kg) car to 60 MPH in 2.9 seconds. As far as a curtain call is concerned, that's a great way to bow out and focus on hybrids and turbocharged engines.
Mercedes-Maybach S680 4MATIC

cedes-Maybach S680 4MATIC. Image via Supercars.
Mercedes-Benz used to be at the very top of the V12 pecking order when it came to luxury performance cars. Such classics as the S 65 AMG from the mid-2000s and the 500 TE AMG W123 Touring from the very end of the 1970s came with big V12s that sound astounding, but the biggest and baddest of the Mercedes V12s left on in a production car is the M279 E60 LA that hauled the S65 AMGs of 2014.
Read More
—————-
By: Simon Bertram
Title: The Swan Song of the V12
Sourced From: sportscardigest.com/v12-swan-song/
Published Date: Thu, 28 Jul 2022 10:49:26 +0000
Did you miss our previous article…
https://www.mansbrand.com/road-tested-gear-from-shoei-akin-moto-and-revit/
Road Tested: Gear from Shoei, Akin Moto and Rev'It!
In our continuing quest to source motorcycle gear that combines safety and style, we bring you our thoughts on Shoei's new ECE 22.06-approved NXR2 helmet. Plus a stealthy riding parka from Akin Moto, and the perfect pair of urban riding gloves from Rev'It!.
Shoei NXR2 helmet It's no secret that I'm a huge fan of Shoei's helmets. Every Shoei I've owned has fit and felt right from the first wear, with no major deviations in their sizing or shape from model to model. So when I was looking for a do-it-all street helmet to replace my well-used Shoei RYD, the new NXR2 was a no-brainer… and it hasn't disappointed.
I loved the RYD for its combination of neutral styling, comfort and ventilation. The NXR2 basically feels like a premium version of the RYD; it has the same clean aesthetic, but ramps up the performance. And it's one of the few helmets that meet with Europe's new, and more stringent, ECE 22.06 standard.
Read More
—————-
By: Wesley Reyneke
Title: Road Tested: Gear from Shoei, Akin Moto and Rev'It!
Sourced From: www.bikeexif.com/shoei-akin-moto-revit-review-44
Published Date: Sat, 30 Jul 2022 17:01:31 +0000
Did you miss our previous article…
https://www.mansbrand.com/sebastian-vettel-announces-retirement/