We love a good road trip story. We're not alone, either. The new American dream seems practically cemented in the idea of quitting your corporate job, finding a Vanagon/Westfalia/Sprinter on Craigslist and hitting the road in search of adventure and new job opportunities. (And don't you dare try to tell us we won't instantly score a travel-writing job once we hit the highway. We're not listening.)
Gear That Will Take Your Roadlife Experience to the Next Level
Read article>
Yep, the notion of the roadlife is as romantic as they come, as alluring as a fairytale with a few less castles and a couple more bad gas-station burritos. But the reality? Simply put, roadlife is real life, says Gale Straub.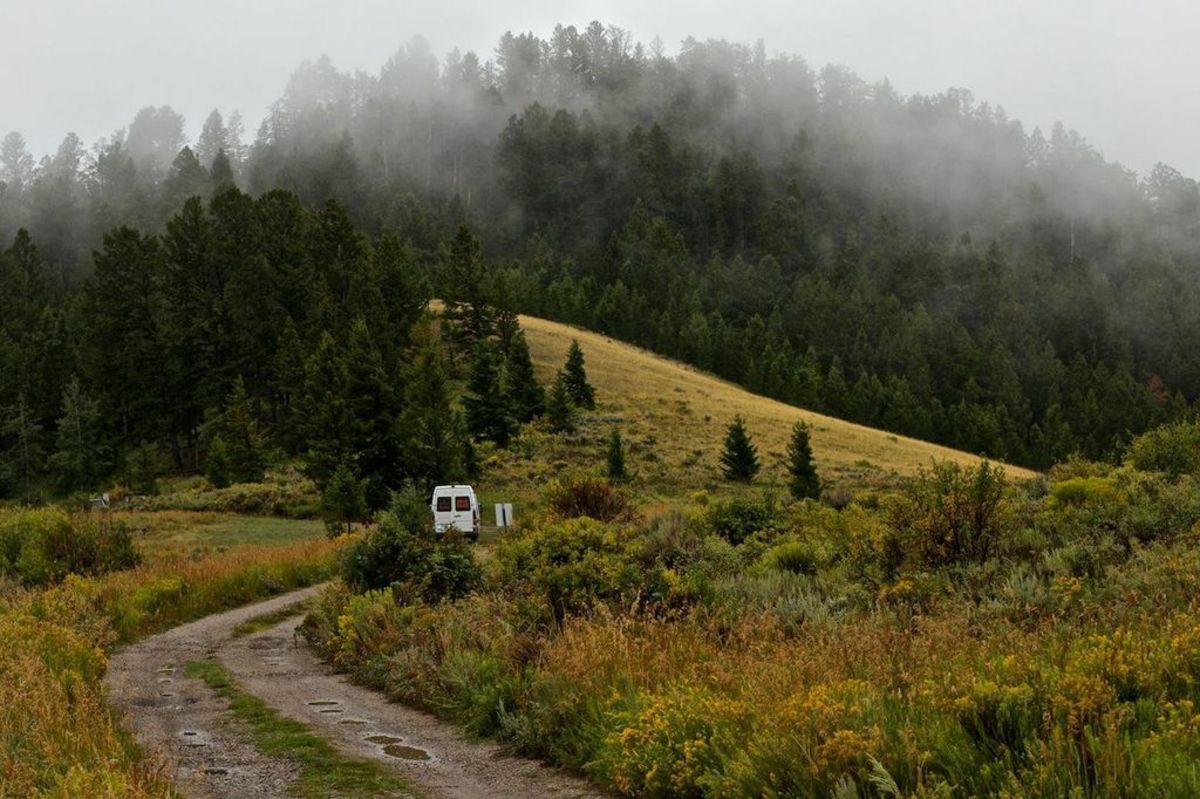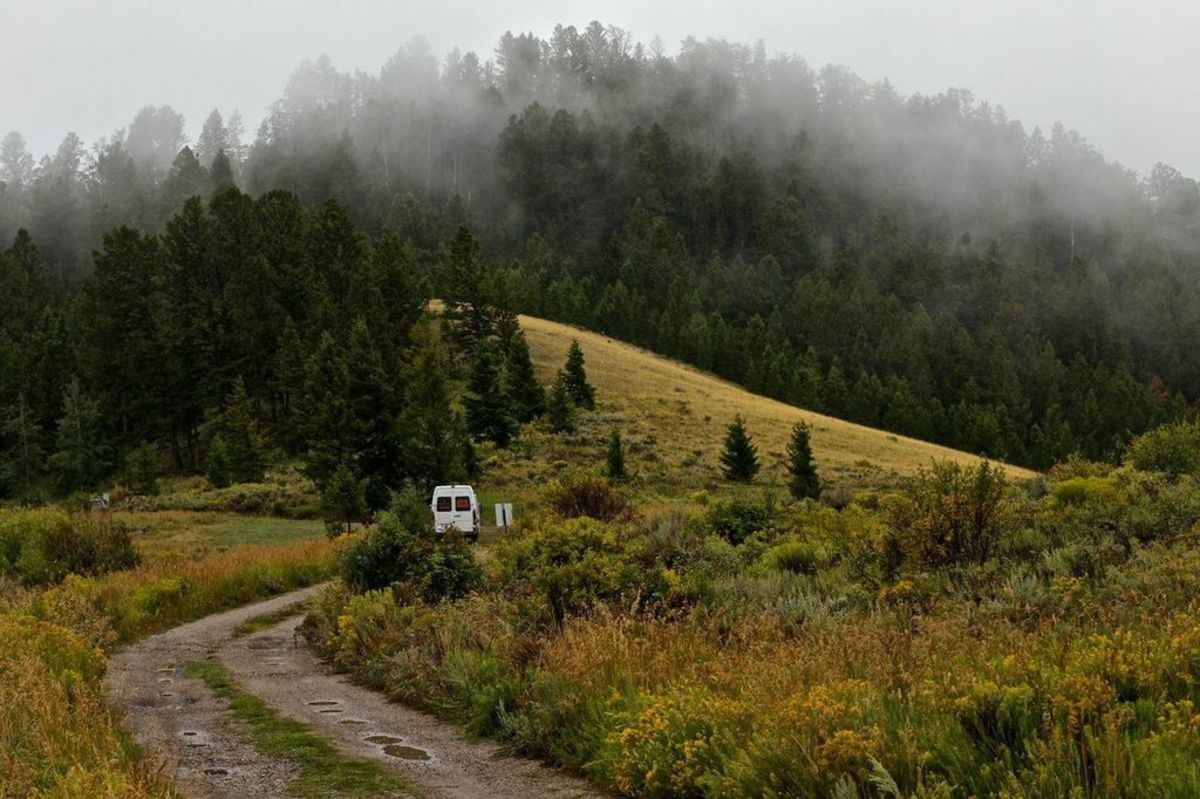 Gale Straub travels the country in a 2004 Mercedes Sprinter with her boyfriend, Huckberry's Jon Gaffney. Photo: Courtesy of Straub
Yes, she quit her corporate job. Yes, she cruises in a retrofitted 2004 Mercedes Sprinter van. And yes, she's privy to the fact that life is pretty sweet when your backyard is constantly in flux and your boyfriend is 3 feet away at all times.
Still, as with any fairytale, you occasionally have to deal with evil spells. Or, in Straub's case, sparse sleeping arrangements.
"The hardest part is finding a place to camp each night," she explains. "The first few months on the road, we moved from place to place often and with little planning. When it's 9 p.m. and I haven't had dinner yet and still don't know where I'll be sleeping—that's when my patience is most tested."
Tips for Keeping Your Valuables Safe While Living the Roadlife
Read article>
Straub is as fascinated with road trips as we are—so much so, in fact, that she started a blog that shares the stories of women all over the country living her same dream, dubbing it She Explores. So who better to school us in the ups and downs of life on the road than Straub? Here, she gives us some rapid-fire answers to help quench our thirst for four-wheeled adventure until we can embark on our own.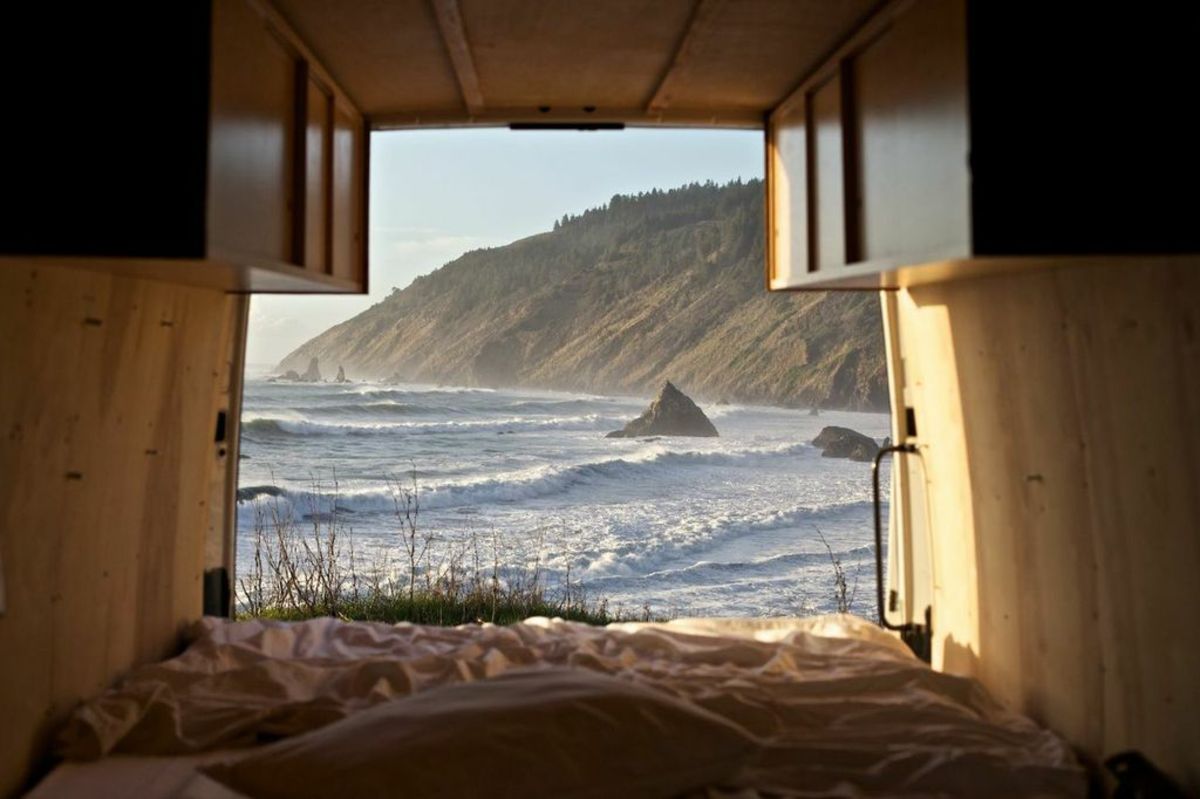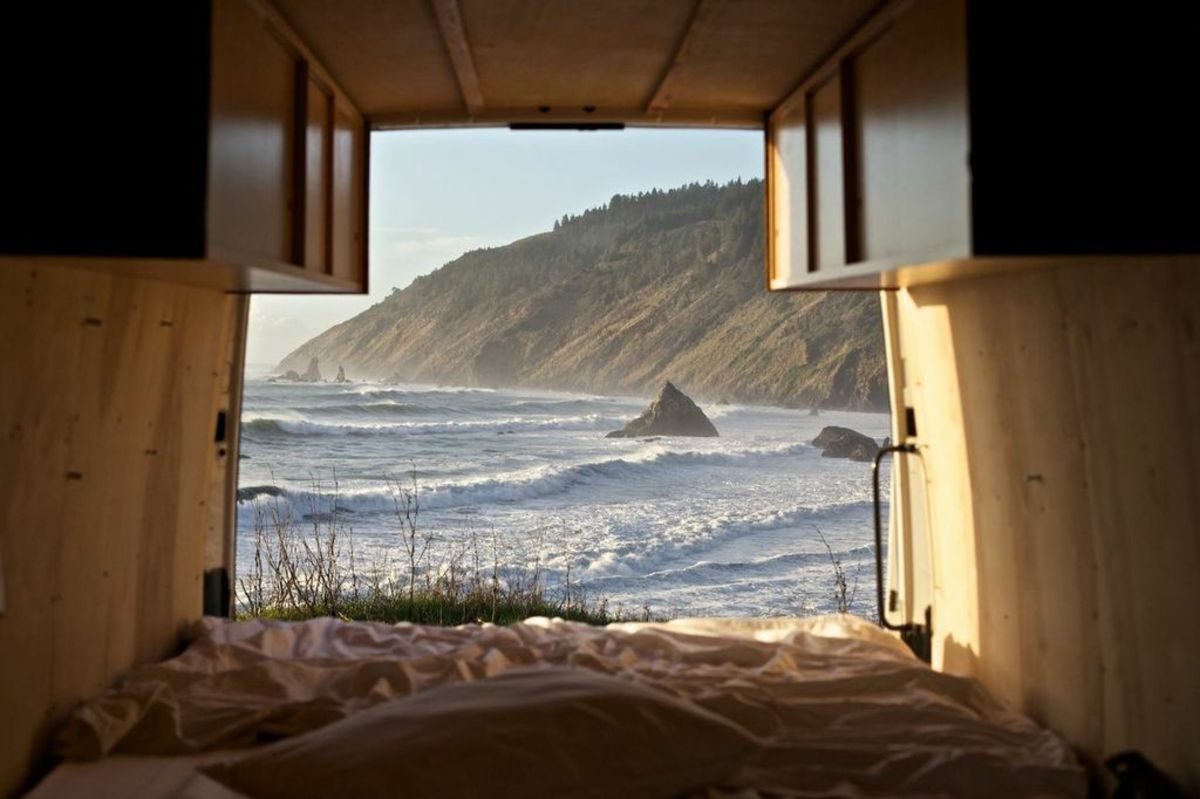 Straub and Gaffney hired a woodworker to retrofit their Sprinter using reclaimed barn wood. Photo: Courtesy of Gale Straub
Best van conversion idea?
Straub says her Sprinter was a construction vehicle, so it needed a lot of work to make it livable. After stripping the van bare,
Elegant Entertaining Mansion with Pub & Golf Simulator
By Linde Hyder Rolling green lawns, lush wooded surroundings and colorful gardens provide an idyllic setting for this outstanding estate enviably situated in one of Brentwood's most desirable gated communities: Hampton Reserve. Designed to meet the owner's exacting specifications, the elegant manse is a showplace for entertaining as well as the ultimate venue for endless hours of family fun.
Presiding over a 1.6-acre cul-de-sac lot, the sprawling 15,379-square-foot plan has been meticulously designed to reflect superior workmanship and the finest selection of finishes throughout. Beyond its hand-hewn limestone façade are interior spaces of timeless elegance. A grand entry hall welcomes guests with stately columns, a limestone fireplace and soaring floor-to-ceiling windows overlooking the grounds.
Complementing formal living and dining areas is an expansive family room, which opens to an incomparable outdoor scene. The private resort-style atmosphere includes a swimming pool with waterfall, slide and swim-up bar, a series of stone porches, infrared heaters, fire pit, outdoor kitchen, changing cabana and strategically placed lights for sunset soirees.
Serving any occasion with ease and every imaginable convenience is the up-to-the-minute
—————-
By: Alyssa Mammano
Title: Elegant Entertaining Mansion with Pub & Golf Simulator
Sourced From: blog.dupontregistry.com/the-lifestyle/real-estate/elegant-entertaining-mansion-with-pub-and-golf-simulator/
Published Date: Wed, 25 Nov 2020 18:44:16 +0000
Did you miss our previous article…
https://www.mansbrand.com/ducati-diavel-1260-lamborghini-revealed-price-and-specs-2/
Spaceflight does some weird things to astronauts' bodies
Astronaut Scott Kelly famously lived and worked on the International Space Station for 340 days—the longest time an American has spent in space. His mission gave scientists some vital insight into what happens to the human body during long-duration stays in orbit. That's because Kelly has an identical twin, Mark (also an astronaut, and now soon to be a US senator). The Kelly twins offered scientists a rare opportunity: as they studied what happened to Scott's body during his year in space, they had the benefit of a control subject, Mark, who stayed on Earth.
The NASA Twins Study provided more evidence for what we already suspected. In a confined capsule under microgravity and prolonged exposure to radiation, the immune system takes a hit, the eye changes shape for the worse, and there's some significant loss in muscle and bone mass.
But we also learned about some surprising effects. Kelly experienced changes in his gut microbiome, his cognitive abilities slowed down, certain genes would turn off and on, and his chromosomes experienced structural changes.
"The Twins Study gave us a first sketch of the human body's molecular responses to spaceflight, but these outlines needed to be filled in," says Christopher Mason, an associate professor of physiology and biophysics at Weill Cornell Medicine. "The changes we saw needed more context and replication. We needed additional studies to map out the frequency of the changes we observed in other astronauts, and other organisms, that go into space, and also to see if the degree of change was similar for shorter missions."
That brings us to a new package of research that builds on the Twins Study, reanalyzing some of the original data with new techniques and providing comparisons with other astronauts. In a set of 19 studies published today in a slew of different journals (along with 10 preprints still under peer review), researchers like Mason (a senior author on several of the papers) studied the physiological, biochemical, and genetic changes that occurred in 56 astronauts (including Kelly) who have spent time in space—the largest study of its kind ever conducted.
The new papers, which incorporate results from cell-profiling and gene-sequencing techniques that have become easier to run only recently, reveal that "there are some features of spaceflight that consistently appear in humans, mice, and other animals when they go to space," says Mason. "There appears to be a core mammalian set of adaptations and responses to the rigors of spaceflight."
The researchers highlight six biological changes that occur in all astronauts during spaceflight: oxidative stress (an excessive accumulation of free radicals in the body's cells), DNA damage, dysfunction of the mitochondria, changes in gene regulation, alterations in the length of telomeres (the ends of chromosomes, which shorten with age), and changes in the gut microbiome.
Of
————
By: Neel Patel
Title: Spaceflight does some weird things to astronauts' bodies
Sourced From: www.technologyreview.com/2020/11/25/1012628/spaceflight-astronauts-bodies-genetics-effects-scott-kelly-twins-study/
Published Date: Wed, 25 Nov 2020 16:00:07 +0000
Did you miss our previous article…
https://www.mansbrand.com/the-zoom-fatigued-persons-guide-to-connecting-virtually-on-thanksgiving/
Home of the Day: Exceptional Modern Art Mansion Offered at $14 Million

Location: Tiburon, CaliforniaAddress: 1865 Centro West StPrice: $13,900,000Bedrooms: 5 bedroomsBathrooms: 6 total bathroomsSquare Feet: 6,960 total square feetView Listing
An incredible work of modern art. An unparalleled, all concrete and steel residence, encompassing approximately 6,960 +/- square feet of living space and set on a ½-acre site, featuring 5 bedrooms, an office, and 5.5 bathrooms and only minutes to downtown Tiburon. The world-class 180-degree panoramic views span San Francisco, the Golden Gate Bridge, Belvedere Island to Mount Tamalpais.
Impeccable design, extraordinary quality and a paramount location. Designed by renowned architectural firm Cheng Design this luxury residence is by far,
—————-
By: Alyssa Mammano
Title: Home of the Day: Exceptional Modern Art Mansion Offered at $14 Million
Sourced From: blog.dupontregistry.com/the-lifestyle/real-estate/home-of-the-day-exceptional-modern-art-mansion-offered-at-14-million/
Published Date: Wed, 18 Nov 2020 21:50:59 +0000
Did you miss our previous article…
https://www.mansbrand.com/the-piloti-x-pagani-legacy-s-collection-is-now-available/