Bradley Cooper has a new woman in his life.
The A Star is Born actor has been linked to Hillary Clinton's top aide, Huma Abedin – the same aide caught up in the leak of over 100 private emails from Clinton's 2016 presidential campaign.
Naturally, there's quite a story behind how they met. Would you believe it involves the fashion critic of fashion critics, Anna Wintour?
Not to mention, the two secretly attended this year's Met Gala together, though they kept things hush-hush by walking the red carpet alone.
Below, we have everything you need to know about the incredibly impressive Huma Abedin.
READ MORE: Tom Jones confirms diagnosis after wild claims
READ MORE: Macca's selling burgers for $1 for hilarious reason
Who is Huma Abedin?
Abedin, 45, is an American political staffer who was vice-chair of Hillary Clinton's 2016 campaign for President of the United States. She is currently still chief of staff to Clinton, and is considered her closest former and current aide.
Abedin was born on July 28, 1975, in Kalamazoo, Michigan to her professor parents. Her family is Indian and Pakistani, and she has a brother and sister.
When she was two years old, her family moved to Jeddah, Saudi Arabia, after her parents were offered jobs at the University of Jeddah.
Huma Abedin's relationship with Hillary Clinton
The 2016 Clinton email probe
One of the most notable aspects of Clinton and Abedin's relationship is Abedin's involvement in the momentous Clinton email leak of 2016.
In early October 2016, FBI criminal investigators working on a case involving Abedin's ex-husband, Anthony Weiner, stumbled upon a number of emails stored on his laptop.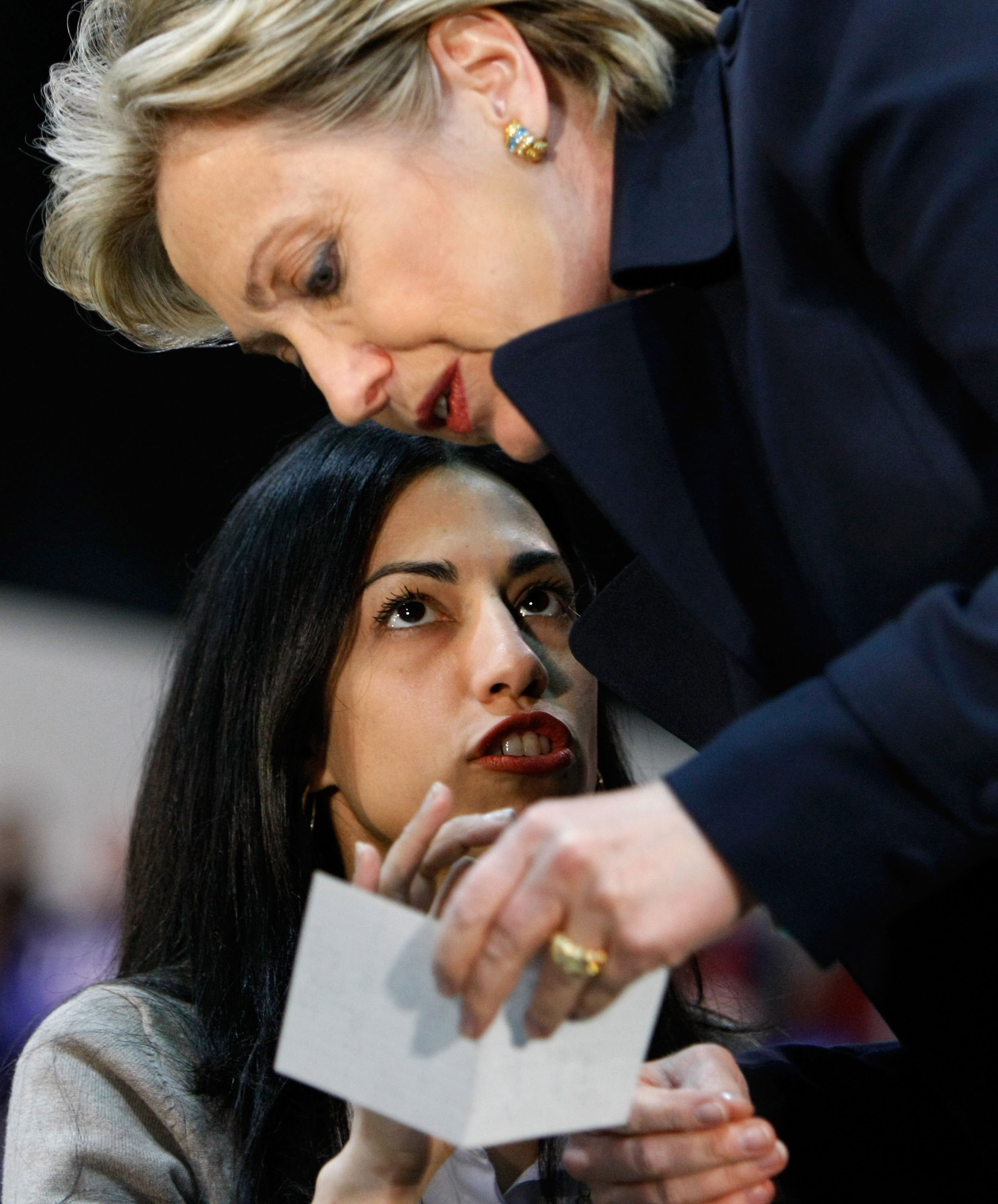 The emails had been sent between Abedin and Clinton during her 2016 presidential campaign, and were considered suspicious and potentially relevant to the previous "Clinton server investigation", which was led by FBI Director James Comey after it was discovered Clinton have been communicating with her staff through a private email server.
The discovery of the emails prompted Comey to reopen that investigation eleven days before the 2016 US presidential election, a decision Clinton said majorly contributed to her election loss to Donald Trump.
Abedin's new memoir
In 2021, Abedin released her memoir, Both/And: A Life in Many Worlds which reflects on her role as Clinton's closest advisor. She has even referred to she and Clinton as "partners in crime".
READ MORE: Prince Charles' 'pathetic' claim in $3500 scathing note
Abedin has naturally, gotten to know Clinton well through her time working with her, with their time together dating back to 2008.
Prior to 2016, Abedin worked as deputy chief of staff to Clinton when she was US Secretary of State from 2009 to 2013.
She was also the travelling chief of staff and former assistant to Clinton during her 2008 presidential campaign for the Democratic nomination in the 2008 presidential election.
Speaking to The Associated Press in March, Abedin revealed just how close she and Clinton are.
"We are partners in crime – in adventures that is," she said. At a promotional event in 2021, she was also full of praise for her longtime boss.
"I'm lucky, you know, she's a friend and mentor, a boss, and she's always been there for me, and I'm always going to be there for her."
Abedin is currently working on a show for Apple TV+ based on Clinton's new book with daughter Chelsea, called The Book of Gutsy Women.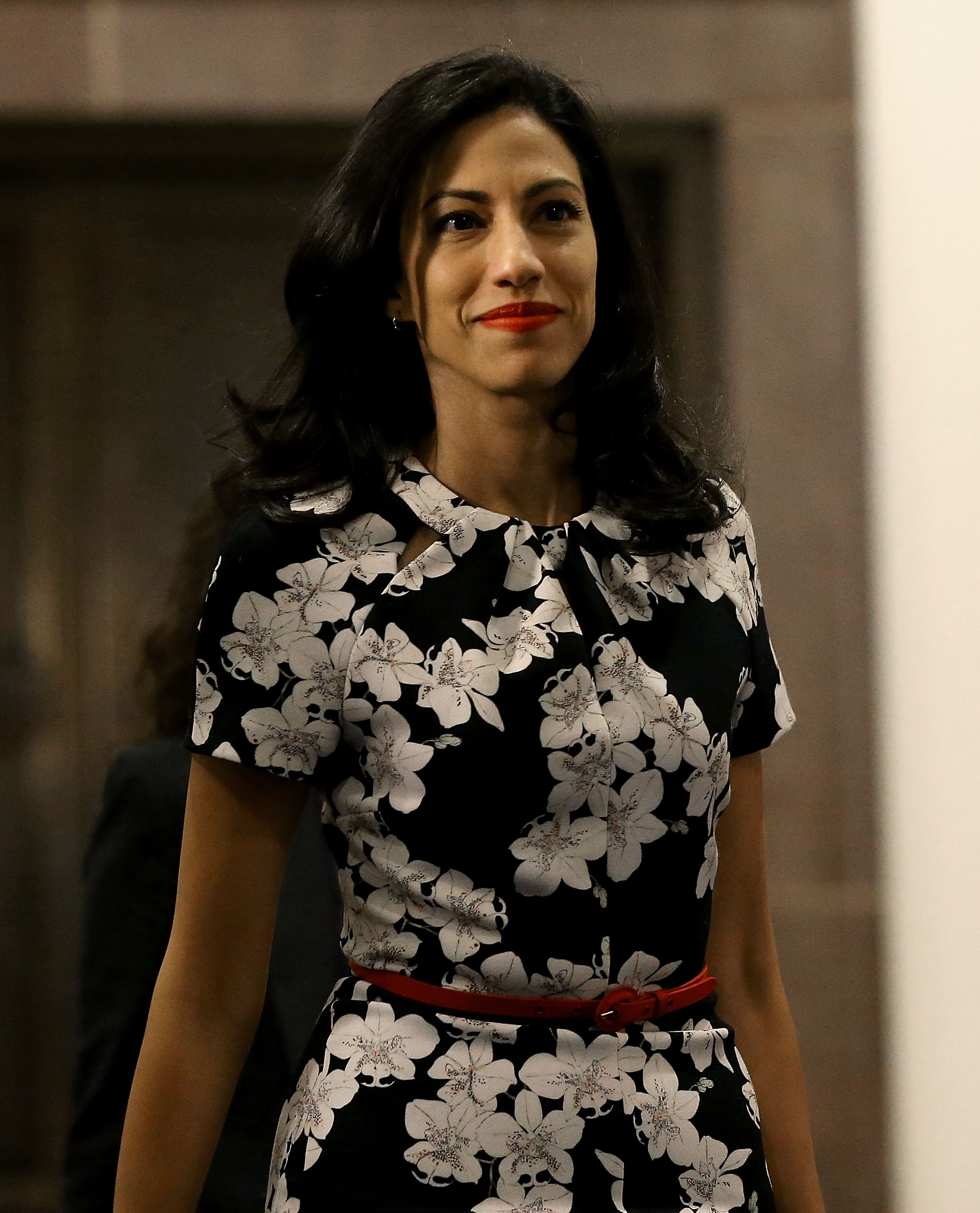 READ MORE: US woman claims she was 'poisoned' by $1 bill she found inside a McDonald's
How did Huma Abedin meet Bradley Cooper?
According to sources to Page Six, it was Vogue editor Anna Wintour who played matchmaker for Abedin and Cooper.
Wintour is close with both, having been an open political supporter of Hillary Clinton over the years, and a very good friend of Cooper's.
"Anna definitely played matchmaker," one source told Page Six. "She's BFFs with Bradley and adores Huma."
Meanwhile, a Hollywood insider confirmed to the publication that "Bradley has been quietly dating Huma for a few months now, [and] they've been keeping it really quiet.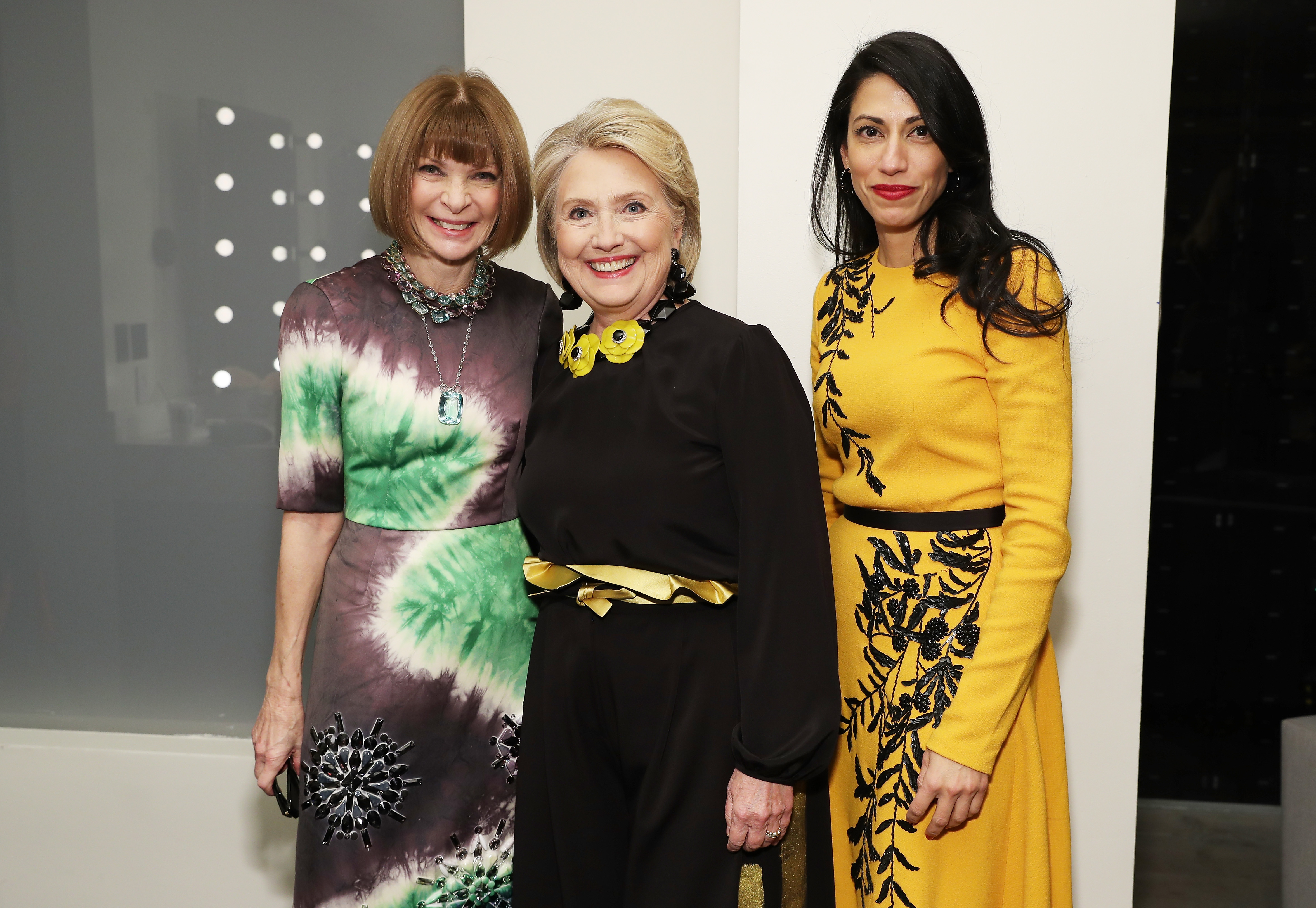 For a daily dose of 9Honey, subscribe to our newsletter here
"Bradley broke up with [actress] Dianna Agron and started dating Huma."
They added: "[Cooper and Abedin] are perfect for each other. They're both into power and politics and human affairs."
Does Huma Abedin have children?
Yes, Abedin has a 10-year-old son, Jordan Zain Weiner, who she shares with her ex-husband Anthony Weiner.
What happened with Huma Abedin's ex-husband Anthony Weiner and his sexting scandal?
Abedin and Weiner married in 2010, but saw their relationship crumble after allegations emerged that Weiner, a former member of the United States House of Representatives, had been involved in a number of sex scandals, some involving minors.
The sexting scandal began in 2011, when the first of Weiner's sexually explicit photos appeared on his Twitter account by accident.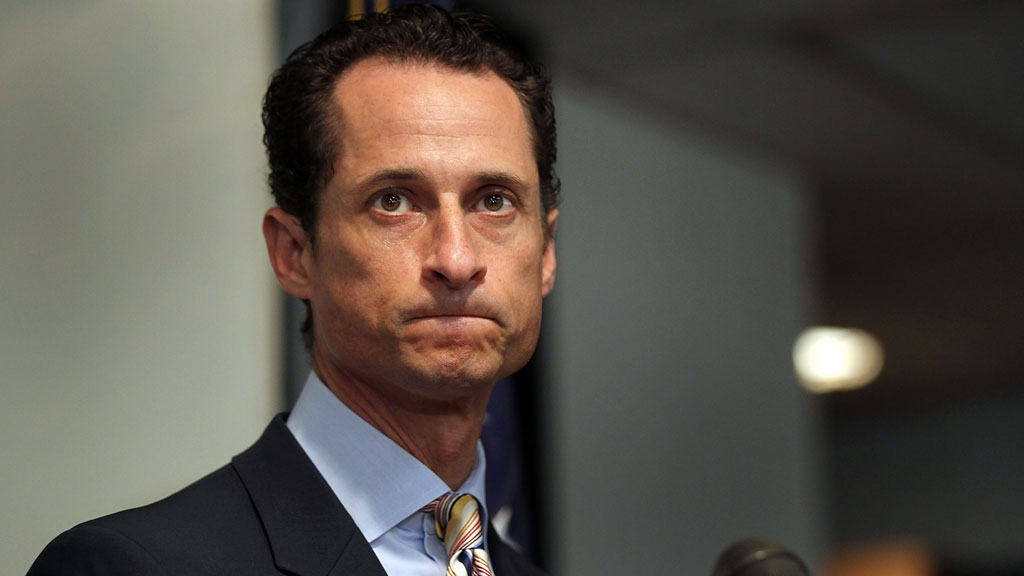 Weiner, a then-Democratic US Congressman, initially claimed his account had been hacked, but later admitted the images were of him, and that he had been having sexually explicit conversations with multiple women he had met online.
Per CNN, Weiner reportedly said in a press conference: "To be clear, the picture was of me, and I sent it."
The images emerged just one year into his marriage to Abedin, and a few months before the pair announced they were expecting their first child.
Sadly, this was not the end of Weiner's inappropriate conduct.
In July, 2013, a gossip website shared screenshots of another sexually explicit conversation Weiner had with a woman that June/July.
At a press conference, Weiner claimed some of the explicit online chats took place after the initial scandal of 2011. Abedin appeared at this presser, and declared her support for her husband.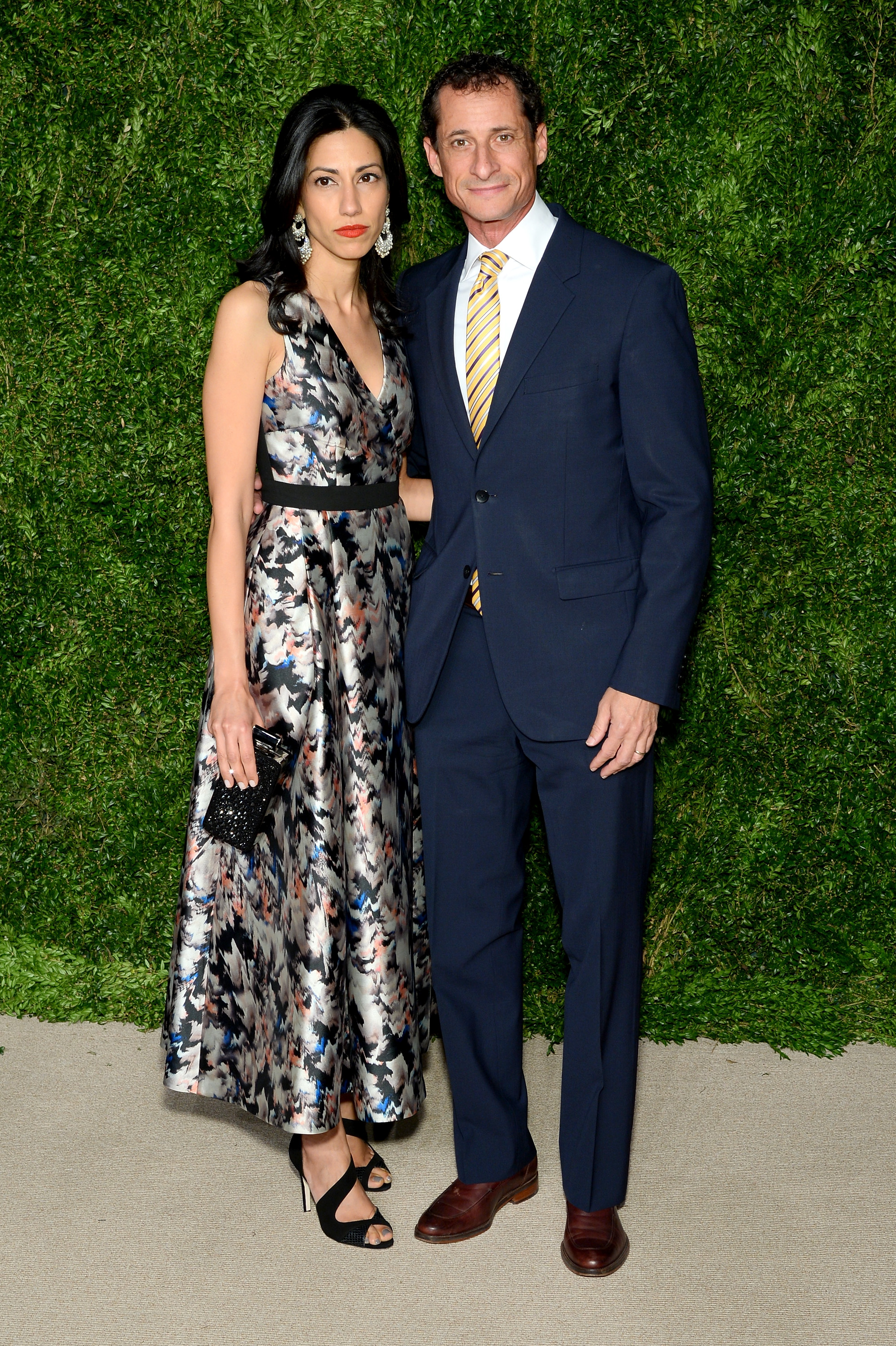 "What I want to say is I love him, I have forgiven him, I believe in him, and as I have said from the beginning, we are moving forward," Abedin reportedly said.
The worst of the scandal hit in 2016.
Following a report from the Daily Mail in September 2016, the FBI investigated Weiner for sexting with a 15-year-old girl.
His laptop was seized and on May 19, 2017, he pled guilty to one count of transferring "obscene material" to a minor.
Prior to the announcement of his guilty plea, Abedin filed for divorce against him.
In August 2016, Abedin said in a statement: "After long and painful consideration and work on my marriage, I have made the decision to separate from my husband.
"Anthony and I remain devoted to doing what is best for our son, who is the light of our life. During this difficult time, I ask for respect for our privacy."
In September 2017 Weiner was sentenced to 21 months in federal prison. He served his sentence at Federal Medical Center, Devens, in Ayer, Massachusetts.
This year, the pair's divorce was finally finalised, with them legally estranged from each other.
Bradley Cooper's dating history
Cooper was married to Taxi and Blue Bloods actress Jennifer Esposito from 2006 to 2007, with the pair famously ending their marriage after just four months together.
Cooper then moved on to Bridget Jones' Diary actress Renée Zellweger. They began dating in 2009, three years after their initial meeting on the set of Case 39 in 2006.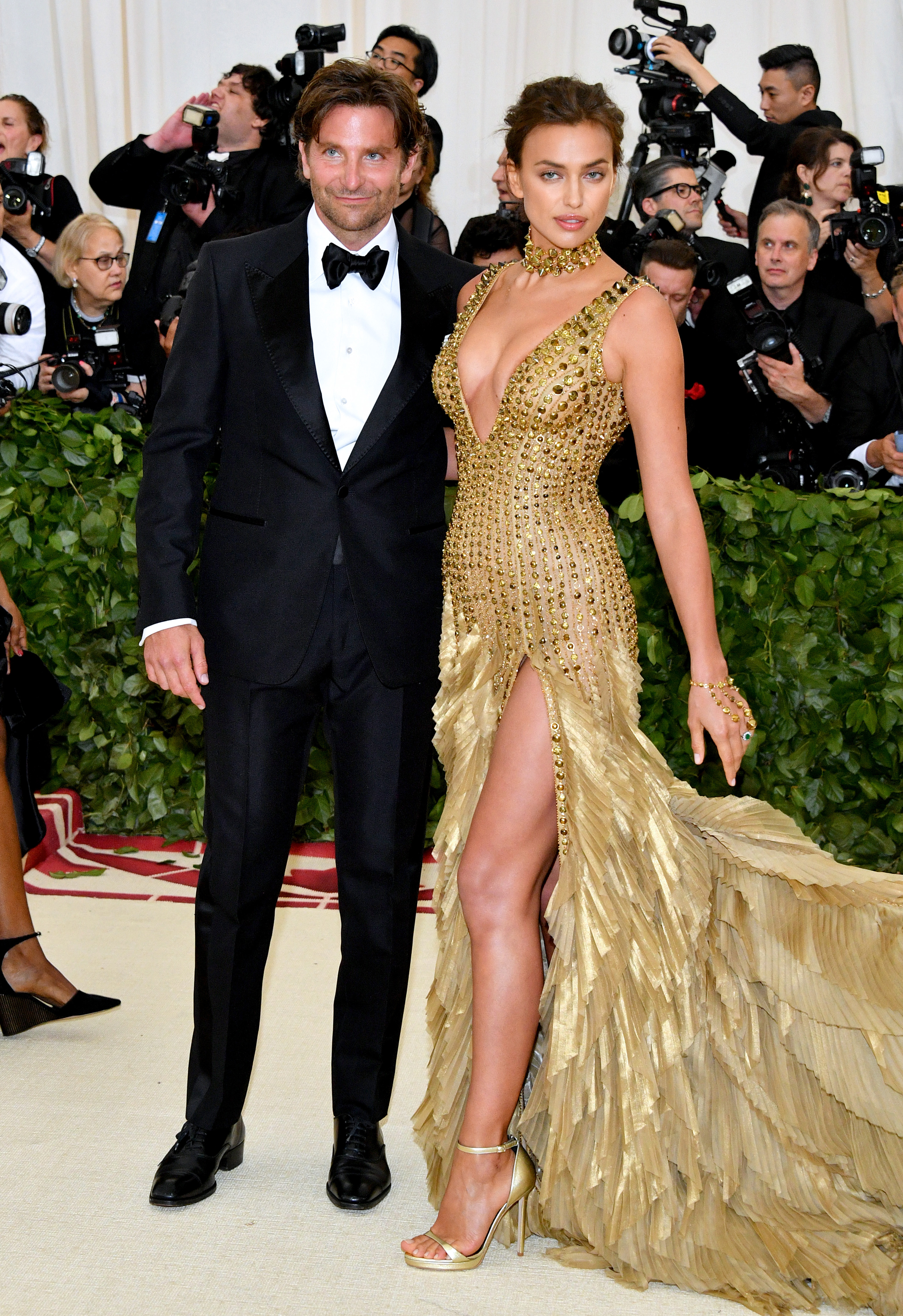 Zellweger spent the 2009 Christmas season with Cooper and his parents and they were spotted house hunting in early 2010. They even moved in together, purchasing a US$4.7 million ($6.9 million) home together in Pacific Palisades, California.
The pair eventually split in 2011.
Other stars Cooper has been linked to include Olivia Wilde, Jennifer Lopez, Zoe Saldaña, Irina Shayk, and most recently, Glee actress Dianna Agron.
News of Cooper's relationship with Dianna Agron only came to light on the day that his relationship with Abedin was revealed.
Sources exclusively told Page Six that the actor had been dating Agron before starting a relationship with Abedin, though the period of their time together is not known.
————————————
Title: Who is Bradley Cooper's new girlfriend, American political staffer Huma Abedin?
Sourced From: celebrity.nine.com.au/latest/huma-abedin-bradley-cooper-girlfriend-who-is-she-explainer/4cecbcd1-999a-493a-981a-f2dc829414ca
Published Date: Thu, 14 Jul 2022 05:07:00 GMT
Read More
Did you miss our previous article…
https://www.mansbrand.com/key-dates-deadlines-announced-for-65th-annual-grammy-awards/
Taylor Swift's rep responds to reports the singer has the worst private jet carbon emissions
A spokesperson for Taylor Swift has responded to a report that named the singer as the celebrity with the worst private jet CO2 emissions. 
Yesterday, a report released by Yard claimed the American singer was the biggest CO2 polluter of the year so far, having flown in her private jet 170 times since January and totalling 8,294.54 tonnes of CO2.
However, Swift's spokesperson told Buzzfeed News the statistics are inaccurate.
For context, the report claims the average person produces just seven tonnes of carbon emissions per year.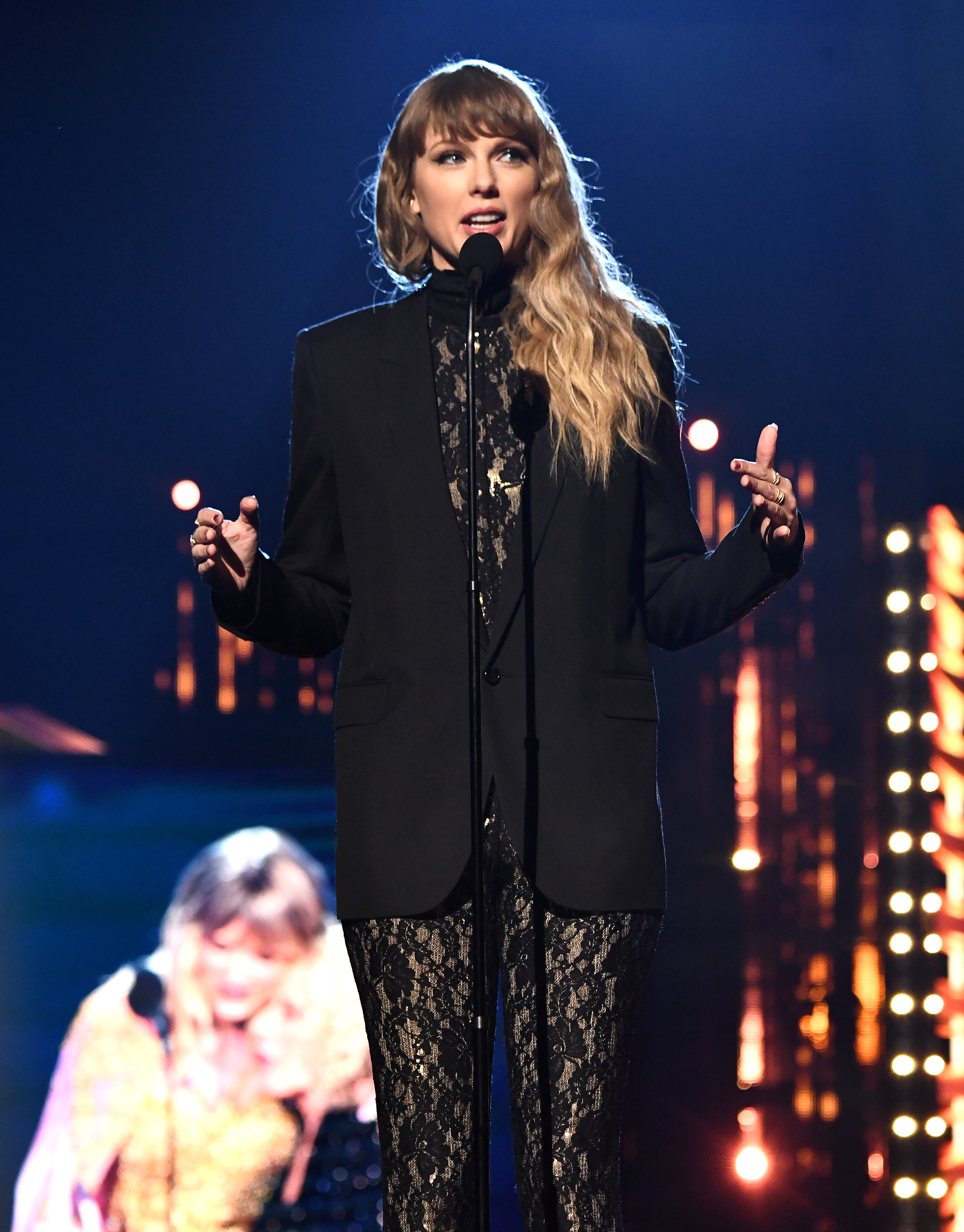 Swift's representative said only some of the 170 flights can be attributed to the singer: "Taylor's jet is loaned out regularly to other individuals. To attribute most or all of these trips to her is blatantly incorrect."
Regardless, it is clear Swift's jet is racking up significant amounts of carbon emissions due to its inefficient use.
According to the Yard report, her average flight time is just 80 minutes, and her jet's shortest recorded flight flew between Missouri and Nashville for just 36 minutes.
Other significant celebrity polluters include boxer and domestic violence perpetrator Floyd Mayweather, whose shortest flight was just 10 minutes long but emitted one ton of carbon; Kim Kardashian, who has emitted 609 times more carbon than the average person; and director Steven Spielberg, who took an 18-minute flight between Rotterdam and Amsterdam – a route which, when taken by train, takes only an hour. 
The subject of celebrity carbon emissions has blown up ever since Kylie Jenner shared an out-of-touch photo of her and partner Travis Scott posing in front of their private jets with the caption, "you wanna take mine or yours?"
In the midst of the backlash, many began diving deeper into Jenner's private jet use by examining the Celebrity Jets Twitter account, which records celebrity private jet trips.
https://twitter.com/CelebJets/status/1547047653690822661?ref_src=twsrc%5Etfw
Many were horrified she was regularly taking flights as short as 12 minutes and reprimanded her for "her absolute disregard for the planet".
Many found it hypocritical that ordinary people were being asked by big companies to reduce their car trips and use paper straws when celebrities are constantly leaving huge carbon footprints with frivolous trips in their private jets.
Despite the wave of criticism, celebrities have continued to take private flights between short distances. 
————————————
Title: Taylor Swift's rep responds to reports the singer has the worst private jet carbon emissions
Sourced From: celebrity.nine.com.au/latest/taylor-swift-private-jet-co2-emissions-highest-celebrity-rep-statement/589119a2-fb57-48bc-9547-73c28db53d21
Published Date: Sun, 31 Jul 2022 03:07:00 GMT
Read More
Did you miss our previous article…
https://www.mansbrand.com/jodie-sweetin-marries-mescal-wasilewski-with-fuller-house-co-stars-in-attendance/
Jodie Sweetin Marries Mescal Wasilewski with 'Fuller House' Co-Stars in Attendance!
Jodie Sweetin is married!
The 40-year-old actress, best known for playing Stephanie Tanner on Full House and Fuller House, married social worker Mescal Wasilewski on Saturday (July 30) at a private home in Malibu, Calif. after five years together.
Click inside to read more…
Jodie and Mescal wed in an intimate backyard ceremony that included her two daughters – Zoie, 14, and Beatrix, 11 – and her Fuller House co-stars including John Stamos, Candace Cameron Bure, and Andrea Barber.
"I know I have the right partner for the rest of whatever life brings me," Jodie shared with People. "And I couldn't be more grateful."
Jodie and Mescal were first introduced through friends in 2017 and dated long-distanced before Mescal moved from New York City to Los Angeles in 2020. They got engaged in January 2022.
This is the fourth marriage for Jodie – she was first married to Shaun Holguin from 2002 to 2006, to Cody Herpin from 2007 until 2010, and to Morty Coyle from 2012 to 2016. She shares Zoie with Cody and Beatrix with Morty.
Congrats to the newlyweds!
————————————
By: Just Jared
Title: Jodie Sweetin Marries Mescal Wasilewski with 'Fuller House' Co-Stars in Attendance!
Sourced From: www.justjared.com/2022/07/31/jodie-sweetin-marries-mescal-wasilewski-with-fuller-house-co-stars-in-attendance/
Published Date: Sun, 31 Jul 2022 04:26:28 +0000
Read More
Did you miss our previous article…
https://www.mansbrand.com/how-to-make-sense-of-a-very-unpredictable-fall-movie-season/
How to Make Sense of a Very Unpredictable Fall Movie Season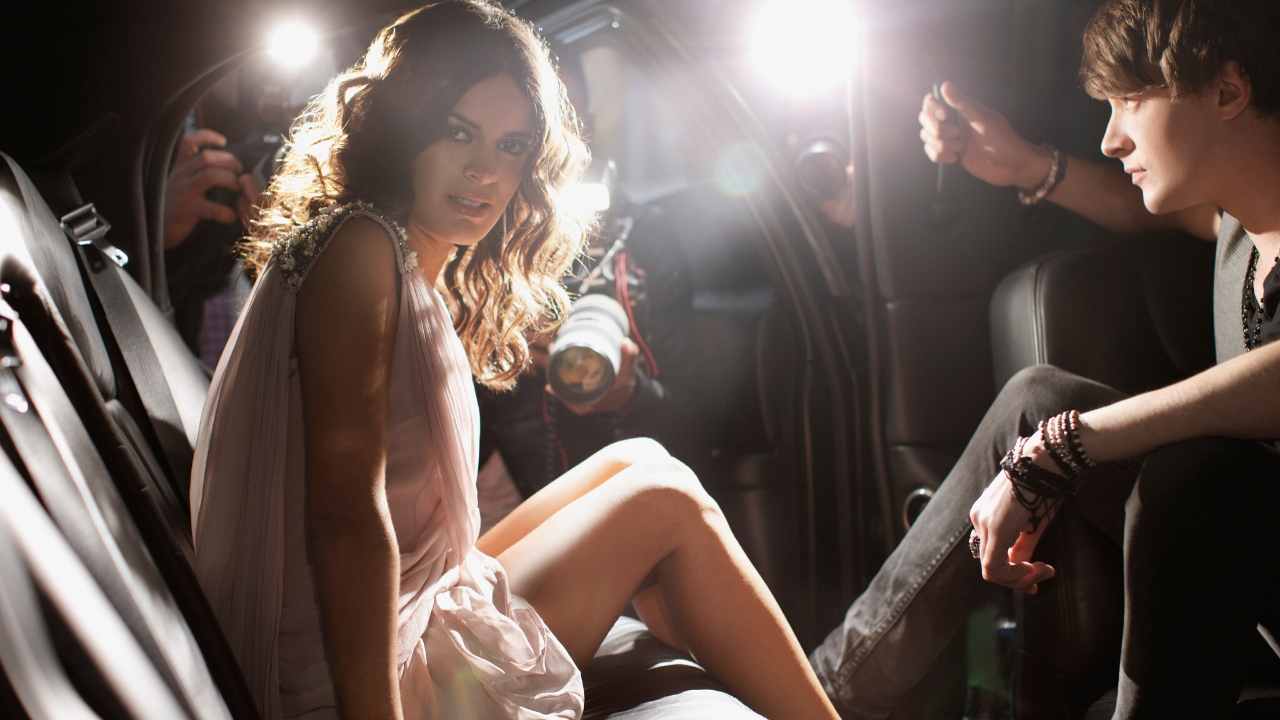 All of a sudden, the fall movie season looks very busy. This week brought two big festival announcements loaded with major films to come: First came Venice, with a lineup that includes everything from Darren Aronofsky's "The Whale" to "Bardo"; it was followed by TIFF, where Steven Spielberg's "The Fabelmans" will premiere alongside Sam Mendes' "Empire of Light" and Sarah Polley's "Women Talking," among many others. Meanwhile, Telluride continues to shroud its selections in secret, but the latest lineups help us get a sense of what to expect there as well.
In this week's episode of Screen Talk, Eric Kohn and Anne Thompson dig through both lineups to get a sense for which films could impact the coming awards season and why it's almost certain to be an unpredictable ride. They also address the return of competitiveness between festivals that seemed to subside earlier in the pandemic, and touch on the recent changes to the Oscar submission rules in France.
Watch the full episode above or listen it below. 

Screen Talk is produced by Azwan Badruzaman and available on Apple Podcasts, Stitcher, and Spotify, and hosted by Megaphone. Browse previous installments here, subscribe here, and be sure to let us know if you'd like to hear the hosts address specific issues in upcoming editions of Screen Talk. 
———————–
By: Anne Thompson
Title: How to Make Sense of a Very Unpredictable Fall Movie Season
Sourced From: www.indiewire.com/video/tiff-venice-2022-analysis-spielberg-screen-talk-391-1234746652/
Published Date: Fri, 29 Jul 2022 20:52:17 +0000
Read More