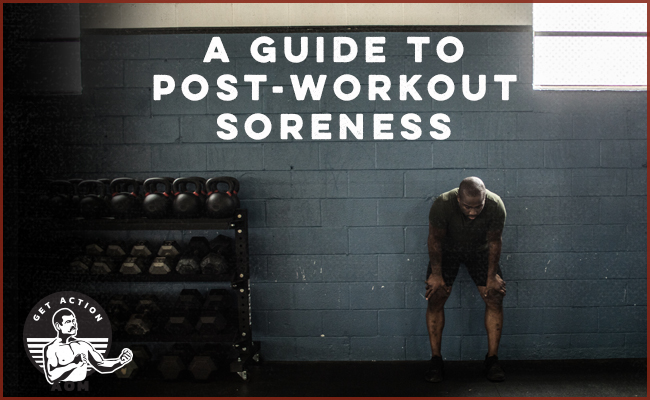 It's been a few months since you've had a consistent workout routine, and you've decided that today's the day you get back on the wagon and begin again. 
So you hit the gym after work and decide you're gonna crush your legs. Leg day, baby! Got to look good in those dude shorty shorts that are in style this summer. 
You plow through high rep sets of squats, leg extensions, leg curls, and Bulgarian split squats, then wrap it all up with some calf raises. No chicken legs for you. No siree, Bob! 
You roll out of bed the next day ready to take on the world, but find you can barely shuffle to the bathroom. Your entire lower body aches. Your butt is sore; your quads are sore; your hamstrings are sore; your groin is sore. Walking is unpleasant, so you're reduced to sort of waddling about your routine.
The pain and stiffness is there for another couple days, and then, just as quickly as it came, it leaves. 
Congratulations. You just experienced "Delayed Onset Muscle Soreness," otherwise known as DOMS.
DOMS is a common thing for people to experience when they're first starting to exercise. While uncomfortable, it's certainly no threat to your health. And the good news is that the more you continue to work out, the less you'll experience it. 
Below, we walk you through this weird post-workout phenomenon and how to deal with it.
What Causes Delayed Onset Muscle Soreness?
When we lift heavy things, tiny, microscopic tears are made in our muscles. In response to that stress, our muscles build back stronger.
But if our muscles are getting torn while lifting weights, why is it that we don't experience the full brunt of the soreness until a day or two after
The answer is that it's not the damage to our muscles causing the soreness, but rather the repair process. And that repair process takes some time to fully kick in.
Here's what (roughly) happens:
After you work out, your damaged muscles send out inflammatory signals to your body to kickstart the rebuilding process. Macrophages get sent to your muscles to start cleaning up the damaged tissue so your muscles can begin building back. This initial inflammatory response also sends water to your muscles which causes them to swell, making them appear to have grown after a single workout. (They haven't really, though; here's how long it'll take for your muscles to actually increase in size.) Another substance called bradykinin is sent to your muscles to help with repair. It causes an increase in nerve growth factor, and nerve growth factor makes your nerve endings more sensitive. So whenever you move your already inflamed muscles, they hurt even more because the nerve endings around those muscles are hypersensitive.
One thing to note is that there's a specific part of a movement that causes the most muscle damage and consequently the most DOMS: the eccentric.
Eccentric movements occur when a muscle is trying to shorten but is forced by an external load to lengthen. Pretty much anytime you're lowering the weight on a lift, that's an eccentric movement. You're also doing eccentric movements when you run downhill. 
How to Treat DOMS
DOMS can be painful, but it's temporary and not debilitating. The pain and stiffness will peak 24-72 hours after your workout, and go away on its own in about the same span of time (in some cases, it can take up to a week to completely disappear). If it's really bothering you, here are some things to try:
Take NSAIDs. NSAIDs like ibuprofen reduce inflammation and pain. Be sure to read our article on how NSAIDs affect your gains.Caffeine.Research suggests that caffeine consumption can help reduce DOMS.Menthol rub. Whenever I have DOMS, I like to rub in some Bengay or Tiger Balm where it's sore. To be clear, menthol rubs don't do anything to reduce inflammation; they just take the edge off the pain a bit. Ice baths. The research shows that ice baths don't do much in reducing the inflammation of DOMS. Still, in my experience (and the experience of millions of other athletes), ice baths feel good when you've got it. It's probably placebo, but who cares if it helps reduce the pain of DOMS?Movement. Consider this the hair of the dog treatment: Movement gave you DOMS, and movement will help alleviate it. While your legs
The Case for Competing as You Age
By Marc Lobliner
CMO Tigerfitness.com
All of you reading this, from the 20-year-old single guy to the 50-year-old married guy, don't lose that competitive edge. Do epic sh*t and stay young mentally and physically – COMPETE!
As you can see on "Ronline" and as many of you may know, yours truly competed in this year's New York Pro. My prep for the Chicago Pro and Tampa Pro were cut short last year by skin cancer and a minor bout of rhabdo. As I look back, my cancer-removal surgery wasn't recovered enough to compete in the Tampa Pro, so it was a blessing that I didn't.
After the Tampa Pro drop, I told the world I would not compete again. I felt like a failure, like I wasn't meant to stand onstage next to these amazing pros. I felt like God was sending me a message.
I misinterpreted what God was telling me.
The Bible is full of tests from God. As I thought it over, this was a test. I was blessed to earn an IFBB Pro Card and the thing about IFBB Pro Card is that they don't mean a damn thing if you don't use them. Cancer changed my entire outlook on life, and this was my second round with it. My mindset is different, and I cherish every moment I get to reside on this earth.
But still, with multiple businesses, three kids, a wife, and hundreds of kids I coach daily at Legacy at Carbon … what is the point?
Competing as you age is all about mindset. If you don't use it, you lose it, and that savage beast that helped YOU build your career, buy a house and be a kick-ass father will soon shrink down to a kitten just getting by. Challenging yourself develops a mindset and makes you uncomfortable. Some simulate this "suck" by taking ice baths, fasting, or simply training hard.
I do all of this, and it's not enough.
I need to go head-to-head with someone. I need to CHALLENGE greatness and win or lose, I want to fight. This is why I loved boxing – you have two big-ass men trying to beat the hell out of one another. This is primal and men need primal sh*t. Men have become weak in this modern, EASY day in age and in my opinion, part of it is because of the convenience society. We don't even get out of our cars to get our b*tch-ass lattes from Starbucks, we use the drive-thru! To balance this out, we must fight, and we must compete!
And beyond this, I want my kids to know that if you set goals and work for them, you might not win, but you will kick ass. I want my kids to know that their father is a badass, a hard worker, and a COMPETITOR!
All this needs to have an asterisk that we MUST preserve our health. Bodybuilding is an enhanced sport, and all of this means nothing if you're dead. Keep your goals in perspective, get your blood work done and LISTEN TO THE RESULTS AND ADJUST every 6-12 months or even more often and supplement wisely. I recommend Ambrosia Nektar, Nattokinase (4,000-8,000 FUs per day) to keep things in check – WE STRESS THE HELL OUT OF OUR BODIES! Heart health and organ health are numero uno! No use looking dry and hard if the reason is rigor mortis.
WE SHOULD ALL COMPETE IN SOMETHING NO MATTER WHAT THE AGE!
Adult softball, basketball, pickleball … get off your ass and COMPETE! Here are some reasons why!
1. Health benefits: Participating in sports or fitness competitions can improve your overall health and well-being, regardless of your age. Exercise can help lower your risk of chronic diseases, increase your strength and flexibility, and improve your mental health. By having a constant competition or GOAL at the end of the rainbow, you will be exercising for a purpose and not just because of habit and obligation. Training in turn will be more fun, harder and with a purpose!
2. Personal growth: Competing can challenge you to push past your limits and achieve goals you may not have thought possible. It can also give you a sense of accomplishment and pride, which can boost your confidence and self-esteem. Mental health is everything and this will make you a better employee, better father and husband and better MAN!
3. Role model: By competing at an older age, you can serve as a role model for younger generations and inspire them to stay active and pursue their passions. This is the MAIN REASON that I compete, to set an example for my kids and the kids that I coach.
4. Experience: As an older competitor, you likely have more life and competition experience than younger competitors, which can give you an edge in terms of strategy and mental toughness. While they might have a couple of steps on you, you can compensate for this by outsmarting them.
5. Community: Participating in competitions can introduce you to new people and help you build a sense of community with others who share your interests and passions. All my friends are from work or bodybuilding, and the IFBB Pro community is one like no other.
All of you reading this, from the 20-year-old single guy to the 50-year-old married guy, don't lose that competitive edge. Do epic sh*t and stay young mentally and physically – COMPETE!
https://www.tigerfitness.com/
Instagram @tigerfitness
Instagram @marclobliner
Twitter @MarcLobliner
YouTube: Tiger Fitness
The post The Case for Competing as You Age appeared first on FitnessRX for Men.
——————–
By: Team FitRx
Title: The Case for Competing as You Age
Sourced From: www.fitnessrxformen.com/interviews/the-case-for-competing-as-you-age/
Published Date: Wed, 31 May 2023 12:38:16 +0000
Did you miss our previous article…
https://mansbrand.com/power-smith-machine-dual-system-upper/
POWER SMITH MACHINE DUAL SYSTEM UPPER
HIGH PERFORMANCE
MULTIPLE WORKOUT MACHINE: FROM INCLINED BENCH PRESS TO SHOULDER PRESS
The Panatta Power Smith Dual System Upper is an innovative machine made to perform thrust movements of the upper limbs, with independent load and along a particular convergent trajectory that amplifies the range of motion if compared to the traditional Smith Machine for an efficient work and ensuring total safety. The inclination adjustment of the backrest allows thrusting on different movement levels, switching the main focus from high pectorals to delts and trapezius. The height and depth adjustment of the seat and the wide range of the thrust units allow the correct use to users of all sizes and features, while the footrests give stability by enabling the person to have the correct lower back posture when performing the exercise and avoiding forward slippage of the pelvis. Safety is ensured by the hooks on the push carriages, which can be engaged and disengaged with a simple twist of the wrist, allowing them to easily position at different heights even if the set or repetition cannot be completed.
The Power Smith Dual System Upper creates different movements depending on inclination level of the backrest, going from a minimum of 40° to a maximum of 80° with steps of 5° for a total of nine different angles.
• LOWER POSITION (Bench Incline 40°):
Creates a thrust movement on an inclined bench, with a flexion/adduction of the shoulder and simultaneous extension of the elbow; the clavicular portion of the pectoralis major (high chest), the anterior portion of the deltoid and the triceps are mainly activated.
• UPPER POSITION (Bench Incline 80°):
Creates the overhead extension movement like the classic slow forward, with an abduction of the shoulder and simultaneous extension of the elbow involving the deltoid (mainly the anterior and lateral bundle), the upper trapezius and the triceps.
For all the other inclination angles, muscle activation will gradually shift from the high chest to the deltoids and trapezius as the bench inclination increases.
DISCOVER MORE
www.panattasport.com
The post POWER SMITH MACHINE DUAL SYSTEM UPPER appeared first on FitnessRX for Men.
——————–
By: Team FitRx
Title: POWER SMITH MACHINE DUAL SYSTEM UPPER
Sourced From: www.fitnessrxformen.com/training/power-smith-machine-dual-system-upper/
Published Date: Wed, 31 May 2023 13:55:07 +0000
Did you miss our previous article…
https://mansbrand.com/cognisport/
By Bryan Hildebrand
Senior Editor, Hi-Tech Pharmaceuticals
CogniSport® is a unique combination of botanical extracts and nutrients that support cognitive function, mental focus, and overall visual health. The ingredients in CogniSport® are well studied and have been found to provide tremendous benefits, including support for concentration, motivation, mental focus, and reaction time. In addition, CogniSport® can enhance mood and well-being as well as lower cortisol levels to reduce the effects of stress. There are also several ingredients found in CogniSport® not found in any other focus or electronic gaming product.
With the addition of Visual® 2020 to the formula, CogniSport® provides support for optimal visual performance by supporting the ability of the eyes to filter high-energy blue light – from laptops, cell phones, and other blue-light sources. Visual® 2020 also supports visual function under bright light conditions such as the basketball court, gym, football field and other outdoor pursuits.
The alkaloid profile in Thermo-Rx® is unmatched by any other Senegalia species due to its phenylethylamine content, as well as numerous other alkaloids and amines. Phenylethylamine is a sympathomimetic amine found in the leaves of Senegalia Berlandieri. Phenylethylamine also naturally occurs in chocolate, and is responsible for its effects on mood, appetite, and sense of well-being. Researchers believe that Phenylethylamine may be the cleanest stimulant ever studied. Its ability to stimulate the central nervous system without causing a nervous feeling or the "jitters" is remarkable. Phenylethylamine acts on alpha-receptors in the brain, as do norepinephrine and ephedrine. It is also believed by chemists and scientists in the industry to cause the release of dopamine in the pleasure-sensing areas of the brain.
While the idea of providing concentration may seem potentially foreign to bodybuilders and fitness athletes, nothing could be further from the truth. Winding down a day's training and you still have a few exercises left. Plus, cardio. Plus, the drive home. Plus, dinner for the kids. The energy from pre-workout products have proven they can only take you so far. The clean, long-lasting focal energy found in CogniSport® provides a much longer source of energy and motivation to power even the hardest working athletes, moms and dads through the remainder of their day without that dreaded jitters and impending neurological crash associated with so many high-caffeine pre-workouts and weight-loss products that many use for energy in the gym.
The researched ingredients in CogniSport® have been found to provide huge benefits, including support for concentration, motivation, mental focus, and reaction time. The other side of this is the mood-enhancing properties it exhibits. Gamers, athletes, and students who have used it say it provides reductions in stress and an overall sense of well-being. There are also several ingredients found in CogniSport® not found in any other focus or electronic gaming product!
• Maintain a Mental Edge With High Demand, Rapid Sequencing
• Supports Mental Agility in Fast-Paced Sports
• Improve Reaction Times in Rapid Movement Environments
• Helps Reduce Stress in Physical Situations
The researched ingredients in CogniSport® have been found to provide huge benefits, including support for concentration, motivation, mental focus, and reaction time.
For more information, visit hitechpharma.com/products/cognisport
The post CogniSport® appeared first on FitnessRX for Men.
——————–
By: Team FitRx
Title: CogniSport®
Sourced From: www.fitnessrxformen.com/nutrition/supplements/cognisport/
Published Date: Wed, 24 May 2023 17:16:53 +0000
Did you miss our previous article…
https://mansbrand.com/get-a-beach-body-8-week-plan/