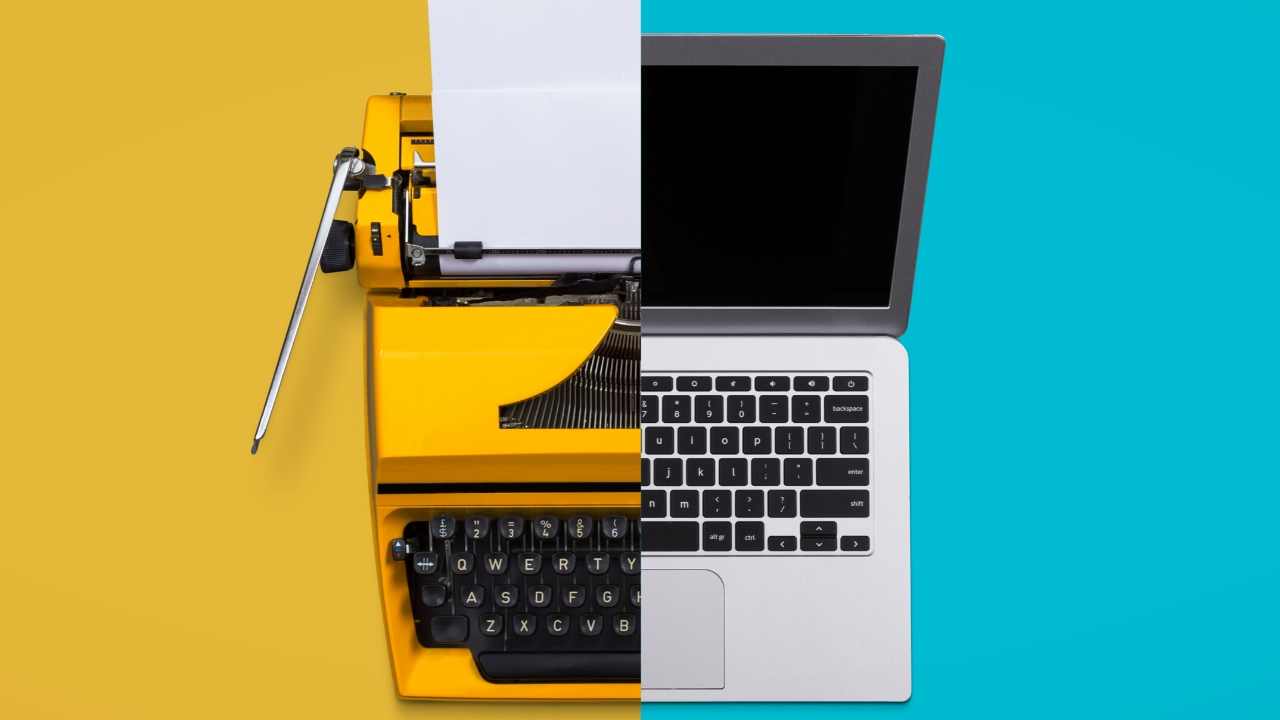 Yes, it's possible everyone knows exactly how many times you've listened to the same sad song on a loop since you broke up with your ex. (Oleg Magni/Unsplash/)
In our modern age, you can't be too careful when it comes to protecting your privacy online. That means knowing exactly what you're sharing on the web, and with whom.
Even if you think you know what you've put out there and what you haven't, it's important to check once in a while. You might be posting out personal information without even realizing it.
And this information takes all sorts of forms—not just your idle thoughts on Twitter and Facebook, but also your Spotify playlists, YouTube uploads, fitness data, and more.
Your music playlists
Sharing a public playlist isn't quite the same as handing over your online banking details, but you may not want everyone knowing your fondness for bubblegum pop or death metal.
All the popular music streaming services have an option to make your playlists public, which has its uses (like creating a mix for friends to enjoy), but you might have been making everything public without realizing it. That means anyone who happens across your profile will be able to see your taste in music (and that secret wedding compilation).
In the Spotify mobile app, tap Home, then the cog icon (top right), and View Profile to see your public playlists. Tap any playlist, then the three dots, followed by Make Secret to hide the playlist from your profile. To make sure new playlists are private by default, you'll need to open Spotify on the desktop: Tap the arrow by your username (top right), then Settings, to find the Make my new playlists public toggle switch.
Other streaming services have similar options. In the YouTube Music mobile app, for instance, tap Library and Playlists, then pick a playlist and tap the pen icon to check if it's public or private (and to change the setting). In the Apple Music app, go to Library and Playlists, then tap a playlist and choose Edit to find the Show on My Profile and in Search toggle switch.
Your YouTube videos

Think about it—you could be a meme in another country and not even know. (YTCount / Unsplash/)
Inadvertently sharing videos online when you didn't mean to is potentially more of a problem than public playlists—you might want to keep family videos with the kids private, for example.
Unless you're posting these videos to social media (we'll talk about that more in a moment), you're probably hosting them on YouTube, where you've got three different privacy levels to pick from: public, private, and unlisted. These options appear whenever you choose to upload a new video to YouTube.
If your videos are public, anyone can see them, whether they have a YouTube account or not, and they'll show up in YouTube and Google searches. Private videos are for you and anyone you specifically invite to view them (using their Google email address). Finally, unlisted videos can be found by anyone with the right URL combination of letters and numbers. That makes them hard, but not impossible, to find (neither private nor unlisted videos show up in search results).
For the most privacy, make your videos private. Unlisted is also relatively private, and makes it easier to share a clip with a select few people—just be careful who gets the URL and who they share it with.
To check the settings on the videos you've already uploaded, open YouTube in a web browser and sign in. Click your avatar (top right), Your channel, then Videos, and choose a video to start playback.
————
By: David Nield
Title: Your favorite apps might be sharing too much about you. Here's how to solve it.
Sourced From: www.popsci.com/story/diy/privacy-sharing-check-youtube-facebook-fitbit-google/
Published Date: Wed, 24 Jun 2020 16:13:33 +0000
Did you miss our previous article…
https://www.mansbrand.com/inside-a-training-mission-with-a-b-52-bomber-the-aircraft-that-will-not-die/
LATAM crypto exchange Bitso and FMF launch NFT of Mexico's National Team jerseys
Bitso, a leading cryptocurrency platform operating in Latin America, and the Mexican Football Federation (FMF), today announced the joint launch of the first collectible NFT of the Mexico National Team's jerseys that was acquired in cryptocurrencies.
This morning through their social media platforms, the FMF and Bitso announced the opportunity to acquire the new official National Team fan jerseys ahead of the team's participation in the 2022 World Cup. In just 20 minutes, the entire collection sold out.

The NFTs of the jerseys have an exclusive design for the metaverse – each is unique on the blockchain and can be resold by its owner in subsequent transactions.
The collection consisted of 100 official physical jerseys, each with a corresponding NFT version of the jersey that fans' avatars can wear within the Decentraland metaverse. Each physical and NFT jersey set sold for the equivalent of $1,800 MXN in ethers.
"Our mission is to make cryptocurrency useful in the everyday life of Mexicans; we are committed to spreading the technology through innovative opportunities that help people throughout the country familiarize themselves with this new world. We are very excited to offer the incredible, historic opportunity for the fans of our National Team so that through their Bitso account, they can wear the colors of the National Team on and 'off' the field in the metaverse."
– Bárbara González Briseño, General Director of Bitso México
Jersey NFTs
Created by Bitso, the virtual jersey sports the official colors of Mexico and the new National Team shield, characteristics that will make it stand out when users wear it in the virtual world of Decentraland.
The post LATAM crypto exchange Bitso and FMF launch NFT of Mexico's National Team jerseys appeared first on CryptoNinjas.
————
By: CryptoNinjas.net
Title: LATAM crypto exchange Bitso and FMF launch NFT of Mexico's National Team jerseys
Sourced From: www.cryptoninjas.net/2022/07/29/latam-crypto-exchange-bitso-and-fmf-launch-nft-of-mexicos-national-team-jerseys/
Published Date: Fri, 29 Jul 2022 15:19:02 +0000
Did you miss our previous article…
https://www.mansbrand.com/the-download-a-breakthrough-climate-bill-and-twitters-terrible-trends/
Long-running crypto exchange EXMO unveils "lively" rebrand amidst growth
EXMO, a crypto exchange platform operating since 2014, announced this week a rebranded visual identity with includes a new logo, brand colors, and design features. This new branding comes as EXMO continues to grow its crypto platform while also seeking to expand its presence in other jurisdictions.
Some new developments underway at EXMO:
Soon, users will be able to earn passive income from EXMO's new staking platform.Plans to launch an EXMO crypto debit card.Expansion of its services in international markets with the opening of offices in Poland and Lithuania.
EXMO's new logo
The rationale for the re-brand:
"At EXMO, we have a vision of a world where crypto is in every wallet. Hassle-free. We want to achieve this by making crypto as simple and accessible to everyone as possible. And we know that you already appreciate EXMO for offering user-friendly services and helpful support. Also for the opportunity to trade anywhere and anytime, closing deals in just a few taps. Such important changes required a rethinking of our corporate style, which has long needed a massive upgrade. So today we are introducing a new brand identity for EXMO with a completely new visual concept. We are launching a new logo, brand colors, and design elements. Our key design principles are simplicity, boldness, and a pinch of fun. But most importantly, we have changed our logo. Simple and easily recognizable, it represents the humanity of our brand. The logo stands out due to the wavy letter 'm' which symbolizes exchange rate charts and also resembles a spring that will launch you into the crypto world."
– The EXMO Team regarding the re-branding
The post Long-running crypto exchange EXMO unveils "lively" rebrand amidst growth appeared first on CryptoNinjas.
————
By: CryptoNinjas.net
Title: Long-running crypto exchange EXMO unveils "lively" rebrand amidst growth
Sourced From: www.cryptoninjas.net/2022/07/26/long-running-crypto-exchange-exmo-unveils-lively-rebrand-amidst-growth/
Published Date: Tue, 26 Jul 2022 08:10:38 +0000
Did you miss our previous article…
https://www.mansbrand.com/stitching-together-the-grid-will-save-lives-as-extreme-weather-worsens/
Stitching together the grid will save lives as extreme weather worsens
The blistering heat waves that set temperature records across much of the US in recent days have strained electricity systems, threatening to knock out power in vulnerable regions of the country. 
The electricity has largely stayed online so far this summer, but there have been scattered problems and close calls already. 
Heavy use of energy-sucking air-conditioners is the biggest problem. But intense heat can also reduce the output of power plants, blow transformers, and force power lines to sag. Severe droughts across large parts of the country have also significantly reduced the availability of hydroelectric power, according to the North American Electric Reliability Corporation (NERC). 
It's unlikely to get better soon. A number of grid operators may struggle to meet peak summer demand, creating the risk of rolling blackouts, the NERC report notes.
The nation's isolated and antiquated grids are in desperate need of upgrades to keep the lights, heat, and air-conditioning on in the midst of extreme weather events that climate change is making more common, severe, and dangerous. One clear way to ease many of these issues is to more tightly integrate the country's regional grids, stitching them together with more long-range transmission lines. 
If electricity generated in one area can be more easily shared across much wider regions, power can simply flow to where it's needed at those moments when customers crank up air-conditioners en masse, or when power plants or fuel supply lines fail amid soaring temperatures, wildfires, hurricanes, or other events, says Liza Reed, a research manager focused on transmission at the Niskanen Center, a Washington, DC, think tank.  
The problem is it's proved difficult to build more long-range transmission and grid interconnections for a variety of reasons, including the permitting challenges of erecting wires through private and public lands across cities, counties, and states and the reluctance of local authorities to forfeit control or submit to greater federal oversight.
The case of Texas
The unreliability of the US grid is not a new problem. Severe heat and winter storms have repeatedly exposed the frailty of electricity systems in recent years, leaving thousands to millions of people without power as temperatures spiked or plunged.
One of the fundamental challenges is that the grids today are highly fragmented. There are three main electricity networks within the US: the Eastern Grid, the Western Grid, and the Electric Reliability Council of Texas (ERCOT). But there are numerous regional transmission organizations within those first two systems, including the California Independent System Operator, Southwest Power Pool, PJM Interconnection, New York ISO, and more. 
These grids form a complex web of networks operating under different regulators, rules and market structures, and often with limited connections between them.

A variety of regional transmission organizations oversee different parts of the nation's aging and fragmented grids, which operate under different rules and with often limited connections between them.

ERCOT is especially isolated, in part because of the desire among local politicians, citizens, and power companies to avoid added competition, the hassle of following other states' rules, and oversight from the Federal Energy Regulatory Commission (FERC). But the state offers a case study in why that can be a serious problem amid increasingly harsh climate conditions, Reed says.
The Texas grid operator pleaded with customers several times earlier this month to cut electricity use as blistering summer temperatures created  demand surges that threatened to outstrip supply and require rolling blackouts.  Low wind conditions, cloud cover, and outages at fossil-fuel power plants added to the strains.
Shutting off the electricity needed to run air-conditioning in triple-digit temperatures
————
By: James Temple
Title: Stitching together the grid will save lives as extreme weather worsens
Sourced From: www.technologyreview.com/2022/07/28/1056483/stitching-together-the-grid-will-save-lives-as-extreme-weather-worsens/
Published Date: Thu, 28 Jul 2022 08:00:00 +0000